Milk Chocolate and Black Pepper Ice Cream Recipe
In case you're wondering what goes on inside my head, my most recent urge was to upgrade the pepper in my peppermills. I think I'm coming late to that game since I've read so many things urging…begging me…to use fancy, expensive pepper. But I tend to buy a bag of black pepper from a local spice shop, which seemed good enough. Or so I thought.
A few weeks ago, I found myself back in Goumanyat, and they had at least a dozen black and colored peppers to sniff. So I took advantage of their collection and smelled them all. Then decided to make some ice cream out of them.
I added crème fraîche to this ice cream, which is one of France's great gifts to the world. Aside from being rich and creamy, it's got a bit of a tang that I think compliments ice cream and offsets any sweetness. Milk chocolate has its fans, and a few detractors. I know, because I used to be one of them.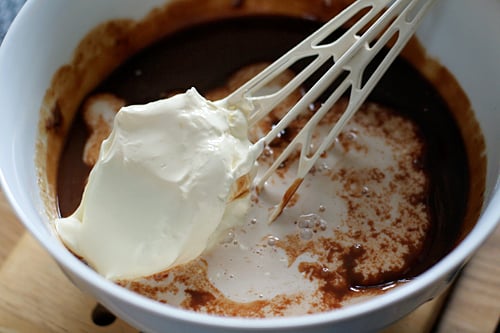 But when I was writing The Great Book of Chocolate, I started tasting some of the higher-percentage darker milk chocolates, and realized that they had their place in life. I was comparing them to dark chocolate, which I generally prefer. But since milk chocolate has dairy added, I like to think of it as a confection, not pure chocolate. Which is fine. I can live with that.
Since it's a bit on the sweeter side, I had a hunch milk chocolate would be the perfect foil for the Tazmanian pepper I got, which was insanely expensive—almost 4.5 euros for roughly 67 peppercorns. I didn't count them, but that was my best guesstimate. (Is there a word for that in French?) Because it was for the blog, I splurged on them, as well as a more reasonable jar of Sarawak peppercorns for me to use everyday, tossing out the outrées peppercorns in my peppermills. So don't say I never did anything for you.
I knew my hunch paid off when I began grinding up some of my fancy new peppercorns in my trusty mortar and pestle. Instead of a sharp bite of black pepper bursting forth, there was instead a lovely, complex, peppery scent, somewhat reminiscent of chocolate, and once ground up, it's chocolate-brown color echoed my chocolate-inspired sentiment. I love when my hunches pay off!
It was a truly fantastic flavor combination: the spicy zip of the black pepper was a great foil to the creamy-smooth milk chocolate, and this ice cream would be perfect served alongside a slab of chocolate cake or gingerbread, or alongside a wedge of pumpkin pie or another spice cake, like warm persimmon pudding.
It's a great way to sneak a little extra chocolate on your holiday table and I doubt anyone will be disappointed by your efforts to do so.
Milk Chocolate-Black Pepper Ice Cream
Recipe adapted from
The Perfect Scoop
Because the flavor (and price) of these peppercorns is so special, I chose not to infuse them in the milk mixture, instead adding them at the end. I left them relatively coarse, since I think it's interesting to get little "bites" of pepper, although these peppercorns are on the soft side. If using another kind of pepper, use your best judgment, depending on your personal tastes. And, of course, feel free to use more or less than I did.
8

ounces (230g)

dark milk chocolate

,

(at least 35% cacao solids), broken or chopped

1 1/2

cups (375ml)

whole milk

3/4

cup (150g)

sugar

pinch

of salt

4

large egg yolks

1 1/2

cups (375ml)

creme fraiche or heavy cream

,

or a combination (see Note)

2

teaspoons

Cognac or brandy

1

tablespoon

good-quality ground black peppercorns

,

I used Tazmanian peppercorns
Put the pieces of milk chocolate in a large bowl and set a mesh strainer over the top. Then make an ice bath in a larger bowl (or the sink), that you'll rest the bowl of milk chocolate within later.

In a medium-sized saucepan, warm the milk, sugar, and salt. In a separate bowl, whisk together the egg yolks.

Once the milk is warm, slowly pour about half of it into the yolks, whisking constantly, to warm them. Scrape the warmed yolks back into the saucepan and cook, stirring constantly with a heatproof utensil, until the custard thickens and coats the spatula.

Immediately strain the custard over the milk chocolate, and stir until the chocolate is melted and the mixture is smooth. Whisk in the creme fraiche or heavy cream (or combination of the two), the cognac, then the ground peppercorns.

Rest the bowl of milk chocolate custard in the ice bath, and stir until cool. Chill thoroughly, then freeze in your ice cream maker according to the manufacturer's instructions. Should the custard get very thick once chilled, whisk it vigorously before adding it to your machine, which will thin it out so it's pourable.
Notes
Note: If using creme fraiche, chill the ice cream within eight hours of adding the crème fraiche; letting it rest in the refrigerator overnight and turn the whole batch a bit too-tangy. If using heavy cream, it's fine to chill overnight.
If crème fraîche is unavailable, you can use full-fat sour cream.
Related Links and Recipes
Persimmon Bread (Recipe)
Making Ice Cream Without a Machine
The Easiest Chocolate Ice Cream…Ever! (Recipe)
Candied Bacon Ice Cream (Recipe)
Tips on How to Make Ice Cream, and Q & A
White Chocolate Sorbet (Recipe)
Quick Coconut Ice Cream with Saffron (Recipe)
The Best Chocolate Sauce Recipe (Recipe)
White Chocolate and Fresh Ginger Ice Cream (Recipe)