Ottolenghi's Fried Beans with Sorrel, Feta & Sumac
When the recent cloud of volcanic ash cruelly snatched my vacation away from me, not only was I miffed I wouldn't be heading across the ocean (and let me tell you, there's nothing more depressing than unpacking a non-used swimsuit, sandals, and sunscreen out of a suitcase), but I was sad I would be missing dinner with Yotam Ottolenghi at his restaurant, Ottolenghi. I'd written him a fan letter, and after agreeing to a psychiatric evaluation, and a pass through a metal detector, he consented to have dinner with me.
I swooned over his first book and featured his gently salted, crisp almond chocolate-dipped Florentines a while back, which I had trouble not finishing the moment the slick chocolate coating had cooled on their underside.
Usually when flipping through a new cookbook, I bookmark a few things that catch my eye. Like his previous book, if I'd bookmarked all the recipes I wanted to try in his new book Plenty, my copy of the book would've been twice as large as it originally was.
This book has no desserts, which I will forgive him for, but is filled with vegetarian recipes, which is natural since his food relies heavily on abundant use of fresh herbs, ruggedly roasted vegetables, and lots of exciting seasonings. Although it's a bit of a cliché, it's true that you'd never miss the meat in any of these recipes. Because many rely on caramelizing in a pan, oven-roasting, and using a generous hand with sometimes exotic spices for their satisying flavors.
But his recipe for Fried Beans with Sorrel, Feta and Sumac recipe stuck out to me as it prompted memories of my mother, who roasted lima beans in melted beef fat, which made them extra-crispy on the outside and soft on the inside, like little oval frites. Although they were far better than any fries I'd ever had. Come to think of it, perhaps I'll head back to the butcher and try my luck again at getting some beef fat and give them another go.
Neither butter nor olive oil will give you that same bean-hardening (and artery-hardening) effect, but I plucked out the crispest beans from the bowl and ate them before tossing them in the wilted sorrel and spring onions. And I was surprised at how delicious they were.
In addition to still not having learned to use a large enough pot for boiling beans, I'd also never thought of pan-frying beans, which is a technique that I'm going to remember for the future.
I did have to wait a few anxious days before tackling the recipe. I had everything in my pantry, including haricots Tarbais, the famed white beans from Gascony. (For those in the states, I recommend Rancho Gordo beans.) And sorrel is pretty common in France, so I picked up a leafy bunch at the market. But, of course, I was missing one ingredient: sumac.
I know, I know. It's impossible to imagine anyone not having a sumac in their cabinet. But since it was Sunday afternoon, when hardly anything is open in Paris, I had to wait until the following day. Then I remembered my favorite Arabic épicerie* was open and biked over there quickly, lest anyone else get the same idea I did and get all the sumac before me.
Scanning the spice aisles, I found sumac alright. But only in one kilo (2.2 pounds) bags and I thought that was kind of a lot, since the recipe only called for 2 teaspoons. Luckily I'm tenacious and got down on my hands and knees on the dusty floor and dug though all the spices until I found a more reasonably sized bag, and brought it home with a big chunk of feta which I fished out of the brine at the shop. Which was a good thing I remembered, because right then I realized that was another ingredient I didn't have at home.
Sumac adds a quirky, fruity flavor to certain dishes, like Fattoush. Like ground cumin and star anise, it's one of those flavors that works well when it is just barely present. Too much is overwhelming. But I paid just €1.50 and now have a year's supply of sumac.
(It's funny because I remember thinking that sumac was the plant with the fuzzy red stalks that grew underground in the darkness of the subway in New York. And here I was, two decades later, groveling on the floor in Paris for it. Sad how things have turned…)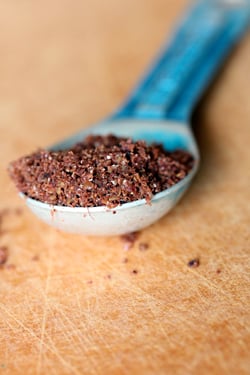 One thing you might have trouble finding is sorrel. Sometimes it's called 'sour grass', because when you eat it, it's hard not to scrunch up your face from the puckery taste. It is worth groveling for because it's got a rather distinctive lemony taste, and I don't use often enough. The French will often chop it into sauces, especially ones that are cream-based, to act as a counterpart to the richness of the sauce.
You do have to be careful in France, because the word oseille doesn't just mean sorrel; it also is slang for money. (Similar to in English, where we say "Rolling in dough".) Which might seem odd, until you see the dark green color, perhaps meant to be reminiscent of American dollars, which we call 'greenbacks'. I'm not sure how that concept crossed the Atlantic—or why we call money "dough". (Which I'd like to know if that's true, because if it is, I have a freezer full of it). But if there is a recipe for money, I'm wasting my time crawling around on my hands and knees, sorting through dusty spice bins while Arabic women give me funny looks.
My once-potential friend Yotam gives substitutions for the sorrel: use spinach and double the lemon juice. Or I'd venture to say that you could use roquette (arugula) or even mustard greens, I'd imagine.
For those of you who can't get sumac, you might want to try smoked paprika. Although I have plenty left over, and I'm happy to share. But you're going to have to grovel for it. And perhaps take a mental competency test, too.
Fried Beans with Feta, Sorrel, and Sumac
Adapted from
Plenty
(Ebury) by Yotam Ottolenghi Yotam's original recipe says to soak the beans in a generous amount of water with 2 tablespoons of baking soda. Some bean purists scoff at using baking soda in the water, but for those who live in areas where the water is full of minerals (such as Paris), I add a large pinch to the cooking water, as the locals do. The beans should be cooked just until tender, but not cooked to mush. The cooking time for them will vary but don't let the water foam up when you do! For the spring onions, I used cébette (which often goes by various names in France), which you can see pictured in the
Herbed Ricotta Tart
recipe. Scallions, green garlic, or a similar spring onion can be used. In the post, I mention some possible substitutions for the sumac and sorrel.
1

pound (450g)

large dried white beans

optional:

pinch

of baking soda

8

spring onions or scallions

,

sliced lengthwise into 3-inch (7 cm) batons

1

clove

garlic

,

peeled and minced

7

ounces (200g)

sorrel

,

cut into 1-inch (2 cm) ribbons, plus a little extra for garnish, cut in very thin strips

1/2

teaspoon

sea salt

,

plus more for seasoning

1 1/2

tablespoons

freshly-squeezed lemon juice

5

ounces (150g)

feta cheese

2

teaspoons

sumac

handful of fresh herbs

,

such as chervil, dill, mint, or flat-leaf parsley
For frying the beans:
1/4

cup (60ml)

olive oil

4

tablespoons (60g)

butter

,

(see Note)
Rinse the beans and sort to remove any foreign objects.

Put in a large pot, cover with plenty of water, and let stand overnight.

The next day, add a pinch of baking soda to the water (if you live in a hard water area), and simmer the beans until just tender. The cooking time may be as little as 30 minutes, or over an hour, depending on the beans. Add additional water if necessary.

Once cooked, drain well and toss them in a bit of olive oil, which will prevent the skin of the beans from flaking, and bit of salt.

Next up is frying the beans: You'll need to cook the beans in a single layer, so doing a rough calculation on depending on the size of your skillet, heat a portion of the butter and oil in the pan. Once hot, add enough beans so they're spread out evenly in a single layer in the pan.

Saute the beans and avoid stirring too much so they brown and blister on the bottom side. After a few minutes, stir them a bit to flip them around, and continue to cook a few more minutes until they're all nicely seared. Once finished, transfer the beans to a bowl and fry the remaining beans in a similar fashion.

When you get to the last batch, during the final minute of cooking, add the spring onions, garlic, and sorrel. Cook until the greens are just wilted, which will take another minute or so. Remove from heat, add the other beans to the pan, stir, then add the 1/2 teaspoon of salt. Let cool to room temperature, or until slightly warm. (If your pan isn't large enough, you can mix everything together in a large bowl.)

Once cooled, stir the lemon juice and sumac, and then roughly chop the fresh herbs and mix them into the beans. Crumble the feta over the top and serve.
Notes
Storage: These beans are best served shortly after they're made. If you store them in the refrigerator, they'll lose their specialness.
Note: I used clarified butter, but in retrospect, I think it's better to use regular butter, salted or unsalted, which would help brown the white beans a darker color.
*For those in Paris, two favorite places to shop for Arabic ingredients are Sabah (40, rue du Faubourg Saint Antoine), or Sepide (62 ter, rue des Enterpreneurs), which specializes in Persian ingredients. For those elsewhere, I've listed some sources below.
Related Links and Recipes
Sumac (Amazon)
Sumac (Penzey's)
Kalustyan's (Specialty Arabic Ingredients)
How to Find Foods and Other Items I Mention On the Site
Sorrel (Wikipedia)
Mazeh (Persian Ice Cream in Paris)
Zahtar (The Perfect Pantry)
Ingredients for American Cooking in Paris
Plenty (Book Depository: International Shipping)
Ottolenghi (Twitter)
Cucumber and Feta Salad (Recipe)
Hummus (Recipe)
Baba Ganoush (Recipe)
Israeli Couscous with Butternut Squash & Preserved Lemons (Recipe)