Pistachios, Citron…and Chocolate
Recently I've been thinking a bit about pistachios for a couple of reasons.
Pistachios are wonderful and tasty nuts that not so long ago were considered unusual and exotic. Now they've become rather common and are easily available. When I was a little boy, my Syrian grandfather used to always have on hand big 5-poundsacks of pistachio nuts, sometimes vividly-colored red (am I the only one who remembers those?) They were the best and I ate so many I'm surprised that my fingers aren't permanently stained.
Then during the 1980's, products from Iran were banned from being exported into the US for political reasons and my beloved pistachios disappeared. Eventually some crafty Californians came along (like the ones who decided that kiwis were going to be the Next Big Thing and planted rows and rows of them) and American-grown pistachios are the result; now pistachios are relatively cheap and plentiful. But here in Paris, I prowl the Arabic markets in neighborhoods off-the-beaten-path, and often come across Iranian pistachios which are delicious; the split shells easily snap off, and I pop the plump, lightly-salted nut kernels into my mouth. Before I know it, I've consumed a good half a kilo and want more.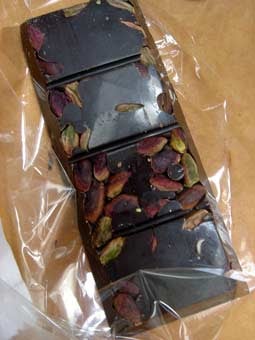 I was lucky to get a wonderful gift from my friend Anne of some chocolate treats from a recent trip to Caffé dell' Arte in Sicily. If you didn't know it, Sicily is famous, mostly amongst pastry chefs who seek these pistachios which are brilliant green and sans the grey, papery and unattractive husk that covers the nut. Sicilian pistachios are wonderful for decorating since the color is indeed magnificent. (In spite of what recipes tell you, I don't advise toasting normal pistachio nuts since they tend to lose any of their green hue, and they've likely been roasted before packaging.)
Anne advised that the aroma of pistachios was the first thing she noticed when she opened her bar, and sure enough, when I slipped mine out of the wrapper, the delicious nutty scent of fresh nuts filled the air, along with the aroma of deep, dark chocolate.
And the taste…Wow!
This was one of the best bars of chocolate I've ever had.
The chocolate was smooth and dark, rich and roasted like a sweet Italian espresso, with a lingering bitterness tempered with a perfectly balanced amount of sugar. Just enough to take the edge off, but not enough to be sweet: truly a fine balance of flavors. And the crispy, Sicilian pistachio nuts were whole, brilliant-green, and full of the flavor, reminiscent of a sunny and earthy Mediterranean climate.
Another treat were these thick slices of candied citron dipped in pure dark chocolate. Hardly anyone knows what citrons are anymore and they're rarely found (the ones below that I saw in Italy at a villa and the owners insisted that they were "strange lemons, but with no pulp!"…)
Unusually-Shaped Buddha's-Hand Citrons in Tuscany
Unless you're lucky enough to know someone with a tree, citrons are a rarity in produce markets. They're notable for their musky, aromatic smell and barely any pulp. But the beauty of a citron is in the noble, aromatic peel and rind, which is candied in halves or big slices, then chopped into Italian fruitcakes like pan forte or pan pepato, its spicier cousin. Of course, many American use them when baking their holiday fruitcakes as well, commonly referred to as "those icky green things", an unfortunate designation, since as you can see, they're lovely and delicious, especially coated with Sicilian chocolate!