Even though some think it's a cop-out ordering Pad Thai in a Thai restaurant, marking you as a newbie, I like it quite a bit. I do tend to go for Pad See Ew, wide pan-fried rice noodles, although I'm a little picky about them because I like the dish when the chewy ribbons of noodles have stuck to the wok and start sticking together, getting charred in the process, and the dish isn't overly saucy. Chow fun can be made like that, if you order it dry-fried, which I do.
At a book event in Paris, Danette St. Onge stopped by and gave me a copy of her book, The Better-Than-Takeout Thai Cookbook, knowing that I liked to make foods from other countries. Being from California, foods from Asia are part of our DNA, regardless of our individual ancestry. I'm happy to be part of that mix, and in Paris, Asian restaurants are thriving (and usually packed) outside of the traditional quartiers asiatiques, most notably Belleville and the 13ème. Thai cuisine isn't as well-represented as, say, Vietnamese (perhaps due to the seasonings), so I often take matters into my own hands, or wok, or skillet, and make it myself.
When I posted a nod to a Vietnamese cookbook I liked recently, some inquired, "Are the recipes authentic?" and I didn't know how to answer. Would that mean the recipes are made exactly the same way they were first made, which might have been hundreds (or thousands) of years ago? Or were the recipes modified and adapted over the years, as new ingredients were available, or as immigrants searched for items similar to their home countries when they moved elsewhere? I don't know too many recipes that have stayed exactly the same since their inception, and I'm not the only one who questions whether it matters, or not.
Incoming San Francisco Chronicle food writer and critic, Soleil Ho, described authenticity as "a shackle," when vowing never to use that word. Others are distancing themselves from the term "cheap food" as it gets applied to foods from certain parts of the world, but not others. (For some reason, we seek out an eight-buck bowl of Pho or ramen, but don't expect to find Cacio e pepe pasta at the same price point.) Admittedly, a lot of Asian food is "street food" meant to be made, and served, quickly (and inexpensively, I guess I should add…) – without a lot of fanfare, like Pad Thai.
Speaking of controversy, I've seen recipes for Pad Thai that use…wait for it… ketchup, in place of the tamarind paste. I'm not a big ketchup fan (I don't even like it on fries) but it is America's "umami," just like mustard is the umami of France, and fish sauce is the umami of Vietnam. But ketchup's origin was in China (via Vietnam), and originally made differently than what we think of ketchup today; the other version is called kĕchap or ke-chiap and used in Malaysian and Singaporean cooking, hence the connection.
The great thing about being an adult, however, if that you can make – and eat – whatever you want. Well, as long as you don't write about it on the internet ; ) But going shopping these days can be a loaded experience, whether you write about it or not, which I kept in my mind as I headed to Belleville to gather the ingredients to make Pad Thai.
Fortunately, all the ingredients are pretty readily available, even in Paris. The only one you might need to track down is tamarind paste, which you can buy already made, or make it yourself. (I did see a version of Pad Thai that uses distilled white vinegar, in lieu of tamarind paste, which I haven't tried. But I did actually try the ketchup version when that book came out in 1997, but it's pretty controversial.)
Danette's recipe didn't have dried shrimp in it, which I like in Pad Thai, which Andy Ricker uses, as it gives Pad Thai an underlying savory flavor. But in Paris, they cost €21,99 ($25) for a frozen 400g (nearly one-pound) bag, and I knew it would take me a long, long time to finish those off, if I used them by the tablespoon. So I passed.
Danette grew up in Thailand and California, where her parents operated a Thai restaurant. She also writes for food magazines and I have to say, the recipes in her book are remarkably well-written. You know, the kind of recipes where you feel like you can actually follow what she's saying, and she gives you a heads-up about things to look for, what might go wrong (and how to avoid them), as well as do-ahead tips. I often read cookbooks and think, hmm, was there a better way to explain something? But The Better-Than-Takeout Thai Cookbook hit all the right notes for me. And all the flavors, too.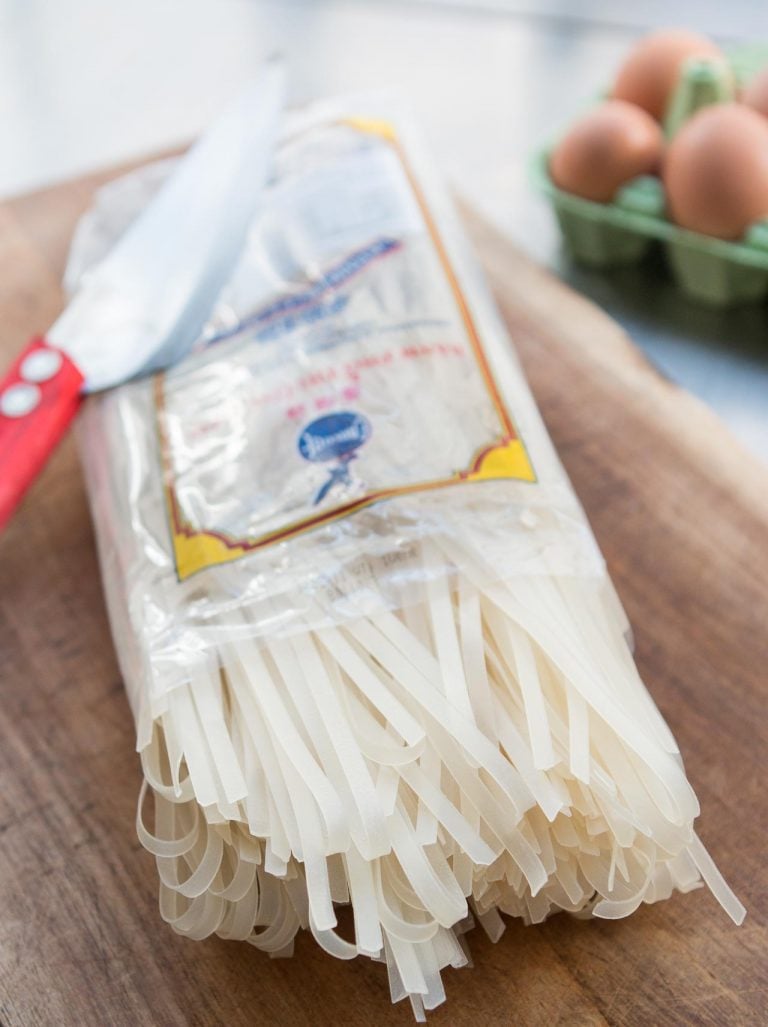 I especially appreciated her tips on buying the flat rice noodles used for Pad Thai. The store I went to had several shelves of dried rice noodles, but no flat ones. (I joke that the farther I go to buy something in Paris, the more chance there is that they will be out of it.) Facing an empty space where the flat noodles, theoretically, should have been – which Danette said are often labeled Chataboon or Jantaboon – I found them one aisle away, in their own special place, as if they were placed there just to prove my theory right.
Romain and I were lucky I found them and we were rewarded with a speedy, definitely better-than-takeout lunch. Once you have the ingredients gathered, and prepared, this Pad Thai can be made in minutes. You are welcome to cook the noodles in advance, prepare the sauce, trim the shrimp (if you're a vegetarian or don't eat shellfish, you can leave them out), slice the scallions, and chop the garlic. Then, when you're ready to go, before you know it, you'll be at the table, enjoying this better-than-takeout Pad Thai.
Pad Thai
Adapted from
The Better-Than-Takeout Thai Cookbook
by Danette St. Onge I like to add minced or crushed dried shrimp to my Pad Thai, but the ones I found in Paris were packed in 400g (about one pound) frozen bags, and were €22. I didn't think I'd use that amount very quickly, so I passed, but if you do, you add them in step 4, right after you saute the garlic. (Most Asian food shops in the U.S. sell dried shrimp in small bags.) Danette says you can use 1/3 cup of finely chopped dried shrimp in place of the fresh shrimp, "for a more traditional version," although I'd probably dial that down to one or two tablespoons. Some versions of Pad Thai have crushed
dried Thai chiles
added right after cooking, about 1/4 teaspoons, at the end of step 5, when adding the peanuts and other ingredients. A bit more can be sprinkled over the top, too. Pressed tofu, as shown in the post, often comes flavored with 5-spice powder, which was all I could find. Most stores that specialize in Asian ingredients carry it. If you can't find it, firm tofu is a decent substitute. Or you can make
crispy tofu
and cut the cubes into strips or smaller pieces for this recipe. This recipe cooks remarkably fast. It's best to prepare all the ingredients, so they're all ready to go when you heat up the skillet. The total cooking time is less than 5 minutes, so you'll want to be prepared.
Servings
2
generous servings
4

ounces (115g)

dried thin, flat rice noodles

1/4

cup (60ml)

fish sauce

3

tablespoons (32g)

granulated palm sugar or light brown sugar

2

tablespoons (40g)

tamarind paste

3

tablespoons

vegetable oil

,

(total)

12

medium

raw shrimp,

,

peeled and deveined, with tails on (preferably)

2

tablespoons (20g)

minced shallots

1

large

garlic clove,

,

peeled and minced

2

eggs,

,

beaten together in a small bowl

1 1/2

cups (75g)

bean sprouts

,

(total)

3

ounces (80g)

pressed tofu

,

(see headnote)

3

scallions

,

(just the green parts), cut into 1 1/2-inch (5cm) pieces

1/4

cup (35g)

roasted peanuts, coarsely chopped,

,

plus an additional 2-3 tablespoons (chopped) for garnish

fresh lime wedges,

,

for garnish
1. Bring a saucepan of water to a boil. Turn off the heat and add the noodles. Let the noodles sit in the water for 5 minutes, stirring them a few times as they sit. Drain the noodles and rinse well under cold running water, separating the noodles with your fingers, and set aside.

2. Mix the fish sauce, palm sugar, and tamarind paste in a small bowl. Set aside.

3. Heat 1 tablespoon of the oil in a wok or large skillet over medium heat. Add the shrimp and cook, stirring occasionally, until they're just about cooked through, about 2 minutes. Remove the shrimp from the wok or skillet and set aside. (If you can only find pre-cooked shrimp, skip this step and have them ready to add later.)

4. Heat the remaining 2 tablespoons of oil in the wok or skillet and add the shallots and garlic. Stir until fragrant, about 30 seconds to 1 minute, then add the cooked noodles and fish sauce mixture. Cook for about 1 minute, stirring, until everything is well combined.

5. Push the noodles to the side of the wok or skillet and add the eggs to the pan. Cook, stirring frequently, until they start to set, about 30 seconds, then add the cooked shrimp, 1 cup (50g) bean sprouts, the tofu, scallions, and 1/4 cup peanuts. Continue to cook, stirring, until everything is well combined and heated through, about 30 seconds. If the mixture looks a little dry (the noodles should be slicked with sauce with some extra floating around), add a tablespoon or so of water or chicken stock.

6. Transfer the Pad Thai to a serving plate. Serve sprinkled with the remaining bean sprouts, peanuts, and wedges of fresh lime alongside.
Related Recipes
Pim's Pad Thai (Use Real Butter)
Pad Thai (in 5 parts) (She Simmers)
Andy Ricker talks about Thai Ingredients (Munchies)
David Thompson's Pad Thai (Gourmet Traveler)
Tofu Press, for making your own pressed tofu (Amazon)
How to make tamarind paste (The Splendid Table)