Peach Cobbler has become the most requested dessert around here this summer. I don't think Romain had ever had a cobbler – I usually make crisps, which the French call crumbles. But I've been revisiting some cookbooks on my shelf that I hadn't used for a while and pulled down The Pastry Queen by Rebecca Rather, who was the owner of several bakeries in Texas.
I met Rebecca when my first book, Room for Dessert, was coming out and I was slated to do a book tour that included Texas. I had never done a book tour and I had been in a very bad car accident and was worried about navigating and getting myself from place-to-place in an unfamiliar state, and doing baking demonstrations, which require a lot of planning and organization. I don't know how we came to meet each other but Rebecca had a bakery in Texas and, being Texan, knew how to get around the massive state (someone told me the entire country of France could fit inside Texas), and she knew how to bake. So we became a team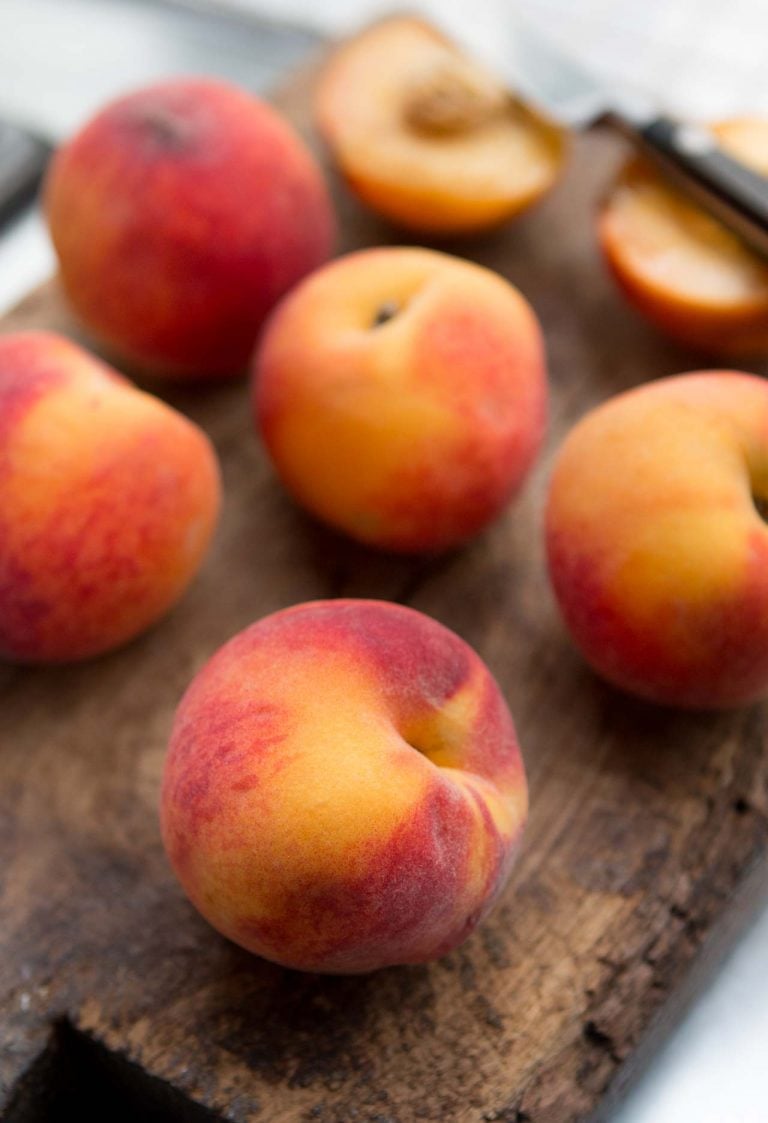 My first demonstration was at an upscale supermarket with a cooking program. After the guests arrived, I baked some of the recipes from the book, mixing batters, scraping them into baking pans, forming cookies and placing them in prepared baking sheets, and popping everything in the oven so they'd have enough time to bake, and cool down so they could be served. You need to do all of that while talking to a roomful of people and working with assistants you've never met before, so it was nice to have a familiar face (and hands) helping me out.
That evening I'd figured out how to successfully get everything in the oven so they'd be ready in stages, so there'd be no long, uncomfortable lapses while things baked. But out of the corner of my eye, I saw through the oven windows that everything seemed to be taking a lot longer than usual to bake. I kept talking to the crowd, with an occasional sideways glance toward the oven, where things were taking their own sweet time rising and browning. I couldn't say anything to Rebecca in front of the guest, such as "What the heck is going on?" but figured it was my timing that was off.
As it became harder to hide my rising panic, the owner went to check on things in the oven and realized that one of the assistants had accidentally turned both of them off. When Rebecca and I got back into her truck (after all, it's Texas) we both breathed a sigh of relief that I'm made it through the evening, and joined some of the guests, who'd invited us to go out for a very welcome margarita afterward. (One of the guests had raised his hand during the demonstration to ask me where I was staying that night, and offered to let me stay with him. I know Texans are friendly but that was another first for me – someone asking me to spend the night with them in front of sixty people, an offer that I politely declined.)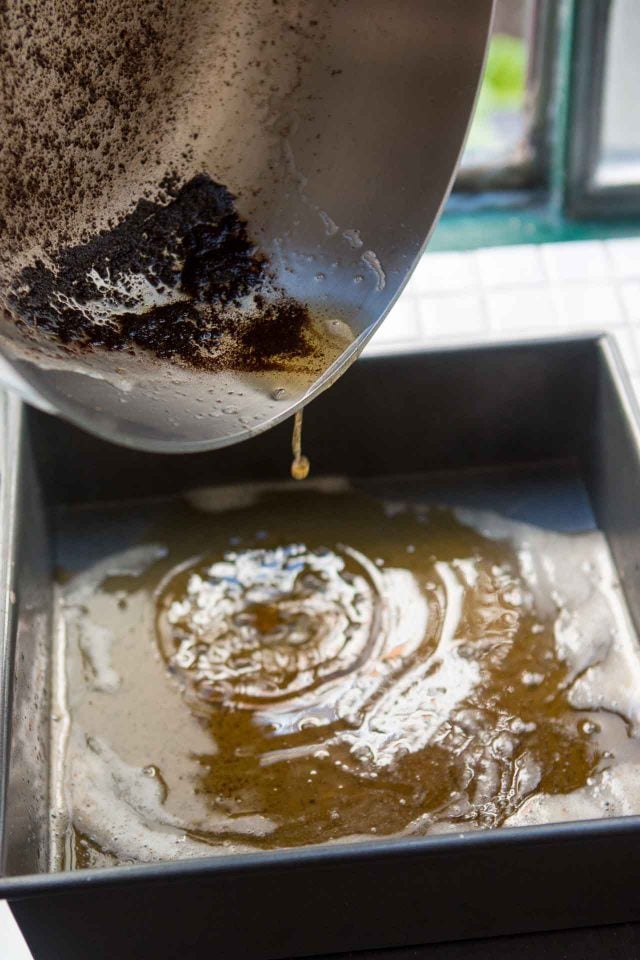 In the years that followed, I'd run into Rebecca at cooking events and we always had a good laugh about our trip through Texas together. She's since closed her bakery in Austin then opened another in Texas Hill Country, which seems to now be shuttered as well. Unfortunately, we lost touch* but fortunately, I kept her book with me. And when I saw the recipe for Hill Country Peach Cobbler, which she calls "a Texas standard," I thought it would be a good way to use some of my summer peaches all the way across the Atlantic, in Paris.
As they say in Texas, "Don't mess with Texas." Still, I decided to peel the peaches which she left unpeeled. I also made a few other changes, like dialing down the sweetness. Romain absolutely loved this and said the contrast of textures and caramel-like crust (due to the brown sugar sprinkled over it) reminded him of Kouign Amann, the classic Breton caramelized butter cake. He's been asking for it over and over again and I think I should pick up more peaches this week and make him happy. And thanks Rebecca, wherever you are, for the inspiration.
Texas Peach Cobbler
Adapted from
The Pastry Queen: Royally Good Recipes from Texas Hill Country's Rather Sweet Bakery & Cafe
by Rebecca Rather with Alison Oresman Being a pastry chef, Rebecca gives the cobbler a chef's touch and browns the butter to ramp up the flavor, rather than just using melted butter. If you don't want to brown the butter, you can use melted butter. I toggled a few of the ingredients in the original recipe, adding a little cinnamon to the peaches and some lemon zest to the batter. I dialed down the brown sugar in the topping to 4 tablespoons but you could cut it down to 2 tablespoons, or omit it entirely. I did like the nice crust it 4 tablespoons gave it though. You could add some fresh or frozen berries to the peach mix, although am not sure they're authentic to the Texas original. Cherries, sweet or sour, would work as well. And I'm thinking of giving this a try with plums when they come into season. If you don't have an 8-inch square baking pan you could use a similar-sized baking dish or cast-iron skillet.
4

ounces (115g)

unsalted butter

,

cubed

1

cup (140g)

flour

1

cup (200g)

granulated sugar

2

teaspoons

baking powder

,

preferably aluminum-free

1

teaspoon

freshly grated lemon zest

1/4

teaspoon

salt

3/4

cup

milk

,

whole or lowfat

1/2

teaspoon

vanilla extract

3

cups

sliced, peeled peaches

,

(about 5 medium peaches)

1/2

teaspoon

ground cinnamon

4

tablespoons

light brown sugar
Preheat the oven to 350ºF (180ºC.) Melt the butter in a skillet, watching it carefully and swirling it gently. When it starts to take on a light brown color and smells a little nutty, and the bubbles begin to subside, pour the browned butter into an 8-inch (20cm) square baking pan, leaving the blackened bits back in the skillet.

In a medium bowl mix together the flour, sugar, baking powder, lemon zest, and salt with a whisk. Add the milk and vanilla extract, and stir until smooth.

Pour the milk mixture over the butter in the pan without stirring. (Don't worry, the batter will rise up over the peaches as they are baking.) Toss the peach slices with the cinnamon and strew them over the batter in an even layer. Crumble the brown sugar over the top and baking until the top is golden brown and the center of the cobbler feels just set, about 40 minutes. Remove from the oven and cool on a wire rack.
Notes
Note: For information about brown sugar, flour, and other baking ingredients, check out my post, American Baking in Paris.
Serving and storage: Serve warm or at room temperature on its own, with whipped cream, crème fraîche, or with vanilla ice cream. The cobbler is best served the day it is made but can be kept overnight. This isn't a fancy dessert so don't count on getting neatly sliced portions of it. You can spoon it in a bowl, as I did.
*Several comments, and the owners of the establishment, reached out to me that Rebecca is now the chef at Emma + Ollie, in Fredericksburg, Texas.