Peanut Butter and Chocolate Chip Granola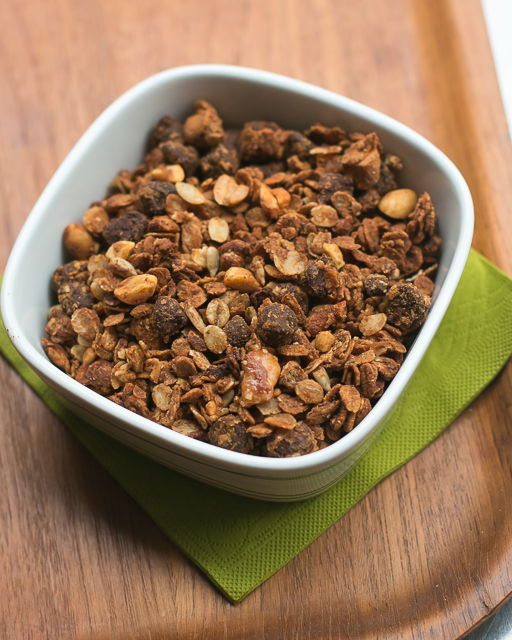 Let's stop kidding ourselves. Just like "muffin" is basically another word for cake, granola doesn't have to be strictly "health food." In fact, some granolas are so sweet they could easily qualify as candy. But since I tend to spend the better part of the day roaming around my apartment, sticking my hand in various boxes and jars of stuff to eat (some that qualify as health food, while other things that don't quite fit that definition), I wanted to come up with a granola (called muesli, in French) that I didn't feel so guilty about dipping my hand into throughout the day.
I never used to eat breakfast. Then, after trying to remove some of the damage done to my belly by years of gorging on restaurant food, I enrolled in a particularly tough exercise class in San Francisco. It was excruciating and grueling, as our fierce instructor really pushed us. But we all bonded as a group (sometimes, successfully against her wrath). But one day we were all particularly wiped out and she stopped the class, went around the room, asking each of us what we had for breakfast that morning.
The majority of us answered, "Coffee." Or maybe "Coffee…and, um, half a leftover bagel."
She ripped into each of us after we spoke, berating us because we were all working hard and needed to fuel ourselves by eating more than we were for breakfast. After that upbraiding, I started eating more in the morning.
I still can't eat more than a few slices of toast and coffee first thing after I wake up – and definitely no talking, and no sudden movements, either. But come mid-morning, say, around 10am, I prepare myself a big bowl of fresh fruit and yogurt or fromage blanc. I was once staying with a French friend's family and when I offered my fruit-cutting services to make a big fruit salad for everyone, my friend's father was astonished that I – or, judging from his reaction, anyone – would eat at a time outside the three preordained meal times of the day. (He'd obviously never been to the states…)
I didn't add that I often top my fruit salad and yogurt with granola because he was getting on in years and I didn't want him to get too worked up. But when I depleted my granola container this week at home, I decided to try making granola with chocolate and peanut butter in it, since those are two of the things that I'm often dipping into during my round-the-clock excursions, patrolling my kitchen, scavenging for something to eat.
I've been eating this granola with a spoon, just as is, starting from the moment it is cool enough to eat, right off the baking sheet. The big, soft chocolate chips are a bonus, scattered amongst crackly oats and seeds coated with peanut butter, baked with a touch of maple syrup. It's a treat that I've been enjoying morning, noon, and night. And yes, mid-morning (and mid-afternoon), too.
Chocolate Chip and Peanut Butter Granola
About 5 cup granola

You can swap out unroasted almonds (or another nut that you like) for the peanuts, but don't be tempted to chop up a bar of chocolate and use those pieces instead of the chocolate chips. Store-bought chocolate chips are made of baking-resistant chocolate, formulated so they don't melt while the granola is toasting.

3 cups (300g) rolled oats
1 cup (150g) roasted peanuts, very coarsely chopped
3/4 cups (120g) chocolate chips
1/2 cup (70g) sunflower seeds
1 teaspoon ground cinnamon
1/2 teaspoon sea salt or kosher salt

1/2 cup (130g) smooth peanut butter (regular or natural)
1/2 cup (160g) maple syrup (or mild-flavored honey)
1/4 cup (60g) packed light brown sugar
2 tablespoons water

1. Preheat the oven to 325ºF (165ºC.)

2. In a large bowl, mix together the oats, chopped peanuts, chocolate chips, sunflower seeds, cinnamon, and salt.

3. In a small saucepan, warm the peanut butter, maple syrup, brown sugar, and water over low heat, stirring constantly, just until the mixture is smooth. Don't get the mixture too hot.

4. Scrape the peanut butter mixture into the dry ingredients and mix it in well.

5. Transfer the granola mixture to a baking sheet and spread it in an even layer. Toast the granola in the oven for 20 to 25 minutes, stirring a few times during baking, until the granola is a golden brown. (Be sure to stir from the edges, which tend to darken quicker than the center.) Remove from oven and let cool completely.

Storage: Store the granola in an airtight container at room temperature. It will keep for one to two months.