Blogher Food '11, Atlanta
People often ask me how many times I get back to the states. I don't know why this is such a pressing question but having just gotten off a plane after 1 1/2 days of sitting on plane, where the guy next to me coughed all night* – and he was kind enough to cover his mouth (although each and every time he did, he jabbed me awake with his elbow) – then sitting in a crowded airport bus for nearly two hours in rush hour traffic from de Gaulle at 7am for my final sprint home, I can honestly still say the BlogHer Food conference was well-worth the trip.
The nice thing about the annual BlogHer Food conference is that it's a good mélange of food folks, from everyday cooks to professional, both of whom happen to have blogs. There aren't a lot of places in the world where people converge like this on similar footing and it's fun to chew the fat with young folks under the age of twenty along with folks coaxing bloggers to engage in more adult activities.
People converge at conferences like this because they share something in common, including the good (making friends from all over the world, meeting over English muffins, sharing recipes) and the bad (content thieves, server downages).
I'd not been to Atlanta and I have to say, while I didn't get to see a lot of it, I did get to see – and eat – as much I could pack into my stomach in three days. I also haven't spent a lot of time in the American south (I also haven't spent a lot of time on beaches in Thailand either), and there's only so much one guy can do with his time and I tried to sample the diversity in the city in between all the conference fun.
At the tastings by some of the sponsors of the conference, the grouchy old me kept waving away any and all of the new-fangled stuff they were offering to spread on the English muffins, like Nutella or jam (I'm a just-butter kinda guy, since I wanted to revel in the English muffiny goodness without all the other stuff), but once persuaded to try the feta spread**, I had to admit it was pretty amazing stuff. See? Even I need to open my iron-clad mind every once in a while.
In order to stave off the time difference, I arrived a day early and through the power of Twitter, when I saw that Kalyn and Lydia were heading to the Dekalb Farmer's Market, I leaped out of my Heavenly Bed and ran downstairs to catch a cab with them over there.
Not to be disparaging, but I was a bit disappointed when we pulled up outside a giant warehouse-like building. I suppose I should have looked at their website, which showed a hulking, windowless structure. Walking inside, there were rows of produce, some of it was lovely – especially the unusual Asian and Mexican chiles, and root vegetables – which were offset by bins of shiny-perfect apples from Chile. Ringing the outside were dried fruits, nut butters, and spices, and there was an extensive cheese selection which was very nice to see. But I wasn't sure of where the "farmers" were at this market
Kalyn got tsk-tsk'd for snapping photos (since I live in Paris, I know better) and we finally split, me with two bags of wild rice which, adding in the cab fare from downtown, cost me $27.75 each. Still, I think if I lived in Atlanta, I'd shop here selectively as there were some nice fruits and vegetables, as well as meats and lovely cheeses, mixed in with all the other stuff.
So off we went in search of a burger. Kalyn had remembered dining at Buckhead Diner many years ago, so we sped there in our taxi. Interestingly, on the plane home I was reading in an issue of Gastronomica magazine that Julia Child used to dine here when in town.
Nowadays it's a rather sleek affair and the burger was fine. But I realized that mostly people in Atlanta like their greens, and they like their pork products, and I'd have to wait for the right burger to come along. I had it during a rollicking fun dinner at Abattoir, which means slaughterhouse, in French, and is equally fitting since it's both located in an old meat-packing plant and serves a menu heavy on charcuterie and other meaty items.
I was with some food writing gal–pals, who gave the one lone fellow at their table a run for his money in the eating department. Even though the name is French, the cooking highlights what's going on today in America, namely serving fresh, honest foods from local sources, and cooks becoming keenly interested in reviving the art of making their own charcuterie, often surpassing what's available in Europe.
I ate a lot more than I should have, and it was impossible to stop eating the outstanding frites that came with the hamburger which I wanted to wrap up and bring home with me, but didn't.
The next night I thought I'd stay in bed, but instead got swept up in an impromptu dinner of real southern food at Mary Mac's Tea Room with a large group of folks from the conference. I didn't see any tea, so I ordered a Jack Daniel's on the rocks while everyone else drank wine. (Who drinks wine with southern food? But after the feta-incident, I guess I shouldn't be so judgmental.)
Since fried chicken is My Absolute Favorite Food in the World, I ordered that; three hefty drumsticks with a side of macaroni and cheese, and an iceberg lettuce salad. (Hey, don't judge me, even though Ari laughed at me for ordering it.) The deep-fried crayfish were excellent with the rich, spicy dipping sauce, which made up for my healthy salad choice. So there.
A market that I did enjoy was the Sweet Auburn Curb Market, located close to downtown, which was a great place because items were sold in individual stalls. From the folks outside selling tamales and tacos, and even to the owners of the grocery store inside who I thought were following me while I was engaged in some "power shopping", in an effort to be helpful – until someone told me that they were worried that I was a shoplifter with my big bag. Yet I enjoyed the market very much. Even if I wasn't able to steal anything.
I did buy (yes, really) two enormous bags of kale and a few rolls of aluminum foil for a French friend in Paris who always implores me to bring back some of that "…very heavy-duty aluminum foil, s'il vous plaît, Daveed! There's plenty of bacon and other pork products where I come from, so I didn't feel the need to stock up on fat back or bacon. Plus I was getting my fill of pork at the events. Can fried chicken please be the next food trend in America? Thanks.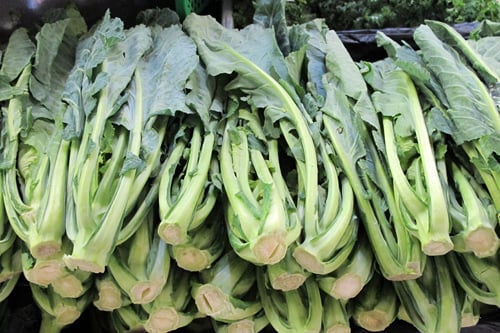 The BlogHer Food conference organizers had arranged for us to get out of the big hotel complex, which was nice and a way to not just get some fresh air, but to include the city in the conference rather than us being trapped indoors all day. And conferences are about networking and bonding during the limited time together, kind of like speed-dating, and this gave us a chance to relax while enjoying some great food together. Either that, or they heard my transatlantic pleas for kale and aluminum foil and were kind enough to schlep all five hundred people over to the market so I could pick up a few things.
As soon as our bus pulled in and I saw the bbq truck parked at the curb, it took me little time to race over to the window to order. I couldn't believe there was no one else in line…until I realized that yes, there was a line, and I'd cut right to the front of the dozen people waiting in it.
I always warn visitors that 3 inches of space looks like 3 feet of space in Paris, and people aren't shy about engaging in le resquillage, taking an opportunity to wedge themselves in if they see any sort of opening. Or creating an opportunity, if necessary. (And who said the French aren't enterprising?) I sheepishly moved out of line when I realized what a connard I was and Jaden started laughing at me when I realized what I had done.
Boy, was my face red. So I channel my inner-American and waited patiently for my turn in line until I got to the front and since they didn't have fried chicken, I ordered smoked pork with a side of macaroni and cheese and a simple, but excellent baked potato salad. I never thought of baking rather than boiling the potatoes, and I'm going to try that next time I whip up a batch of salade de pommes de terre.
After I did a careful scan to make sure there were no "souvenirs" from local canines, another habit I have from living in Paris, we basked on a grassy patch, me sipping my Arnold Palmer, while simultaneously trying to scrape the sticky wad of chewing gum that someone left on the walkway off the bottom of my sandal. Which is one habit from my fellow Americans that I definitely don't miss.
The indoor market was a lively mix of vegetable vendors, restaurant stalls, with no shortage of people selling pork and related pork products.
I'm used to pork products, but never saw such piles of everything from layers of pork fat back, bacon, and smoked pigs ears, to uncooked sausages as long as broom handles, flecked with spices and herbs. And giant tubs of smoked turkey wings, live crabs, and lots of other fish and fowl packed in between them.
Piles and piles of greens were heaped up; mustard, collard, and even kale, which have found a good home in my freezer, which I sautéed with garlic and olive oil, for longer safekeeping. I just hope I don't get robbed in the next few months and lose my stash, even though I think it's pretty well hidden in there.
Right before leaving, I stopped in the coffee shop where they were chopping up fresh Georgia peaches for peach tea, and the utterly charming young woman ground up a pound of fresh roasted coffee for me to bring home, which I enjoyed this morning in my cross-cultural café au lait.
But even though it was a food blogging conference, at some point we had to buckle down to business, and there were great seminars on everything from recipe writing etiquette and dealing with copyright issues by David Leite and Dianne Jacob, to getting tips on food writing from veteran, Nancy Baggett, to the seminar I participated in on social media with Jaden and Sara-Kate Gillingham Ryan, which I'm planning on doing a write-up of in the near future for the site because it was interesting to hear what everyone had to say.
I did meet hundreds of other food bloggers, newbies and old pros, some as young as 17, and others from as far away as Istanbul, all typing away with their little fingers on their food-stained keypads at home, creating recipes and sharing stories of food for their own particular point of view, being part of this whole sprawling medium. I love the diversity and the thousands of voices out there and that at some place, perhaps in Atlanta or elsewhere, we all intersect and complement each other. It's all very special and it's hard to convey the experience except to say it's like sitting down at a large table with a group of strangers over a big meal and instantly hitting it off, and having a rollicking good time.
So our final meal was at Holeman and Finch, which was sort of a free-for-all of food, and I only knew about half of the people at the table. Prior to my visit to Atlanta, a few people had told me that the city wasn't worth a visit, "Just get in and get out", they said. And I have to say how wrong that advice was.
Aside from the obvious attractions like the CNN tour and a visit to Coca-Cola (and my room with a Heavenly Bed, Starbucks coffee, and a full spectrum of television stations in English), when you leave the larger American cities, people are much, much nicer and far more relaxed. It's a lesson I keep forgetting, having lived in coastal cities, and one that I'm always happy to be reminded of when I venture deeply in between the two coasts. There's good food in them states!
I had a spectacular last-evening meal with a makeshift group here, which was obviously quite the Atlanta hot spot judging from the packed bar. Yes, the waiters had ironic tattoos, plaid shirts, and were post-adolescently adorable, but seriously good handmade charcuterie hangs from the rafters in cooling chambers and carefully made salads and cheese boards heaped with outstanding ingredients let you know that Atlanta can serve it up as good as any restaurant in San Francisco or New York, or even Paris.
It was my first time trying lamb "fries" (testicles), which I can't say I enjoyed sinking my teeth into, but what's not to like about a pile of crispy radishes layered with sprigs of flat-leaf parsley or a well-made Manhattan, with a touch of smokiness from whatever the waiter suggested I modify my drink order with? (I was too lost in his inked-and-plaid-accented gaze.) House made pretzels were so good that we I ordered three more of them as soon as the first piping-hot mini-loaf hit the table. And sweetbreads cooked crisp with chewy greens went really nicely with the slightly spritzy white wine the waiter poured to go along with everything.
Back at home, I read from their website that at 10pm nightly, they announce they are making 24 burgers—and just twenty-four, because of the time it takes to prepare the burger correctly. Sitting here at my un-Heavenly desk in Paris a week later, makes me wish we had lingered a little longer at our table.


*I cut him a little slack because he had the dreaded middle seat. But on the other hand, I was kind enough to let him have the entire armrest.
**I couldn't find the recipe on their website so I asked them if they could send it, if they have it. If so, I'll add it here to the post shortly. If not, you're out of luck. And so am I.


Related Posts and Links
So you want to be a successful food blogger? Here's how… (Bay Area Bites)
Five Reasons to Go to a Food Blogging Conference (Will Write for Food)