I'm not one of those "extreme eaters" and I doubt you'll ever see me on one of those television shows showing off how brave I am, boasting about eating Lord-knows-what. In fact, I am the opposite end: I'm a defender of those who don't want to eat certain things. Who cares what other people's food preferences are?*
A few years back I got to cook with Andrew Zimmern, the host of "Bizarre Foods" who had come to France. To be honest, I didn't know who he was because I've been away from the States for a while. I was amazed when we went to my local market to shop on a sleepy Sunday morning, when suddenly, out of the woodwork, swarms of Americans descended on him. (Notice I said "him" and not "us" – hrrmmph!)
But being the gentleman that I am, I stepped aside to let the crowd through. And after spending a day with him, I'd have to agree: Next time I see him, I'm going to swarm him (again), too. He is one of the loveliest and most fun people I've ever met.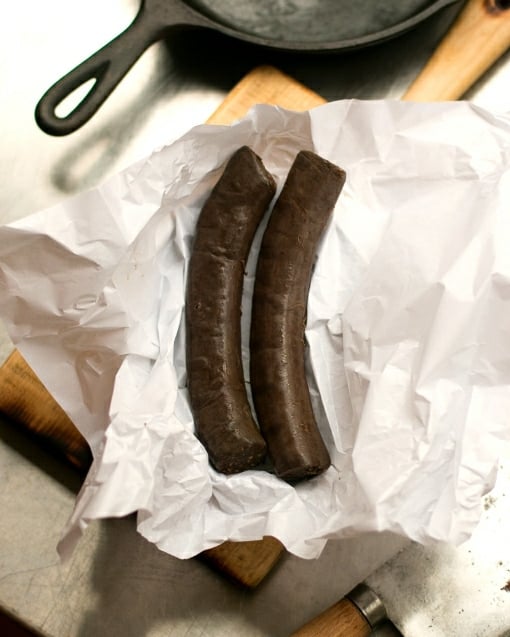 As much as I kind of fell for him, I still don't share his proclivity for eating all sorts of oddities, although I am sometimes curious about them. People have asked me, "Why are Americans so squeamish about what they eat?" which is rather odd because Americans eat a lot of hot dogs – and Lord knows what's in those…and some eat whatever is in that packet of orange powder that comes with boxed macaroni & cheese. (Which I recently bought on a whim because I saw it in a store, which was definitely not as good as I remembered.) And I have French friends who would never eat rabbit, kidneys, brains, or any of les autres abats (offal).
I don't want to stereotype either, but last time I was in California, there were two twenty-something women dining next to us at Zuni. Both looked like they may have just come from a pilates class. One of them ordered a burger, pushed away the bun (carbs!) and took her knife and fork to the meat patty and salad. The other ordered the boudin noir, and proceeded to dive into it when it landed in front of her. I was intrigued because it's not something one often sees on menus in America, or even in France anymore. So I just had to ask her, "How is it?" (Not because I wanted to know if it was any good, because if it was at Zuni, I'm sure it was excellent, but because I needed a conversation starter and I wanted to know why she ordered it in the first place.)
I like various kinds sausages, especially merguez, and will indulge in an occasional hot dog – hello Top Dog in Berkeley! (And, er…Costco. But mostly for the condiments.) But tend not to overdo it in the "what-kind-of-meat-is-in-this-thing-?" department. Yet recently I was invited to a friend's home and when I arrived, she was frying up rounds of boudin noir. And they were the best bites of boudin I'd ever had. So shortly after, I went over to the rue de Nil, to the butcher shop of Terroirs d'Avenir, where the focus is on meat from sustainable sources. And if you're going to eat products made from part of animals that filter things, you should probably make sure they've been fed something that doesn't require a lot of icky stuff to get trapped in their filters.
The butcher had two kinds of boudin noir (known elsewhere as blood sausage, black pudding, or morcilla, in Spain). One was from the Basque region, which looked juicy and plump, but he warned me away. "They're really, really fatty. Too fatty for most people." He steered me toward the boudin noir from the Jura, the mountainous region of east-central France where Comté and Mont d'Or cheeses are made. I guess since they get so much fat from Comté and Mont d'Or, they need to make up for it with leaner sausages.
I took my wiener(s) home, heated some oil in a pan, and sliced my sausages up to cook them. Curiously, they're a soft chocolate-brown color when you slice into them. But when sliced and pan-fried, which I think it the best way to cook them, they become pitch black as they crisp up. Boudin noir** is best paired with sautéed apples, and nothing else, really. Except maybe a little bit of courage.
---
*I've never understood why, if you don't like something, people say, "You don't like _______? Well, you've never had my __________….." And I just want to reply, "I don't want it. Leave me alone."
**That said, you should give boudin noir a try. Even if you don't think you'd like it.
Related Links and Recipes
Blood sausage recipe (Honest Food)
Morcilla (Serious Eats)
Homemade blood sausage (Wrightfood)
Spaghetti with black pudding and tomato sauce (Eat Like a Girl)
Estonian Blood Sausage (The Paupered Chef)