Warm Chartreuse Souffle with Chocolate Sauce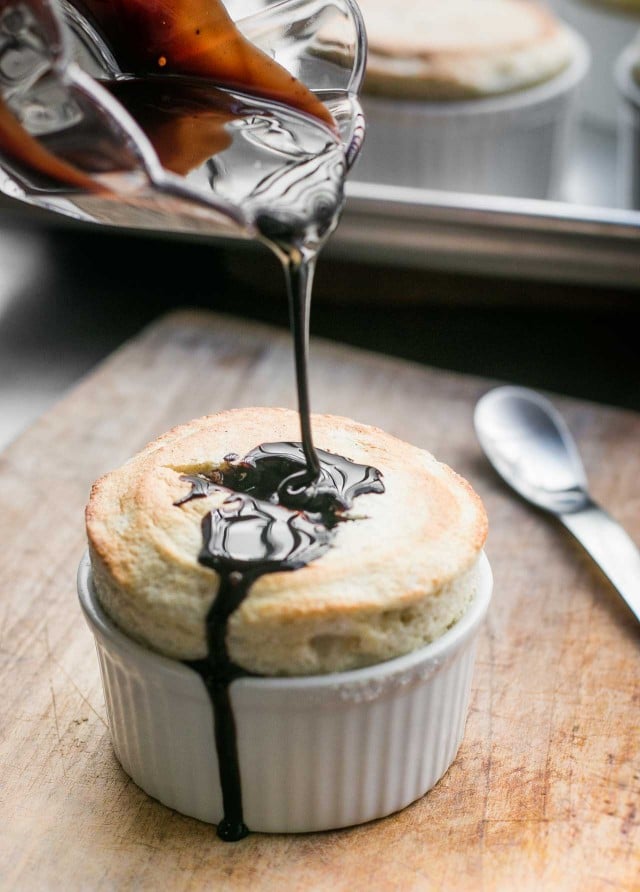 I've had a long love affair with Chartreuse liqueur, even before I visited the monastery back in the 1990's. We were led through a somewhat terrifying display of hooded monks (not real ones, fortunately, but long-face replicas), the kind you see in historical or agricultural museums in France that are meant to depict a historical representation of something, even drying prunes – likely for educational purposes, but always gives me a shiver. I guess I'm a lot more sensitive than the kids being led through the museums because those figures still haunt my dreams, decades later.
At the distillery, we saw how Chartreuse was made from 100+ herbs, one of them I swear was a leaf that was recently legalized in California, a smell I knew well at the time. Then we were led to a tasting, and finally, the best part – the shop! My favorite treats were the chocolates filled with liquid Chartreuse, which you need to eat all in one go. Otherwise, you'll find the liquid Chartreuse drenching the front of your shirt. If you're in Paris, they sell versions at Jean-Charles Rochoux and Fouquet, and they're well worth trying.
Chartreuse has a sharp herbal flavor that I find pair particularly well with dark chocolate. It's made in the French alps, a region featured in Hungry for France, one of my favorite books about France, from one of my favorite authors (and sometimes dining companion), Alexander Lobrano.
Alec, as he's known, was the Paris correspondent for Gourmet magazine for nearly a decade and now travels around France, and beyond, writing stories that focus on the local cuisine and culture for magazines, newspapers, and in his books.
His latest, Hungry for France, is a tour de force around the country, a place he knows well – from Normandy with its spectacular, gooey cheeses, to the Côte d'Azur, dining on ratatouille and fish pulled from the Mediterranean that morning. The book is filled with stories that anyone who loves France, and French cuisine, will savor, like his previous book, Hungry for Paris, a guidebook to Paris dining, which I found myself reading from cover-to-cover not just for the addresses, but for the stories that accompany them.
The one recipe in his book that I honed in on, toutes de suite, was the Hot Chartreuse Soufflé. I'd been meaning to add a few Chartreuse recipes to the site, and kept my bar stocked with a bottle at all times for when that happened. Then, it never happened. And somehow, the bottle of herbal green liqueur got drained from my stock. However when I saw these soufflés in his book, I grabbed my bottle of Izarra, a green Basque liqueur that I had on hand, which is somewhat similar to Chartreuse. (Although don't tell the proud Basque people that I said that!) It's got a lovely green color and has similar characteristics to Chartreuse, with the added bonus that I had a bottle within arm's reach.
I am very fond of Chartreuse (and Izarra) with chocolate and had some sauce left from a recent batch of S'mores Ice Cream that I'd churned up. I've sometimes folded a handful of bittersweet chocolate chunks into soufflés like this, which melt a little, which give hits of dark chocolate here and there. But in this case, I liked the luscious pool of chocolate that sunk a bit to the bottom. Swirled with the warm herbal soufflé, spooned up just out of the oven, it was a double-dose of dessert deliciousness.
| | |
| --- | --- |
| Chartreuse Soufflé | Print Recipe |
Adapted from Hungry for France by Alexander Lobrano, recipes by Jane Sigal As mentioned, I used Izarra, an herbal liqueur somewhat similar to green Chartreuse. Chartreuse is widely available and unless you have a similar herbal liqueur on hand, like I did, there's no substitute. Another liqueur would take it in another direction. If you want to do some experimenting, am not sure exactly how much of another liqueur would work, but I'd try 1/4 cup (60ml). I used the chocolate sauce that was a ripple in the ice cream recipe here. It's not too thick and it good served warm or at room temperature, which I offer in pitchers alongside, so guests can add their own.
4
tablespoons (50g)
sugar
1/2
teaspoon
vanilla bean paste or seeds,
or 1/2 vanilla bean, split lengthwise
3
tablespoons (25g)
corn starch
5
tablespoons (75g)
green Chartreuse
5
large egg whites,
at room temperature
Additional sugar and softened butter for preparing the molds
1. Preheat the oven to 400ºF (200ºC). Butter the inside of five ramekins or custard cups with an approximate capacity of about 6oz/175ml capacity, including the rims, with softened butter. Sprinkle them with sugar and tap out any excess.
2. Heat the milk with 1 tablespoon of sugar and the vanilla seeds or half bean, to a simmer, in a small saucepan. Remove from heat, cover, and set aside for 15 minutes
3. Whisk together the corn starch with 1 tablespoon of sugar and the egg yolks in a small bowl. Gradually pour the warm infused milk into the egg yolk mixture, whisking constantly. (If using a vanilla bean, remove it first. It can be rinsed and dried for another use.)
4. Scrape the mixture back into the saucepan and cook over medium heat, whisking frequently, until it starts to thicken. Once it begins to get thick, whisk it more vigorously until it's very stiff, about 3 to 4 minutes. Transfer the pastry cream into a large bowl, let cool for a few minutes then whisk in the Chartreuse.
5. In the bowl of a stand mixer with the whip attachment, or by hand, whip the egg whites with the salt until they start to stiffen. Continue whipping, adding the remaining 2 tablespoons of sugar, until the egg whites are thick and hold their shape when you lift the whip.
6. Fold one-quarter of the egg whites into the pastry cream (if it looks lumpy, okay to give it a couple of pass-throughs with a whisk). Once incorporated, fold in the rest of the egg whites just until no – or very few – streaks of white are visible. Divide the mixture into the prepared ramekins. Smooth the top and run your thumb around the inside of the soufflés, which will help them "crown."
7. Place the ramekins on a baking sheet and cook for 12 minutes until the soufflés are somewhat firm but still jiggly. They make take a minute more, or a minute less – ovens are like that. Remove from the oven and serve immediately, preferably with a pitcher of chocolate sauce. You can also dust them with powdered sugar if you want to be more upmarket.
Do-ahead: You can make the pastry cream (up to step 4) in advance and chill overnight in the refrigerator. You can also prepare the soufflés in advance (up through step 6) although I like them best made at the last minute, since that's part of the excitement of serving a soufflé.