Chocolate Caramel Cake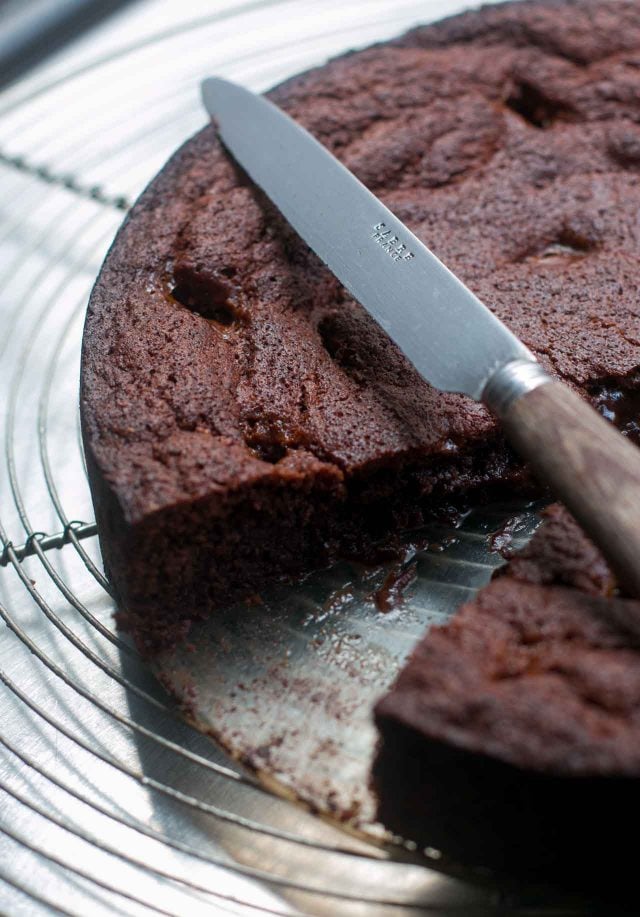 I've got a number of chocolate cakes in my repertoire, from a super-dense Chocolate Orbit Cake to soft, warm Chocolate Dulce de Leche Cakes, from My Paris Kitchen. And they all share one thing in common: a lot of chocolate. I'm not much for adding things that detract from the chocolate flavor, so I shy away from adding raspberries or other fruits and berries, or layering them with cream, or what have you. I just like straight-on chocolate cakes.
That said (and what would the internet be with people contradicting themselves?), I do like caramel with chocolate – and for the record – coffee as well. So when I came upon a rich chocolate cake studded with gooey pieces of tender caramel, I knew I had to get on it, pronto.
As I gathered ingredients, I was extra careful this time around. Right now there is a butter shortage in France. And in the rest of the world, vanilla has soared in price. Fortunately, I stocked up on butter, and buy vanilla by the quart, so I'm set for a while. But rather than feeling smug about it, for those of you that don't regularly buy ten blocks of butter at a time, or keep five bottles of vanilla extract squirreled away in a locked safe, I pulled out my bottle of chocolate extract for this cake to offer up a complementary alternative. And I mean, complementary as in, they go well together. (Chocolate extract costs a fraction of what vanilla extract is going for these days, so it might feel like it's free, even though technically, it's not.)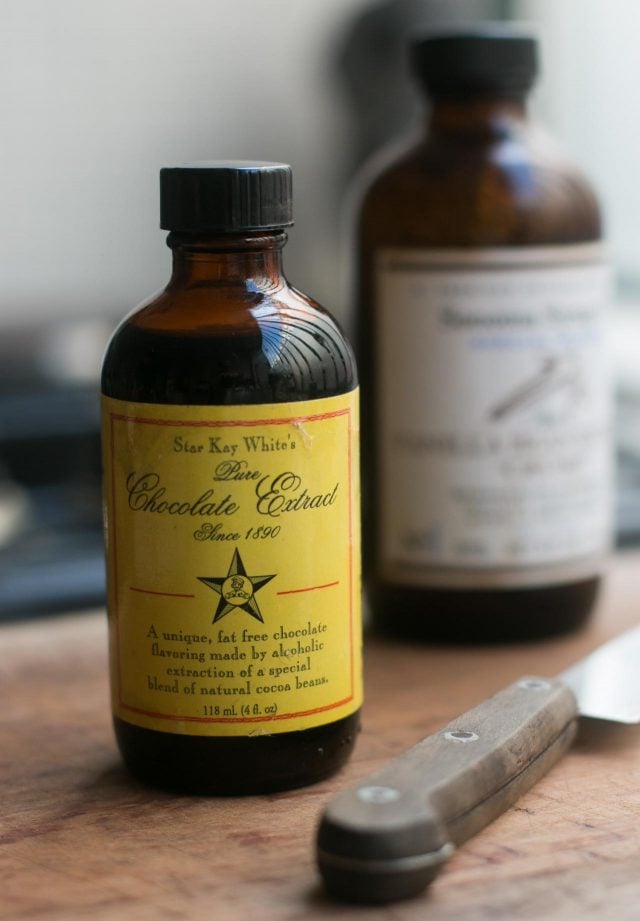 I can't help you in the butter department, if the shortage is affecting you, but chocolate extract is nice to have on hand, and certainly a more affordable alternative, and I like to use it along with vanilla extract when making chocolate desserts.
It doesn't quite replace vanilla, which has its own, gloriously magnificent aroma; I've been known to dab a little under my nose when using it while baking because I like the smell so much. (And yes, I wash my hands with soap and water afterward…) But chocolate extract adds a few extra chocolate "notes" to chocolate cakes, tarts, ice cream, and other chocolate desserts.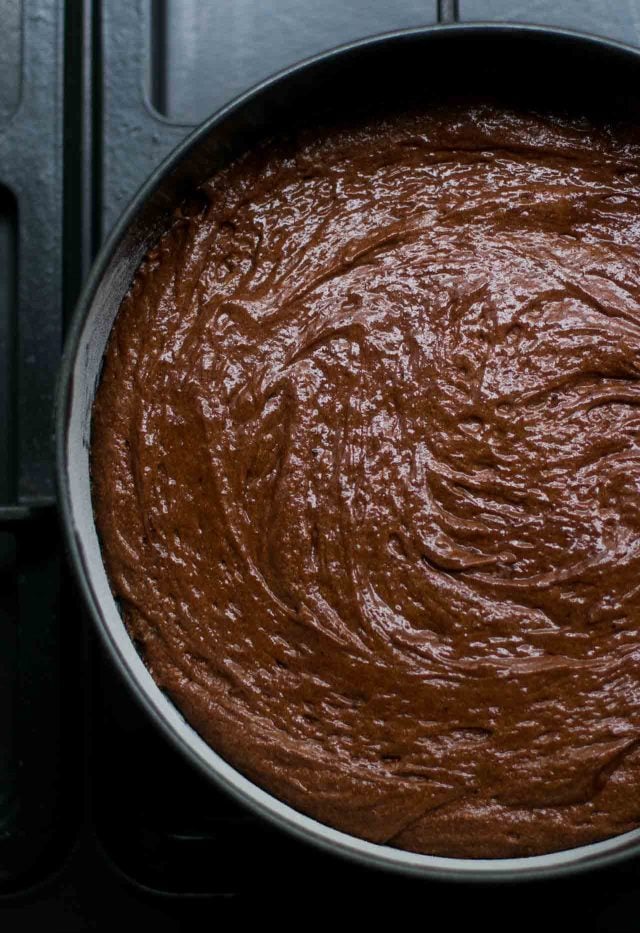 I spotted this cake in a French cooking magazine, but tweaked a few things, including doubling the number of caramels and adding a bit of extract to it.
Europeans don't add vanilla to things with the same abandon as Americans, and usually use arôme vanille (vanilla in a glucose base), or packets of vanilla sugar, rather than vanilla extract, which is alcohol-based. And of course, there is artificial vanilla, which should be avoided everywhere.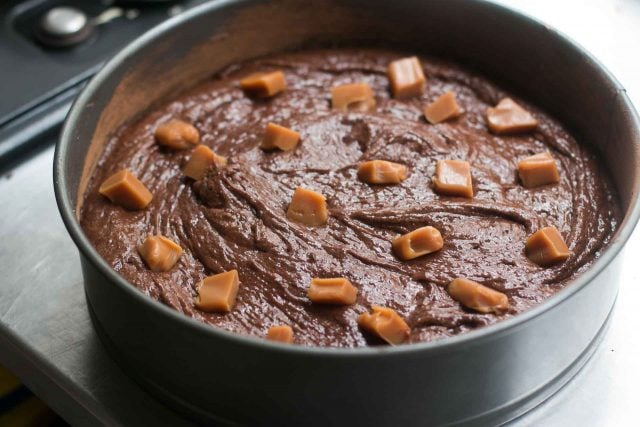 The result is a cake with lots of chocolate flavor, with pools of soft caramel poking through the top. I was considering serving it with a scoop of ice cream, or crème anglaise.
But as it sat on the counter, with a knife conveniently alongside it – well, like most good cakes, passersby (namely, me and Romain) lopped off pieces when we passed it…and before I knew it, it was gone. You might have better luck around it, but I wouldn't bet on it.
| | |
| --- | --- |
| Chocolate Caramel Cake | Print Recipe |
Inspired by Elle à table I use a glass-bottom springform pan, which is your best friend if you're a little OCD about getting cakes neatly out of springform pans. If you don't use one, line the bottom of the pan with parchment paper. I used soft caramels that I bought. If you want, you can make your own salted butter caramels. If you go the store-bought route, buy soft caramels, which will melt, and meld, into the cake better than hard caramels.
7
ounces (200g)
unsalted butter,
cubed
8
ounces (230g)
bittersweet or semisweet chocolate,
chopped
3
tablespoons
unsweetened cocoa powder,
natural or Dutch-process
2/3, plus
1/3 cup (200g, total)
sugar
1/2
teaspoon
vanilla extract
1
teaspoon
chocolate extract
(optional)
12
soft caramels (85g),
cut in half
1. Preheat the oven to 350ºF (180ºC). Butter a 9-inch (23cm) springform pan. Dust the inside with flour or cocoa powder, and tap out any excess. If not using a glass-bottom springform pan, line the bottom with a circle of parchment paper.
2. In a small bowl, whisk together the flour, cocoa powder, and baking powder.
3. In a large bowl set over a saucepan of barely simmering water, melt the chocolate and butter together, stirring until smooth. Remove from heat and stir in the 2/3 cup (130g) of sugar, then the egg yolks, vanilla extract, and chocolate extract (if using). Mix the dry ingredients into the chocolate mixture until it's free of any lumps.
4. In the bowl of a stand mixer fitted with the whip attachment, or by hand in a large bowl with a whisk, beat the egg whites on medium-high speed until they just start to hold their shape. Add the salt and gradually add the remaining 1/3 cup (70g) of sugar gradually, whipping until the egg whites hold their shape and are smooth and creamy. Do not overbeat.
5. Fold one-third of the beaten egg whites into the chocolate mixture, then fold in the remaining egg whites just until no streaks of white are visible. Scrape the batter into the prepared pan, smooth the top, and strew the pieces of caramels over the top of the cake. (Avoid putting them too close to the sides of the pan: the caramels will stick to the side of the cake pan and make it harder to cut.)
6. Bake for 25 minutes, until the center still feels soft, but like it's almost about to set. Let cool, then remove the sides of the springform pan and serve.
Serving: This cake is good enough on its own, although can be served with whipped cream or ice cream, such as vanilla ice cream or cinnamon ice cream.
Storage: Cakes like this don't keep well so it's best enjoyed the same day its made, although can be kept up to two days at room temperature. I haven't frozen it because it didn't last very long. If you freeze it, let us know how it works out in the comments.