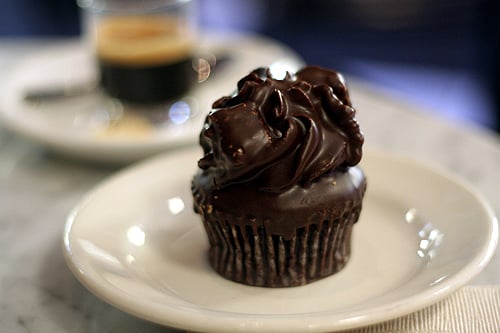 I feel like I deserve a majority of the credit (or blame…depending on how you look at it) for the cupcake craze. I was eating them decades ago, when no one gave them a second thought. And now, as someone who teaches baking told me, making and selling cupcakes in America is like printing money.
I'm not much for trendy foods, but for some reason, mid-day yesterday, right in the middle of my Japanese bento box lunch of chicken katsu and seaweed salad, I was seized with the overwhelming desire for a cupcake.

I had no idea where it came from, or why I did.
The night before I'd visited Orson, Elizabeth Falkner's new restaurant, which is enormous, and where all the baking is done for the restaurant and her stellar bakery in Hayes Valley, Citizen Cake.
(Disclosure: I think Elizabeth is totally one of the cutest people in the world.)
When I walked though the kitchen, perhaps the boxed of iced cupcakes, all in perfectly-neat rows, had become embedded in my brain. Because the next day, I just had to have one.
It didn't take much coercion for Elise from Simply Recipes to get into the car with me and make a mad dash over there, where we ordered two of the chocolatiest examples of cupcakes in the display case.
I'd every intention of cutting them both in half, and sharing, but the road to h-e-double-toothpicks is paved with good intentions, and once I got a taste of the chocolate marshmallow filling and toasted walnuts buried under the shiny, bittersweet chocolate glaze atop my Rocky Road Cupcake, all graciousness was swept aside and I ate the whole darn thing by myself. And I'd like to say that I'm sorry, but my mother always told me not to lie. So I'll just say that I regret my actions very much, and leave it at that.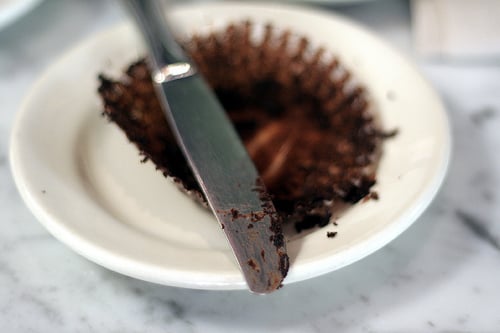 I'm sure Elise was horrified, but you can't be a real Parisian if you're not completely selfish. Of course, being a Californian, she kept quiet. Although I notice she didn't offer up half of hers either, but I'm going to give her a pass because deep-down, I'm sure she meant to. Really.
The chocolate cake was unusually moist, exceptionally so, and frankly, anything made with marshmallows automatically shoots up to the top of my favorites list and stays put. My cupcake was "the bomb" as they say—and what good is half-a-bomb?
See how good I am at justifying my boorish behavior? But I made up for it the next day at another cupcake shop, where the cupcakes were another kind of "bomb"—more like "butter bombs", and I happily gave up my cupcake as this trip is beginning to give new meaning to the word belt-tightening.
But the Rocky Road Cupcake? That was worth losing another notch.
Citizen Cake
2125 Fillmore Street
San Francisco, CA
(415) 861-2228
Orson and Citizen Cake Kiosk
504-508 4th Street
San Francisco, CA
(415) 777-1508
UPDATE: As for December, 2011, Citizen Cake bakeries, and Orson, have closed their doors.