Grapefruit Vermouth Marmalade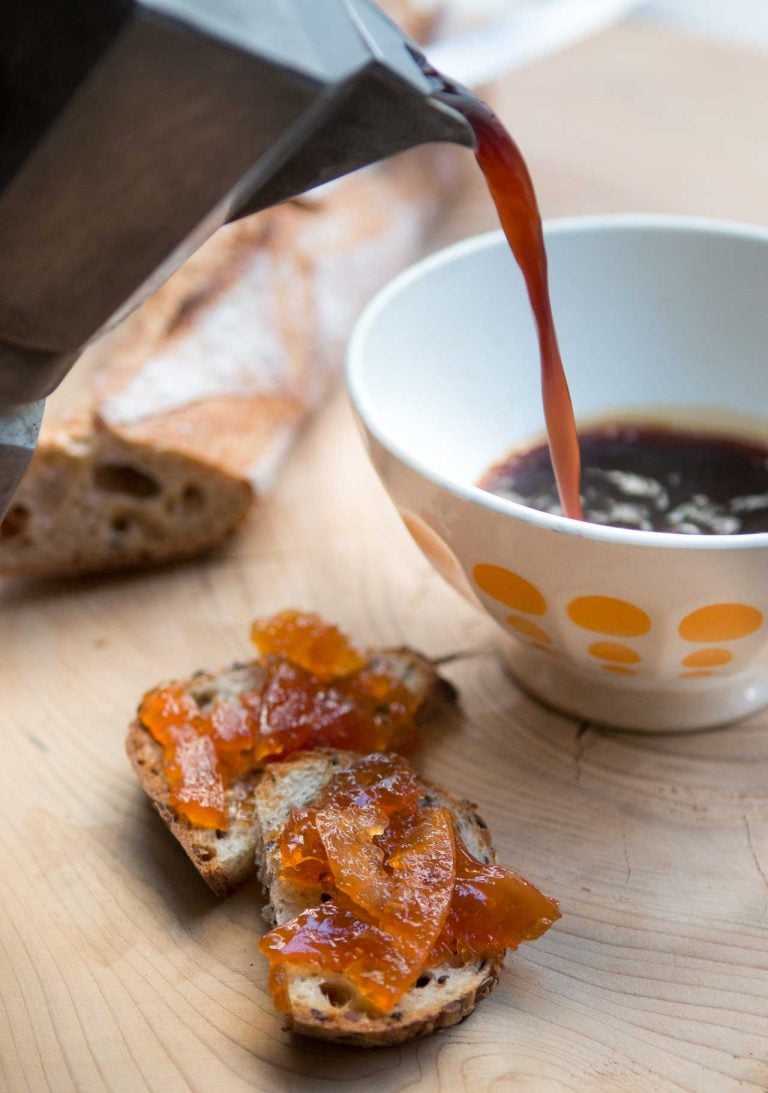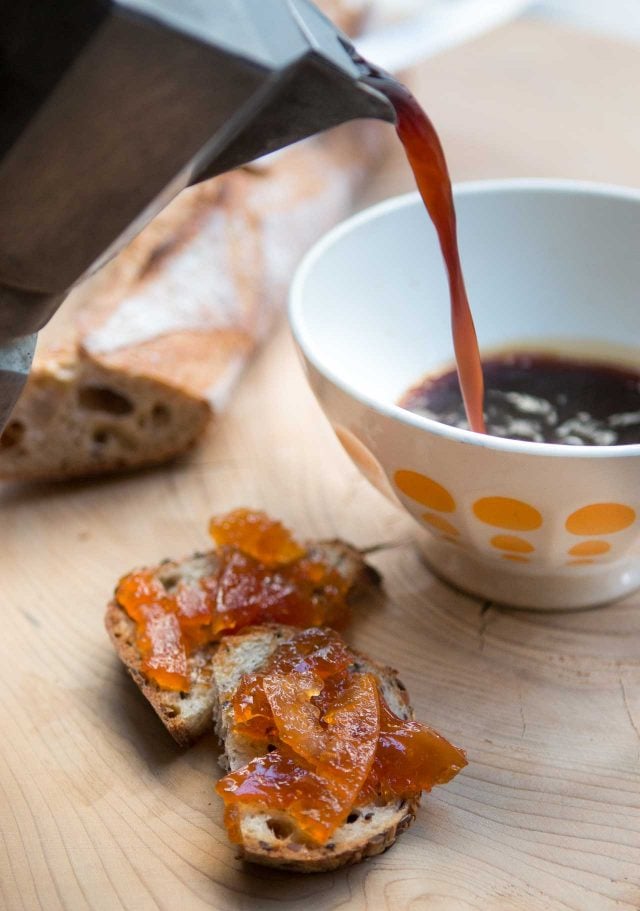 When I arrived in Paris, I was surprised to see pink grapefruits as objects of such adulation. Métro billboard ads extolled the virtues of pink grapefruits, with ones from Texas being the most prized. Of course, it was a marketing campaign, but those grapefruits are rather good. When I lived in California, we didn't just have grapefruits, we had everything, from Oroblancos, to tangelos and pomelos.
In the past few years, places such as Terroirs d'Avenir in Paris, which supply us with French-grown citrus, including oddities you don't see often here, like limequats and Buddha Hand citrons.
It's sort of my happy place in the winter. Sure, there are tons of clementines at the market, but I like checking at all those elusive varieties of citrus, many coming from specialty producer Agrumes Bachès. They're still considered 'specialty items' since most growers aren't focusing on lesser-known varieties of citrus here, so it's fun when you find them.
To preserve the season (and really, because aside from citrus, there's nothing else to make jam with), I decided to make a batch of Grapefruit Marmalade.
(In somewhat related news, the French word for grapefruit is pamplemousse, which is one of my favorite words in French.)
Generally speaking (as always) the French don't mix up too many flavors with their jams. The lavender-apricot, blackberry-mint, and pineapple-sage-cardamom-green anise-poppy seed kind of mixtures you come across don't seem to play that well here. And, generally speaking, I tend to agree: I like my jams and confitures on the straightforward side.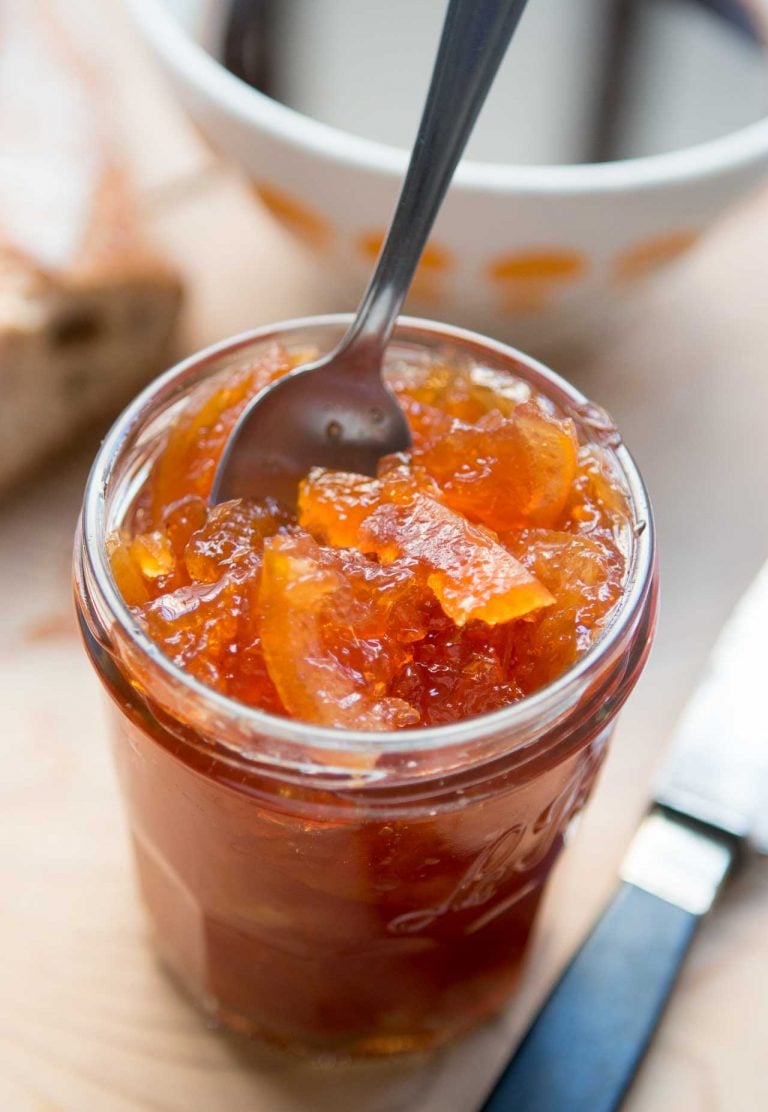 Because it's always good to include modifiers on the internet, even though – generally speaking – I keep the flavors pretty pure in most of my confitures, I added a pour of sweet red vermouth to this batch, which gave it an underlying complexity that doesn't distract from the fruit. It behaves, in the marmalade, the same way it does in a cocktail; It enhances and compliments the other ingredient(s), but doesn't compete. The quinine and other spices and botanicals in vermouth work perfectly with the tartly assertive grapefruit. Bottoms up!
Grapefruit Vermouth Jam
For those worried about getting hammered first thing in the morning, the vermouth gets cooked with the marmalade, so
some of the alcohol dissipates
. I've suggested a few alternatives to the vermouth after the recipe. 
Servings
3
jars (about 1 1/4 cups/300g)
4

medium

pink grapefruits

,

about 3 pounds, 1,4kg, preferably organic or unsprayed

4

cups (1l)

water

2 3/4

cups (550g)

granulated sugar

pinch of

salt

3/4

cup

sweet (red) vermouth
Remove the peel from 2 of the grapefruits with a paring knife by lopping off the round ends and slicing off the skin and the white pith. They don't have to look perfect and if some of the white pith remains, it's not a problem. Use the knife to cut the grapefruit sections out, away from the membranes. Put the grapefruit sections in a large nonreactive pot and squeeze the juice from the membranes into the pot as well. (You can reserve the grapefruit skin pieces for another project, such as candying.)

Slice the remaining two grapefruit rinds in half crosswise and juice them, adding the juice to the pot. Use a soup spoon to scrape out the membranes and discard them.

Cut each juiced grapefruit half in half, so you have eight grapefruit quarters. Use a chef's knife to cut the grapefruit rinds in quarters crossways (rather than lengthwise), then into strips about 1/4-inch (.75cm) wide. Add them to the pot, along with the water, sugar, and salt, and bring to a full boil. Turn the heat off, cover, and let stand 1 hour. (It can sit overnight.)

To finish the marmalade, if you have a candy thermometer, clip it to the side of the pot and bring the marmalade mixture to a boil, then reduce the heat so it's at a low boil. If you don't have a candy thermometer, either use a digital thermometer or follow the instructions in the next steps. Place a small plate in the freezer, to test the marmalade later.

Cook until the mixture is reduced by about half. Add the vermouth and continue cooking until the syrup around the grapefruit pieces is as thick as warm maple syrup and the bubbles are no longer foamy, but thick and transparent. The temperature should read about 215ºF (101ºC). Turn off the heat and place a bit of the marmalade on the chilled plate. Return it to the freezer for a few minutes and check it using the "wrinkle test;" if you nudge it with your finger and it wrinkles, it's done. Marmalade generally sets at 218ºF (103ºC) but this one may set sooner.

If not, continue cooking and checking the marmalade, checking once or twice more, if necessary, until it's done. (Make sure to turn the heat off under the marmalade while you're cooling your samples to check since it'll keep cooking, and may already be done.) Ladle the marmalade into clean jars with lids. If you're not planning to eat it within a week or two, store it in the refrigerator, where it'll keep for several months.
Notes
Notes: I don't can this jam in a hot water bath but if you wish to do so, you can find guidelines on home canning here and here.
You can use another apéritif-style fortified wine for this, such as Byrrh, Dubonnet, or Cap Corse rouge. If you want to make it without the alcohol, unsweetened grape juice could be a substitute, or you can leave it out.