Involtini: Feta & Prosciutto Rolls
I was having drinks at a friend's house last night, who is a cuistot, the French slang for a cook. I don't think you'd say cuistat for a woman, but whatever you want to call us, the conversation pretty much stayed on one topic: Food. We talked literally for hours while we drank brisk sauvignon blanc and picked apart an amazing wedge of 30 month-old Comté cheese from a giant wedge on a cutting block positioned strategically between us.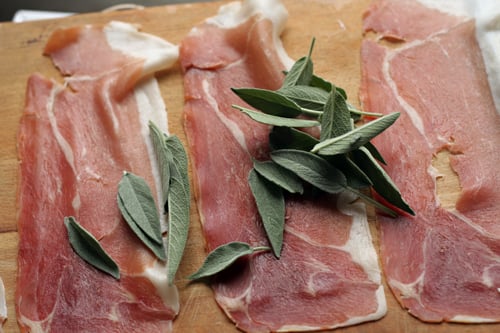 For some reason, the conversation turned to food intolerances and allergies, which aren't all that well-known in France. I've never been invited to a dinner party at a French person's house and quizzed about what I don't eat in advance. (Although since being served squid once, I've learned to be pro-active so it doesn't happen again.) Yes, there is a growing consciousness about various food intolerances, although there isn't a large-scale comprehension about many of the various diets and regimes out there.
Some friends from California were surprised when they went to a vegetarian restaurant in Paris recently and there weren't any vegetables on the menu. And I've heard from numerous people who've told waiters that they didn't eat meat, and were offered foie gras instead, since that wasn't considered "meat."
During our conversation, I'd mentioned to her that a few products were becoming more widely-available, like lactose-free milk, and there's even a gluten-free restaurant in Paris now. I don't know if she was entirely convinced, but she gave me a barely-touched jar of agave nectar when I left.
As a cook, I actually don't mind when people have dietary issues when coming up with a recipe, although one recipe can't possibly be all things to all people. Being a baker, I do like to experiment with different flours and grains, and I love the flavors of various honeys and liquid sweeteners because they change the profile of a dish in interesting ways.
Unexpectedly, this weekend I had dinner with a fellow in Paris who makes raw chocolate bars, sweetened with….you guessed it—sirop d'agave. I snapped a corner square off the bar and slipped it in my mouth, expecting the explosion of dark chocolate as the bar boasted 77% cacao solids. However it was smooth, and doux, and much to my surprise, the lively flavor of the chocolate was because blended in was a mixture of 7 épices.
So here, there's both ends of the spectrum, from the traditionalists who are content to stick with the classics, as well as those experimenting with new ingredients and flavors. There's something to be said for both schools of thought. (Although I'll take a pass on cumin-scented chocolate.)
I realize now that I'm not only straddling two cultures, I often find myself sitting between two culinary cultures here. See how complicated my life is?
Luckily not everything is complicated in my life. Like these Involtini, which are pretty great for several reasons. The most important is they taste good, but also because they're very easy to make and require only three easy to obtain ingredients. They can also be made a few days in advance and actually improve as they sit. And they're inexpensive; just three slices of ham and a small rectangle of feta yields around twenty five involtini.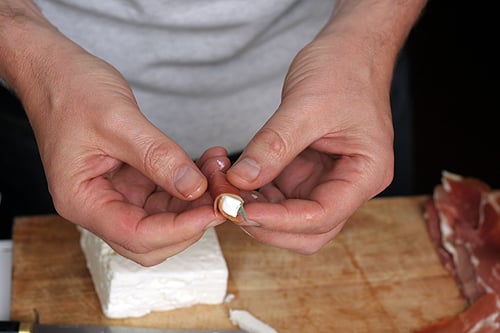 Unlike baking recipes, the actual amounts of ham and feta will vary, depending on how you (or the person slicing the prosciutto) cuts them are. But they're not meant to look perfect, so don't worry if the slices aren't exactly the same width or the pieces of feta vary or crumble a bit when you slice it. Simply nudge them back together and roll them up in the prosciutto. No one will be the wiser.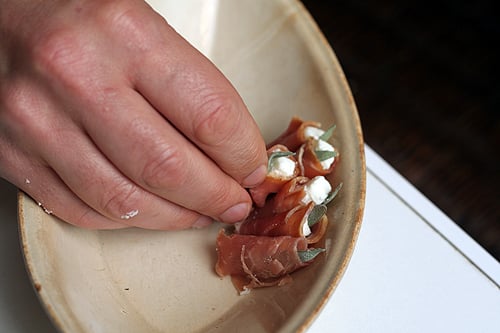 Lastly, be generous with the olive oil at the end. The little rolls soak up quite a bit of it as they sit, and as pastry chef Gina DePalma says, to Italians, olive oil isn't just something you fry in, it's a flavor. So what are you waiting for? Let's roll…
Feta and Prosciutto Rolls (Involtini)
Depending on where you live, you can use any kind of thinly sliced air-dried ham: anything labeled prosciutto will work, or one with provenance, such as jambon de Bayonne or San Daniele ham. I trim off the excess fat on the ham slices; unless it's very thin, it can be chewy and tough. Adding some fresh herbs adds a nice flavor; if the leaves are small, use them whole. Otherwise cut them lengthwise into thin strips. If you can't get feta where you live, try a fresh, firm goat cheese, or even cream cheese, adding some chopped herbs or black pepper perhaps to give it a little kick.
3

thinly-sliced pieces of

prosciutto (about 2 ounces, 60g)

2

ounces (60g)

feta cheese

Optional:

a few leaves

of fresh sage, mint, basil or oregano

about 1/3

cup (80ml)

extra-virgin olive oil
With a sharp knife, cut a slice of prosciutto into rectangular strips about 1″ x 2″ (3 cm x 5 cm).

Cut the feta into bâtons approximately the same width as the ham slices.

Make thin slices of a few leaves of a fresh herb, if using.

Take a piece of feta, rest it on the narrowest edge of a rectangle of prosciutto along with a sliver of herbs, and tightly it up, pressing it to make sure it stays together.

Set the roll in a dish, and continue, using the rest of the prosciutto and feta.

Once finished, douse the rolls with enough olive oil so that they're saturated and nearly fully immersed in the olive oil.

Serve, or refrigerate until ready to serve. If refrigerated, let come to room temperature before serving.
Notes
Storage: The rolls can be made up to three days in advance. Any olive oil leftover can be used as a base for vinaigrette, or for another purpose.
Related Posts and Recipes
8 Things to Know About Choosing Olive Oil
Prosciutto and Sage Wrapped Feta (On Rue Tatin)
Sicilian Involtini (Over a Tuscan Stove)
Joanne Weir's Cucumber-Feta Salad