[UPDATE: Kyochon has closed. For excellent Korean friend chicken in New York, try BonChon, which is located a few steps from where Kyochon was.)
Of course, I never heard of Kyochon. But when I was walking by it with my pal Matt, he said, "Oh…Kyochon!" To me, it looked like another fast-food restaurant. And normally, I'm not a fan of fast-food, but Asian fast-food? Sign me up! So much of their food lends itself to quick service: noodles, fried chicken, sushi, and croquettes.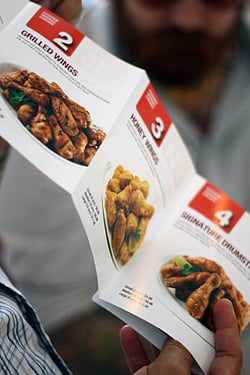 Fast-food, or course, has taken on a somewhat different meaning. But 'fast' doesn't have to mean 'bad', it just means that it's food that can be prepared and served quickly. And many ethnic meals, from French crêpes, Mexican tacos, Hawaiian plate lunch, to Japanese bento, are good examples of fast, and healthy, fare.
Unlike any taqueria I've even been to, when you enter Kyochon, a sleek, trim hostess at the podium greets you. At night, you can decide if you want to eat upstairs and get waited on, or downstairs, where it's take-away or eat at the long counter. Lunchtime is a free-for-all, and it's counter service, then you find a place to park it on your own.
A bunch of my friends who were here for a conference played hooky to have lunch with me (and have doughnuts, too), and Jaden, Elise, Matt, Adam, and I ordered just about everything on the menu, along with plenty of pickled daikon (white radish) for the inevitable 'cool down', that I was warned would be necessary.
My first clue that something was wrong right was that Matt couldn't eat his Signature Chicken Wings. His normally cheery face turned a fiery-red, and his eyes were watering due to their spicy heat. There is a warning on certain menu items, "For people that can handle the heat!" Tell me, what other fast-food restaurant warns their customers of the true, chili-inspired heat? This ain't the insipid hot sauce they give out in those squidgy little packets at Taco Bell. (And in case you need more, they have a few house-made sauces that you can help yourself to. I took a glug of the garlic-lime.)
I ordered the Bi-Bim-Bap Rice Ball, a mixtures of sticky rice and bul-gogi chicken, which even though they said was sautéed with their "fiery Korean Red Chile Sauce" wasn't as hot as the wings, and watching my dining companion on fire, I was a little grateful. (Although I do love spicy food.)
I also went with the Original Sal Sal Chicken Strips, which had a fast-foody 'vibe', being strips of chicken, rolled into long cylinders, and deep-fried, along with Chicken Croquettes.
The flagship outpost of this Korean chain is a high-tech marvel. Once you step inside, you realize this isn't your ordinary fast-food joint, unless you live in Asia perhaps. It's one of the things that make New York City so great; so many international restaurants set up shop here, and you can spend a few weeks in this city, but feel like you've been to a lot of places. Now I just need to decide which place I'm going for lunch. And dinner.
Kyochon
319 5th Avenue (at 32nd Street)
Tel: 1-212-725-9292
New York City Dining & Travel Notes