Lockdown in Paris – plus some easy recipes for kids
Hello, Emily here. We are now on day 27 of official lock-down in Paris and day 32 since we decided to stay home with the kids. With other cities and countries also implementing stricter social distancing measures, I thought I would share our routine, favorite recipes and ways to pass the time, and hopefully pick up some ideas from you in the comments below!
Lockdown in Paris – plus some easy recipes for kids
With a one-year-old, an eleven-year-old and a dog (not to mention I am also 6-months pregnant, which is wonderful, but can be overwhelming even during the very best of times!) in a Parisian-sized apartment, we had to quickly adapt to keep things manageable. I am self-employed so am working hard to keep my clients for as long as possible while supervising cyber-school and an Evel Knievel-like mini daredevil, who has just learned to walk. My husband Jérémy is also working from home but at a much more structured 9am-7pm job that is continuing as "normally" as possible. Renovations were scheduled to start on an extension to our apartment next week, to accommodate our rapidly growing family, but they are now on hold indefinitely as we try to figure out how best to welcome our upcoming baby with our current living situation. 
Watching airports close and friends panic back in Australia (where I am from) has been scary and sad, and I'll admit that I've been tempted to do the same. But we knew that the best thing for us, and for the greater good, was to avoid travel and stay where we are: here at home. We are thankful that France had a reasonably quick response to the crisis (although only time will tell) and has solid healthcare and social security systems in place, with free medical care available to all and an admirable commitment to supporting citizens and businesses throughout this crisis.
We have our worries; How long will this last? Will we keep our jobs? How can we safely bring a baby into the world? etc., but as we have no answers to those questions, we're focusing on the little things. Being kind, checking up on our elderly neighbors, and just taking things slow, knowing that apart from staying home, the situation is out of our hands. I also worry for those for whom home is not a safe place, or have no home to go to.
Paris (like many other cities) is built with small apartments and large public spaces. We have no garden but incredible parks nearby. Our kitchen is small but we have some wonderful restaurants just downstairs. Our apartment doesn't have a lot of space to hang art, but there are world-class galleries a few minutes away. So we miss these and other public places that are extensions of our apartment and our lives; 'our' park, 'our' barista, as well as the art galleries and restaurants that have become integral parts of our lives. But we know it's temporary, and are ready to help our community and neighborhood rebound as soon as we can.
A new daily routine for us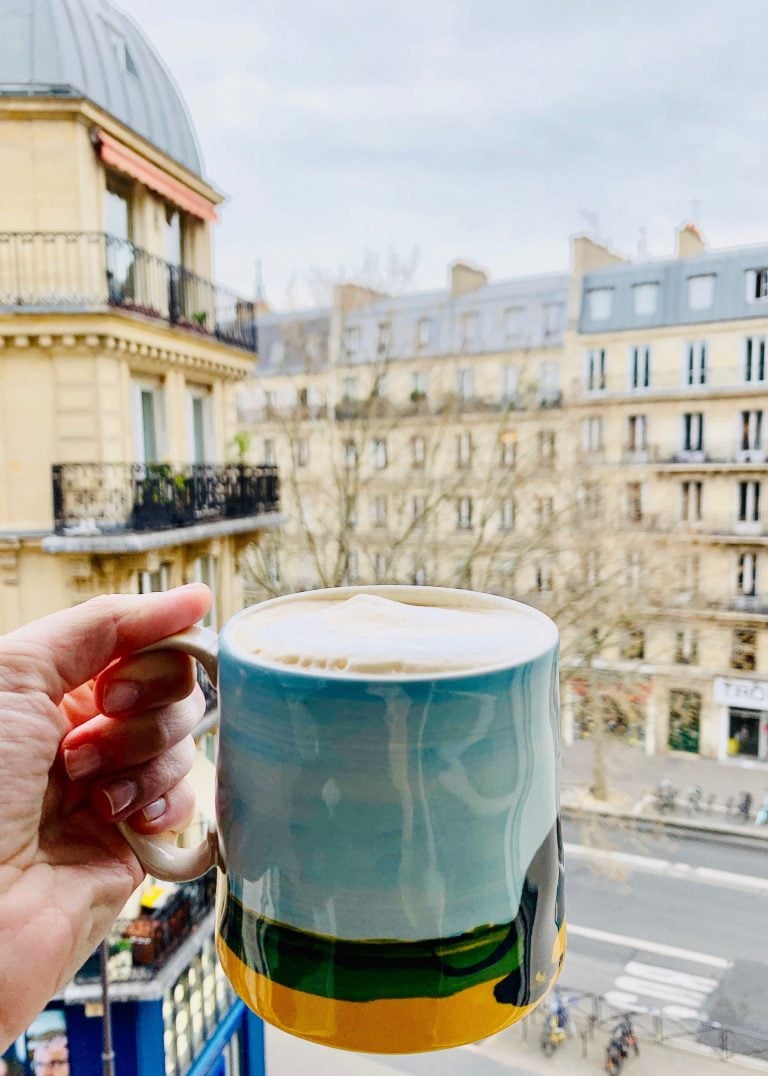 Our day begins when the one-year-old wakes…anywhere from 6 to 7am…and comes into our bed for cuddles before my husband (who is a morning person – before I met him, I assumed those people were just a myth), takes him into our kitchen/living room and gets the day started. He has breakfast with the two kids while I take a few minutes to properly wake up and prepare myself to engage with the world. 
Once Jérémy shuts himself away to work, I prepare a makeshift latte, sans barista, and settle on the sofa with our son to check in with my mum in Australia, thankful for the technology that allows us to do this, especially with all her future visits now canceled. I also try to speak to other family members (I have 4 brothers scattered between Sydney, Berlin, London, and Jersey – the island, not the state New Jersey in the U.S.) and a few friends here-and-there, making an effort to keep my morning cheery to set the tone for the day.
Our daughter is set tasks by her teachers and had her first 'Zoom' class which was slightly chaotic but nice for her to connect with her school friends (special shout out to all the parents like me, having to re-learn math and science in order to teach it back to their kids!). We are rather more relaxed on "screen time limits" at the moment so she has also become more acquainted with Netflix kids, and chats regularly to her friends and grandparents on Whatsapp. She is still too young for any social media, much to her disappointment…and our relief.
There are many new resources available online to keep kids entertained but our daughter's favorite time of day is her skipping rope competition with her dad. So far she is proud to be the undefeated champion. (Although not sure if the neighbors below feel the same way!) We have discussed with her why we are staying home, that some things are bigger than us and that hopefully our mild discomfort is helping to keep other people safe. I also make a (somewhat failed) effort to stop discussing the daily virus figures or listen to informative, but scary, podcasts while the kids are about.
While our son naps I type away furiously, responding to emails and other work. Or, I occasionally waste the whole precious nap hour down an Instagram hole. Now is not the time to feel guilty that I never work on 'my novel' and I have firmly established that I will never complete some of the tasks that I set out to do in past moments of productivity, which can now safely be filed in the poubelle (trash bin), lightening up the self-imposed load on my shoulders.
We eat together at 1pm and 7:30pm and our daughter gets to decide whether the cheese course will be served after lunch, or après dinner. We are currently enjoying an aged Comté, a soft goat's milk cheese, and Port Salut (a mild, smooth, semi-soft pasteurised cow's milk cheese from the Loire available in most french supermarkets). 
Setting the table nicely helps us to switch from 'work day' to evening and if you don't use the good china during a pandemic, when will you? The supermarkets are well stocked (we go once a week for food, taking all precautions) and I alternate between making elaborate meals such as Coq au vin or slow roasted lamb to pass the time, and wonderfully simple things such as basic omelettes or delicious and comforting roast chicken. Dessert has taken on a new meaning, although we cut some recipes in half so we can try out a new one each day. Sticky toffee pudding, Fondant chocolate (warm melting chocolate cake), and fruit crumbles and crisps have all been winners. Our son has no idea about the situation and continues to gobble his puréed (mushed) vegetables, yoghurt, fruit and milk. He is becoming more adventurous and wants to taste everything we have, now that he has a few new teeth.
Taking out our dog, Noisette (Hazelnut), has become much more appealing as it allows both of us a few minutes of fresh air, although we need to fill out a little form (as directed by the government) and carry it with us each time we go out in case we are stopped by the police. She is the real winner in all this (along with lots of other dogs), so happy that her family is home all day, staying put for once.
At 8pm every evening we stand by the open window and clap with our neighbors to show our appreciation for everyone working in the hospitals, and across Paris, to save lives and to keep essential healthcare services running. We wave at strangers across the street and occasionally our friend Cyril plays his saxophone for a few minutes beforehand, to get things going. Each night I get teary as we cheer and reflect on everything we've taken for granted in the past. For some, this will be the only time they see other people all day.
Finally, the kids go to sleep and my husband and I sit for a few minutes to unwind, too tired to go to bed and too awake to watch TV, before we remember that the ironing needs to be done (I don't think any clothes need to be ironed during a pandemic but my Frenchman, Jérémy, insists that we have to keep up standards) or the dog needs a walk, and get moving again, slower than usual, but always looking forward.
Celebrating 
I turned 36 during the first few days of the lock-down in Paris, having canceled a long-planned birthday trip to Amsterdam. We made a small cake and I can't remember what we had for dinner, but we did have a refreshing, and very welcome, glass of champagne. The lovely local florist called the day before and asked if he could deliver flowers that had been ordered for me a day early. I was his final delivery before he closed for what was said to be two weeks, but turned out longer. 
Our daughter will turn 12 next week, one of many kids worldwide who will watch her or his birthday pass while in quarantine (we will reschedule her party when we can) and I will be teaching her how to roast a chicken for dinner, her favorite. We are enjoying this time together as a family before she decides we are altogether uncool and generally embarrassing (so far we're averaging at least two eye-rolls a day). She will make her own cake but hasn't decided which flavor yet (probably chocolate!).
Easy recipes for kids
In a thinly-veiled attempt at homework procrastination, our daughter has shown a newfound interest in baking. So far we have made brownies, pancakes, apple pie, victoria sponge cake, cookies, chouquettes, chocolate éclairs, fondant chocolate, and marshmallows (as well as savory basics for lunch and dinner). She has learned to read a recipe all the way through before starting to bake, and now knows where everything is in the kitchen that she needs for her baking projects, and needs not rely on me so much. 
Now is not the time for beautiful, Instagram-worthy food. It's time to let the kids mess up the kitchen, leave edges rough, make substitutions and mistakes, and enjoy the process. We use all the shortcuts we need to, including ready-made puff pastry or tortillas to make 'pizza,' open packages of instant ramen noodles to bulk out a stirfry, microwave popcorn for movie time, and don't feel guilty eating previously-frozen french fries or fish finger tacos! It helps to change things up, to keep things fun. Some nights we have a floor picnic, do 'breakfast for dinner,' or have dessert first. 
Brownies
I have been making this brownie recipe since I was 8 years old, when a family friend passed it to me on a scrap of paper (above.) It is very forgiving, so if you only have self-raising flour, use that. No vanilla? No problem. Add in chocolate chips, swirl in some Nutella, omit the cocoa powder (just add another ½ cup/70g of flour) or scatter white chocolate chips or raspberries (fresh or frozen) on top. It is such a basic recipe that it can be easily adapted.
Cooking time varies between 25-40 minutes (30 minutes exactly in my Parisian oven). If you use a larger pan they may bake quicker as they will be 'thinner', if you add lots of Nutella or chocolate chips they will have some extra moisture so will bake a little longer. It also depends on how gooey you want them! Just set a timer to check after 20 or 25 minutes and take them out when they smell ready.
250g (1 ¼ cups) unsalted butter, cubed
70g (¾ cup) unsweetened cocoa powder
400g (2 cups) sugar
200g (1 ½ cups) flour
4 eggs
2 tsp vanilla
½ tsp salt
Set the oven to 180C (350F.) Line an 8-inch (20cm) square pan or 9 x 13-inch (22x33cm) with parchment paper, or use a non-stick one. Melt the butter in a medium saucepan. Remove from heat. Mix in the cocoa powder, sugar, and flour. Mix well with a wooden spoon before adding in 4 eggs, one at a time, then the vanilla and salt. (Now is the time to add any chocolate chips, or other additions.)  Scrape the batter into the prepared baking pan and pop it into the oven. 
Pikelets (mini Aussie pancakes)
These are little pancakes that we make in Australia and again, the recipe is very flexible. We used to make the sweet version all the time as kids, for breakfast, an after school snack or anything in-between. You can add chocolate chips, blueberries (fresh or frozen), or mix in one whole mashed banana or some shredded coconut. Alternatively, keep them savory by leaving out the sugar and adding some crumbled soft goat's cheese or some ricotta (we used a 250g tub). This evening we doubled the mixture, added a small tin of corn to the batter before cooking and had them with a salad and some yoghurt with mint chopped through for dinner.
185g (3/4 cup) milk – whole or lowfat will work
1 egg (any size)
140g (1 cup) self-raising flour (or 130g/1 cup all-purpose flour mixed with 1 1/2 teaspoons baking powder & ¼ teaspoon salt)
1 tablespoon sugar
Pinch of salt
Mix the flour, sugar and salt together in a large bowl with a whisk or wooden spoon. Crack the egg into the dry ingredients along with about one-third of the milk. Mix well until it is a thick paste, then slowly add the rest of the milk (making it a paste first helps avoid lumps), then add in any extra ingredients (ricotta, blueberries, chocolate chips, etc.) Pop it in the fridge for 30 minutes if you have the time but not essential.
Melt a little butter in a frying pan (a non-stick one is preferable). Spoon about 3 tablespoons of the mixture to the pan. Once the batter is bubbling on one side, it is time to flip it over and cook until golden brown on the other side (it'll take approximately 1 minute), but will depend on your heat!
Sponge Cake
My grandmother taught me this recipe when I was very small and the recipe couldn't be easier – 225g self-raising flour, (1 ¾ cup), 225g sugar (1 ⅛ cup), 225g (1 cup) butter (plus a little extra for preparing the pan), 4 eggs, a pinch of salt and half a teaspoon of vanilla extract. It is best if the butter and eggs are at room temperature if you remember to take them out of the fridge in time. The vanilla helps the flavor of the cake but if you don't have it, try a little almond extract or lemon or orange zest, or adding the seeds of a scraped vanilla bean. Or swap out 1/2 cup of flour with the same amount of unsweetened cocoa powder for a chocolate sponge cake.
Set the oven to 180C (350F) and butter an 8-inch (20cm) round cake tin or a 9 x 5 inch (22 x 12 cm) loaf tin. If your tin is slightly bigger or smaller it will still work, just keep an eye on it as it bakes. If you have parchment paper, it is useful to place a sheet on the bottom of the cake pan, but again – work with what you have! Pour in a little sugar and shake it around so it sticks to the butter on the sides of the tin, then do the same with a little flour. 
Beat the sugar and butter together until light and fluffy in a medium bowl. (Or in a stand mixer with the paddle attachment.) Slowly add the eggs, one at a time. If you want to cheat, add in a little of the flour when you add the first egg to prevent the batter from curdling. (If it does, don't worry, no one except my culinary school teacher, more about that here, will notice). Continue to slowly add the rest of the eggs, then beat in the flour, vanilla and salt. (If adding another flavor, such as citrus zest, it can be added at the end or with the butter at the beginning.) Scrape the batter into the prepared cake tin and put it in the oven on the middle rack. Start checking it for doneness after 15/20 minutes, using a skewer, toothpick, or knife to test when it is ready. (It should come out clean when poked in the center.) Cool on a wire rack and listen to it gently crackle. After a few minutes run a knife around the edges and tip out of the cake pan and let cool.
To serve, decorate with some whipped cream and berries, or use the glaze from David's Orange and Polenta cake.
Bread
This is a great recipe as it gives kids a hands-on experience in the kitchen. The recipe is very simple and you can divide the dough into half (or thirds, or whatever works for your household) and let each child knead their own loaf separately. Have them shape each into a round blob (hiding any messy parts underneath) and try to remember whose is whose; you can cut a shape into the top with a knife, or sprinkle flour or different seeds on each, to distinguish them. When they come out of the oven, you can see whose is whose.
500g (3 ¾ cups) strong flour (such as bread flour, or T65 if in France)
1 tsp salt
11g (usually 2 sachets) of instant yeast. Check the back of the box as it should be written there how many grams/sachets to 500g flour.
300ml (1 ⅓ cup) warm water (the only thing that kills yeast is excess heat so make sure the water is not too hot)
20g butter (melted and cooled)
Mix the flour, salt, yeast and melted butter in a bowl and give a little stir. Add ¾ of the water and stir with a butter knife (the dough sticks less to a butter knife and it is easy to wipe the sticky mix off on the side of the bowl – I do this for pastry also) to mix in the water. Feel the dough and add more water as necessary until it comes together and is quite tacky. This will depend on a range of things, such as the weather and the type of flour used, and can change every time you make the recipe, too. In general, more water is better than less.
Feel the dough and it should be tacky but not really sticky. Lightly flour the kitchen counter and knead for at least 5 minutes until the dough is smooth and elastic. It should "bounce back" when you gently poke it with your finger. 
Place it in a lightly oiled bowl and cover with cling film or a damp tea towel. Put in a warm place in the house and leave to rise until it has doubled in size (about an hour or so). Turn the dough onto your floured surface and knead it for another minute. Shape your dough into a short sausage and place in a lightly oiled 9 x 5 inch (22 x 12 cm) loaf pan (or if you have divided it into smaller sections, roll them into balls and place directly onto an oiled baking sheet). Cover lightly with the clingfilm or tea towel and leave to rise again for around 30 minutes. Now is the time to switch on the oven to 200C (400F.) When your finger leaves a little indent that doesn't spring back when you poke it, it's ready for the oven! You can glaze it gently with an egg if you like, drizzle with honey, sprinkle seeds on top, etc. 
Bake for 25-30 minutes (keep an eye on it if you have made smaller loaves). To know it is ready it will:
a) Smell like bread
b) Feel light for its size
c) Sound hollow when you tap it on the bottom
Fondant chocolate
100g (½ cup) butter
100g (⅔ cup) chocolate, chopped
130g (⅔ cup) sugar
50g (⅓ cup) plain flour
3 large eggs
Pinch salt
Set the oven to 180C (350F) and butter 6 ramekins (not sure what size mine are but they hold 130ml/130g/4.5oz water when filled to the top). Gently melt the butter and chocolate together in a heatproof bowl, either over a saucepan of boiling water or in the microwave. Stir together, then whisk in the sugar, flour, eggs and salt (either with an electric whisk or just vigorously by hand). Fill the ramekins until ¾ full and bake for 12-14 minutes, until the tops are squishy but set (like an undercooked cake). You can pop them in the fridge and cook later (about 14-16 minutes in the oven if they are cold). Serve with vanilla ice cream if you have it! 
How are you doing? Do you have any easy recipes that you would like to share or tips on how to keep things as normal as possible in this abnormal situation?