Rabbit Pasta with Green Olives, Fennel, and Preserved Lemons
Some people don't like generalizations, but, well…that's a generalization too, isn't it? However, you sometimes need to paint a picture in broad strokes. And differences which are specific to certain cultures are interesting, which is why many of us travel, to experience them. (It's also what makes us all delightfully different.) Most don't come out of thin air, and often contain a kernel of truth, although I've heard some doozies from people in various corners of the world about their perceptions of others.
One generalization that I've experienced, which has been confirmed by other Americans who have French partners or spouses, is that we've had things said to use that are rather…abrupt, or would be considered borderline insultant back in the States. If you read L'Appart, you may recall dear Romain saying to me probably the worst thing that you can say to a man, whereas I thought the obstetrician did a pretty good job with what he had to work with down there, and I've never had any other complaints from partners. But his best friend is half French, half American, so he sort of grew up experiencing some of our good aspects, and some of our…uh, eccentricities, so I can just laugh that stuff off.
Well, most of the time.
If you have something less-complimentary to say, each culture has words that "soften the blow" of landing a punch, such as when we don't like our food in the U.S. we tell the waiter the meal was "Okay." In France, telling someone you don't like something isn't considered an insult but means you're discerning, which turns into some sort of a compliment to yourself.
In France, there are a few French words that are rather nebulous, such as if you say someone is spécial or original, as happened to me one morning a few years back when we were staying at a friend's house in the country. And as someone who hates getting dressed in the morning, the first morning I came down to breakfast wearing a black t-shirt and red checkered flannel pajama bottoms. Another guest was already nicely dressed, drinking her tea at the table. Without missing a beat, she noted that my intriguing fashion choice was "Très original."
Fortunately, I have years of blogging under my belt (and I worked in restaurant kitchens most of my life), so nothing really bothers, upsets, or surprises me anymore, although when I told Romain I quoted him in my book he was surprised I wrote about that particular incident. But he wasn't bothered by it, naturally.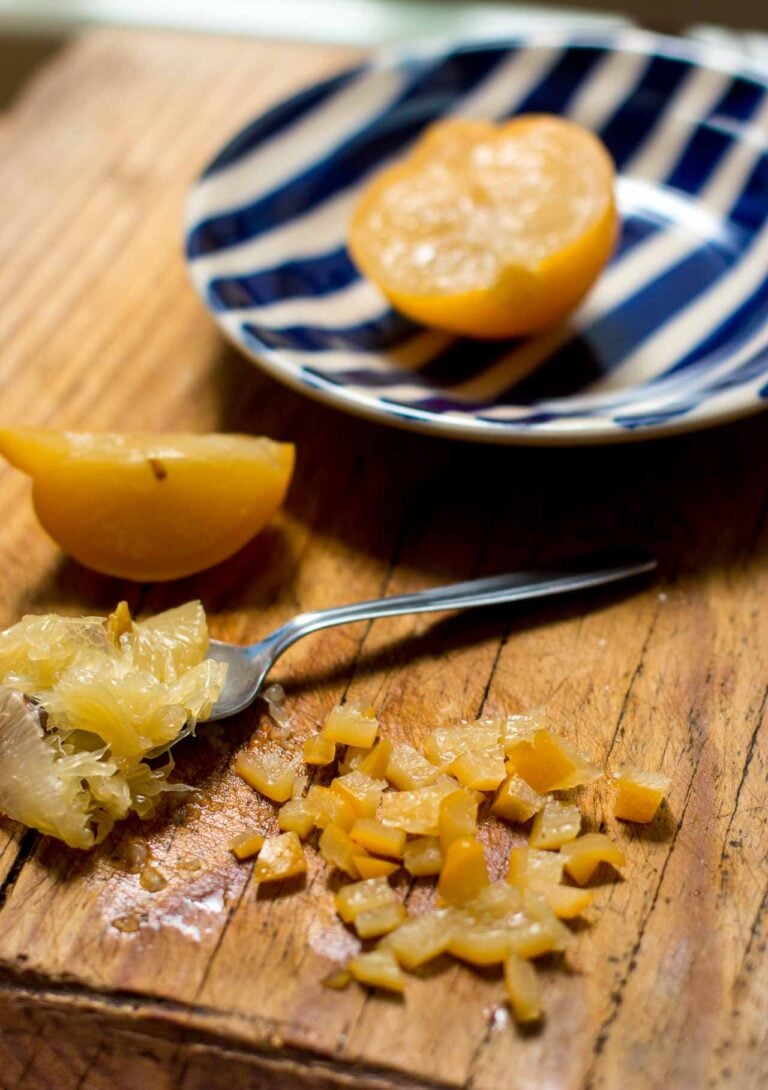 We've become good friends with the woman who told me my pjs were original, and she made dinner for us the other night and served this pasta. Someone at the table said, what could be construed as a generalization: "Americans don't like to eat rabbit," which there is indeed some truth to. But I recalled a few years back when I was dining with a group of friends who were Swiss, Italian, French, and French/American, and everyone expressed squeamishness about eating rabbit, except for me, the lone américain.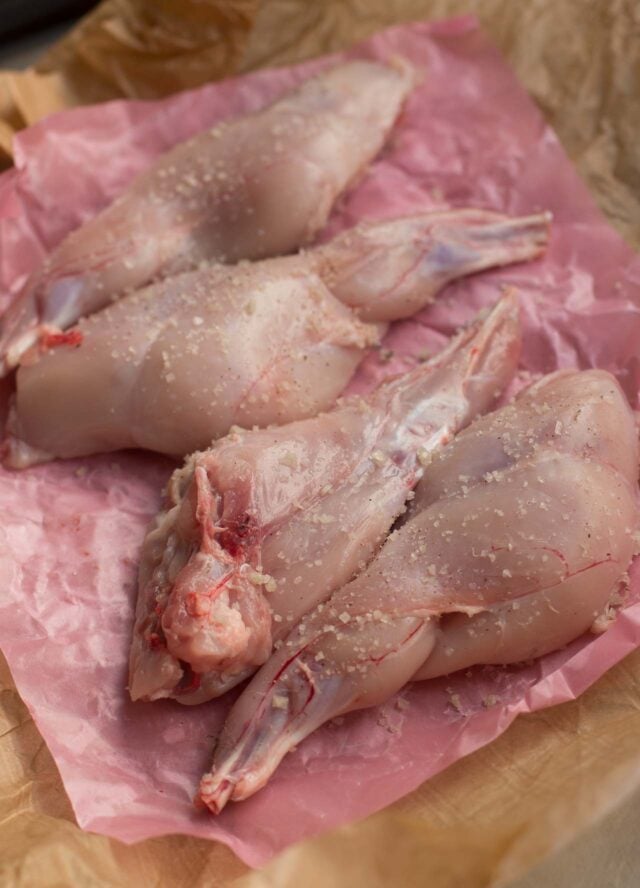 In France rabbit has somewhat fallen out of favor. I used to see whole lapins with the fur still on them hanging from the butcher stalls at the market, with foil covering their heads, as people didn't like seeing them. Rumor has it that to this day, whole rabbits are sold with the heads attached because during wartime, when food was very scarce, people resorted to eating cats, and other animals. And no one wants to mistake one for the other. We all strive to have open minds, but I'm not keen on eating everything that's edible. I know people eat bats, grubs, whales, and squid, but I'll take a pass. Even though I like it, I've never bought rabbit, so figured it was time to tackle and overcome that stereotype about Americans.
The original recipe comes from Hélène Darroze, one of the most popular chefs in France and owns several Michelin-starred restaurants, and appeared in an article called Les recettes chics et cheap d'Hélène Darroze. Interestingly, the rabbit cost me €16 and the pasta costs me €4.95. When I made the Spicy Mushroom Lasagne, people – including me – pointed out the cost for the mix of wild and dried mushrooms the recipe called for, which was roughly the same amount of money for a dish that feeds six people. So what some people consider expensive (€18-20, about $25, for rabbit vs. mushrooms) others consider cheap.
Rabbit has a mild flavor and is particularly good braised. Its meat is delicate and tender and its environmental impact is very low, and rabbits aren't raised en masse like chicken or beef are. Rabbit is lean, nutritious, and high in protein.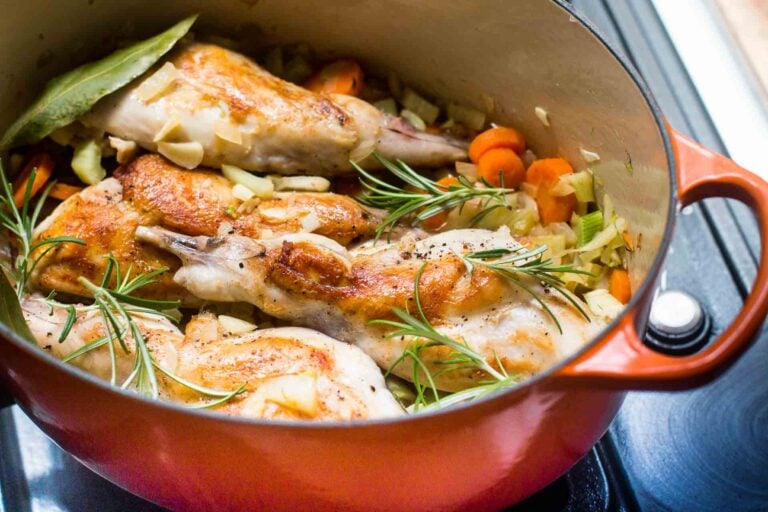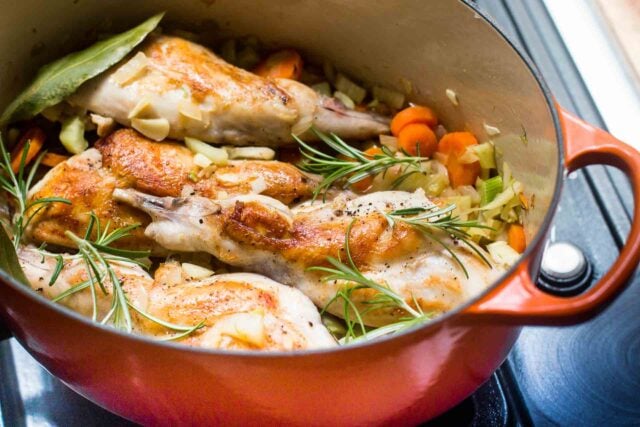 The mafaldine (sometimes called mafalda, or as they call it in France, malfadines), for this recipe may require a trip to an Italian specialty food store or a search online. There are Italian food shops in every neighborhood in Paris but none near me had it, so I went to Eataly, which did. (Update: A week later I saw it at my local Carrefour supermarket, made by Barilla.) It resembles mini ribbons of lasagna and has a lot of ruffles and surface area, so picks up sauces well, but if you can't get it, Chef Darroze recommends tagliatellis, although closer would be fettucini. However since neither has little ridges that would catch the sauce, I might suggest Farfalle, bow-tie pasta.
While the ingredients sound a little random, they work together perfectly and I absolutely love this pasta. If you're new to rabbit this is the perfect place to try it. The little bits of salty preserved lemons and green olives add some contrast to the juicy pieces of rabbit, and the rosemary in the background offers up the soft anise flavor of fennel. Grated Parmesan over the top is obligatory and you can drink whatever you want with it, but you can't go wrong with a nice glass of Chablis, although if you want to be a bit original, a cellar-temperature Beaujolais or Brouilly would be an intriguing choice.
Rabbit Pasta with Green Olives, Fennel, and Preserved Lemons
The original recipe called for duck fat, which I used, but you could use olive oil to brown the rabbit and the vegetables. But probably the biggest question you have is: "What can I use in place of the rabbit?" The best swap out are chicken thighs, with the leg and the thigh attached. I used picholine olives, which are easy to get in France but you can use whatever green olives you can get. (Maybe skip the ones stuffed with pimentos, though, and save them for your Martinis.) You can make your own preserved lemons, although they can be found in shops that sell ingredients for Middle Eastern and North African cooking, which is what I used this time around. They have a special flavor that's hard to replicate with other ingredients.
Piment d'Espelette is a relatively mild red pepper powder from the Basque region. A close approximation is sweet paprika but you could use another red pepper powder that's not very spicy to season the dish.
This pasta works well if you have a Dutch oven and a large pot; one to braise the rabbit and vegetables in, which you can later use to return the shredded rabbit and vegetables to, and the other cook the pasta in. In Step #5, following Chef Darroze's advice to cover the rabbit meat and vegetables to "keep them warm," it seemed like a long time to "keep something warm," as my pasta took nearly 15 minutes to cook. So after draining the pasta, I quickly rewarmed everything together with a small splash of the reserved pasta cooking water. (Which you can save for reheating leftovers the next day.)
I explained in the recipe how I did it, and what worked for me but you can wrangle things a bit, or resort to Système D, as they say in French, which means you use your own ingenuity to make it work for you.
4

large

rabbit thighs

,

leg and thigh portions (mine were about 2-pounds, 900g)

kosher or sea salt

piment d'Espelette

,

or sweet paprika

freshly ground black pepper

2

tablespoons

duck fat or olive oil

1

large

onion

,

peeled and diced

2

medium

carrots

,

peeled and sliced (not too thinly)

1

bulb

fresh fennel

,

diced

2

garlic cloves

,

peeled and minced

4-6

branches

fresh rosemary

4

bay leaves

1

cup (250ml)

water

1

preserved lemon peel

,

diced (insides scooped out and discarded)

30

green olives

,

pitted and chopped (1 cup, 115g pitted weight)

1/4

cup (60ml)

extra virgin olive oil

fresh lemon juice

1

pound (450g)

mafaldi pasta

,

(see headnote)

Parmesan cheese

,

for serving
Preheat the oven to 300ºF (150ºC.)

Season the rabbit thighs with salt, piment d'Espelette or paprika, and black pepper. Heat the duck fat or olive oil in a Dutch oven that (hopefully) will fit them in a single layer, without crowding. (Otherwise you can brown them in a large skillet or in two batches, then add them to the pot later.) Add the thighs to the pot and let brown well on one side before turning them over and browning them on the other side. It'll take a total of 10 to 15 minutes.

Remove the thighs from the pot and add the onions, carrots, fennel and garlic and cook, stirring frequently, until the aromatic vegetables are cooked through, about 5 to 8 minutes. If necessary, add a bit more duck fat or olive oil if the vegetables are burning. Once the vegetables are cooked, add the rabbit thighs back to the pot along with the rosemary, bay leaves, and water. Cover and braise in the oven for 1 1/2 to 2 hours, until the rabbit is very tender.

Remove the bay leaves and any thick rosemary twigs. (I don't mind the rosemary leaves, which remain a little chewy, but you can pluck those out, too if you want.) Place the rabbit thighs in a bowl or dinner plate and when cool enough to handle, shred the meat from the bones. Strain the cooking liquid into a small saucepan and add the cooked vegetables back to the pot along with the shredded rabbit. Meanwhile, bring a large pot of salted water to a boil to cook the pasta in.

Add the olives and preserved lemons to the small saucepan of cooking liquid and heat until simmering. Turn off heat, let steep a few minutes then stir in the 1/4 cup of olive oil. Scrape the olive and lemon mixture into the pot of vegetables and rabbit and cover them to keep warm.

Add the pasta to the boiling water cook the pasta until done, as indicated on the package. Drain the pasta, reserving some of the water, about 1/2 cup (125ml).

Add the hot pasta to the pot with the rabbit, vegetables, olives, lemons, and sauce. Mix everything together well. If you want or need to warm it up, do so over medium heat. (If you want it more saucy, add a dash of the reserved pasta water.) Stir to warm everything through before serving. Serve with Parmesan cheese for guests to grate over their pasta.
Notes
Note: This recipe makes quite a bit and if you'd like the cut the recipe in half, at the end of step 4, you can freeze half of the braised rabbit, stock, vegetables, olive, and preserved lemon mixture and use it another time. If you do that, use half the amount of pasta per batch.