Salted Butter Chocolate Sauce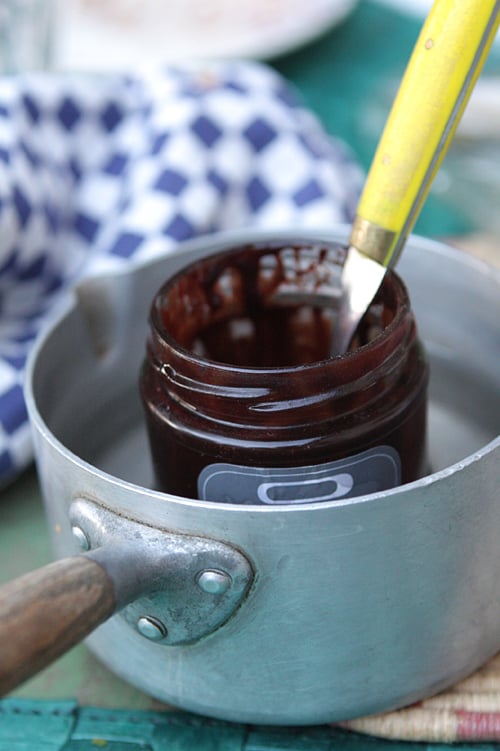 When it comes to baking and desserts, one doesn't necessarily think of salt as a flavor. But more and more, I keep considering, and reconsidering, the role that salt plays in just about everything I bake. And because I keep both salted and unsalted butter on hand – I can't imagine my morning toast without a little salted butter spread over the top – I'll sometimes reach for the salted variety when tackling a baking project or making dessert.
I wasn't the first person to put salt on dessert; people from various cultures have been sprinkling salt on fresh fruit for ages. And many pastry chefs, as well as some big chocolate companies, have gotten in on the "salt in chocolate" act as well.
But I've gotten so used to sprinkling it on sweets that sometimes if I'm having my last course in a restaurant and I think the dessert needs a little perking up, you'll find me looking around the table for a little bowl of flaky sea salt. Salt is so important to me that I'll sometimes carry a little wooden box of fleur de sel, which when I'd bring out in restaurants, my co-diners would give me a look as if I was being pretentious. (Then – of course – they'd ask if they could have a pinch too.)
Salt provides contrast in food. Consider bacon, which is often sugar-cured and would taste flat without salt. Or even the basics like bread or water. And if you don't believe me, try kneading up a loaf without salt, or taking a sip from a bottle of distilled water, which has had most of the minerals removed. So often I'll use salt more liberally in desserts than others, including adding salted butter to ramp up the flavor.
Chocolate is the ideal foil for salt – as is caramel – both are richly flavored and fill your mouth with the best tastes you can imagine. And a generous pinch of salt works to balance them out like nothing else can. Because all salt isn't the same (nor are people's tastes), it's not always possible to tell people exactly how much salt should go into something.
The difference between salts can be considerable; kosher salt is readily available in the United States, sea salt is harvested all over the world and is usually more delicate and nuanced than other salts (and is my preference), and table salt – well, that should be avoided because it's unpleasantly harsh and usually contains additives. But no matter where you are or what you're using, it's best just to get to know the salts that are available where you are, and use your natural instincts to dial the amount up or down in your cooking.
Although I like my go-to chocolate sauce quite a bit, I've been making this chocolate sauce that makes use of salted butter, with an extra sprinkle of salt added, more and more these days because I like it so much. It transforms a scoop or two of vanilla ice cream into something a little more special. But it's not bad spooned up and enjoyed right from the jar, either.
Salted Butter Chocolate Sauce
If you can't get salted butter, most salted butter has about ¼ teaspoon of salt per 4 ounces (115g), so you can use that as your guide, and use unsalted butter.
1

cup (250ml)

whole milk or half-and-half

6

tablespoons

(3 ounces, 85g) salted butter

,

cubed

1/4

cup (45g)

packed light brown sugar

8

ounces (230g)

bittersweet or semisweet chocolate

,

chopped

1

teaspoon

vanilla extract

Scant 1/8

teaspoon

sea salt
Heat the milk, butter, and brown sugar in a saucepan until it begins to steam.

Remove from heat and add the chocolate, vanilla, and salt, stirring gently until the chocolate is melted and the sauce is smooth.
Notes
Serve the sauce warm with ice cream, or cool it to room temperature and store it in the refrigerator for 1 to 2 weeks. Rewarm the sauce by putting the jar in a pan of very hot water.
Related Recipes
The Best Chocolate Sauce Recipe
The Easiest Chocolate Ice Cream
Chocolate-Covered Salted Peanut Caramel Cups