First I came up with the title for this post, since I thought it would be a fun jeu de mots. But then I realized I had to figure out what the heck I was going write about. So I put on my long-neglected thinking cap, scrolled through the email addresses of my last few remaining friends, and scanned my agenda, desperately searching for inspiration.
Then it hit me.
And then I thought, "Hey, what don't I give Dorie Greenspan a call?"
Thankfully Madame Greenspan agreed to go along on this ruse with me so I could get this post up and running. But there was also the promise of something buttery and sweet, rubber-clad fish boys, just-roasted coffee, prowling through my favorite Arab épicerie with floor-to-ceiling dried fruits and nuts, and finishing it up with verrines at a trendy restaurant. How could she refuse?
And refuse she did not.
So off we went.
Our first stop last Tuesday was blé sucré, en route to the Marche d'Aligre.

Although Dorie's worked extensively with fabled pastry chef Pierre Hermé, when I raved about the madeleines here, Dorie was just as excited to go as I was to return and I had to hold her back from sprinting into the bakery and grabbing all the good stuff before I could. Luckily she was a bit tuckered from hefting her Vélib' bike, but showed remarkable vigor when faced with a spiffy bakery filled with delectable pastries.
And like the seasoned pro that she is, she stocked up on financiers, a seeded baguette, as did I, and something else I can't remember since she quickly stashed it away. That girl is a pro and knows how to work a bakery counter doing the quick scan then honing in on her targets. A tip: Should you ever go, try to get there before Dorie since it's not likely there's going to be anything left afterwards except for a few crumbs.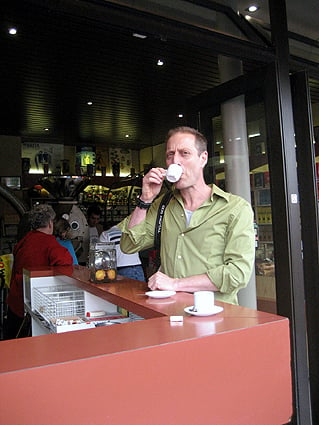 I decided that since Dorie is so gosh-darned famous, I should really try to impress her and would let her in on my secret, most absolute-favorite-spot in all of Paree: Café Aouba, where she snapped my photo (I was happier than I look..I think it's because my shirt's a wee bit too snug…more on that later…)
Sitting on the edge of the market, Café Aouba is always crowded. Not because there's so many people in there or the coffee is so fabulous. But because in the middle of the place is a jumbo coffee roaster going full steam ahead, roasting and cooling their beans. Although I don't come for the coffee, I can't think of a better place to stand in all of Paris than at their formica counter which looks out over the market. It's the best place I know of to soak up the lively atmosphere of the Arabic end of the market and watch Paris go by.
And it gives me the chance to watch the guy that always tries to stick a piece or two of yucky fruit in the bottom of the bag, who once when I caught his young son doing it to me, told them both now that wasn't a very good lesson to teach his child now, was it?
After that, it never happened to me again there. But from this vantage point, I can see the ploy continues. If it happens to you in Paris, folks, feel free to stick your hand in the bag after they pass it over and give 'em back the moldy peach festering in the bottom. The look on their face is priceless, even though they might yell at you. But it's worth it; trust me. Don't be scared. Really.
But whenever I stand here, I thank goodness I live in Paris. (And now feel comfortable enough to hand back produce.) Except now Dorie knows about my favorite spot, and you do too, perhaps I'll be needing reservations in the future to stand there. And curiously, it also happens to be steps from—the fish boys! Who are notoriously camera shy…sorry Matt and Kevin.
And that's exactly where we went next so we could see those boys in action. I won't bore you with lurid details, but the fellows were extra-charming that day, perhaps because their vacation was coming up.
Or maybe it was because they were anticipating a certain American, who shall remain nameless for now, donning a blue rubber apron and a matching pair of boots and coming to work with them in the fall.
(Whoa…what'd he say?!…)
Speaking of crushes…em…I mean…vendors that I shared with Dorie, we went to see Salim, my most-excellent produce man in the covered Beauveau market. J'adore.
He's le mec I go to when I'm looking for the best selection of heirloom tomatoes, the newest of the nouvelle potatoes and the sweetest fruits and crunchiest vegetables en ville. And although I thought it was too soon in the season, he split a fresh black Mission fig in half and fed it to us.
In spite of my skepticism (no wonder I'm out of friends to call) it was honey-sweet and delectable. That'll teach me about doubting the word of a kindly gent like Salim. And curiously, Fabrice Le Bourdat the chef/owner of blé sucré was there too, so we had a chat with him as well. He was such a nice guy, no wonder his pastries were so extraordinary. Salaam!
Salim, Salaam, Salim.
What is this, an homage to Salim? Where's Dorie?
Ok, one last nod of appreciation to le mec before we move on. Salim had the largest, plumpest, and deepest Burgundy-colored raspberries that I've seen in a long time and here they are in close-up, my kitten. They were so magnificent-looking that I had a dream about them that night and had to return the next day for a basket after I went for my first-ever attempt at running, which is a whole 'nother blog entry in itself, one which I doubt that Dorie wants to participate in.
fyi: Due to a tightness in my shirts, I'm on a petit régime after my June gorge-fest, aka my book tour in the US, and usually trying to 'walk it off', as I usually do around Paris. Except I realized that everywhere I like to walk to is because there's a good bakery or chocolate shop there, so it's not particularly helping much with the plan. Nor did the 3.5 gallon gift tin of the most outstanding caramel and cheese corn on the planet help, which was a gift from a friend at Garretts that I finally pried opened.
Well, I can't be rude and not eat it, can I?
And I'm certainly not going to give any away.
That's not polite either.
Speaking of whole-grains, and I do believe caramel corn counts there folks, we also stopped by to visit José at La Graineterie du Marché (8, Place d'Aligre), which readers of my ice cream book (page 64), might recognize as my source for all things deeply-fragrant. José has everything one could want…and want we did! We left lugging bottles of nut oil, French candies made of acacia, and Dorie couldn't resist adding a few colorful tins of sardines to her bag as well which contained a find from the flea market just outside which I promised not to reveal in case the recipient reads this blog.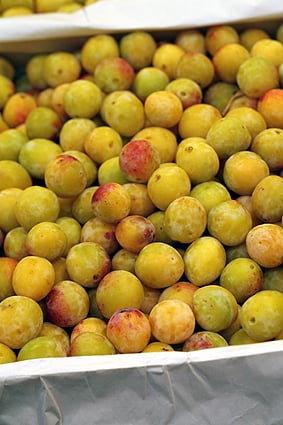 After stopping at Le Baron Rouge (1, rue Théophile-Roussel) for a pre-lunch glass of wine (and people ask me why I live in France?), we fumbled our way over to La Gazzetta, one of the newish bobo restaurants in the neighborhood.
Lunch started, of course, with the obligatory verrine with some sort of cold green soup that we both couldn't figure out what was in it, as well as some cold pizza-like thing with a stale crust. The first courses, evidently, weren't exceptional but we both loved our tender-braised roasted pork, although if you're going to serve turnips, either purée them with butter, or caramelize them. I love turnips, but sliced and boiled, they ain't all that interesting, folks. Still, it was a nice place to while away the afternoon after all that shopping and that old adage was true: the company was more important than the food. Kinda like the setting is more important than the coffee.
Speaking of kinda interesting, we ended with La Gazzetta's signature dessert: Project Cassatta (sic), a de-constructed version of the classic Sicilian dessert with chocolate, ricotta, sponge cake, and candied fruit. I'm fine with taking liberties with classics but in my opinion, if you're going to break something down, you'd better be able to re-build it in back up in some way that makes it better.
(Got that Mr. Bush?)
Big thanks to Dorie for agreeing to come along with me on this trip so that I could find a way to use her name in the title of this post. Now I just have to get her to come along with me the following Tuesday. Except she's heading back to New York and I'm going to be lost next time without her.
Somehow Tuesdays With Salim doesn't have the same ring to it. So if there's any Lauries or Rorys or Toris out there that want to go to the market with me next Tuesday, let me know.