Since the year is just about over, I thought I'd better conclude my thoughts and shares my notes on the now-infamous No-Knead Bread that swept around the world with such force and bravado that I starting calling it 'The Nail In The Lo-Carb Coffin'.
Although I don't really keep up on the various diets du jour, when the No-Knead Bread starting flaring up on blogs and web sites worldwide, it seemed that once again another fad diet had delightfully gone bust. And I didn't want the year to end without letting you know how my final loaf actually turned out…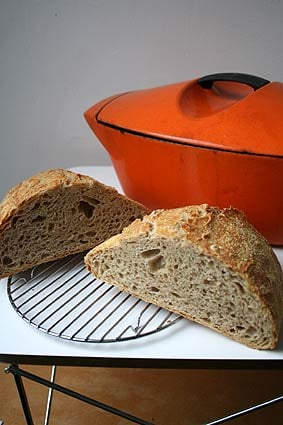 So for the past few weeks, everyone out there seemed to be having the time of there life stirring up batches of carb-rich, yeasty dough, and baking the soft mounds to crunchy perfection in their brand-new Le Creuset pans. While I'll admit there's nothing like the thrill of pulling a puffy loaf from the blistering-hot oven and tipping the loaf onto a cooling rack, or the thrill of buying a new piece of Le Creuset, I discovered the bread has one fatal flaw:
It tastes like nothing.
In fact, it was so flavorless that I could barely eat it.
To get to the point where I had an edible-looking loaf, though, I'd spent weeks roaming through Parisian health food stores learning about French flours, quizzing experts and friends, making metric conversions, and immersing myself in all the interesting, and mostly kind comments that many of you left at my original post. I stirred & scraped, slapped & tapped, and dusted & draped, all in an effort to pull the best, tastiest, most bakery-perfect looking loaf of bread I'd ever imagined proudly out of my humble little home oven.
That's what I had anticipated.