Chocolate, Dulce de Leche, and Vanilla Marble Cake
There may not seem like a lot to celebrate at the moment, but on a lighter note, we have baking. It's something people have done for centuries, in every country around the world. Some do it for fun, others do it to eat and sustain their families. I used to be asked why I baked (which used to my most FAQ), but I dunno. I just do it.
Bake From Scratch celebrates people who like to bake and when I met editor Brian Hart Hoffman, when he came to Paris to profile me in The French Issue a few years ago, we hit it off. He's hard not to like, the definition of engaging, and a heckuva lot of fun to spend time with. We've kept in touch over the years, meeting up here and there, but since travel is off the agenda for a while, he sent me their latest 5th-anniversary issue, hot off the press. And when I saw this stunning Chocolate, Dulce de Leche, and Vanilla Marble Cake, I knew I had to make it.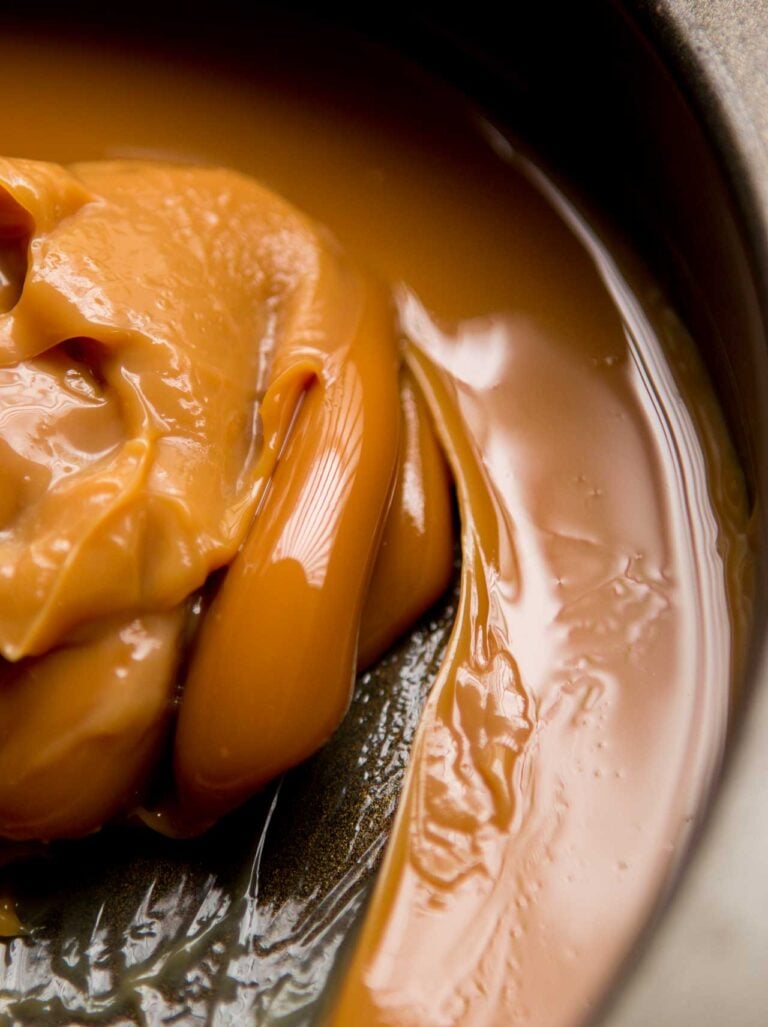 A few years back, I created recipes for the Bake From Scratch French issue, because the magazine is American-based, I asked if it was okay if I included metric measurements and Brian replied, "Absolutely. We insist on doing everything in metrics too." So I'm presenting the recipe which I adapted here as they do, in metrics first, which is how I measured the ingredients, along with their conversions for cups and tablespoons. (Like most recipes written in France, small quantities are expressed in teaspoons and tablespoons.)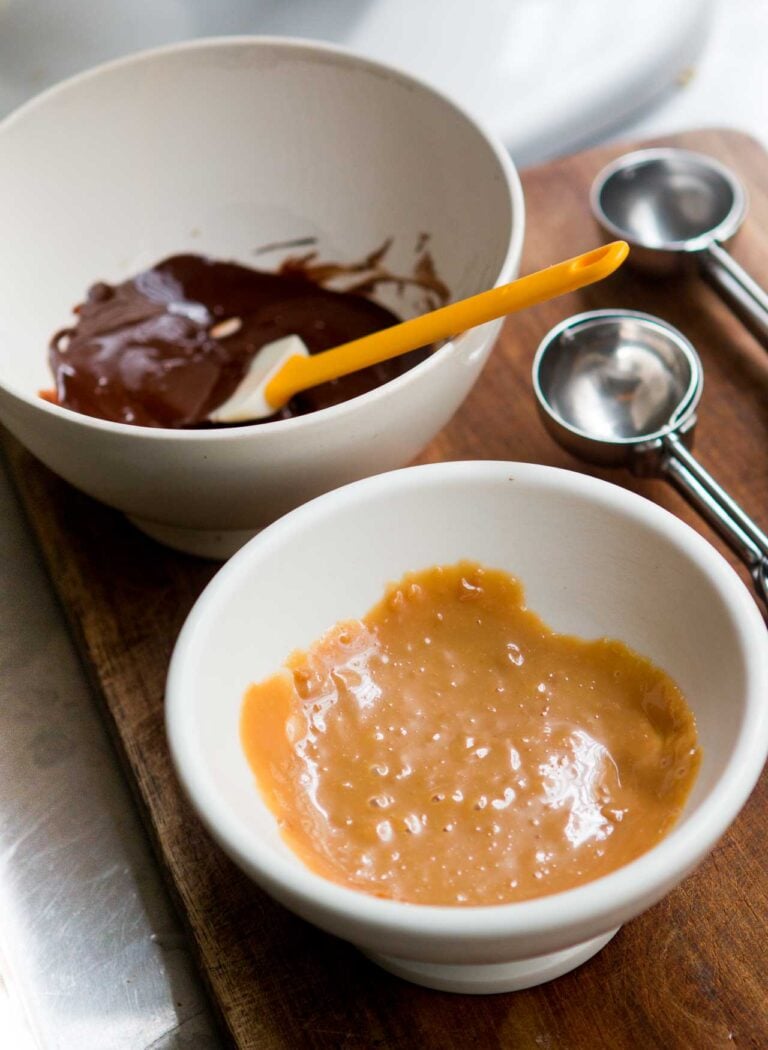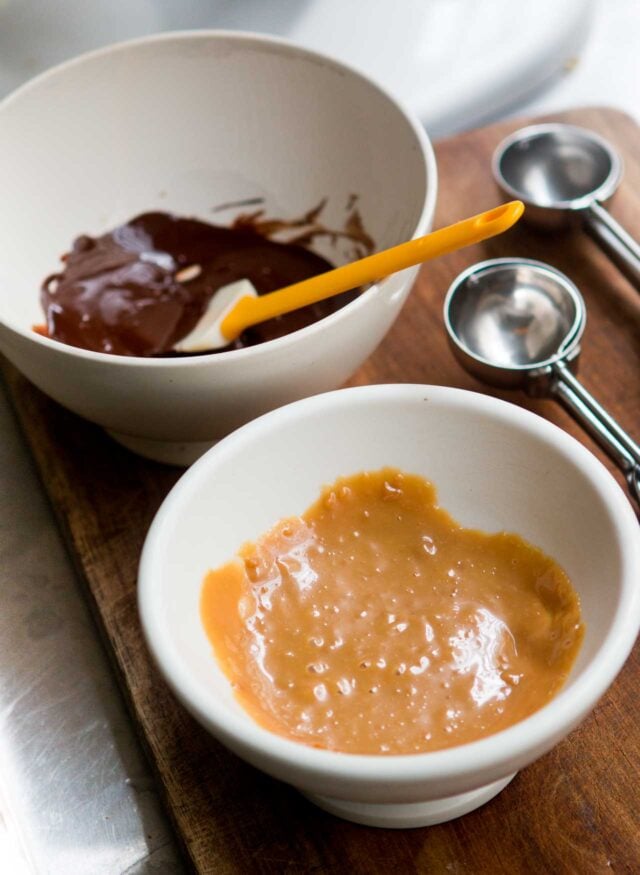 It's a fun recipe to make, with one batter being divided into thirds with dark chocolate bolstered with cocoa powder going into one-third of the batter, a second third getting the dulce de leche treatment, and the final third of the batter gets scented with vanilla.
Gâteau marbré isn't a stranger in France, but one difference between French and American recipes is that precise pan sizes aren't always specified. They often just say to pour the batter into a moule à cake (loaf pan), or simply un moule, a mold – and that's that. As much as many visitors to France want to "live like a local," I'm not sure if they want to bake like one. If so, let me know and I'll stop listing pan sizes, writing headnotes, and toss my well-loved measuring cups and spoons! : )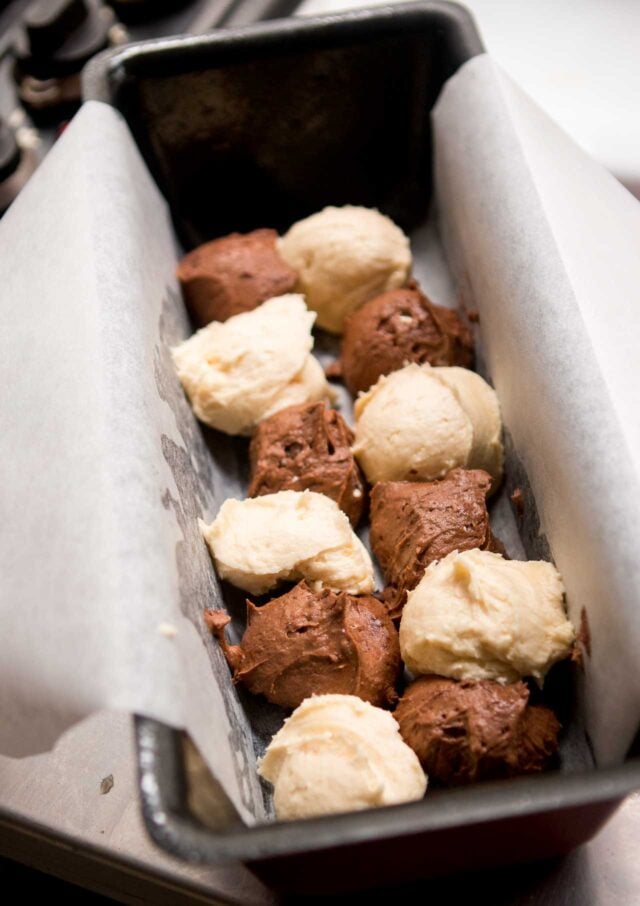 Until I get the word, I gave this Marble Cake a go twice, baking it in two different pans. One was baked in a professional French loaf pan, which is longer than a traditional U. S. loaf pan, which tends to be wider and squatter than their French counterparts (mine is 10×3-inches), and an 8 x 4-inch cake pan, the kind that is standard in America.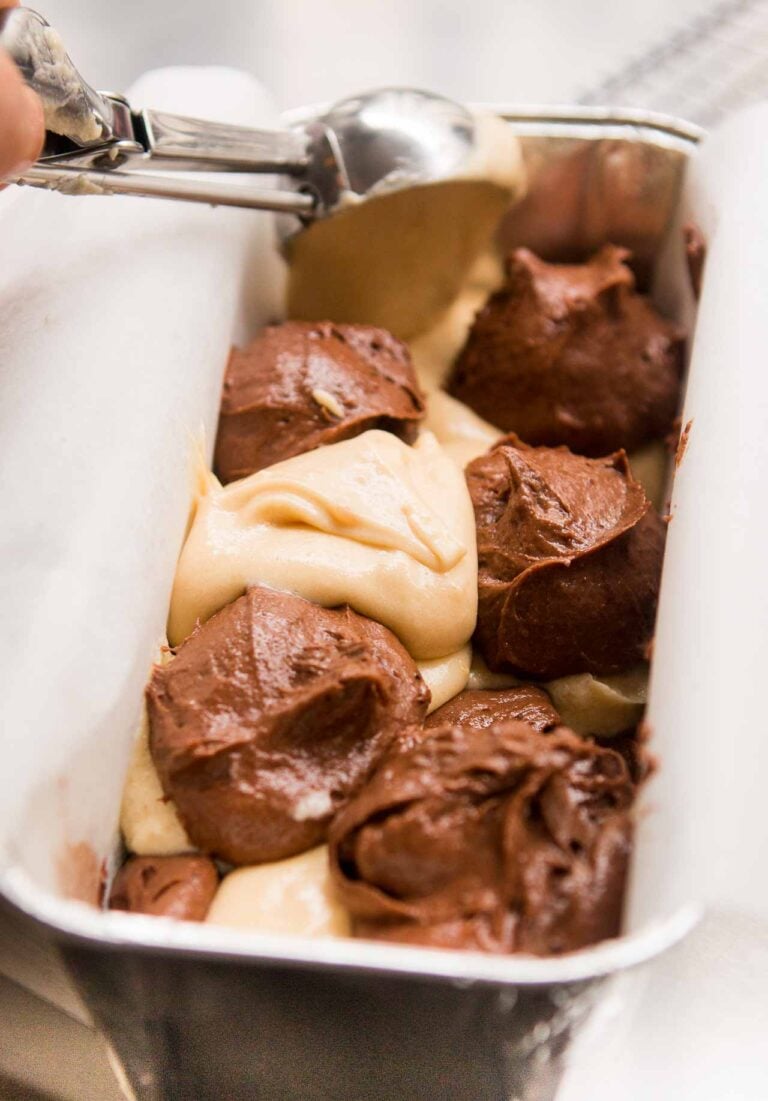 The proof is in the pudding, or cake batter, and both worked just fine, although the 8-inch loaf pan threatened to flow over the top, but didn't. So I'd go with the one I used, or the one recommended in the original recipe, which I noted in the headnote, to avoid any anxiety. Because who wants to be stressed out when baking? Certainly not me…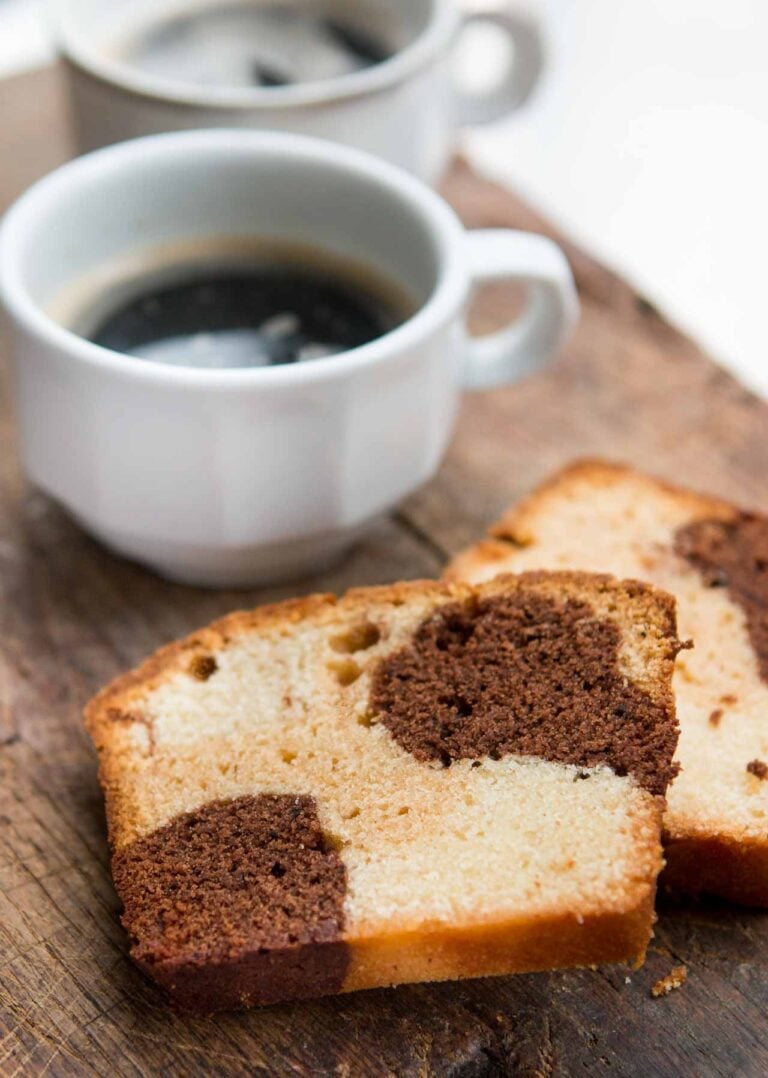 On that note, this cake was moist and delicious. Marble Cake isn't always the best of both worlds, but in this case all worlds collide agreeably in each triple-hued slice.
Chocolate, Dulce de Leche and Vanilla Marble Cake
Adapted from
Bake from Scratch
,
Fifth Anniversary Issue
(Sept/Oct 2020) The original recipe called for using a 8.5 x 4.5-inch loaf pan, but the cake would work in a standard 9-inch (23cm) loaf pan. If you get confused about putting the batter in the pan in a checkerboard pattern, I put a few pictures in the post. But if you just want to put them in the pan any random way, give it a few swirls with a toothpick, and bake it off, just go ahead and do that. You're baking a cake, not perfecting your master's thesis. I have a large collection of spring-loaded ice cream scoops but if you don't, you can use two soup spoons to put the batter into the loaf pan. Use one spoon to scoop up the batter and the other to scrape it off, to release it and drop it into the loaf pan. Dulce de leche is available in well-stocked supermarkets and
online
. You can also
make Dulce de leche at home
.
170

grams (6 ounces)

unsalted butter

,

at room temperature

300

grams (1 1/2 cups)

sugar

60

grams (2 1/4 ounces)

semisweet or bittersweet chocolate

,

chopped

80

grams (1/4 cup)

dulce de leche

3

large

eggs

,

at room temperature

220

grams (1 3/4 cups)

flour

1/2

teaspoon

salt

1/4

teaspoon

baking powder

125

grams (1/2 cup)

sour cream or buttermilk

,

at room temperature

1 tablespoon

Dutch process cocoa powder

2

teaspoons

vanilla extract
Spray a loaf pan with baking spray or butter it. Sprinkle the pan with a little flour and tap out the excess. Cut a strip of parchment paper so it'll fit in the cake pan with overhanging edges (overhanging the longer sides) which will help you get the cake out later, as shown in the post.

Preheat the oven to 300ºF (150ºC.)

In the bowl of a stand mixer fitted with the paddle attachment, beat the butter and sugar on medium high speed until light and fluffy, about 5 minutes, stopping to scrape down the sides of the bowl once or twice.

While the butter and sugar are beating, put the chopped

chocolate

in a moisture-free, medium-size bowl and set it over a pan of barely simmering water, stirring gently until smooth. Turn off the heat but keep the bowl over the water so it stays warm.

Put the

dulce de leche

in a medium-size microwavable bowl and heat it for about 30 seconds until it's soft and fluid. If you don't have a microwave oven you can warm it in a small saucepan, then pour it into a medium-size bowl.

When the butter and sugar is light and fluffy, Add the eggs one at a time with the mixer on medium speed, stopping the mixer to scrape down the sides of the bowl after each addition. Whisk together the flour, salt, and baking powder in a small bowl.

Using a flexible silicone or spatula, mix one-third of the dry ingredients into the butter mixture just until it's almost all mixed in. (Don't overbeat the batter when adding any of the ingredients during this step or you can end of with cake with tunnels or tough cake.) Stir in half of the sour cream or buttermilk, then half of the remaining dry ingredients. Add the rest of the sour cream or buttermilk then the rest of the dry ingredients, stirring just until everything is incorporated, but no more.

Divide the batter into three portions; put one third (about 300g/1 1/3 cups) in the bowl with the

melted chocolate

and stir them together along with the

cocoa powder

. Add another third of the batter in the bowl with the

dulce de leche

and stir until combined. Stir the

vanilla extract

into the remaining one-third of the batter in the mixing bowl.

Using spring-loaded ice cream scoops, one for each batter if you have them, make five rows of

chocolate

and

vanilla

batter side-by-side in an alternating pattern down both sides of the pan. (As shown in the post.) Add scoops of the

dulce de leche

batter down the center of the pan. Tap the pan lightly on the counter to settle the batters.

Working to create a checkerboard, for the next layer, put scoops of

chocolate

batter over the scoops of

vanilla

batter in the pan, then put scoops of

dulce de leche

batter over the scoops of

chocolate

batter in the pan. Finish (well, almost!) with scoops of

vanilla

batter down the center of the pan. Finally...place scoops of leftover batters on top of the scoops of batter in the cake pan. Tap the pan on the counter to settle the batters and remove air pockets. Use a toothpick or butter knife to run it through the batter about six or seven times, so they're mingling with each other.

Bake the cake until the center is just set and a toothpick inserted into the center comes out clean, about 1 hour, 30 minutes. Let cool for 15 minutes, then use the parchment to lift the cake out of the pan and cool on a wire rack.