Drinking French Booksigning in Brooklyn, NY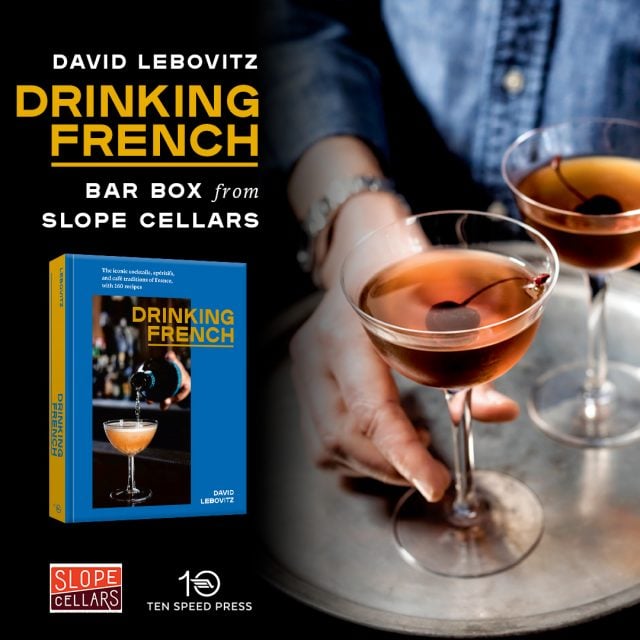 It's been quite a year! While my 2020 book tour was upended by a global pandemic – who'd a thought we'd ever be saying things like that? – I can finally able to have an event. If you're in New York City, I'll be at Slope Cellars in Brooklyn on Sunday, May 9th from 2 to 3:30pm signing copies of Drinking French. FINALLY! So stop by and get a personalized copy.
Slope Cellars is also proudly offering a Drinking French Bar Box featuring a selection of apéritifs and spirits so you can make some of my favorite drinks in the book. Included is a bottle of Citadelle gin from France, Dolin red vermouth made in Chambéry, the French alps, a bottle of small-batch Forthave spirits red bitter apéritif, and Old Forester Bottled-in-Bond rye, for making Boulevardier and Toronto cocktails from the book, as well as a signed copy of Drinking French. So you're welcome to pick up a Drinking French Bar Box with a book included or just a personalized copy of the book.
See you then!
If you do want a Drinking French Bar Box, you may wish to call the store in advance so it's ready for pick up.
The shop is unable to ship personalized books and can only do in-store sales. However they can ship Drinking French Bar Boxes that include a book. Check with the store for availability and shipping.
Note that the event will take place outside, weather permitting, with appropriate health protocols in place. Please wear a mask and practice social distancing.