Persian food, like many of the foods from a region that's often broadly referred to as the Middle East, takes cues from a variety of influences and cultures as people traverse borders and bring their delicious foods with them. Which is why the food in America is so diverse; people have gifted us with foods from their homelands, such as tacos, sushi, pizza, beer, and bagels. Similarly, France has been blessed to have beans for cassoulet, chocolat chaud (hot chocolate), and croissants.
As a cook, I like dipping into various cuisines and cultures and lately, I've been working on Tahdig, a Persian rice dish that's cooked on the stovetop until the bottom gets crusty, which can take an hour or longer, and requires some patience. Once done, you take a leap of faith and turn it out onto a plate so the crispy part (the tahdig) forms a golden, crackly crown on top of a bed of fragrant, saffron-infused rice…if you do it right.
It's taken me a few tries to get it there, albeit not reliably, and I hope to share it with you once I get through all the mounds of rice generated from my multiple experiments. I love rice but have learned there is a limit to how much I can eat in one day. But I'll get there at some point.
One thing that's been particularly rewarding about making it, and sharing my trials and results on Instagram, is that I've gotten to meet lovely Persian cooks from around the world who've offered advice and much-appreciated encouragement. One was Sabrina Ghayour, author of Persiana: Recipes from the Middle East & Beyond. It's a book I've been meaning to get my hands on and I finally picked up a copy.
Wikipedia describes kefta (also called kofta, koofteh, kafta or kufta) as "a family of meatball or meatloaf dishes found in the Indian subcontinent, South Caucasian, Middle Eastern, Balkan, and Central Asian cuisines." That's quite broad, but shows the popularity of grilled ground meat (or fish) patties in many parts of the world.
As Reem Kassis points out in her book, The Arabesque Table, many cultures around the world also have a tradition of wrapping meat in bread, from shwarma to bao. Americans have our burgers and this mixture would make an intriguing patty served with pickles, thin slices of grilled eggplant, and a garlic spiked yogurt-tahini sauce served on a toasted sesame bun.
While planning to make these, I realized I'd written about kefta a few years ago. But since so many countries and cultures have their own version, like Sabrina's, why not add another one to the blog? (In her book she also includes a Turkish Adana köfte with punchy pul biber (Aleppo pepper).
So I thought this time, I'd try making them with one of the popular plant-based meat substitutes, which aren't available in France, to the best of my knowledge. (For the record, I used Beyond Meat as the packages are in 1-pound portions versus another popular brand, which comes in 12-ounce packages.)
There are soy meat alternatives in France, but they don't look as if they replicate meat, judging by this video and photos on the packages. And they're not supposed to label them in a way that confuses them with their meat-based counterparts. However, there are vegan burger joints here and there, and I suspect it's just a matter of time before they cross the Atlantic and start showing up in les supermarchés.
I do eat meat but know many people don't for a variety of reasons, and that's okay with me. A major food website just announced they're not going to add any more beef recipes due to environmental concerns*. And while for years the word végetarien was often dismissed, or produced chuckles, France has a robust amount of people who don't eat meat or who are eating less of it.
According to a survey, almost half the people in France have reduced their consumption of meat, and on the homefront, Romain has reacted to some of the television exposés of the meat industry and is happiest when I cook fish and vegetables. And I want to keep Romain happy because I think he's my last chance and I don't want him to have any beefs with me.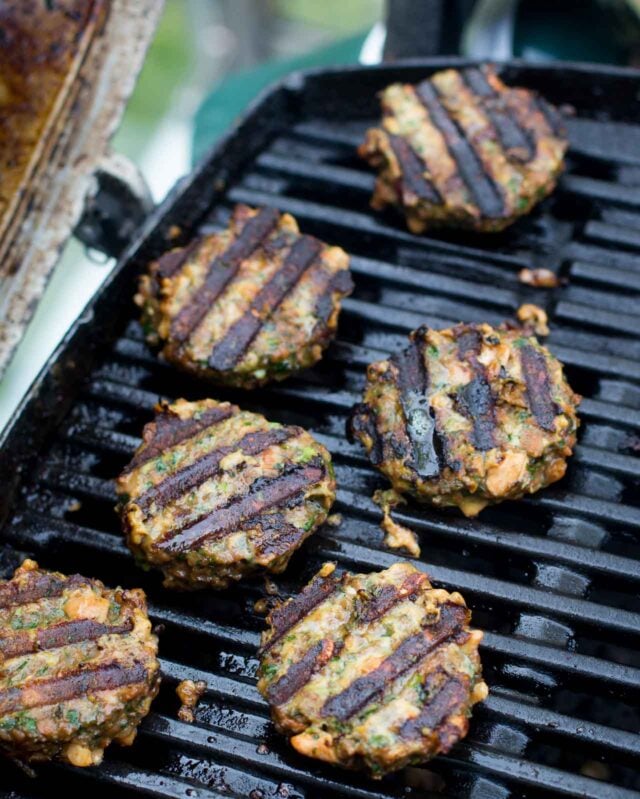 For those who disparage meat substitutes, the idea isn't all that new. I remember cooking from Chinese Meatless Cooking by Stella Lau Fessler, which was one of my culinary guidebooks, published back in 1983, which used wheat gluten and other substitutes for meat. Many cultures and cuisines historically have vegetarian dishes for reasons that range from righteous to religious. So I was happy to give a plant-based meat alternative a try.
Opening the package, as I slid the wet, mushy square out of the package and into the bowl, I thought it was a little weird looking. But then again, some people find meat weird. (And I've not given or been witness to childbirth, but from what I've seen on television, babies need a little tidying and sprucing up after entering the world, too.) One thing that I really appreciated was that I didn't need to be as cautious about handling it, and didn't feel the need to scrupulously clean my hands and utensils in my kitchen, as I am when I prepare meat. I didn't have to worry about raw meat juices festering in my sink nor did I feel to need to scrub my hands after handling it to makes sure they were free of any nasties. And these days, I welcome any chance to take a breather from worrying about hygiene.
They were admittedly, delicious. I toggled the spices up a bit, swapped out cashews for the harder-to-find pine nuts, and found the meat alternative wetter than expected, so you might only need one egg. Romain was delighted** with them, which is always a good thing, and to be honest, so was I.
Lamb Kefta
Adapted from Persiana: Recipes from the Middle East & Beyond by Sabrina Ghayour
Kefta is prepared differently around the world; it's sometimes grilled, and sometimes simmered in spiced tomato sauce, for example. I cooked mine on a grill but a griddle pan on the stovetop, or in a skillet with some oil, works well.
I upped the spaces a bit from the original recipes. If you'd like, the spices and seasonings can be adjusted as you wish. Common ingredients include, but aren't limited to, allspice, Aleppo pepper, coriander, dried mint, cloves, garlic, dill, and oregano, as well as the cashews I swapped out for the pine nuts Sabrina suggested. (Walnuts are another possibility.) Whew! Those are a heckuva lot of options. And those are just some of them.
I also swapped out chopped dried cranberries for the currants. (Which Sabrina does in another version here.) If you can get them, barberries, which are used frequently in Persian cuisine, add a wonderful bright "pop" of flavor. (Their flavor is similar to goji berries, which are available at well-stocked supermarkets and natural food stores.) Dried sour cherries are sometimes used in Persian rice dishes, so you could use them in place of the dried cranberries. Or stick with dried currants.
Lastly, while I made these with a plant-based meat substitute, you can make them with ground lamb, beef, pork, or ground dark meat chicken or turkey.
1

pound (450g)

plant-based meat substitute

,

or ground meat or poultry (see headnote)

1

medium

onion or 4 scallions (using the white and the tender green parts)

,

finely chopped

2

teaspoons

ground cumin

1 1/4

teaspoons

ground turmeric

3/4

teaspoon

ground cinnamon

1/2

teaspoon

ground allspice or cloves

1/4

teaspoon

crushed red pepper flakes

1 1/2

teaspoons

kosher or sea salt

,

(if using Morton's kosher salt, reduce it to 1 teaspoon)

freshly ground black pepper

,

or Aleppo pepper

1/2

cup (60g)

chopped toasted cashews

,

or 1/4 cup (50g) toasted pine nuts

1/4

cup (35g)

chopped dried cranberries

,

or dried currants

1/2

cup (30g)

chopped fresh parsley

,

cilantro, and fresh mint (you can use just one or a mix)

1 -2

large

eggs
In a medium bowl, mix together the meat substitute (or meat or poultry) with the onions or scallions, spices and salt. Season liberally with black or Aleppo pepper. Add the cashews or pine nuts, cranberries, fresh herbs, and 1 egg, and mix well with your clean hands until everything is very well incorporated.

If the mixture seems dry, and it feels like it won't hold together into patties, beat another egg in a small bowl with a fork and add just enough of that so it'll hold together.

(If in the end the mixture seems too soft, you can cover and chill it for a few hours, which will make it easier to form into patties.)

Shape the kefta into patties about 3-inches (7-8cm) round, and set them in a single layer or a dinner plate that's lined with parchment paper.

Cook the kefta patties on a medium-high grill, brushing oil on the grill grate before putting the patties on to cook, turning them once, until they're cooked through. They'll take just a few minutes. If you don't have a grill, they can be cooked in a skillet on the stovetop in vegetable oil or simmered in spiced tomato sauce.
Notes
Storage: The patties can be made up to two days in advance and refrigerated. Once cooked, they can be frozen for up to several months. 
Serving: Serve with a salad, such as a green salad, summer tomato salad, or tabbouleh. They can also be served with rice or couscous, grilled vegetables, or wrapped in flatbread with yogurt tahini sauce spiked with minced garlic.
*After the prominent recipe website announced they're going to stop posting any more recipes for beef due to environmental concerns, some pointed out the hypocrisy. After all, things like almond milk, Greek yogurt, coconut oil, and quinoa aren't quite planet-friendly either. It's hard to tell people what to do, which they aren't doing; they do have plenty of beef recipes on their website for those who want them. But I do think that if we rethink some of our habits and cut back a little, if we can, it can make a big difference. I don't see any downside to being conscious of what we're eating.
**Due to travel restrictions, we're temporarily a few thousand miles/kilometers apart at the moment, but he replied to my photo, "ça donne vraiment envie," which loosely translates to, "I want those." (For sticklers, Google Translate translates that to "That sounds awesome.")