Marzipan Challah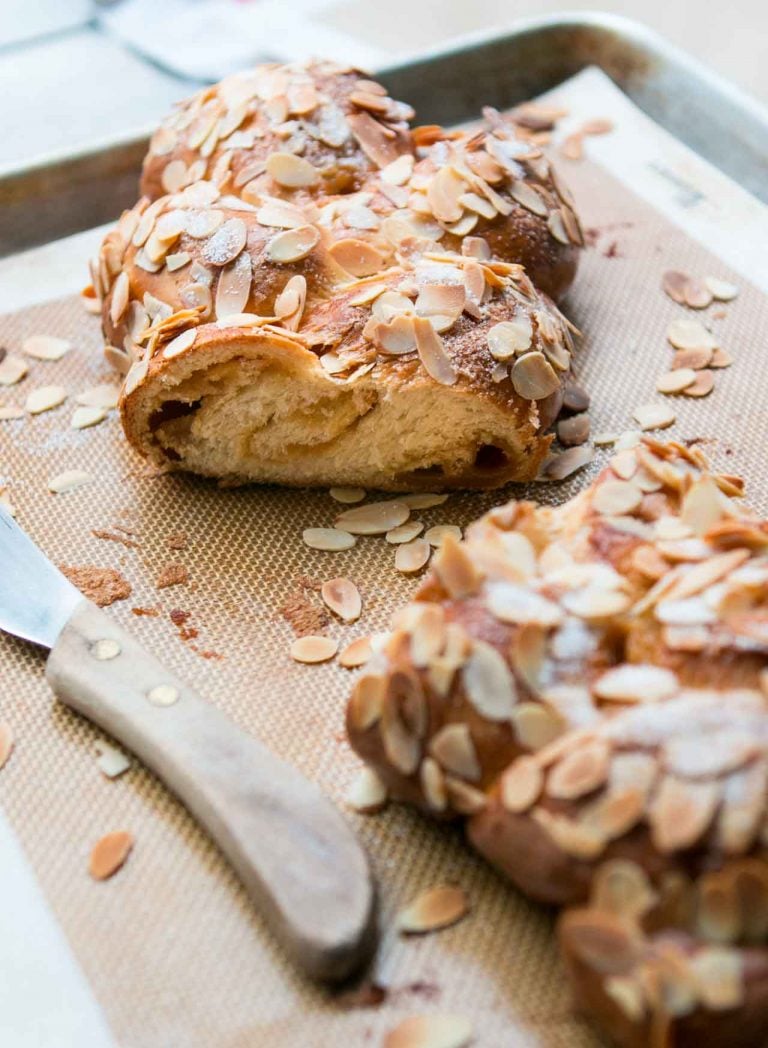 During a recent trip to Iceland, I visited a number of bakeries which make what are considered to be in the Danish tradition. They're yeasted, but get their flaky layers by either being rolled and folded several times, or made with a brioche-like dough, often with a moist, sweet marzipan filling.
I met Uri Scheft, an Israeli baker whose parents emigrated from Denmark, at his bakery in Tel Aviv a few years ago. At the time he told me he was planning to open a bakery in New York City, which he did. And Breads Bakery became a huge success. Uri's breads and pastries use ingredients and flavors from the different cultures that intersect in the Middle East and Northern Africa, as well as in his homeland, which inspired this marzipan challah.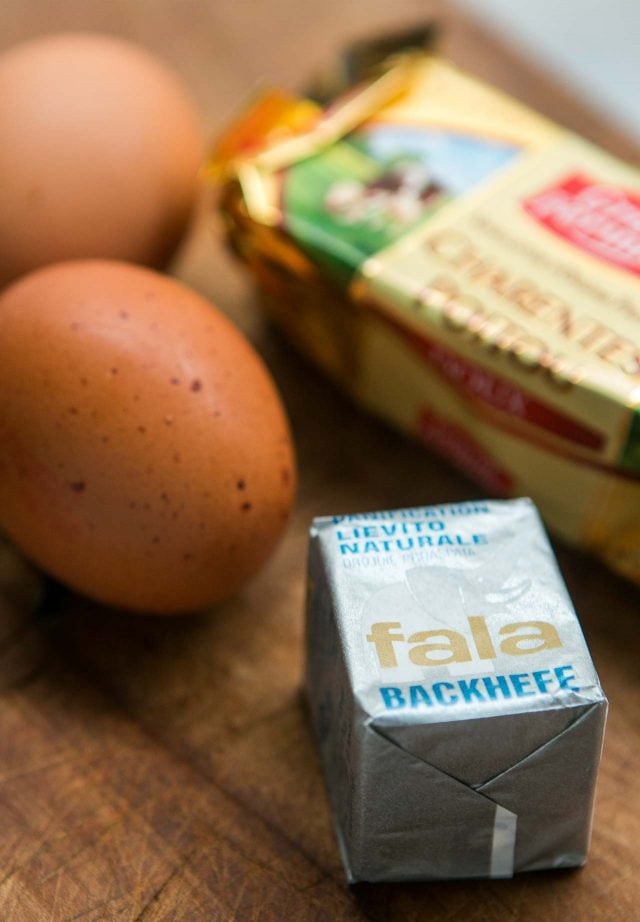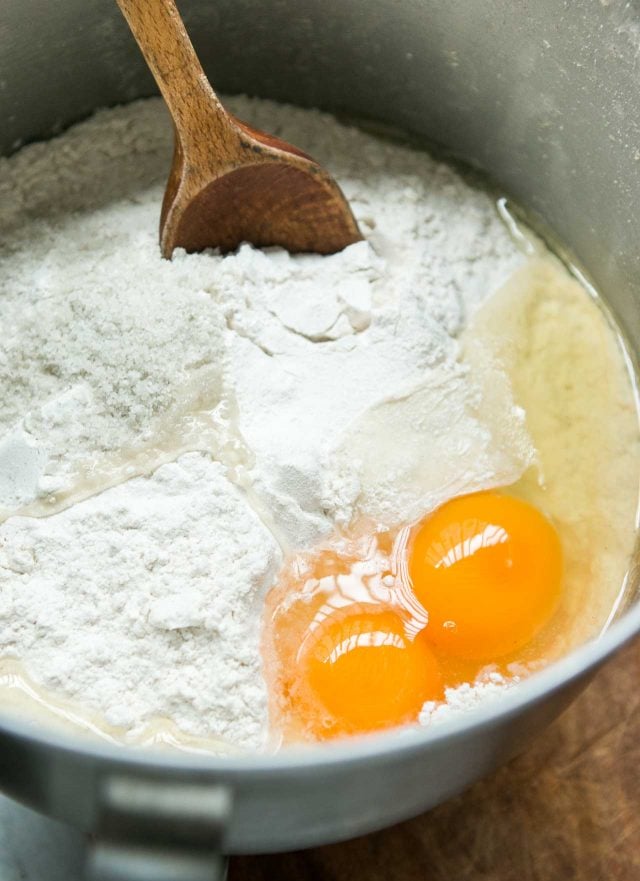 I was excited when I got my hands on his new book, Breaking Breads, where he shares recipes from his always-busy bakery. People often ask me for recipes from bakeries that I visit and most don't offer them up, because it's a challenge for bakers to scale their recipes to make a single loaf of bread or cake. And often the recipes are daunting for home bakers, which is what attracted me to this book – everything is fully explained in detail, many with step-by-step photos. The writing talks you through each part of the recipe, and in the case of these loaves of bread, the results were top-notch.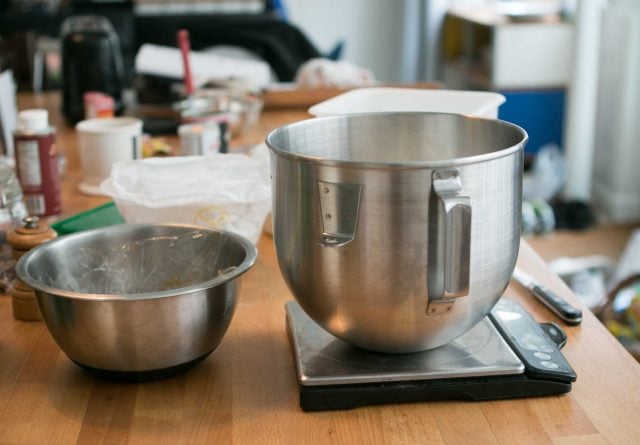 One bit of advice is that if you're not already using a scale for baking, I highly recommend one. The metric system makes it easier to weigh things out, too. (There was a book, What Ever Happened to the Metric System? How America Kept Its Feet about why Americans never took to the metric system, which I've alluded to why in a few of my books. But I should probably read that book for a better explanation.) And if you're still not convinced, there are less dishes to wash since you can often weigh everything in the same bowl, just zeroing out the scale in between ingredients.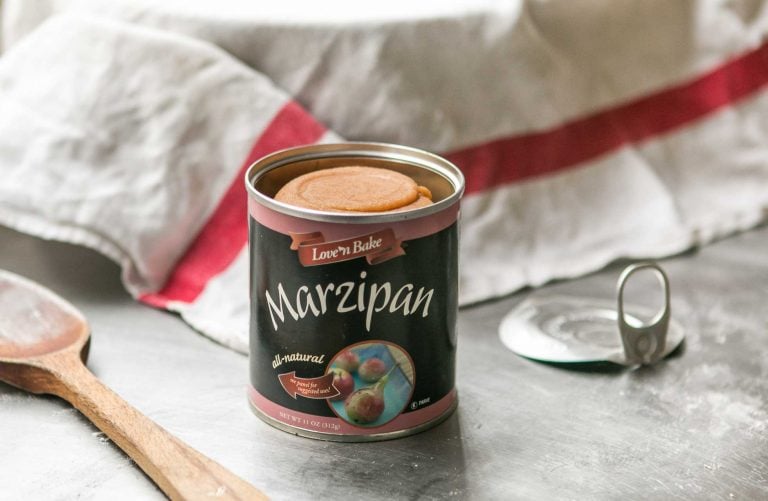 The downside of baking with a scale, in Paris, is that if the batteries run out on Sunday, you might find yourself outta luck. In recent years, some stores are now allowed to be open on Sunday in Paris, but I got stuck a few times before the rules were relaxed.
This time around, though, it was yeast and eggs that I needed more of. I didn't quite run out of yeast but to make a very long (and unfortunate) story short, I mistakenly used a variety of French semi whole-wheat flour (T110) that to my early Sunday morning eyes mistook for regular flour. I considered soldiering on with that, but knowing that 95% of you can't get T110 flour, I started all over again with regular flour.
Then I realized that I had used up the last of my fresh yeast and no natural food stores are open on Sunday, so Romain went to the local bakery for me, while I started over again. The counter clerks at the bakery told him that they didn't know what he was talking about, and didn't want to go into the kitchen and rifle around. But he went to other bakeries and eventually found some.
While he was gone, though, I realized I only had one egg left, and tried to text him to get more, but he'd left his phone at home. So when he got back, I sent him to the café up the street to borrow a couple of eggs. Yup…he's un keeper.
So while this recipe may look challenging to you, imagine me on a Sunday trying to patch together all the ingredients after messing up the first batch, and starting all over again. So, to recap what I learned:
Get a scale for baking, and keep extra batteries in stock.
Keep extra eggs and butter in stock.
Stay on the good side of your local bakers and café owners.
Check the bags of flour that you have to make sure you're using the right ones, especially if you live in a foreign country and the flours don't correspond to flours elsewhere.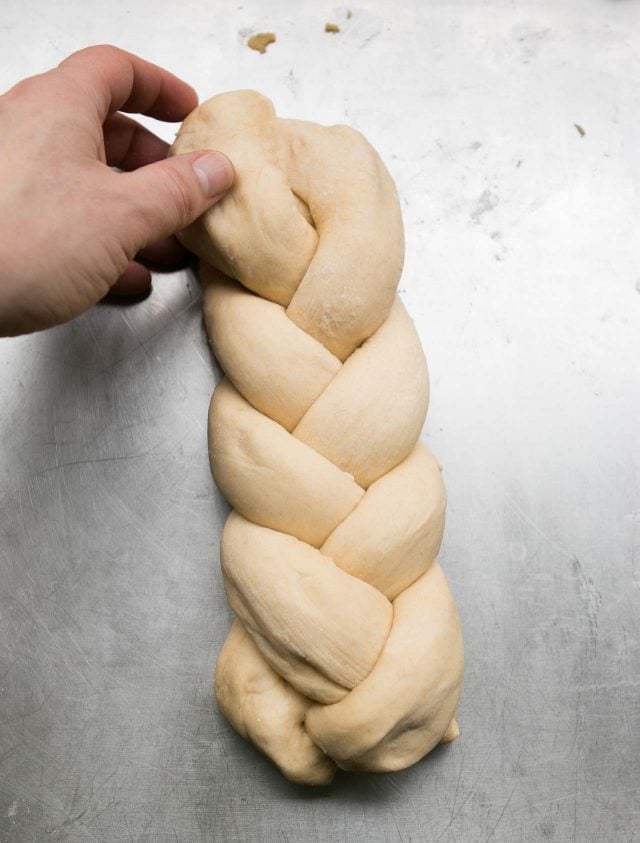 After my self-inflicted problems (which were no fault of the book), I soldiered ahead and made the three loaves of marzipan challah in the book. I questioned a few things as I went, but by the time I was braiding them up, things looked pretty good to me.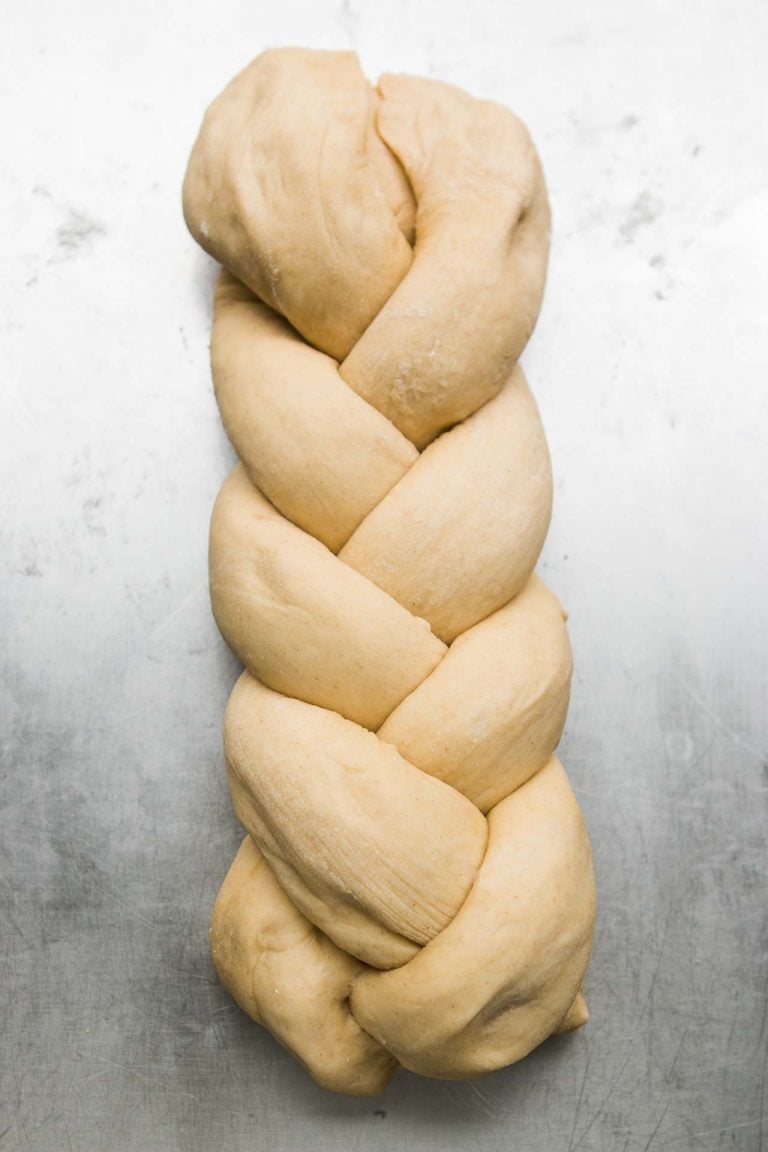 I had to say, when all was said and done and I lopped off my first slice as soon as the loaves were cool enough to slice, I think I audibly said – "Wow!" It was that good, and if you're anything like me, you'll be glad the recipe makes three loaves because I ate almost half of the first loaf that afternoon.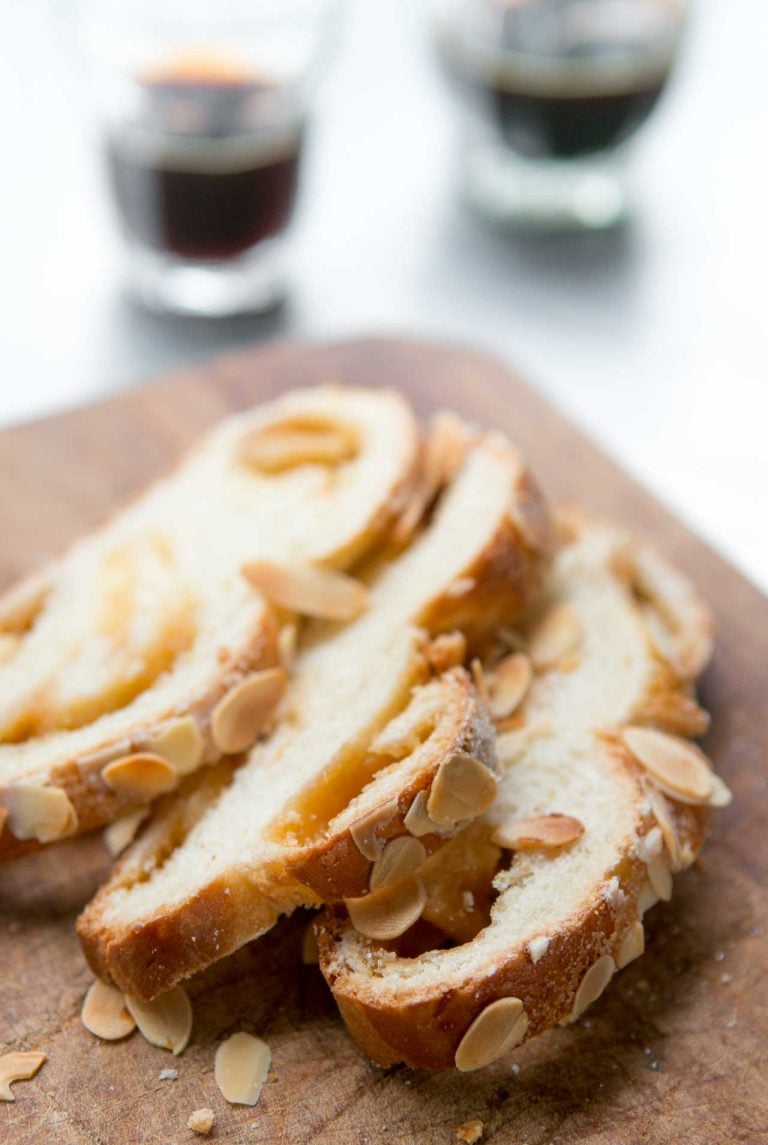 I've already got the Shakshuka Foccacia recipe bookmarked in Breaking Breads, and of course, the Chocolate Rugelach, which was the treat from Uri that first made me swoon. But there are also a few savory dishes that I have my eye on, too, such as a spicy green Z'hug sauce from Yemen, and Matbucha, a chile-laced tomato sauce to dip flatbreads in. And I've started a grocery list of things to stock up on, just in case I decide to make any of them on a Sunday.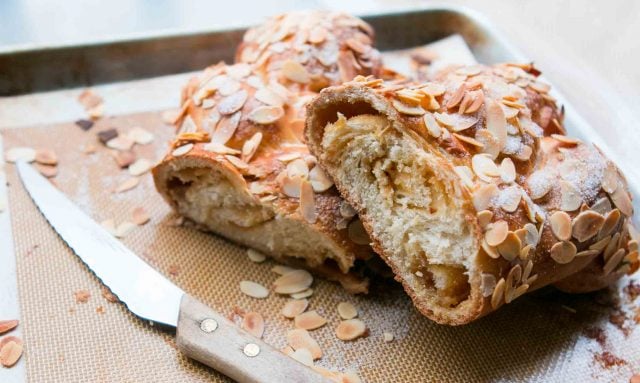 | | |
| --- | --- |
| Marzipan Challah | Print Recipe |
Adapted from Breaking Breads by Uri Scheft Marzipan is different than almond paste. It contains additional sugar, and usually some liquid sweetener, so it's more supple than almond paste. I used Love 'n Bake marzipan, which I like a lot, which I often bring back from the U.S. (They supply professionals and I used their almond paste and marzipan when I worked in restaurant kitchens.) In his book, Uri advises against using most tinned marzipan in the United States because, he says, it's too soft. (The brand I used worked for me, but if you use another brand, you should look for marzipan in tubes.) Fortunately, marzipan is easy to find in supermarkets in the States. (Odense is a widely available brand.) Ikea stores often stock it, too. If you live elsewhere, you can use my tips in How to Find Foods Mentioned on the Site. I recommend weighing the flour, and using fresh yeast, although Uri says if you can use 2 teaspoons active dry yeast in place of it, which he adds without proofing. If you don't have a stand mixer, you can make the dough by hand. I've given some helpful links at the end of the post regarding marzipan, almond paste, various types of yeast, and substitutions, as well as a video on braiding a three-strand challah. (I gave Romain the rest of the afternoon off and took the pictures in the post myself while doing it, which was a bit of a challenge. But you can see it in action in the videos if it seems confusing.)
Challah dough
1 1/3
cups (330ml)
cold water
1
ounce (30g)
fresh yeast
(see headnote)
28
ounces (800g)
all-purpose flour,
(about 6 1/4 cups)
2
teaspoons
kosher salt or sea salt
4
tablespoons (60g)
unsalted butter,
cubed, at room temperature
Marzipan filling
7
tablespoons (100g)
unsalted butter,
cubed, at room temperature
3
tablespoons (20g)
all-purpose flour
Almond Topping
1 1/4
cups (100g)
sliced almonds,
blanched or unblanched
1. Make the challah dough. In the bowl of a stand mixer, crumble the yeast over the cool water. Add the flour, two eggs, salt and sugar, then strew the cubed butter on top. Mix on low speed with the dough hook until everything is combined, then increase the speed to medium and knead for 4 minutes until the dough is smooth, supple, and elastic. If it's too dry or "tight," add another tablespoon of water. (Which I did.)
2. Sprinkle some flour lightly in another bowl and transfer the dough to the bowl. Sprinkle the top lightly with flour, cover the bowl with a kitchen towel, and let rise in a warm place until it's risen by 70%, about 40 to 60 minutes.
3. While the dough is rising, make the marzipan filling. Mix the marzipan and sugar in a medium bowl with your hands until it's well broken up. Mix in the butter, one tablespoon at a time, until it's fully incorporated and there are no visible bits of butter. Add the flour, and set aside.
4. Remove the challah dough from the bowl with a plastic scraper or spatula, being careful to deflate it as little as possible. Divide the dough into thirds, then divide each third into three pieces; you should have 9 pieces of dough. (You can use your kitchen scale for this if you want them exactly the same size, although I eyeballed them.)
5. Line two baking sheets with parchment paper or silicone baking mats.
6. With a rolling pin, on a lightly floured surface, roll one piece of dough into a 9- by 5-inch (22 x 12cm) rectangle. With the long end facing you (see photos in the post), smear a very scant 1/4 cup (45g) over the right one-third of the rectangle, then roll the cylinder up tightly, working from right to left. Pinch the seam together and place it seam side down on the work surface. Continue rolling and filling all 9 pieces of dough in the same manner.
7. Roll each marzipan-filled cylinder with your hands into a rope between 12- and 13-inches (30-33cm) in length. Don't add flour at this point, which will make them harder to roll.
8. When done, dust your hands very lightly with flour and rub them over the ropes. (The flour will help keep the ropes separate when baked.)
9. To braid each of the three loaves, pinch three of the almond-filled ropes together at the top end. Braid the loaf by taking the rope on the left and lifting it over the center rope, placing it down so it's now the center rope. Lift the right rope and place it over that center rope. Then continue with the left, placing it over the center rope, then the right. (If you're confused, you're always putting the left or right rope over only the center rope.) When you're done, pinch the two ends of the braided loaf together, tuck both ends under the bottom, and place the loaf on one of the baking sheets. Braid the remaining six cylinders, using three at a time, to make two more loaves.
10. Cover the loaves with kitchen towels and let rise in a warm place for 1 1/2 to 2 hours, until doubled in volume.
11. Preheat the oven to 350ºC (180ºC).
12. To make the egg wash and almond topping, mix the egg with water and a pinch of salt in a small bowl with a fork. Brush the egg wash over the risen loaves of challah, making sure you don't brush it on too heavily, or it'll pool in the crevasses. (If you have extra egg wash, you can rebrush the loaves again with more glaze. Sprinkle sliced almonds over the top and on the sides of each challah and sprinkle each with 1 teaspoon of sugar.
13. Bake the loaves of challah for 15 minutes. Rotate the baking sheets in the oven, turning them around and switching the shelves they're on, so they bake evenly. Bake 10 minutes more, then remove the loaves of challah from the oven and let cool on the baking sheets before slicing.
Storage: The marzipan challah is best enjoyed the same day, or the next. It can be kept for up to four days at room temperature, or frozen for up to two months.
Related Links
How to braid a 3-braid challah (The Shabbat project, video)
All About Yeast and Troubleshooting (King Arthur Flour)
Yeast Conversion Table (Red Star Yeast)
Fresh Yeast versus Instant Yeast (San Francisco Baking Institute)
Understanding Flour Types (Weekend Baking)
What's the Difference Between Marzipan and Almond Paste (The Kitchn)
Ingredients for American Baking in Paris