Mon Dieu! A Hospitel?
If you're into staying in odd hotels, the most unusual one in Paris is part of Hôtel Dieu, called Hospitel. Occupying the top floor of Paris' enormous public hospital, the hotel is adjacent to Notre Dame and features one of the most beautiful hotel lobbies in the world: a sumptuous, verdant courtyard framed by a sprawl of archways.
The location of the Hôtel Dieu was apparently chosen due to its proximity to Notre Dame. (Hôtel in French can mean a large mansion-like building, not necessarily as hotel as we know it.) It was thought that people leaving a house of worship might be more charitable on the way out. Eventually rooms were rented out on the top floor for people visiting patients in the hotel, and thereafter, the hospital opened them up to the public. For those of you that are concerned about noise, I doubt you'll find anywhere that's quieter than a hospital.
The rooms are serviceable (think of an Ikea-decorated college dorm room), but hospital-clean without a lot of extraneous decoration.

Large skylights let in plenty of light, although there are no windows as the "hotel" is on the top floor and the roof is mansardée. Each room has its very own private bathroom, air conditioning to combat the summer heat, a television and telephone, and free Wifi. There's also a reception desk and I visited a friend who was staying there and the woman at the desk couldn't have been nicer or more helpful.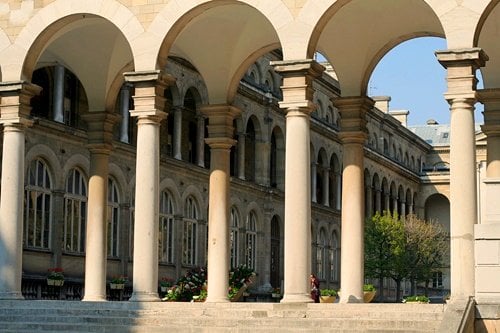 Prices are reasonable, although not dirt-cheap. Currently the rooms run about €120, unless you're visiting a patient in the hospital, in which case, the price drops by about 40%.
The upside is that the hotel is centrally-located and near Berthillon, in case you need an emergency caramel ice cream fix. The downside is that most of the restaurants and cafés in the direct vicinity are geared towards tourists visiting Notre Dame and aren't among the best in city.
But the best part may be that in case you have an emergency, the non-caramel kind, you needn't go very far.
Hôtel Dieu Hospitel
1, place du Parvis Notre Dame (Map)
Métro: Cité
Tél: 01 44 32 01 00
Fax: 01 44 32 01 16
More of Tips for Paris Travel
Paris Cooking Classes & Wine Tasting Programs
10 Delicious Things Not to Miss in Paris
Where is the best duck confit in Paris?
Some Favorite Paris Restaurants
Vegetarian Dining Tips for Paris
Where to Find a Great Hamburger in Paris
Renting a Vacation Apartment in Paris