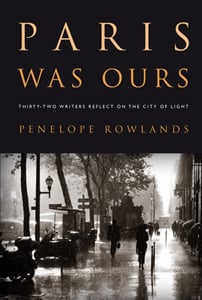 Even if you've never been to Paris, it's obvious that the city has a special allure that no other city in the world has, and a multitude of books get written about Paris by past and present residents. Readers look for answers to how French women miraculously stay so slender, or offer guidance for mastering the eternally sun-drenched foods of Provence (which don't hold back on the lavender, although I've never seen anyone eating lavender anything in Provence), or promise to unlock the secrets of how Parisians have so much flair and maintain their certain je ne sais quoi.
I was thinking about those when I was reading Paris Was Ours, a thoughtfully edited anthology of thirty-two stories written by writers who live in Paris, or whose lives have been somehow profoundly affected by their time here. While those topics have their audience, there's many sides to Paris that aren't often broached, which is why I found myself so caught up in this book.
Unlike books by single authors, disparate voices were to compiled in this book to demonstrate the complicated relationship many people have to Paris, not just one person telling their story. Most of chapters are recounted by adults who have come here usually filled with bright hope and ideals, although a good number of the stories are memories of people who came in their youth, and are now reflecting back on how their years in Paris affected their lives. There are stories of immigrants that recall lives and countries left behind; an Iranian woman detained at the airport before leaving her country, denied boarding to Paris because of bureaucratic snafus, and a Cuban woman whose husband was exiled in Paris, who barely had a clue as to what Paris was and was afraid to go shopping or even take the métro because "the Communists said women were raped and murdered there."
To those who think all French women are slender and gulping down crème brûlée at Café de Flore, there's the fleeting life – told in a series of thoughts and emotional outbursts – by a homeless French woman who lives on the outer fringes of Paris. And while it makes people elsewhere envious to think that French students are dining on frog's legs, camembert, and les escargots, a young man attending a university reminds us of a running joke amongst French students that the food they're being served in the cafeterias is punishment by the government for the student riots of 1968 which seized the entire country and brought it to a halt. The stories bring you back down to reality the Paris, while being "The City of Light" to so many, is also just another big city once you look beyond the pastry shops and take the métro a few stops away from the twinkle of the Eiffel tower, and has the same problems and issues of other urban areas.
In one chapter, Alicia Drake wrote, "The sound of Paris is not laughter", an observation which captures the somber morosité that pervades the city: the beige sameness of the buildings whose balconies are trimmed by dark ironwork, the gray skies that overwhelm Paris on a daily basis, and the street sweepers with their heads down, washing away soiled remnants and cast offs of households, cafés, cigarette smokers, dogs, and other sorts of detritus left behind. Paris is constantly cleaning itself, and as history has shown, is a city that has has to brush the past aside (not always comfortably) to clear room for the present.
Paris is full of wonderful things – the Louvre, Hermès, sprawling boulevards, chocolate shops, and pristine parks – although one of the first essays in the book details the shock that a newcomer has when faced with the reality of life in that pricey paradise shortly after she arrives: "Living in Paris is priceless, but it will cost you." And Judith Thurman gets a good scolding when her very young son has the temerity to step on the grass in a park; "You know very well, madame, that the lawns are off-limits." Guilt is often assumed, and Paris – first and foremost – must get your respect. A reader wrote to me a while back, "Paris will kick your ass" which gave me a good chuckle, but is true: you've got to really toughen up if you want to live here. If you're looking for someone to hold your hand or take pity on you—or even cut you some slack, you won't make it.
Those writers who immigrated here and subsequently left, took with them impressions that lasted long enough so their stories formed a deep impression on them and affected their lives, which surfaced years later when they went to write about them. Some remember details, like the long, drawn-out months of dreary rain and how the simple act of slipping into a shop to get out of the deluge and finding a pair of shoes can transcend the act of "shopping" and because a critical turning point in the life of a young Arab étrangère.
But surprisingly, my favorite essay was by journalist Judith Warner, which broached the uncomfortable (and somewhat timely) subject of the way women are treated in France, in business as well as in their position as child-bearers. She finds that the social programs which at first glance appear to be overly generous to outsiders, when she moves back to the states with her family, make her realize that those social benefits fill in the parity between the sexes. When she returned to America as a working mother she discovered the constraints women with families have when trying to find a job and was told repeatedly that certain jobs weren't for her, often hearing – "That's for a young person, without children."
The French system offers childcare possibilities which are part of the social benefit structure of France, and allow women who want to work and have children to be able to do both, whereas women in the states have to face the decision of whether to have a family or to be a working woman, a dilemma she had to face when she returned. But the beauty of an anthology is the mix of voices and opinions, and some of those ideals are later refuted by Stacy Schiff, who claims that in France, "The school week is cleverly configured to keep mothers from working" as kids are "home for lunch", school is "half-day on Wednesday", and there are "four-hour birthday parties", (although later offers that "the last thing any French school administration wants to encounter in its hallways is a parent") which proves that Paris, and France, are sometimes rife with contradictions and paradoxes.
While reading through the book, I wasn't sure if my own essay, that was more topical and self-effacing than the others, (which I wrote for The Sweet Life in Paris), was going to be the right story to wrap-up the book. Then I reached the end and realized why Penelope Rowlands, who edited Paris Was Ours, used my story to place a bookmark at the end of this collection of stories. Not to mark the end, but to sum up the good as well as the infuriating – and all the things in between – that fascinate people about Paris.
Re-reading it made me see the optimism embedded in the observations about the quirks I found in Paris and in the Parisians, which permeates some of these stories as an undercurrent. It wasn't truly evident until it was summed up by someone who finds humor here (See? There is some laughter in the city..) and it made me glad to have rounded things up in a lighthearted way, but one that still acknowledges that Paris is a real city, and those who come sometime leave their mark, and sometime it leaves a mark on them.
Ms. Rowlands opens Paris Was Ours by astutely observing, "For a foreigner living and working in Paris, the bar the city sets can feel impossibly high: to clear it is to feel as if you've conquered the world. The thirty-two writers in the following pages have done exactly that." It all sounds a bit lofty, but as Alicia Drake later explains – "When I came to Paris, I believed in queuing, apology, duty, ideals" which seems to sum up a lot of life for any foreigner living in Paris. What you thought you believed is no longer true and you have to face obstacles that you never imagined you'd have to face. You have to re-write your own rules using the specific, and sometimes rigid, guidelines set by Paris. We may not have conquered the world—or Paris, but many of us do remain here, making the city somehow ours.