Scoop
For the first five years in Paris, I wouldn't go to Scoop. I'd walk by, scan the selections of hamburgers and "les wraps", and keep going. Even though I was intrigued with the list of house-made ice creams, I'd always reason to myself, "I didn't move to Paris to eat a hamburger."
I was reading recently about a site called My American Market that carries American foods, mostly targeted at expats living in France. There's some hard-to-find baking products, like unsweetened chocolate and molasses, but there's also plenty of goofy stuff, like muffin mixes, trail bars, and something called Molly McButter.
A few people took exception, saying that they were presenting Europeans with a less-than-exemplary view of American food. But even to those of us who don't buy packaged mixes and such, who live abroad, it's impossible not to feel a twinge of nostalgia when you see those familiar things that are simply part of our culture, for better or worse. And every once in a while, it's not going to kill you to eat one non-locally grown, bright-orange, peanut butter-filled cheese cracker. (Granules of non-fat butter, though, I'm so not sure about.)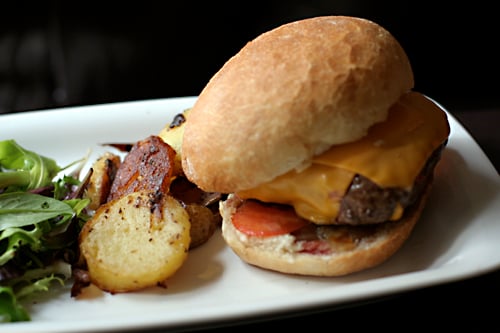 A few years ago, I caved and had a burger in Paris. And you now see hamburgers on lots of café menus, although French people eat their burger with a knife and fork. (I was served one once with only a top bun. I think they heard my accent américain and didn't want me making a spectacle of myself in front of everyone else.) Although there are plenty of burgers around, some are good, and some aren't.
But folks kept telling me that Scoop had one of the best in town. So I finally went, and was sorry I waited so long. I ordered the Route 66, a lunch special (€15) that lets you pick any burger on the menu (except the 'Build Your Own', which is fine, because when I go out to eat I don't mind letting someone else do the work) and a milkshake, made with their housemade ice cream. The waitress asked when I wanted the milkshake.
"Um…with my hamburger?", thinking that she meant she'd bring it before, whenever it was ready. Then I noticed the table next to me, after their plates were cleaned, the waitress brought their milkshakes—for dessert. Then it hit me that it would be odd for a French person to have ice cream with their lunch. Still, you can take the boy out of the country…, but I had my shake with my burger.
I've gone to Scoop a few times since and each time, we were the only Americans in there; the other guests were invariably French people. I haven't tried any of les wraps or the quesadillas, because the burgers are pretty great. I'm a fan of the Bacon Cheeseburger, which has, of course, bacon as well as onion jam and cheddar cheese, although I wish they'd use a true English cheddar rather than what was melted on top: orange belongs in crackers, only. And the bun, while tasty—both the top and bottom, would be the perfect if they grilled or toasted them first. Aside from that, the burger is big, juicy, and served as rare as you want it.
Desserts are all-American as well, and my friend Olivier couldn't help from ordering a chocolate cupcake as well as a second milkshake. Oh, to be 29 again. I'd mentioned cupcakes were becoming hip in Paris, and although he didn't offer to share, I was happy to see he enjoyed his very much. (He, like the woman at the neighboring table, ate their cupcakes with a small spoon.) But after all, I'd taken him out to lunch a few weeks ago and ended up at a restaurant I didn't realize was vegetarian. And while I enjoyed it, I don't think it was exactly his cup of tea.
And neither is coffee. So I downed a quick café express, French-style, while he finished off his cupcake, with his spoon (French-style), and that was the Scoop.
Scoop
154, rue Saint Honoré (1st)
Tél: 01 42 60 31 84
(Update: Scoop was recently sold and changed owners, so I'm unsure of the current menu and what is offered there.)
Related Posts
Where to find a great hamburger in Paris
Where to get a good cup of coffee in Paris
Nopa: The burger that knocks it out of the ballpark (San Francisco)
Joe's Cable Car Restaurant (San Francisco)
Ingredients for American Baking in Paris
Two Great Dining Guides to Paris
Vegetarian Restaurants in Paris