Tinos, Greece
Tinos isn't one of those Greek islands that you hear a lot about. It doesn't have exciting nightlife, like neighboring Mykonos, and while the weather is warm, the winds can be a bit fierce. But the upside is that it's ruggedly beautiful and if you go during off-season, you'll have a lot of the island to yourself and you can drive several kilometers and not come across anyone else. You'll have the road to yourself.
Not being juilletistes or aoûtiens (people who take their vacations in July, or August…or in some cases, both) we took our vacation in September, when most people return to France for the rentrée. To me, it's the ideal time to head out of town and traveling is much easier, and not just in France, but across Europe.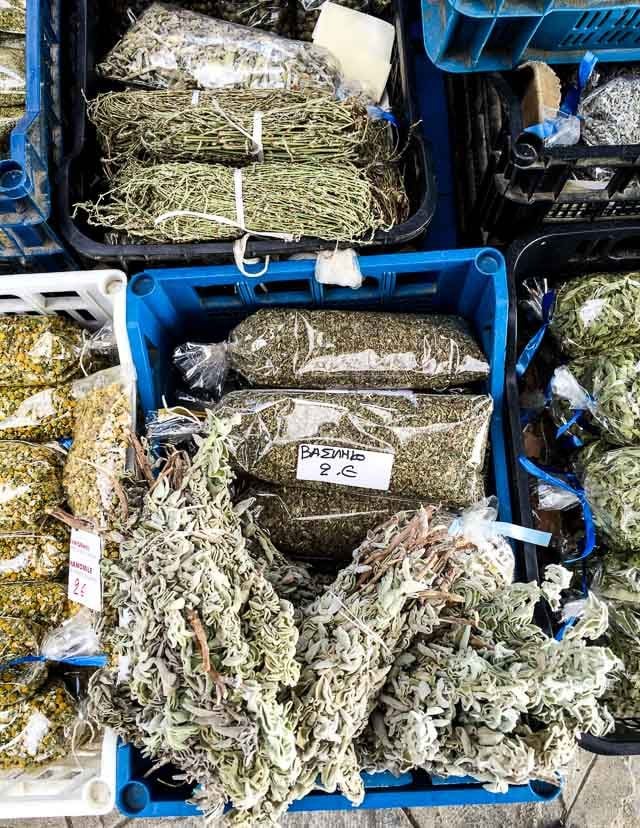 Friends with a house on Tinos invited us to visit, and we stayed with them for a few days, then stayed on after they went home, taking advantage of the calm island, one that's easy to get around; you won't find traffic jams, and most villages in Tinos can be driven to in 30 to 45 minutes, tops.
Tinos is known for being a deeply religious place and it's said there are around 700 churches; which is quite a few, considering the population of the island is in the vicinity of ten thousand people. A number of visitors come to make the pilgrimage to Our Lady of Tinos, and crawl on their hands and knees up a sloped, carpeted pathway, that goes from the sea to the church, hoping for a miracle.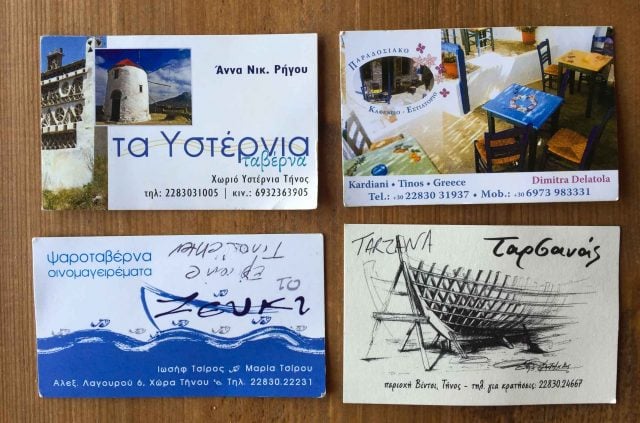 My miracle was that I made it through a few weeks shuffling between three languages, without making any major gaffes. The signage on the island is excellent, and it was hard not to remark, that so are the restrooms. All of us – a mix of French, Italian, Swiss, and the lone American (me) – couldn't help but notice on how clean shopkeepers and restaurants kept their marble WCs. I didn't take any pictures but imagine of an all-marble hospital, and you'll get some idea of how clean they were.
Some signs (and business cards), however, were only in Greek, which is natural being in Greece. And when they were in the English alphabet most of us are used to, they didn't always correspond, so I provided business cards just above for four of the places I mention in this post, in case you decide to visit. If you want to live like a local, you'll have to learn some Greek, which my friend who we were visiting did: In less than two years, he learned to read, write and speak Greek fluently. But when he left, we were on our own, which wasn't a problem.
(For reference on the business cards, the top left is for the taverna in Isternia, the top right in the cafe in Kardiani. Bottom left is a good Greek food store near the port, and on the bottom right is Tarsana, an excellent restaurant on the far end of the main port, all of which I'll mention later.)
But no matter. Tinos is small and if you ask someone for directions or have a question, they will happily point you in the right direction. The locals were very nice and we got by with our mixture of French, English, with a few words of Greek we picked up, tossed in to the mix.
We were surrounded by natural beauty; gnarled olive trees, cured pork loin (called louza) dangling outside small kitchens, and whitewashed churches in blaring contrast blue skies so bright, it was hard to look at them. Small villages were immaculately clean, and many of the homes and town were constructed using of thick white marble, making them a wonder to walk through. And we didn't have a single bad meal during our stay. Restaurants use very fresh ingredients and the cooks and servers were proud of what they set in front of us.
To visit Tinos, you'll want to rent a car. We had a mini 4×4 because the road to our place was treacherous…to say the least. My Parisian driver, Romain, was unfazed, although I had to close my eyes a number of times when he took a sharp hairpin turn where if my door had swung open, I would have taken a drop-off down a cliff. And then you wouldn't have me to kick around anymore.
Jason Rent-a-Car put us in one of those Suzuki 4x4s, which I think have gotten better since they were introduced in America. Somehow, we survived. And we were happy to arrive the first day after having to get up at 2:45am to be at Orly Airport by 4am, for our 6am flight. I didn't think it'd be a problem at that early hour to breeze into the airport and step on a plane traveling within Europe just an hour before, but my neighbor warned that he missed his early am flight one day because security doesn't open until 4:30am and you need to get there early to be at the front of the line when they open. He was farther back and didn't make it. So we set the alarm and got a good night's sleep…about 3 hours worth.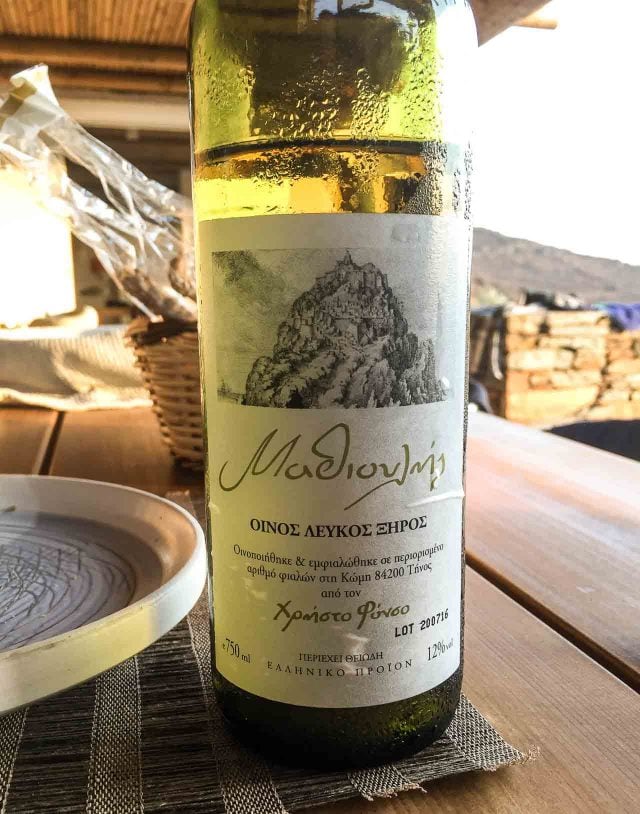 By the time we arrived on the island that evening, it was nearly 8pm. Fortunately the boat from Rafina (near Athens) is efficient and we used our few hours at the port to lunch at La Serena, the only restaurant that didn't have someone out front urging passers-by to stop in. (I figure if a restaurant has to do that, they're not that good.) We both had grilled sardines, our first of many Greek salads, and a bottle of retsina.
You either like, or dislike, the resiny Greek wine. I went to college in a town with a decent-sized Greek community in New York, so I got used to it and like it. But it can be a tough sell. Fortunately on Tinos, they make excellent non-resinated white wine and when we arrived, one of our Parisian pals tried to pour me a glass of red (a majority of the people in Paris who drink wine favor red, and white is a tough sell), but I was a bad guest and asked for the white. Fortunately I did, though, and the one above was excellent, although when I went to the store to buy a few more bottles, my Greek failed me and the others I picked up, that had similar labels, had a strong, oxidized flavor, rather than the clean, mineral flavor of the first.
Tinos has spectacular views, no matter where you are. The steep hills that lead to the sea are either clustered with marble villages, or deserted, save for a few mountain goats wandering around and decorative pigeon houses, which the island is also famous for. (Some say they were raised for dining, although we didn't see pigeon on any menus.)
And while some beaches are right off the main road, others are more secluded and have rock stairs to make the trek (slightly) easier. I always thought drones were silly, but when you're parked on a sunny beach in the middle of nowhere, after a hike down a rocky ridge, the idea of the delivery of an ice-cold gin & tonic, or a frosty Greek coffee Frappé being delivered to you, would have been something that I would not have minded.
In addition to the occasionally fierce winds, the other thing the island lacks is medical care, which I found out when I injured my neck. Rumor had it that there is some sort of medical facility, but friends told me that you had to plan your injury (or giving birth) on the day that particular doctor is there. Otherwise, it's a helicopter trip off the island, to Athens.
Fortunately my neighbor back in Paris is a doctor and came to my rescue, although the visits to the local pharmacist were a bit of comedy. When the pharmacist took my temperature, he pulled a glass thermometer from the cluster of pens in a cup holder by the register, gave it a shake, and took my temperature with it. Afterward, he slipped the thermometer back in with the pens, ready for the next person.
So it's easy to understand why praying is sometimes a good idea, and you'll be happy find beautiful churches everywhere, sometimes right on the beach. Which, if you think about it, is a good way to get people to go to church.
The island is also dotted with the mountain goats, who became our constant companions on the island. They roam everywhere – including up steep cliffs, over rocky ranges and craggy hilltops, and even across roads, which prompted a few sudden slamming-on-of-the-brakes by Romain.
In the few instances, just before my life flashed before my eyes, I paused to wonder if a helicopter could come and get us from the unforgiving drop-off down a cliff that I was sure we were going to take. Or maybe some of the goat were trained to rescue people. But mostly they were interesting in eating whatever they could find, and going about their foraging…
Another thing to do before I die, if I decide I ever want to remodel another kitchen, I'm going to skip the search for another French farmhouse sink and go for the Greek (marble) version.
With all the debate in France over wearing burkinis on the beach, one thing that didn't get mentioned during the controversy was how economical they are. I can't take a lot of sun, like I used to. So I've taken to wearing a rash-guard, which I first bought when I was thinking about moving from San Francisco to sunny Hawaii to take up surfing. When I realized that surfing was 85-90% paddling, I decided to move to Paris instead.
But since there are no "Two for $7.99" deals on sunscreen in Europe, at €14 a bottle, it's cheaper to wear more clothes at the beach than slather on the sunscreen. Now I just need to find matching leggings that offer a little more coverage…
The island is small so even if you look at the map and think, "Wow, we're going to cross the entire island this morning?" it's possible to get to most places in less than an hour.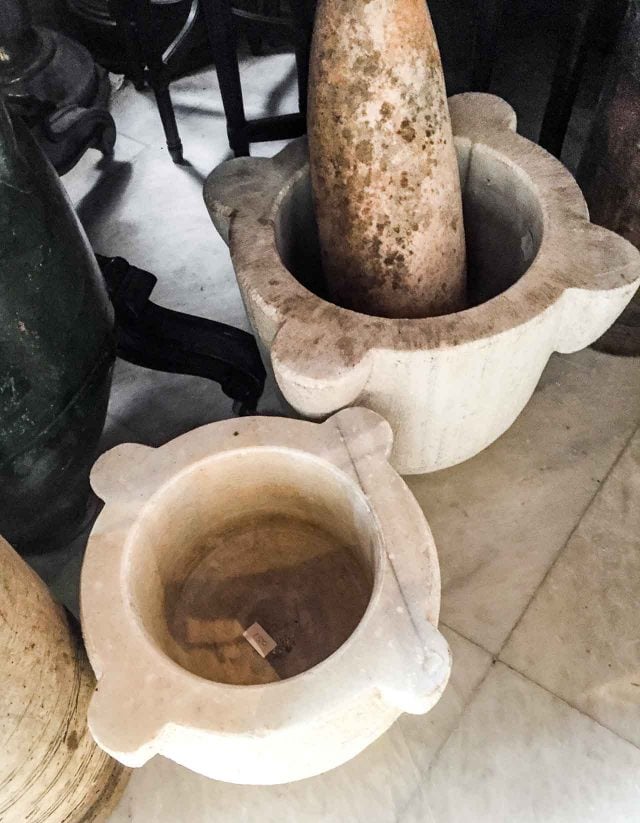 We took a drive out to Panormos bay, which was lovely, stopping in Pyrgos, known for it's marble. I saw there giant mortars for around €150, which would cost at least that to get home, so I passed.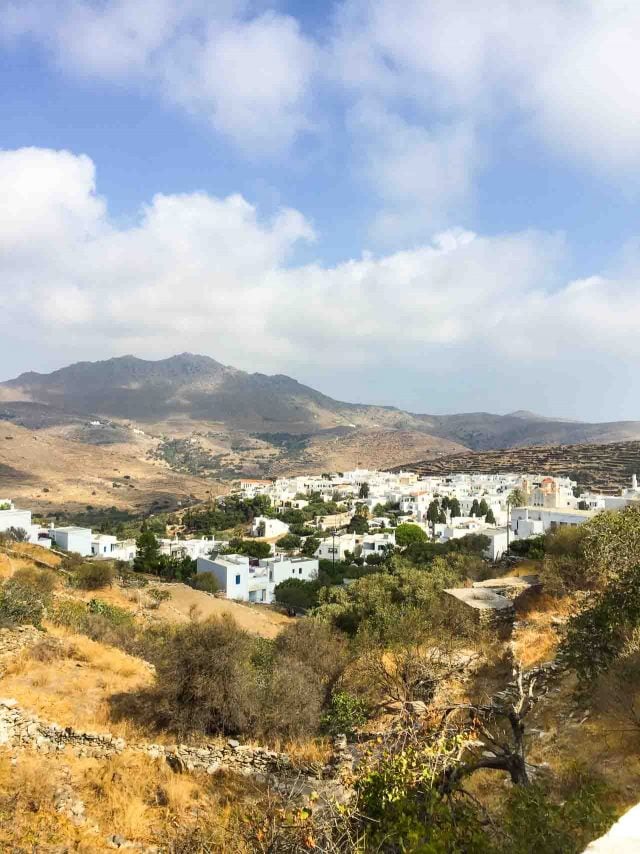 As we wandered through Pyrgos, I had jotted down that our friends said was especially worthwhile for the galaktoboureko offered up at one of the cafes in the town square. A writer elsewhere said the look of the cream filling in this dessert doesn't do justice to its flavor and I'd have to agree.
What looks like a slab of something best left behind in the dessert window, was pretty terrific. The cream was light and perfect, with filo topping giving it a nice crunch. It was rich and filling, which was easier to eat with the help of two extra-strong coffee frappés. Fortunately the Greeks are not reluctant to add ice to drinks and from the looks he got, Romain was the only Frenchman they'd ever met that went out of his way to ask for extra. I think they are probably still talking about him.
When I'd bought butter at the local food shop, the owner said "Just to let you know – this is for breakfast," presumably because the Greeks mostly use olive oil in their cooking. But butter gets put to good use in pastries like this, so let's not write off Greek butter so quickly, folks.
And speaking of dairy, there are Greek cheeses beyond feta and at the grocery store in the main town of Tinos, perhaps the only one on the island, they have a wide selection of Greek cheeses, although most looked remarkably similar. (And for the life of me, I couldn't read the signs.) The best of them was the one on the left, which reminded me of pecorino and was mist likely made of sheeps' milk. The one on the top, I thought would be creamy in the middle, like camembert, but had a feta-like texture, and was great crumbled in a frittata I made with bitter greens I picked up at the market they call 'chicory,' that were similar to dandelions.
We also had more than our share of breadsticks. While there are bread bakeries everywhere in Tinos, it's hard to compete with the breads in France, so we went with the nutty sticks at the bakeries. Some even had cornmeal, which you can see peeking out of the bag, although the photos in this post were taken with my iPhone so some of them may be a little fuzzy. The breaksticks made an excellent snack along with wine, cheese, and olives, before dinner, and Romain bought six bags to bring home, which may make him the only Frenchman that brings bread back to France. (Although I did have to explain to him at the start of the trip what a bread "stick" was.)
Right away we learned that the best way to order at a restaurant or taverna is to glance at the menu, then wait for the waiter or owner to come and tell you what they have that day.
You'll usually find they have some sort of dip or spread as a starter, whether it is tzatziki, taramasalata, smoked eggplant, like the one we had below at the Porto Raphael restaurant, loaded with capers (which you'll find growing all over Tinos). There might be whipped feta, shown just above, enlivened with hot red pepper and drizzled with olive oil, or saganaki, the fried cheese that I can never get enough of.
The other good thing about the server or owner telling you what's on the menu is that you don't have to figure out what they are. Most menus were written in English, but they didn't always correspond to reality. For those who say, "Avoid restaurants that have menus in English when you're traveling," surely haven't been to Greece, or other places where the alphabet is completely different.
Still, it's best to just let them guide you to what's good that day. We never ate badly and I don't think we had a meal that cost more than €20-25 per person, except the time a certain "someone" insisted on ordering rouget, above, that clocked in at €24, although they were exceedingly fresh (we saw the fisherman hand them to the cook!) and they were certainly worth it.
(Like Italy, restaurants in Greece note which fish and foods are frozen and which are fresh, so you know what you are ordering and paying for. They tried to launch something like that in France, but it sputtered out.)
Even in Greece, we had a few of those only-happens-to-David moments, which usually are confined to Paris: Whatever place I am planning to go, I'll arrive to find inexplicably closed.
Our friends warned us that places in Tinos close on Wednesday, but when we met up with my friend Renato from Baked in New York, who was partying, um… I mean, relaxing on Mykonos, for lunch (and not on a Wednesday), we arrived in the pretty village of Smadakito only to find the outdoor restaurant under the trees, Katoi, closed.
We'd gone a few nights before and I talked to the woman who was the cook, telling her that I was coming back for lunch. But between her English and my Greek, something got lost in the translation and I learned they were only open for dinner.
Nevertheless, I went back with Romain another time and had a great meal there. (Sorry Renato, Sven, and Casey!) Favorites were the skordalia (garlic spread) and cooked eggplant salad. Giant dried beans came bathed in warm tomato sauce, and roasted goat – which I'm pretty sure was local – not sure how you say "roadkill" in Greek, but we did hear gunshots going off late afternoons on the island, so am sure it was "sourced" that way. The waiter told us to try the baked "saganaki" which had eggplant and tiny meatballs melted in with the cheese, which turned out to be the hit of the meal, as was the moussaka, which wasn't the big, messy square you see in bad Greek restaurants, but a perfect dish of caramelized eggplant, and ground spiced meat simmered over what tasted like cornmeal, lurking underneath.
With Renato & Co., we ended up in a sweet café in Kardiani, for lunch, which offers up an amazing orange cake that was so good, Romain and I ended up going back a few more times to have it.
I'm not sure of the name of the place (it's the top right business card, up above), but a lot of the other diners were ordering the yellow puree, which we were told were fava beans, but were actually yellow split peas. It was good, as was the rest of the food, but the star of the restaurant – and perhaps the island, at least in terms of dessert – was that nearly caramelized orange cake.
The texture of the cake, a bomb of orange and caramel flavors, made me think it had semolina in it, but Renato did a bit of research and sent me a link to a Portokalopita recipe, which uses filo dough. The version here had locally made orange and lemon marmalade mixed in, which I could tell because they sold jars of the marmalade at the cafe and the cake had little flecks of candied peel. But it had such a spectacular texture and flavor, that I decided that maybe someone needs to give filo another look. Or give it a try in a cake, when he gets a moment.
Another favorite taverna was in Isternia, just above the main road. If you go, take a walk through the village before or after. I know you're likely not on a WC tour, but there are magnificent marble public facilities in the middle of town whose countertops were nearly six-inch (15cm) thick slabs of solid marble. The open-air common area felt like an ancient Greek spa, which at one point, it may have been.
This restaurant became our cantine, as they'd say in French, as it was where we ate frequently. Ta Isternia taverna (top left business card) featured the crisp zucchini fritters, just above, and the wild fennel fritters, just below.
We also loved the long-cooked pork with feta and tomatoes cooked in parchment, and the oversized omelet with Tinos sausage. You don't have to worry about asking for a doggy-bag to take home in Tinos; they're used to it, likely due to the frugality of island people not wanting to waste food.
Our parisienne friend's heart almost exploded with joy when carrot-beet salad turned out to be basically the salade de carottes rapées adored by the French, although I was more taken with the salad of tomatoes, feta, olives, and cubes of rustic bread tossed in olive oil.
Probably the best restaurant on the island was Tarsana. The taramasalata (fish roe spread) was the best I've ever had, and although Romain had gotten tired of me always ordering baked fromage, I loved their version made with grilled local Tinos cheese accompanied by spicy tomato jam.
We split a huge platter of grilled sardines, but when I saw souvlaki on the menu, I wanted to try that too. (Consequently, about half of that went home with us in a doggy-bag, too.) The local Greek wine, we had no trouble finishing.
The Greeks eat a lot of bread, and in fact, there is a "bread charge" on menus of €1 per person, which is sort of a service charge. So don't be alarmed if you go to Greece and see an extra few euros on the tab. Most of the breads are simple, and have a cake-like crumb, rather than being crusty, most likely due to the humidity of the island and because they are meant to sop up juices and dips, rather than eaten on its own.
Miraculously, the bread sticks stayed crisp, as did the Greek nougat we tried. Around the main streets in town, there are places near the church that sell religious items and I suspect the nougats sold at the nearby candy shops may be made by a religious order, although that's just a hunch.
When we opened one of the crisp paper-wrapped packages, above, inside each was a flattened glob of honey nougat with pistachios or almonds, sandwiched between two rounds of rice paper. When I went to pastry school, we made nougat, but it was quite the task, especially cooking the nougat in the bowl of a giant mixer with heat underneath it, as it whipped, to get it to just the right temperature. A home cook would go mental trying it, and so would a recipe writer, trying to explain it all. So it's one of those things that's better bought. And at €1,40 a pop, like these were, I was sold.
Capers are also popular in Tinos and are everywhere. I thought the capers in Pantelleria were the best I'd had, but since I'm not necessarily a fan of the concept of "the best______," since everything, everywhere, and everyone, are different, I will say that these were so good that three jars of them came home in my luggage. And with a measly 10 kilo luggage allowance, it says something that I gave up almost 10% of my luggage allowance to capers.
One thing that I couldn't pack was this chocolate cake, although from the feel of things the last few days when trying to slip on my now sausage-like-feeling rash guard, I found another way to carry it home. I wasn't all that much looking forward to eating chocolate cake in Greece when it was first presented to me, because it's not really something they are known for. But I was happy to be proven wrong when I took my first forkful of this one, from this bakery…
It was light and moist, yet rich with deep chocolate flavor and a seductive chocolate icing that stays soft in the heat, so it glides right down, making you want to scrape off the icing before demolishing the rest of the cake.
I went back a few times, and not just because the staff was especially adorable, but I was also enamored of the cake. The baker wasn't there when I went back the last time, shortly before we left, but the clerk said I could come back the following day and talk to the baker about it.
However since it was our last day on Tinos, I had to make a choice between spending the day on the beach with a picnic, swimming in the clear blue sea, dunking ourselves, in the clear blue waters of the Aegean (which I could finally do, once my neck issue cleared up), or getting more intel about the cake. So I left my quest for the cake there and decided to save it for next time.
---
A Few Tinos Tips
Tinos is a beautiful, and rugged island. Most of the road are paved and in good condition but if you do any off-the-path exploring, prepare yourselves with comfortable walking shoes and sun protection, including a hat. I discovered wrap-around sunglasses, which made me look – and feel – like I was channeling Ari Onassis.
I noted that the island can get windy. We had several days of zero wind, and a few days where the winds were brisk, although it remained warm. So best to check the weather in advance and prepare yourself for what's ahead. (If you normally wear a hat in the sun, bring an extra; those tend to get blown off easily!)
A few articles I read mentioned the main town in Tinos, by the port, is quite busy in the summer. But in September it was calm and easy-going. We only went to Tarsana restaurant in the main town, which is at the far end of the port, and if you are going to eat by the port, that's where it should be.
Beaches are everywhere. It does get rather windy so you won't find people using beach umbrellas. Items like sunscreen are stiffly priced on the island so if you can, bring your own.
Many restaurants in Tinos close during the off-season, which starts in early October and lasts through May.
If you plan to see or do anything in Tinos, if staying longer than a few days, you'll want to rent a car. I linked to the company we used in the post and the process was pretty easy, and casual; they left the car by the boat dock with the keys in the ignition and told us when we were ready to drop it off, to leave it there, with the keys in it. If going for a few days, you could likely get by with taxis for shorter distances. There are buses around the island, but the schedules are likely not as frequent as they are in more populated places.
If you plan to visit the churches, men should wear pants that cover their ankles; no shorts or "Capri-style" pants. Women should not wear sleeveless dresses or shirts, or short skirts.
The island is pretty laid-back and people were quite friendly. Most signs (including road signs) and menus are in English, and sometimes in French. It's hard to get lost on Tinos as there are only a handful of roads.
Most services on the island – gas, pharmacy, grocery and food stores – are in the main town of Tinos. There is a lovely little farmers' market on the far west side by the port where you can get fresh fruits and vegetables. Don't expect a large selection but it's nice to find local produce. There are excellent food shops and bakeries in the main town where you can get local honey, preserves, cheeses, breads, and, yup – chocolate cake. You'll have trouble finding provisions in smaller towns and villages, so stock up when you can.
To get to Tinos, if coming from Athens, there is a local bus from the airport (it's just across from the Sofitel, outside, that leaves about every hour) to the port of Rafina. From there, you can take a ferry (~4hrs) or SeaJet (~2-2 1/2hrs) to Tinos. (Alternately, a taxi from the airport to the port of Rafina costs about €35 one way.) The ferry and SeaJet schedules are here. We didn't buy tickets in advance but purchased them at one of the agencies on the dock. During high season, it's probably a good idea to get tickets beforehand. Some people fly to Mykonos then take the boat to Tinos, which is a 20 to 30-minute trip.
[Special thanks to my friend with the house on Tinos, who helped us get from point A to point B, and also pointed us in the direction of some of the restaurants mentioned.]