I don't want to brag, but back in the day, I was a real DIY trailblazer. Before bread machines, before instant pressure cookers, before the rise of the Cuisinart, before whatever came (and in some cases, came and went…like the motorized ice cream cone), I had a yogurt maker. It was a marvel of sleek pop design, made by Salton. Yogurt started booming in America thanks to a clever ad campaign by Dannon, and the machine meant that anyone could DIY their own yogurt with this boat-shaped contraption, which seemed like a miracle to me.
When I worked in a natural food vegetarian restaurant a few years later, we made our own yogurt in empty gallon mayonnaise jars. Proving that DIY folks can always make room for exceptions, we bought Hellman's mayonnaise because we used it by the gallon for salad dressing and our kitchen was anti-machine, and no one wanted to make (or had the muscles) to make 2 gallons of mayonnaise at a time by hand.
We weren't alone; years later when I lived in San Francisco, a friend was the pastry chef at a very popular, and very busy restaurant. She made all her ice cream from scratch but ended up buying locally-made vanilla ice cream because she simply couldn't keep up, or churn up, with the demand. It was hard to criticize her because some days, in my professional baking days, I used to go on a tear where I worked, and make 20 gallons of vanilla ice cream at a time, then spend the day churning it all in our modest machine, just to keep up with demand. I love making ice cream but it took me away from creating other things and nowadays I've learned that life gets a little easier when you realize that you can't do everything and it's about priorities.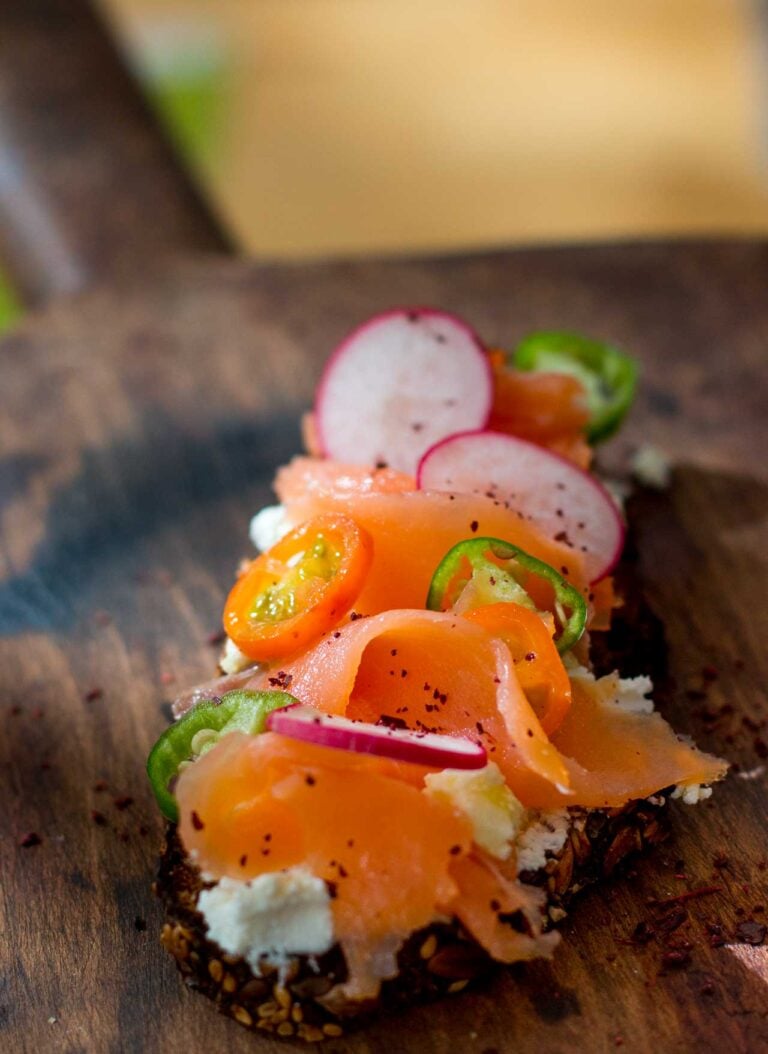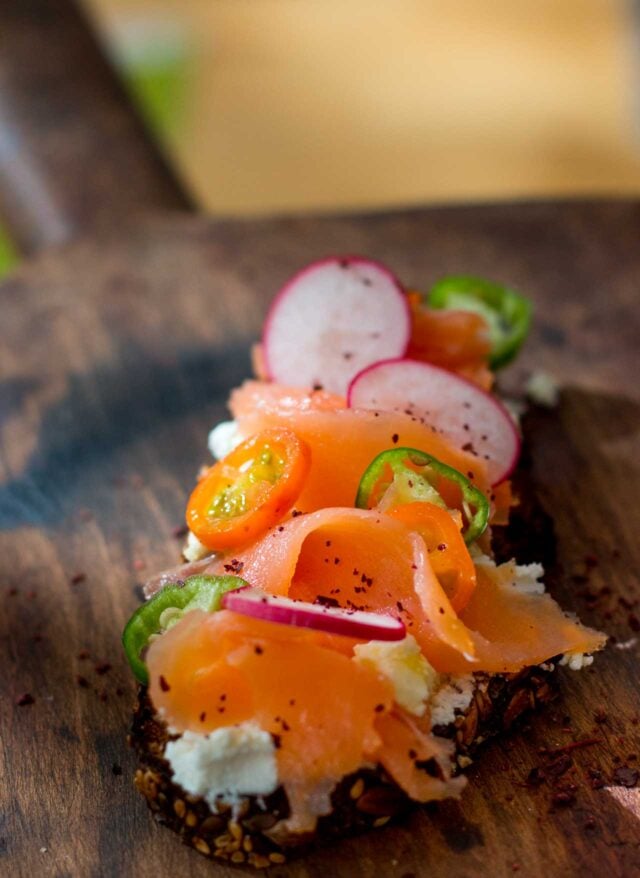 The upside of using store-bought mayo was that it came in large glass jars, which we used for making yogurt. And nowadays, I'm fine buying yogurt, and using that time to do other things…like write my blog!
Still, I'll admit to a DIY streak and in addition to making all of my ice cream at home, from scratch, even though there's no shortage of cheese in France, it's fun to make your own, which anyone can do at home. No machine required!
Greek yogurt has become a "thing" in the U.S. and while it's available in France, too, I generally buy regular plain whole milk yogurt because Greek and Greek-style yogurt is a little too thick for me to enjoy on a daily basis. Still, it's a faster route to labneh, although I did make these labneh balls with regular whole milk yogurt and with Greek yogurt, just to see what the differences would be.
With the plain whole milk yogurt, which contains more water, I let the mixture drain and strain for 3 days. Then I rolled the balls (which were rather sticky, and didn't look perfect at first) into rounds. After I chilled them uncovered for two days in the refrigerator, then rolled them again in my hands once they were drier, so they'd look nicer. I rolled those in seasonings, namely za'atar and smoked paprika. Because of all the whey that came out, from a quart (900g) of plain yogurt, I got 15 labneh balls.
Using full-fat Greek yogurt, I drained and strained the yogurt for 2 days in the refrigerator. The balls were firm enough to roll by hand right away, but if you have the patience, they'll be easier to roll if you can let them chill overnight on a plate (uncovered) in the refrigerator. I got over twice as many labneh balls from Greek yogurt.
I did find the Labneh balls made with plain yogurt tangier than the ones made with Greek yogurt, probably because the plain yogurt is more reduced than the Greek yogurt. But with the higher yield, and ease of rolling, I found Greek yogurt to be the way to go.
For do-ahead entertaining, labneh balls are hard to beat. Some say you can keep them at room temperature as long as the balls are completely submerged. But being a nervous nellie, I know that sometimes the cheese slides down the interior of the glass and isn't covered in oil, and while my refrigerator is always crowded, there's always room for cheese in there.

Labneh Balls
I've made these with whole milk plain yogurt, as well as Greek yogurt and you can read some of the differences in my post, above.
You can use any of your favorite aromatic herbs, like thyme, sage, or bay leaves in the oil you pack the balls in. I like to add some chili flakes too, but while it's tempting to add fresh garlic, there are some health hazards associate with that, so if you do, the labneh balls and oil should be used within 2-3 days. It's nice to roll the finished balls in za'atar, chili flakes, Aleppo pepper, fresh or dried thyme, oregano, or mint, or paprika, before placing them in the jar and covering them completely with olive oil.
One quart of whole milk yogurt will yield about fifteen balls. A quart of Greek or Greek-style yogurt will yield about three times as many.
I don't know if it makes a difference but as a precaution, I poured boiling water in the jar first and let it sit for 10 minutes then poured it out and let it dry (and cool) upside down before using.
These labneh balls should last a few months in the refrigerator but make sure the labneh balls are fully submerged under the oil, not sticking out above it. If the oil solidifies in the refrigerator, remove the jar about an hour before serving, letting them come to room temperature.
1

quart (900g)

Greek or Greek-style plain yogurt

2

cups (500ml)

extra-virgin olive oil

,

plus more if necessary

za'atar, paprika (sweet or smoked), sumac, Aleppo pepper, crushed red pepper flakes, a few sprigs of fresh thyme or rosemary (some suggested flavorings)
Line a mesh strainer with a few layers of cheesecloth or food-grade muslin (called étamine in France). Set the strainer over a deep bowl and scrape the yogurt into the cheesecloth-lined strainer. Fold the cheesecloth over the cheese, set a small plate on it with something not too heavy, such as a 14oz/400g tin of tomatoes, and refrigerate for 2 days.

Prepare any seasonings that you wish to use (if you want to roll them in something) and spread them on dinner plates. Pour the oil into a clean 1-quart (or larger) jar.

Use a spoon to scoop out labneh into rough 1-inch (2,5cm) rounds. Use your hands to roll them into smooth balls and drop them into whatever seasonings you want to roll them in, if using, then roll them around to coat them. (If keeping them plain, just drop them into the oil with any seasonings added, being careful to avoid letting them slide down the sides of the jar.)

If you wish, add a few branches of fresh herbs, some chile flakes perhaps, and additional olive oil if the labneh balls aren't completely covered in oil. Cover with the lid and refrigerate until ready to serve.
Notes
Serving: Serve the balls on their own, as part of an appetizer spread, with hummus, eggplant caviar, tarama, and baba ganoush, along with flatbread. They can also be used as a base for tartines, open-faced sandwiches, topped with smoked salmon, radishes, pickled carrots, sliced tomatoes, and a scattering of fresh herbs, or whatever you prefer.
Storage: Store the labneh balls in the refrigerator. The olive oil may thicken, and if it does, remove the jar an hour or so before serving, to the labneh balls are easy to remove. They'll keep for at least two months if the balls are completely submerged in olive oil.