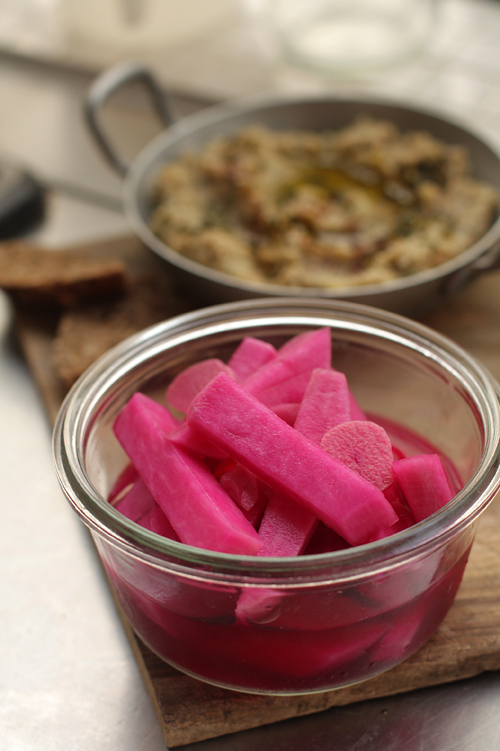 I know. It's hard to get people excited about turnips. But on a recent trip to the Middle East, one of the things I loved most about the generous spreads of salads, roasted meats, and creamy-white cheeses that were a part of just about every meal, were the pickles – including pickled turnips, which were served even at breakfast. As someone who generally favors toast and butter for breakfast, I found myself quickly adapting to the Middle Eastern habit of fresh vegetables, herbed breads, vegetables brined in vinegar, and spicy sauces in the morning, which are a much livelier way to start the day that what I'm used to here in Paris.
It's somewhat of a common thread amongst pastry people that we all universally crave salt and vinegar because we're around the sweet stuff all day. And as an American, for some reason, we're hard-wired to like spices – and lots of garlic. We tend to go full-tilt on both of those things, and I used to hold back on using them in some of my cooking here because I tend to lean heavily both of those directions. But I've been dialing them up as I go along, and no one seems to have any complaints.
So, when I made these pickled turnips recently, I snuck a lot of garlic into the batch, which I'd put on the table to go with dinner. And everyone couldn't stop themselves from reaching into the glass jar for more, even though we were still on pre-dinner nibbles. Yet in spite of my protests that the tang might contrast a bit sharply with the Champagne we were swilling, my objections were waved away, and the pickles continued to disappear quickly.