Claudia Fleming's Stout Gingerbread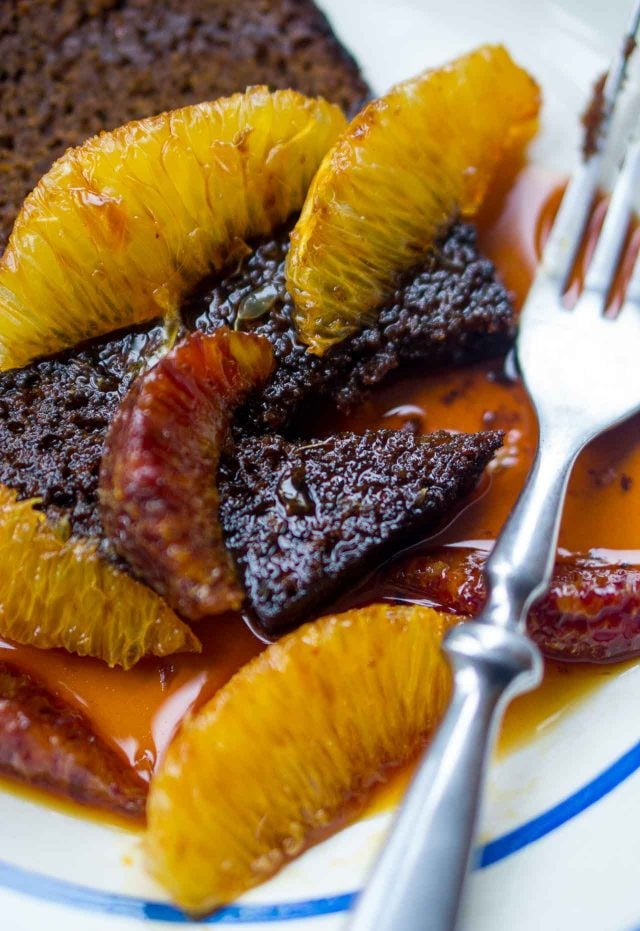 I could probably name about a dozen people who could be called baking legends. One of them is Claudia Fleming, who was the pastry chef at Gramercy Tavern, and whose book, The Last Course, became a cookbook classic.
Claudia was known for desserts that managed to balance seasonal fruits, as well as chocolate, spices, herbs, grains, and even vegetables, not by using fancy techniques, but by presenting them with contrasting or complementary ingredients. The Last Course is a compilation of some of her best desserts, which came out in 2001. (My copy, above, is a first edition and I'm proud to say I was one of the first people to buy it.) As books do, this one eventually sailed out of print and used copies went for steep prices. I held on to mine, resisting offers to sell it. But I'm happy to report that The Last Course is back in print, and available to all.
Claudia now owns an inn outside of New York City, but is ready for her come back. And I can't think of any better way to do that than to give her book a second life. (The only downside is that I don't think my copy is worth $300 anymore. Which is fine because mine is personally autographed and I cherish it.)
Back when I was baking professionally, I made a number of recipes from her book. And I think I need to apologize to her because when I did get to meet her in person, I may have come off as a little stalkerish. I never made Claudia's famous Stout Gingerbread because I always made my own Ginger Cake (from Ready for Dessert) , but hers has won so many accolades that I decided it was time to give hers a go.
Claudia's cake has a very generous dose of spices, with lots of ground ginger complemented by cinnamon, cloves, nutmeg and cardamom, as well as fresh ginger, for good measure.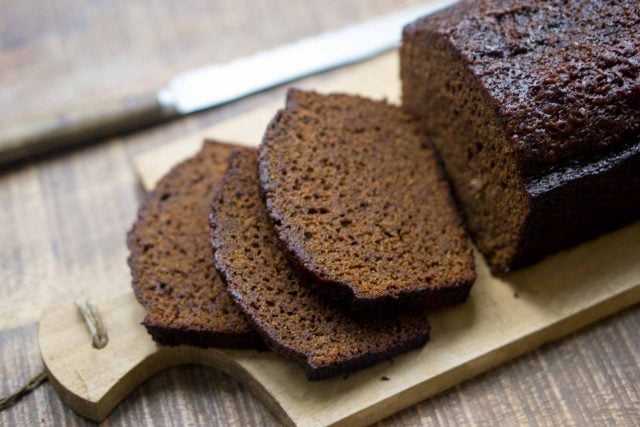 The cake bakes up beautifully into a big, dark, moist, generous cake. That said, there was extra batter since I chose to bake mine in a 9-inch (23cm) loaf pan. So if you go to the same route, you'll have about a cup (250ml) of batter remaining, which you can bake off in a small cake pan, or in a few of the indentations of a muffin tin, which are nice to have to snack on as a baker's treat, or for breakfast.
Molasses, or mélasse, isn't a common baking ingredient in France, but can be found in natural food stores. It's the stronger-tasting type of molasses, unlike most American molasses that are used for baking, which are referred to as "light" or mild molasses. If using a stronger type of molasses, that can be cut 50:50 with mild honey or Golden syrup. Treacle is a close cousin of molasses and can be used as well, although I don't have a lot of experience using it and if using what they call black treacle, which sounds similar to strong-tasting blackstrap molasses, I'd cut that with honey or Golden syrup as well. There's a good guide to the types of molasses here, for those who want to take a deeper dive in that direction.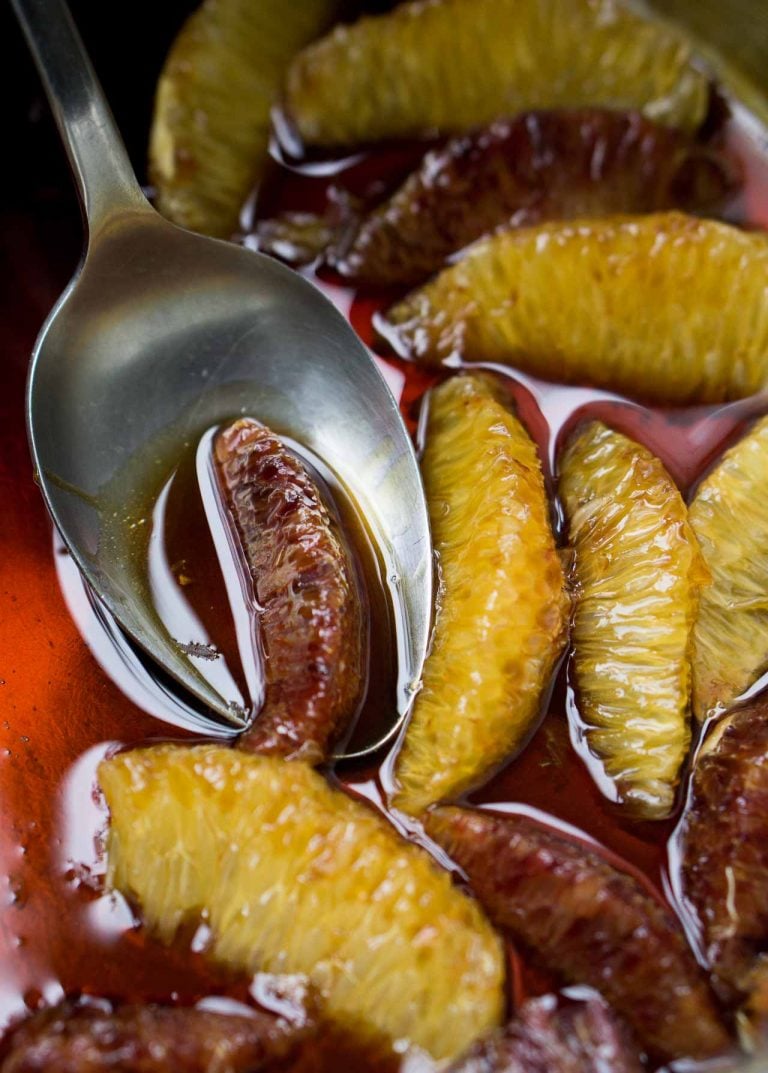 Caramelized oranges were a recommended accompaniment with this cake, which I served alongside. You could also serve it with poached pears, a scoop of cinnamon ice cream (or vanilla ice cream), or sabayon. In the summer, you can put strawberries or peaches into play alongside, with a scoop of ice cream or a dollop of whipped cream.
The caramelized oranges are easy to make. To do so, peel and segment eight oranges, a mix of navel and blood oranges will be prettiest, if you can get them. In a medium, wide saucepan or skillet, heat 1 cup (200g) sugar with 1/2 cup (125ml) water along with a few drops of lemon juice or 1 teaspoon light corn syrup. Cook until the syrup it turns a deep amber color, remove from heat, and immediately add 1/4 cup (60ml) water to stop the caramelization. The mixture will bubble up and steam a bit, so be careful. (For details on caramelizing sugar, check out my post: How to make the perfect caramel.)
Rewarm the mixture over low to medium heat, stirring if necessary, to dissolve and smooth out the caramel. Remove from heat and stir in the oranges along with a tiny pinch of salt. The oranges can be made up to a day in advance, but they don't improve if made any farther ahead.
Claudia Fleming's Stout Gingerbread
Adapted from
The Last Course
by Claudia Fleming If you're avoiding alcohol, you could try it with ginger beer, root beer, or non-alcoholic beer, which don't have the background bitterness that
Stout
gives the cake, but should do fine. If you do try it with an alternative to the stout, let us know in the comments how it turns out. As mentioned this made plenty of batter, a little more than my loaf pan could hold. Since loaf pans vary (Claudia uses one that's 5-inches deep), only fill it 3/4s full. Additional batter can be baked in a small cake or loaf pan, or in a few indentations of a muffin tin. You can also bake it in a 9-inch (23cm) or 10-cup (26cm) bundt pan. If you use a bundt pan, I'd avoid using one with too many small ridges and so forth; sticky batters like this tend to get stuck in those narrow crevices, and you may have issues getting it out. The baking time will be in the range of 50 minutes to 1 hour, but check before as baking times will vary depending on the depth of the batter, if using a different kind or type of pan than indicated
1

cup (250ml)

stout,

,

such as Guinness

1

cup (250ml)

light molasses

1/2

tablespoon

baking soda

2

cups (280g)

all-purpose flour

2

tablespoons

ground ginger

1 1/2

teaspoons

baking powder,

, preferably aluminum free

3/4

teaspoon

ground cinnamon

1/2

teaspoon

ground cloves

1/4

teaspoon

freshly ground nutmeg

1/8

teaspoon

freshly ground cardamom

3

large

eggs,

,

at room temperature

1/2

cup (100g)

granulated sugar

1/2

cup (90g)

packed dark brown sugar

3/4

cup (180ml)

neutral-flavored vegetable or grapeseed oil

1

tablespoon

grated fresh ginger (peeled)
1. Preheat the oven to 350ºF (180ºC). Spray a 9 x 5-inch (23 x 13cm) loaf pan with nonstick spray, or butter, then line the bottom with a rectangle of parchment paper. Spray or butter the parchment paper. (You can also bake it in a bundt pan. See headnote.)

2. Heat the molasses and stout in a medium-to-large saucepan until it comes to a boil. Turn off the heat and stir in the baking soda. Set aside to let the foam subside and allow the mixture to cool

3. In a small bowl, whisk together the flour, ground ginger, baking powder, cinnamon, cloves, nutmeg, and cardamom.

4. In a large bowl, whisk the eggs with the granulated and brown sugar until there are no lumps, then whisk in the oil.

5. Whisk in the cooled molasses mixture into the eggs, then gradually whisk in the dry ingredients, stirring only in one direction. (To prevent lumps.) Stir in the fresh ginger.

6. Scrape the batter in the prepared pan, filling it three-quarter's full. (See headnote.) Bake until a toothpick inserted in the center comes out relatively clean, 50 minutes to 1 hour.
Notes
Serving: Let cake cool then release from pan. Slice into servings. (See serving suggestions in the post.) Storage: The cake will keep for up to 5 days at room temperature, or can be frozen for up to 3 months.