Les restes
The French don't really have the same reverence for leftovers that Americans do, which may be a throwback to the time before people had reliable refrigeration – which still doesn't explain why nowadays, when they do, some people still keep leftovers like beef stew and roast chicken in the cupboard overnight rather than in the refrigerator. But is mostly because when you dine in France, you're supposed to eat everything on your plate. Although the food in France can be rich – richer than what even us overstuffed Americans are used to (I always find it curious that Americans come to France and by day #3, they can't eat another bite) – it's considered somewhat impolite to leave food on your plate. Even a ½ teaspoon of sauce isn't left behind; it's carefully mopped up and consumed with a crusty end of bread. And by the end of each course, your plate is expected to be wiped clean.
The concept of le doggy bag draws snickers in France, partially for the aforementioned reason. An article in Le Monde, which mentions this American pratique courant is titled: I Feel Ashamed to Ask for a Doggy Bag. Curiously, the practice of bringing home leftover wine is considered a-ok. But another reason is because it's a bit inelegant to traipse across a dining room after a meal toting a bag of food through the dining room, on your way out.
Some restaurants in America will discreetly hold your bag at the host's podium so you can grab it as you leave, which I know because my normally well-mannered mother was a constant source of rolling eyes to my relatives in Los Angeles when we'd come to visit, because whenever they took us to a nice place for dinner, nearly half the meal came home with her.
(But probably in weight-conscious Los Angeles, it's now encouraged. In fact, I once read one of those articles about how to dine out and lose weight, which advised, "As soon as your meal arrives, ask for a take-out container and put half of it in there so you don't eat it." I tell you, the day someone tries that in Paris, please invite me to come watch for the waiter's reaction.)
Yet change is afoot. An enterprising organization has sprung up in France, suggested the use of les doggy bags as un geste écoloque, away to combat food gaspillage (waste). Le Parisien newspaper reiterated the reluctance in an article, Les français sont pas "fans" du doggy bag, which noted that les écologistes still have their work cut out for them.
Another hurdle les doggy bags is that the country is an intricate maze of regulations that tend to compartmentalize, well — everything, so there is a unique set of rules for just about everything.
A friend opened a bakery which specialized in wedding cakes, which meant she was classified not as a bakery, but as a traiteur (caterer), since the main items were meant to be taken away and consumed elsewhere. I suppose she could have cut out a whole mess of paperwork if she invited the wedding parties to the bakery to do the honors of cutting and serving the gâteau de marriage on site. But I doubt few couples want to stand in the middle of a bakery and eat their cakes there.)
In spite of some aspirations to acclimate to this très américaine idea, the doggy bag movement, as far as I can tell (or see), hasn't taken off. And even though the French have completely embraced frozen food with remarkable alacrity, via chez Picard, the idea of reheating already prepared foods purchased elsewhere is still an elusive concept. Which is why when I try to explain the glories of cold, leftover pizza for breakfast, I get odd looks from my partner. The upside is that I don't have to share.
France is changing fast in many ways, but the idea of eating in courses is still fixed in the psyche. Which is why, even if you go do the most run-down corner café or bistro, there is a menu du jour composed of a first and second course, and sometimes, a dessert, too. But portions are moderated and you don't find steaks hanging off the edges of the plates or triple-high stacked burgers, and it's rare to find a jambon-beurre sandwich with more than two slender slices of ham tucked inside an entire half-baguette.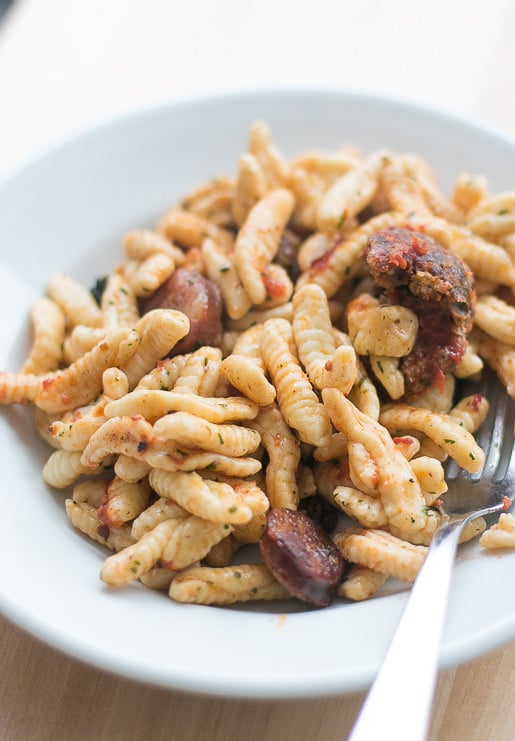 When I was dining out with a friend recently in Brooklyn, after our meal in the dimly lit restaurant, because I am my mother's son, I ended up taking home what we didn't eat. Due to the low-lighting (and the cocktails), I wasn't keeping tabs on how much my dining companion was served, or what exactly he ate. But when I opened up le reste of his pasta the following day, there was a full portion in that container — and then some. It must have been a massive portion he'd been served because I could barely get through le reste for lunch.
Another few food-filled boxes that ended up in my fridge a few days later ended up there after a visit to a Chinese dumpling shop in Queens. Neither me, nor my dining companion, felt like we had over-ordered – I think we may have had five orders of dumplings between the two of us? – but I had a massive portion of dumplings for lunch the next day, courtesy of a bag I toted home on the subway. Unfortunately the overnight stay in the refrigerator didn't do anything to improve their dowdy gray color, which was only slightly improved by a side of chile sauce that they'd tucked into the bag in a little plastic container. Which was, admittedly, a nice touch. (But why they put five sets of chopsticks in the bag is beyond me.)
Still, it's funny how obliging they are to wrap up leftover food to take home in the states and it still takes me by surprise that there's zero blowback for asking. The only time I've even dined with friends and had leftovers wrapped to go in Paris, the waiters put foil over the entire plate, and said "Just bring back the plate tomorrow." Of course, the two times that has happened, I was dining with attractive women and, of course, the café waiters would have gone to the moon and back with a sheet of foil for them. For anyone else – including me, you take your chances…
Because I'm a Californian, I've been having a little trouble over the lingering feeling that I am a traitor (not a traiteur) to the cause for having all these paper and plastic containers lingering around, which bothers others as well, evidenced by the fury that was unleashed in one of my social media streams when I took a snap of a Styrofoam container that I had no idea was coming with my take-away dumplings.
Personally, I've had to learn to stop judging people when I find plastic water bottles filling up the trash cans in Paris buildings, even though the plastic recycling bin is just next to it. Or the mass of cigarette butts that get carelessly tossed everywhere, each one polluting500 liters of our drinking water. (With 30 billion of them on the streets of Paris, I'm just glad that I'm terrible at math.)
The city of Paris is doing its best to get people to be conscious of dropping things (or in the case of the aftermath of drinking a tall drink, on the left) spraying things, on the streets and in the curbs.
And I just have to realize that not everyone gives a hoot, and the anti-littering hibou (owl) hasn't landed everywhere in the world.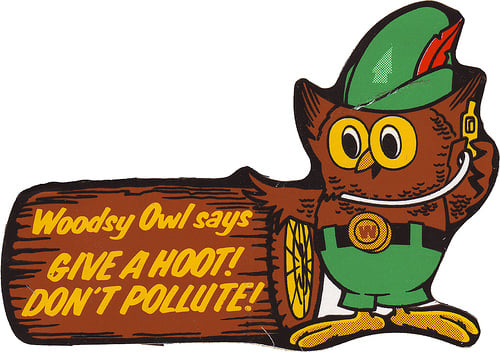 Having just returned from a trip to San Francisco, it was remarkable that even at the airport, there were multiple recycling and composting boxes and bins for everything. I think I spent as much time sorting the aftermath from the burrito I had for lunch; the foil, the compostable utensils, and the napkins, into the right slots.
But we Americans have some goofiness when it comes to recycling, too. When I brought some batteries to a big-box hardware store to be recycled, they said I had to put them in a plastic bag first. Like the plastic food containers for leftovers that I'm now collecting, where my dilemma is wondering if it's better to wash them in hot water and use energy and water to do that, or toss them and conserve water and gas. (Note: I currently wash them and save them for reuse, but I continue to lose sleep over it.) Which also begs the question: It is better to leave food behind than take it home in Styrofoam? Is a plastic container better than paper since paper can easily be recycled, although plastic can be reused over and over? And what happens to that plastic bag with my lone battery in it?
Is it better to have a throw away a paper container than use the hot water and energy that's required to wash a plastic one? And should they outlaw cigarette filters since they linger for twelve years, whereas an unfiltered cigarette butt disappears and washes away after the first rain? Should I bring glass containers with me when I go out to eat? But if they're made in China, is shipping them long distances worse for my carbon footprint than paper or plastic? And will I be honte (ashamed) in Paris if I join the doggy bag movement? And here we all thought that going out to eat was supposed to be a pleasurable experience…
While I've never gotten an upbraiding for spooning up Greek yogurt, eating kale (one more reason to eschew those kale-chocolate chip cookies I saw recently), cooking up some tofu, or boiling up some quinoa, these pictures here are the last you'll see of my take-out containers. I think I'm just going to have to learn how to eat everything on my plate when I'm in America, like I do in France.
Since they say stress is bad for you, I've decided it's best to let it go and stick to the time-tested idea of eating a variety of things, hoping for the best. Kale is still on the menu (although not in my cookies), and I'll confess to an occasional scoop of Greek yogurt on my granola in the morning. And I intend to be a member, once again, of the clean plate club. Yet I do think about all that leftover food I'm missing out on when I dine in restaurants, which makes for an easy lunch the next day. Although I just might skip going out all together. It's too complicated.