Drinking French is Out!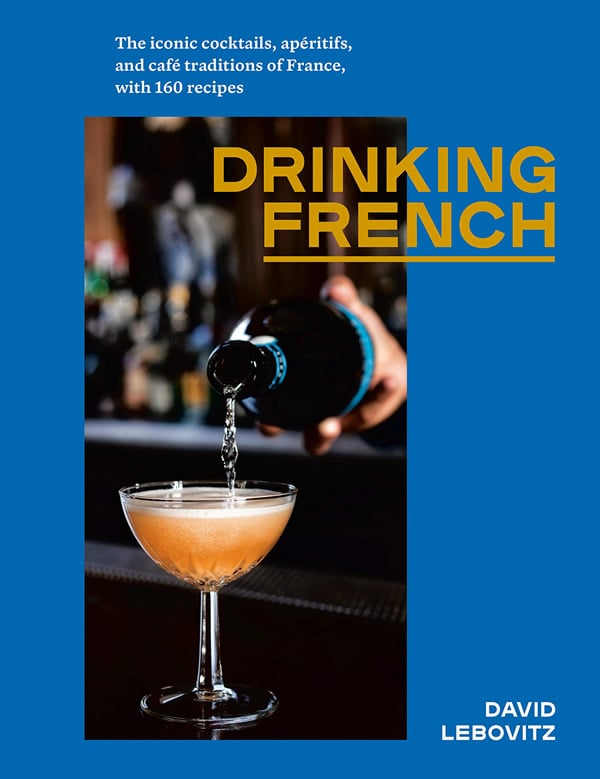 I'm excited to announce that Drinking French: The iconic cocktails, apéritifs, and café traditions in France, with 160 recipes is out!
My latest book features recipes for the iconic beverages of France, from café specialties hot chocolate, tisanes and infusions, and chilled chocolate frappés, to classic French apéritifs, recipes to make liqueurs, crèmes, wines, punches and cordials at home, as well as French-themed cocktails from my favorite bars in Paris. To make sure you and your guests are properly fed, there's a whole chapter of Snacks for apéro hour, such as a Terrine facile (an easy-to-make, meaty terrine), savory Cornmeal-Bacon Madeleines, bite-size Mushroom-Roquefort Tartlets, a recipe for Duck Rillettes as well as another for Chicken Rillettes (spread), one being quite rich, and the other for those who want to eat a little lighter. Or those who can't get duck. (Writing the book, I thought of everything…and everyone.) And there's a Kale Crespèu, a specialty of Provence which is perfect for summer with glasses of chilled rosé.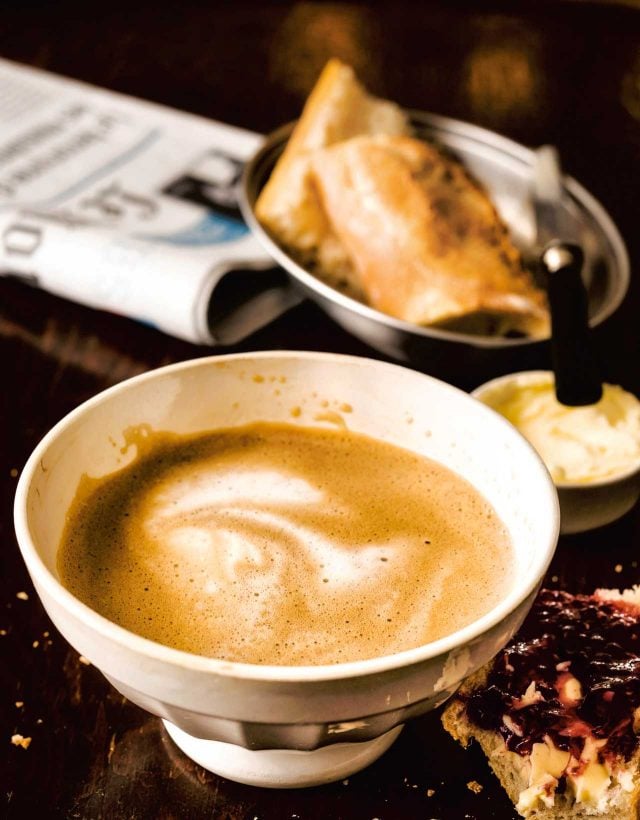 Drinking French starts out as a typical French morning does; at a café with a small shot of coffee or a more leisurely wake-up at home with a steaming bowl of Café au lait. Later in the day, people enjoy other café favorites, such as Citron pressé, Lemonade, Fresh Mint Tea, and if it's the summer, to beat the heat, nothing beats a chilled Chocolate Frappé. For those needing a little more of a boost, there's a Coffee Frappé, as well as one that uses one of the most popular liqueurs in France (which, interestingly, isn't French), in case you want something cool and spirited. But there are dozens of recipes that don't have any alcohol, making Drinking French enjoyable to all.
Not only are my favorite French apéritifs and spirits profiled in the book, but I featured favorite people who make and use them. One is Chef Romain Meder, the Michelin-starred chef at the Plaza-Athenée restaurant who keeps a special closet in the back of his kitchen with shelves lined with homemade infusions, kefirs, fermentations, and wines. Many are influenced by his upbringing and childhood in the Auvergne, where he learned to use what nature offered. Some of Paris' most innovative cocktails are mixed up at hotspots in the Marais, and I couldn't do a book about drinking French with introducing you to the man behind the Federation of French Apéritifs, which has outposts where you can wine and dine with friends in Paris, and beyond.
There are stories about the woman that wowed me with her Spiced Hot Chocolate (recipe on page 16), and another, Margot Lecarpentier, who shakes up some of the best cocktails in Paris. You'll meet Camille Fourmant, who somehow manages to keep everyone's glasses full, and their stomachs happy in her minuscule wine bar, and Michaela, the coffee-roaster at Paris' most notable coffee company.
(Note: I have never seen anyone shake a cocktail like Margot. If anyone was going to be represented in Drinking French alongside the instructions of how to do it, it had to be her. Although I wasn't able to replicate her speed, nor her skill, at home.)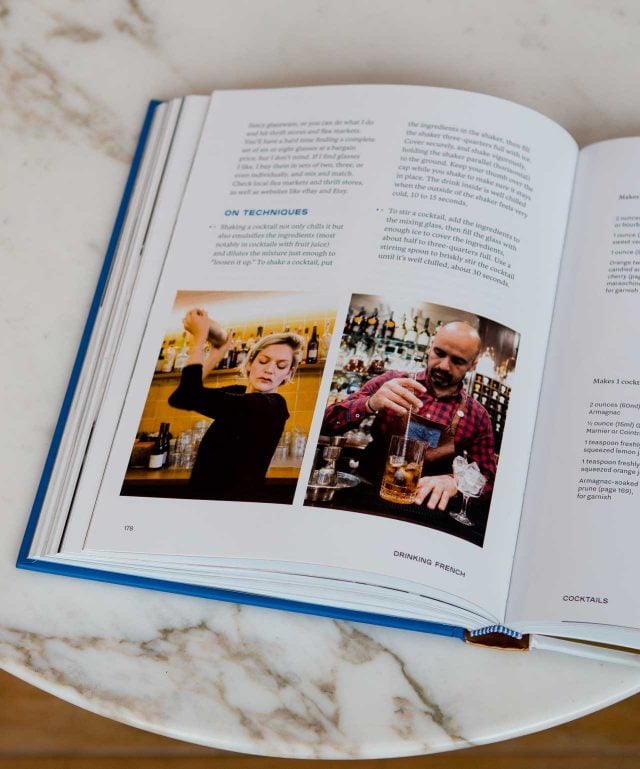 Paris cocktail-lovers will recognize Stan Jouenne, who created a bar in Paris with only Made-in-France liqueurs and spirits. There's Carlos Madriz, who, in one glass, made me fall in love with cocktails (and cocktail bars) all over again. Julia Grossman gave me a taste of Normandy in New York. And Franck Audoux whose three-ingredient cocktail may be my second favorite in the book. (The first is the recipe that kicks off the cocktail chapter, page 179, although I've recently been taken by the French Manhattan on page 180, too.)
While cocktails are well-represented in the book, there's a whole chapter on low ABV apéritifs, like the one above (served with Seeded Cheese Crisps, page 249), as well as drinks that'll help you use the homemade liqueurs in the Infusions chapter. Whew…what isn't in the book? I think I covered all the bases, and then some…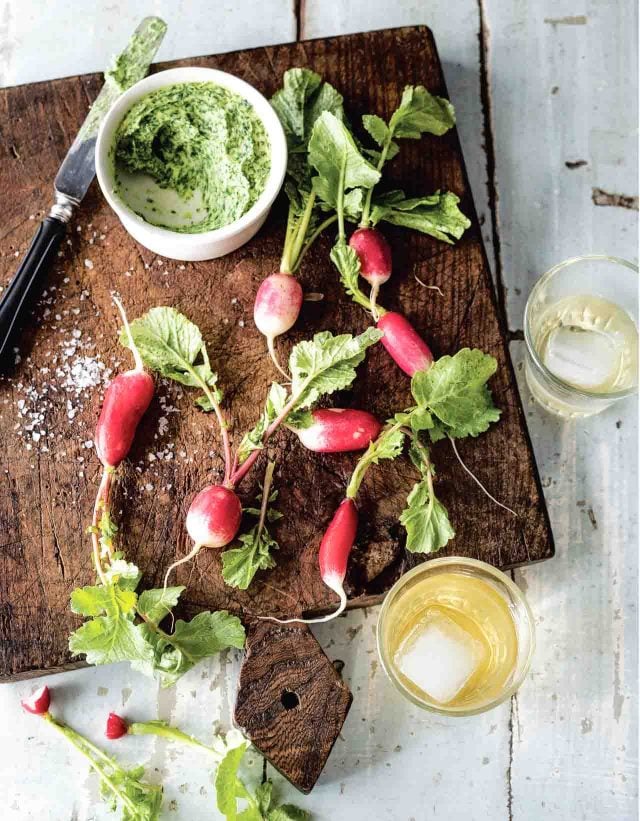 Advance praise for the book came from bartender and author Jeffrey Morgenthaler who lauded the "deft precision" of Drinking French. (He also assisted me with a few of the recipes.) Jim Meehan, bartender and author of Meehan's Bartender Manual called Drinking French "…the modern French handbook for cocktail party hosts." And Deb Perelman swooned, calling Drinking French a "dreamy book to hold us over…until you can make it to France."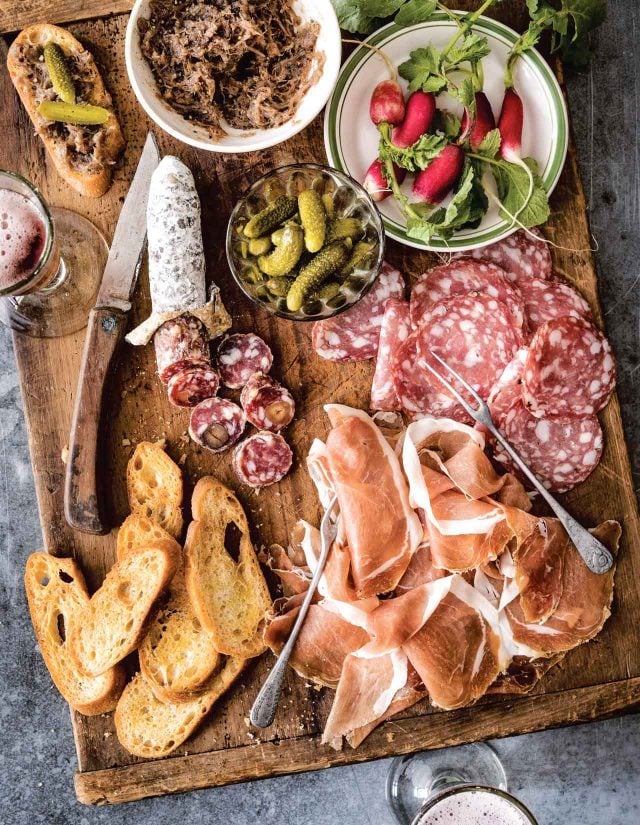 French food writer and host François-Régis Gaudry said, "No cup or glass is spared from the curious and amused gaze of David Lebovitz. As an acute connoisseur of French gastronomy, his tasty collection of recipes and social observations can be imbibed in one shot." And award-winning spirits writer Brad Thomas Parsons noted the "Keen understanding of ratios, formulas, and balancing flavors to inventive recipes for café drinks, liqueurs, apéritifs, cocktails, and irresistible apéro snacks to accompany them."
As for you, please post your creations online with the hashtag #drinkingfrench so I can see and comment on them. And if you're enjoying the book, feel free to leave a positive review on Amazon to help get the word out, and to make me happy : )
I truly hope you all enjoy the book as much as I enjoyed writing it. You can pick up a copy at your local independent bookseller, including Book Larder, White Whale, Kitchen Arts and Letters, Omnivore, Powell's, Now Serving, Strand, and RJ Julia, or purchase it online at Barnes & Noble (which is offering autographed copies), Amazon, Indie Bound, and Book Depository, which offers free international shipping.
[Photos from the book, used in this post, were taken by Ed Anderson with food styling by George Dolese.]
Note: For those who want to hear more, I've done several interviews and podcasts about Drinking French, which are listed in my latest newsletter. (No subscription required at that link.)