Neufchâtel got a makeover when it crossed the Atlantic, to the states, where it's used to refer to low-fat cream cheese, which bears no resemblance to true Neufchâtel, a cheese that certainly doesn't fall anywhere near that category.
The cheese is from Normandy, a region that few would argue produces the best cheeses in the world. Camembert, Livarot, and the especially creamy Brillat-Savarin are some of the more famous Norman cheeses, but I'm also happy that Neufchâtel is included in that privileged group.
Neufchâtel is available in industrial or fermier ("farm-produced") versions. All versions are made with cow's milk, although sometimes it's made with raw milk, others are made from milk that's been pasteurized.

Your best bet is to select one from a good fromager, who will likely stock a top-quality Neufchâtel. If you're going eat a big blob of fat cleverly disguised in the shape of a heart, there's no sense in eating one that's not extraordinary.
The distinctive heart shape of Neufchâtel often makes people think this isn't a serious cheese. Although it's also available in squares or rounds, I always buy the heart-shaped ones, whose form hark back to the days when female cheese makers molded the cheeses as such to give to British soldiers, ostensibly to win their hearts. Which likely worked. (Hey, it worked on me.)
But in fact, Neufchâtel is the oldest of all the cheeses made in Normandy. True, it doesn't have the deep, barnyard-y flavor of some of the other lusty, local specimens. But the creamy, salty taste of a good Neufchâtel, with its snowy-white, supple crust, shouldn't be underestimated. It makes a fine companion to any cheese plate or just smeared on a slice of bread for un p'tit goûter.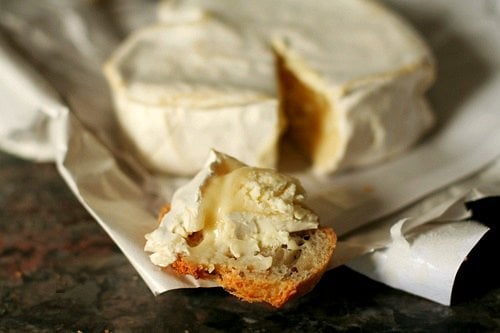 I picked up this beauty at the fromagerie of Patricia and Eric Lefebvre, an excellent, small, out-of-the way cheese shop that's worth a visit. Especially because the bakery next door (at 225, rue de Charenton) is equally worthwhile: the caramelized orange cakes, natas, breads, and the chocolate cakes in the shape of hearts make the trip even more attractive. And are a few other things I heart in Paris.
Fromagerie de Paris
229, rue de Charenton (12th)
Tél: 01 46 28 62 07
(Like most fromageries, this one is closed Sunday and Monday, and closes mid-day, from 1pm-4pm.)
Resources and related links:
French Cheeses: Eyewitness Guide (My favorite guide to French cheeses)
Interview with Eric Lefebvre (in French)
Fromages (French cheeses available in America)
Official Neufchâtel website