La Mere Poulard Omelet, Mont Saint-Michel
Mont Saint-Michel is one of the great wonders of the world, along with the Parthenon, the pyramids in Egypt, and the Taj Mahal. It's a majestic, spectacular sight when you're walking down the path toward the island (cars aren't allowed past a certain point), and you look up and see the island with the church crowning the top, rising above you, framed by the steel-blue sky of Normandy.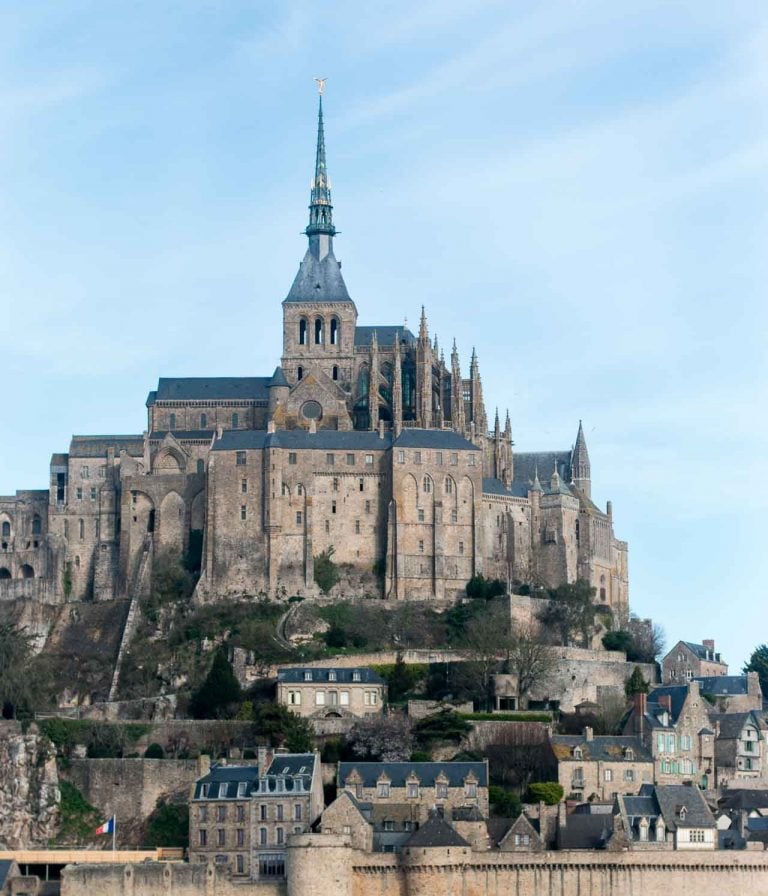 Mont Saint-Michel is the second most visited attraction in France, after the Eiffel Tower (the caves of Roquefort are also right up there on the list, and is on my list of places to visit, too), and this was my second time visiting. The first time, though, we couldn't stay long because the tides come in and out quickly, and we were in danger of being trapped on the island. Which wouldn't be such a bad thing, except for the parking bill if we'd left the car in the lot overnight.
I've been working like a madman, finishing one book and wrapping up another at the same time. (I know… I know…right?) The saying about "taking time to enjoy life" sometimes takes a backseat to pages of copy edits and production notes, which involves details like deciding whether you want to use the word "aged" versus "grim," or whether it's right, or "write," which is why writer's need copy editors. I mean, writers. (No apostrophe.) When you're staring at words all day, it's nice to take a break, which I did when I made plans to go to Normandy for a quick visit.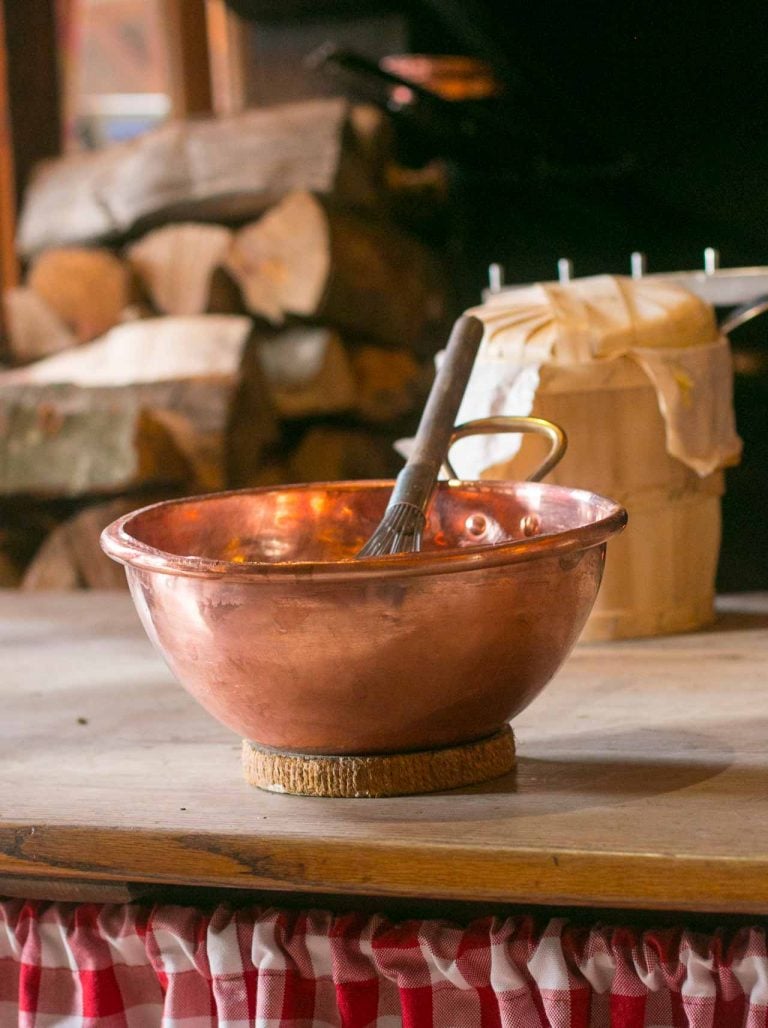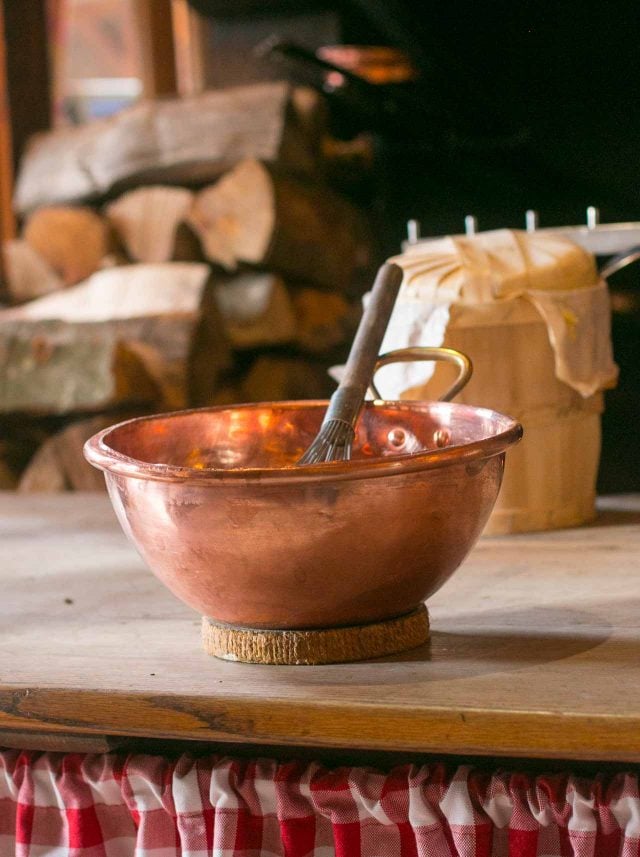 It was a too-brief trip, but I've learned you can't do everything in life, and still have time to do other things in life. (Not even sure that makes sense. If not, I told you I was kaput.) But the nice thing about France is that you can go somewhere a few hours away, and be in a completely different region, with different foods and a different feeling. Normandy is close to Paris, just a little over an hour by train, and there are a lot of reasons to visit; the sea, the spectacular aged cheeses (which are anything but 'grim'), and the copper cookware.
Another reason people come to Normandy, and Mont Saint-Michel, is for the souffléed omelet at La Mère Poulard, the plus célèbre omelette in the world. Executive Chef Alain Crespier (who was a finalist for an MOF, the highest designation a chef in France can receive) oversees the kitchen and the omelet making. Although I was considering calling this post: Copper Bowl Porn, I knew that search engines would filter that out because of the third word, and I wouldn't want anyone to miss out on some copper bowl action.
I know because I wouldn't want to be left out of it, either. Thankfully, there I was, amongst the copper bowls filled with eggs, and whatever secret ingredient they put in the omelet mixture with the eggs (probably additional egg whites?) – but if you ask anything about what's in the omelet, or how they're made – well, I can tell you one thing for sure: they're not telling.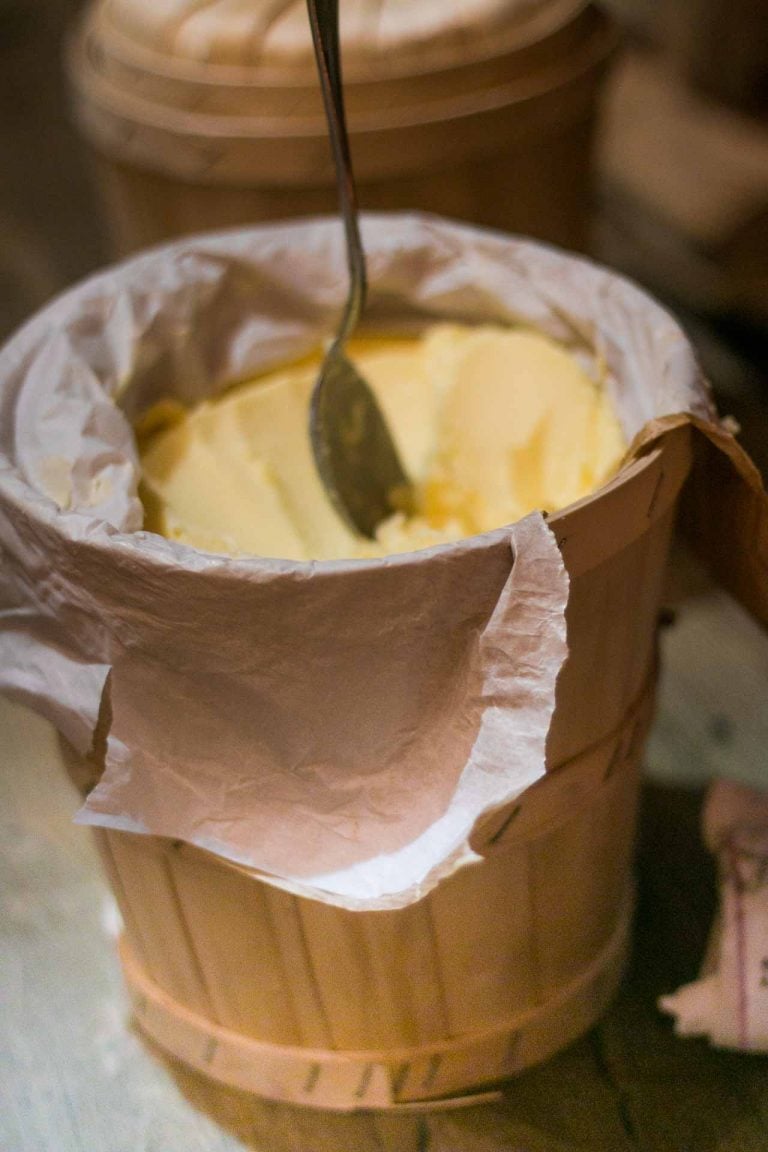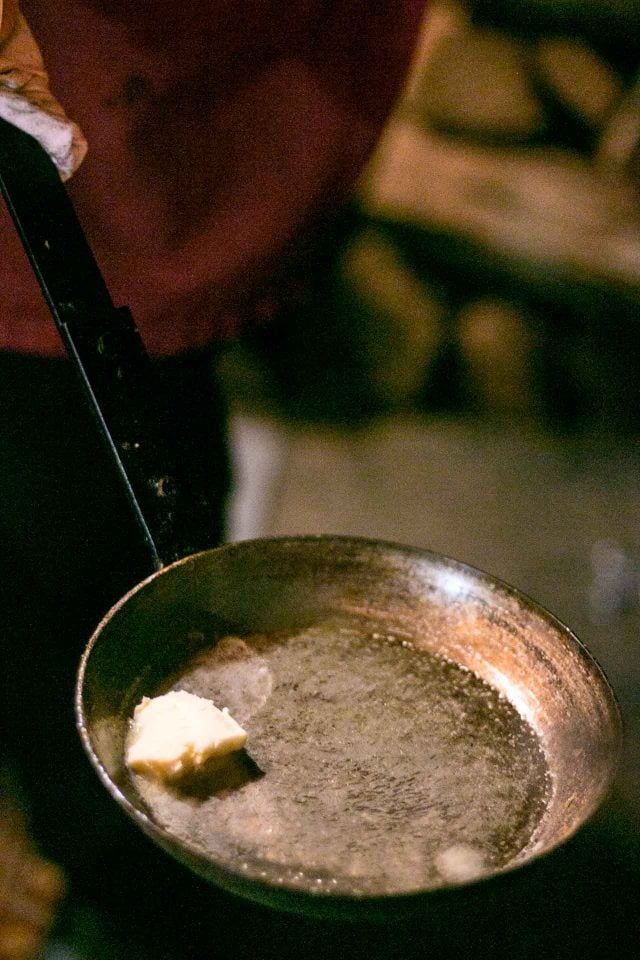 Because it's Normandy, and because Normandy is in France, of course the omelet starts with a lot of butter. Madame Poulard, who invented this particular omelet, came to Mont Saint-Michel in the late 1800s and started making omelets for people who'd make the pilgrimage to the holy site. (Their publicity said that she created 700 recipes. So I clearly have some catching up to do!) People were famished from the journey, and her omelets were both nourishing and could be made with items easy to obtain and conserve on the tiny island.
There was nowhere to raise animals or to store meat, nor is there anywhere to grow vegetables, including in the surrounding areas; little can grow because of the salty marsh water. In addition to the omelet, the region is known for its excellent oysters and agneau pre-salé, lambs that graze on salty grasses, which give their flavorful meat a particularly tender texture.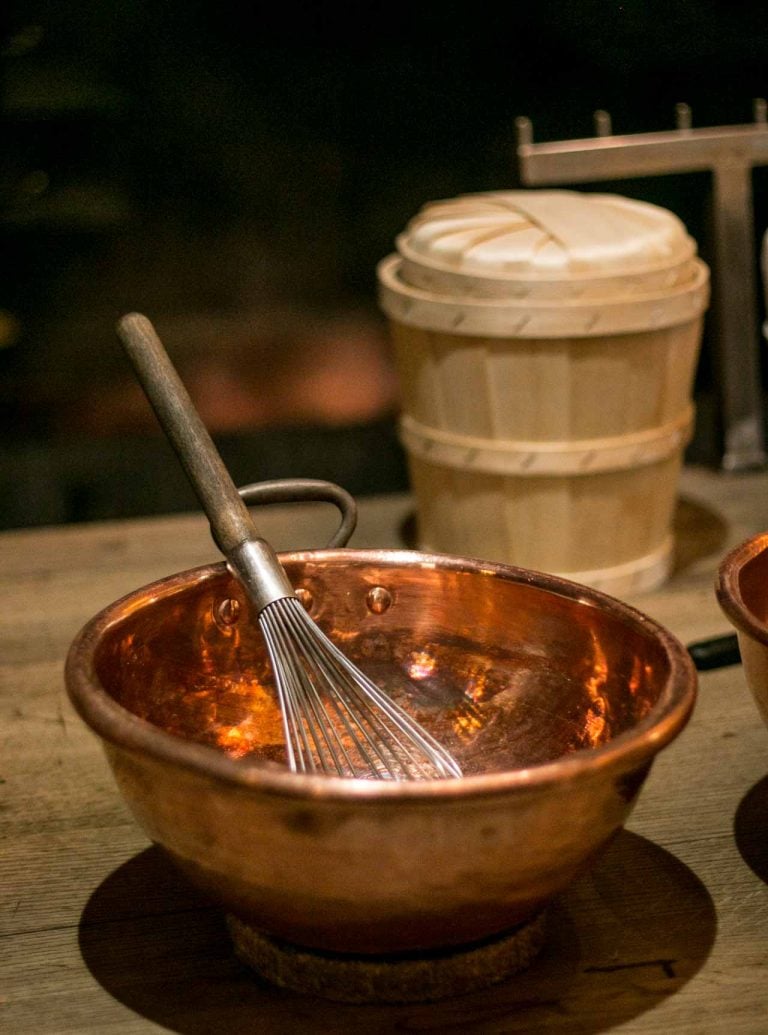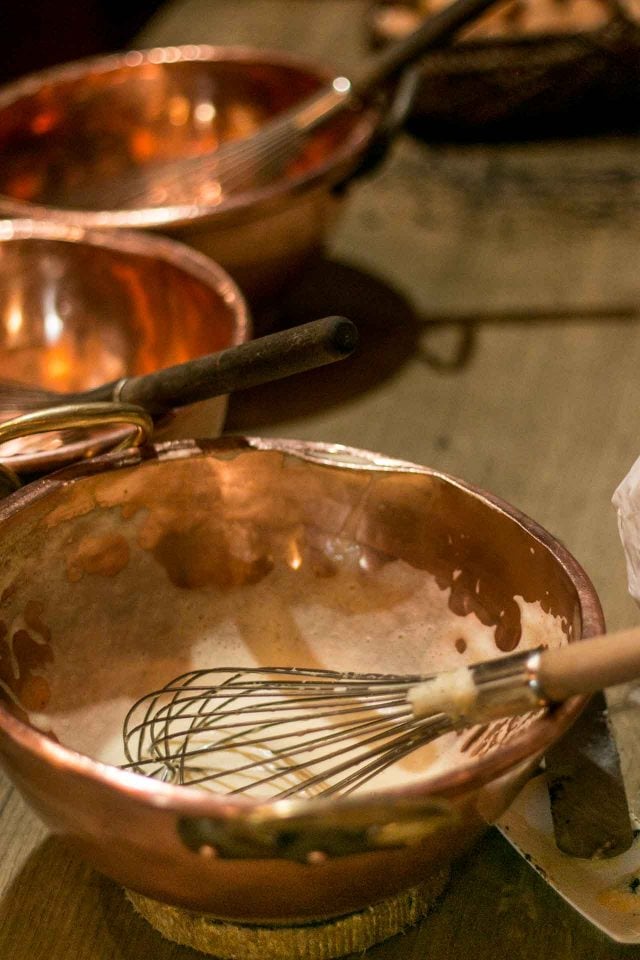 Although Madame Poulard apparently served the omelets at all hours, in France, an omelet isn't something normally eaten at breakfast, but is a complete lunch or dinner you can make with ingredients you already have on hand, without a lot of fuss. Many cafés serve them at lunch and people often make one at home when there's not much in the larder, or whatever people call "larders" these days.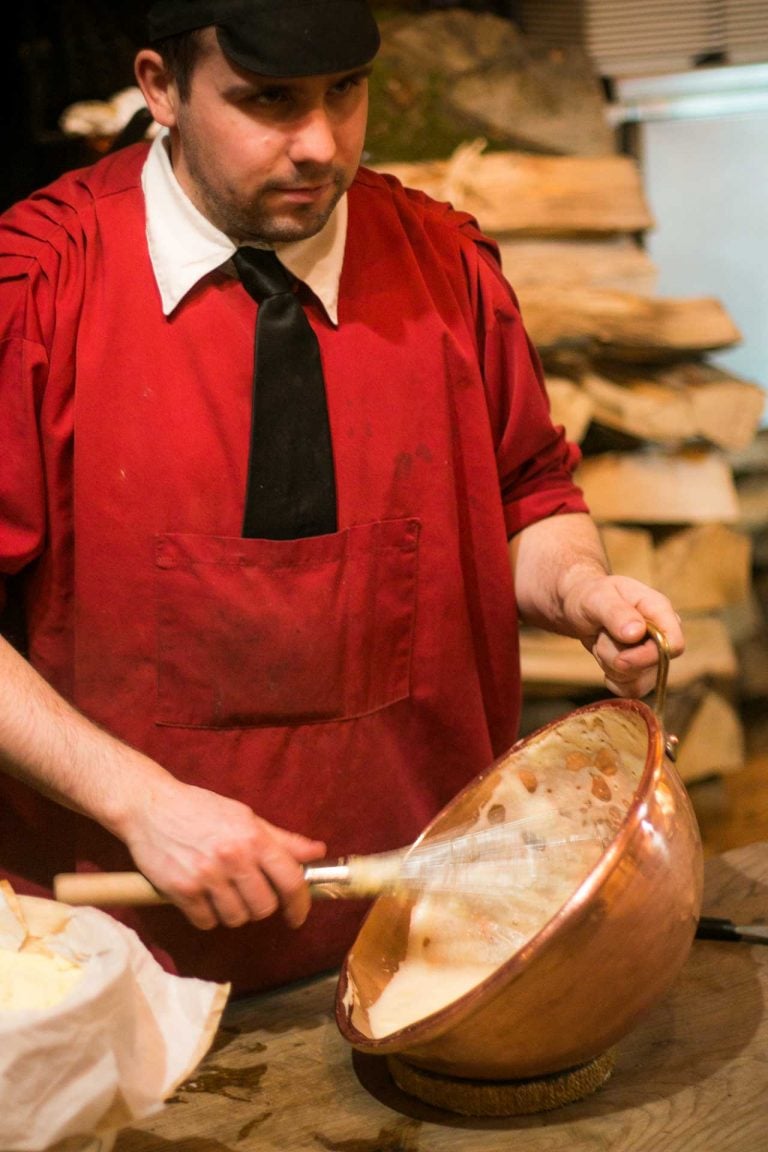 Fortunately anyone can watch the omelets being made over the open fire at La Mère Poulard. There were lots of eggs piled in a basket, a big basket of beurre de baratte, a roaring fire, and a cook with a job to do. Long-handled copper skillets are used the make the omelets, which are fabricated in the nearby town of Villedieu-les-Poêles. The eggs are beaten for at least five minutes (yes, I counted) until they're as light and foamy as genoise batter. Then the mixture is poured into a copper skillet and cooked over the fire until the bottom is browned, but the inside is still quivering and frothy.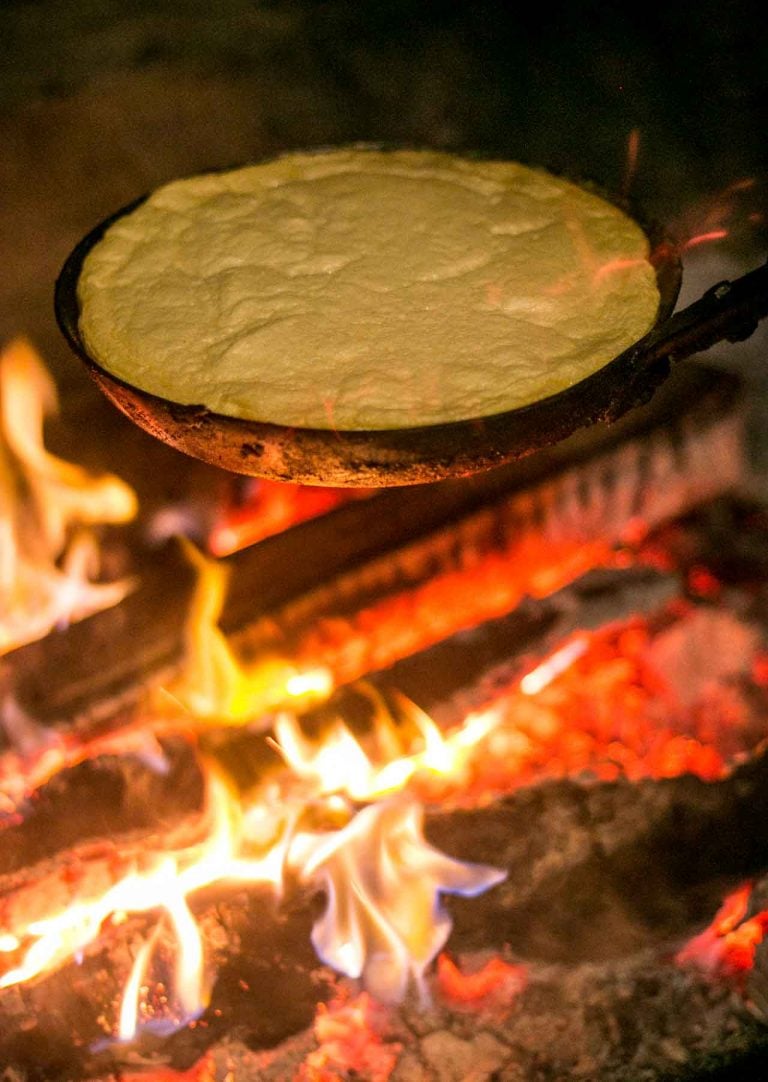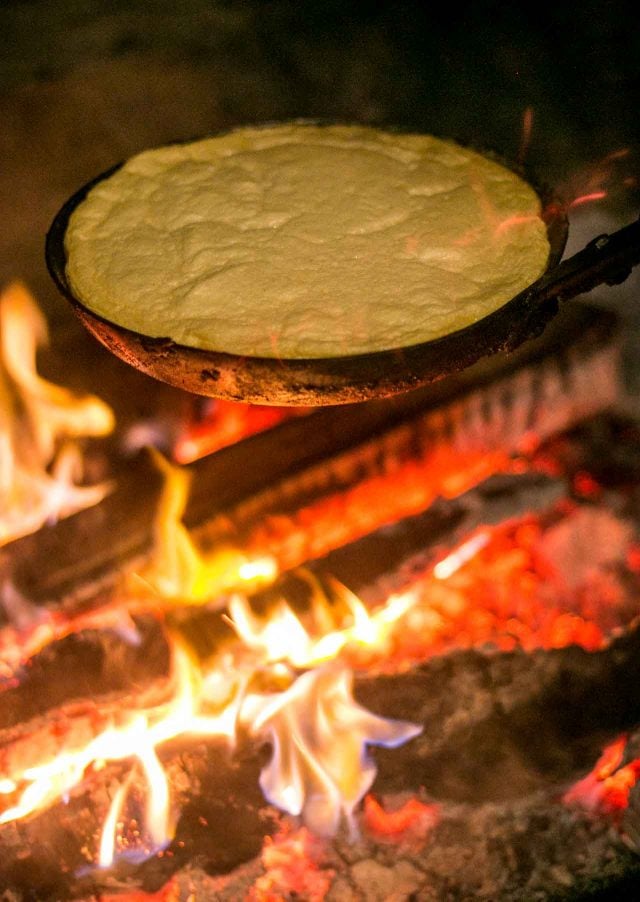 Guarding the secret carefully, like the Malakoffs of Switzerland, when pressed for answers about what's in them, you'll only get a Jaconde-like (Mona Lisa-like) smile from the cooks or chef. With apologies to the "Recipe…please!" crowd, that's okay with me because sometimes it's better to enjoy something in the moment, while you're there, rather than worry about recreating it at home. That's why people travel. (As if anyone needs another excuse to go to Mont Saint-Michel?)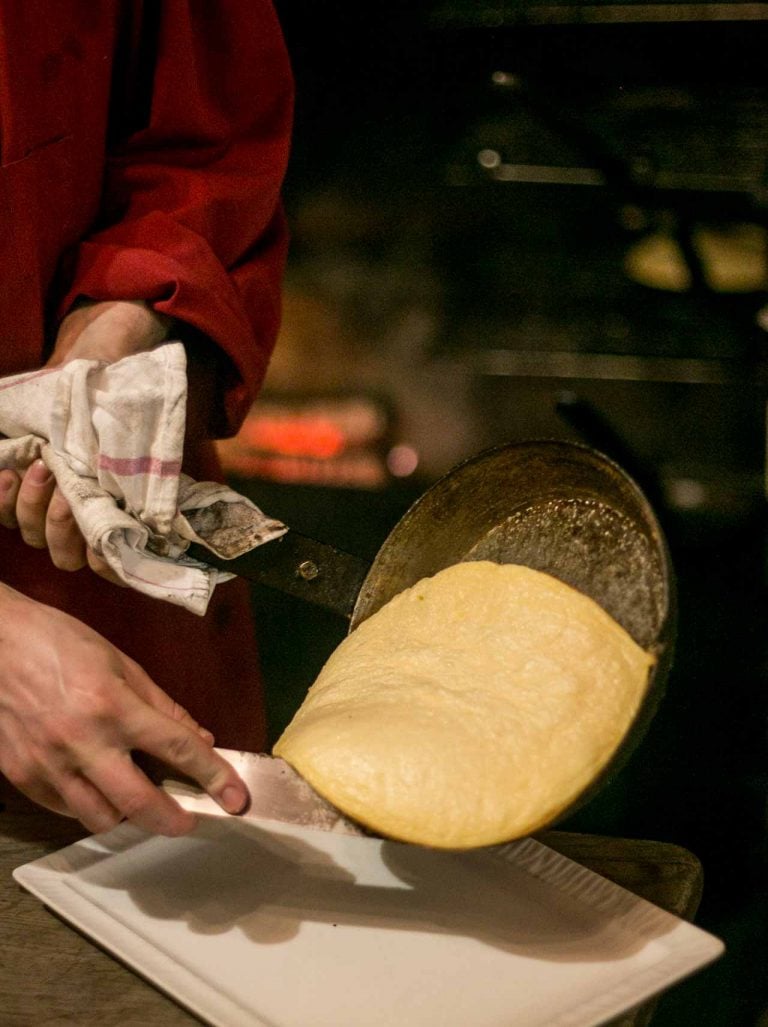 After watching some of the omelets being made, I sat down for dinner in the dining room. Just before, I'd had a quick tour of the island with a local guide, and earlier in the day, had spent the morning and most of the afternoon in Villedieu-les-poêles, at a copper cookware factory. (I've got a post on that coming up, once I sort through all the pictures I took, and answer the 100+ manuscript queries that piled up during my 24-hour absence.) So it was nice to finally sit down after having woken up at 5am to make the 7:30am train, and have a fluffy omelet – and a much-needed glass of white wine – for dinner. I felt like a pilgrim who'd finally made it to the table, and this time, wasn't fighting the tides to get home.
The omelets are available nature (plain, although I prefer to say nature, which sounds better in French), or with a ratatouille-like mixture of vegetables, foie gras, bacon, shrimp, and even lobster, when in season.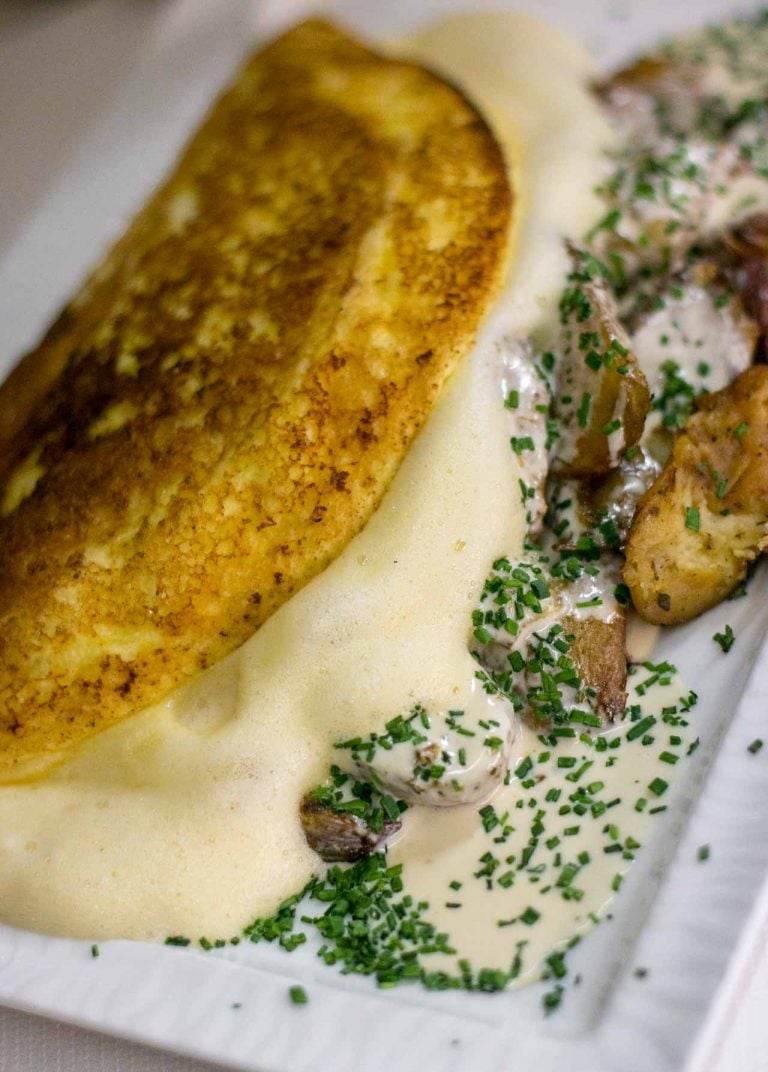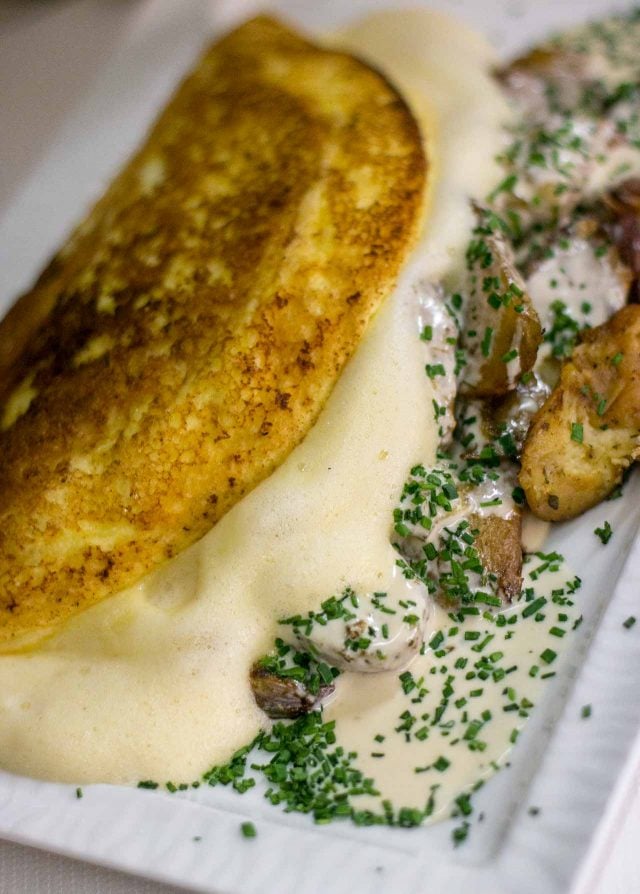 We went local with Camembert and roasted potatoes (above), which hit the bull's-eye. The omelets aren't stuffed with "filling" (a word I'm not going to use, which'll please the pedants – and copy editors), but for lack of a better word, we'll go with accompagnements, or garnitures, which sound better in French, too.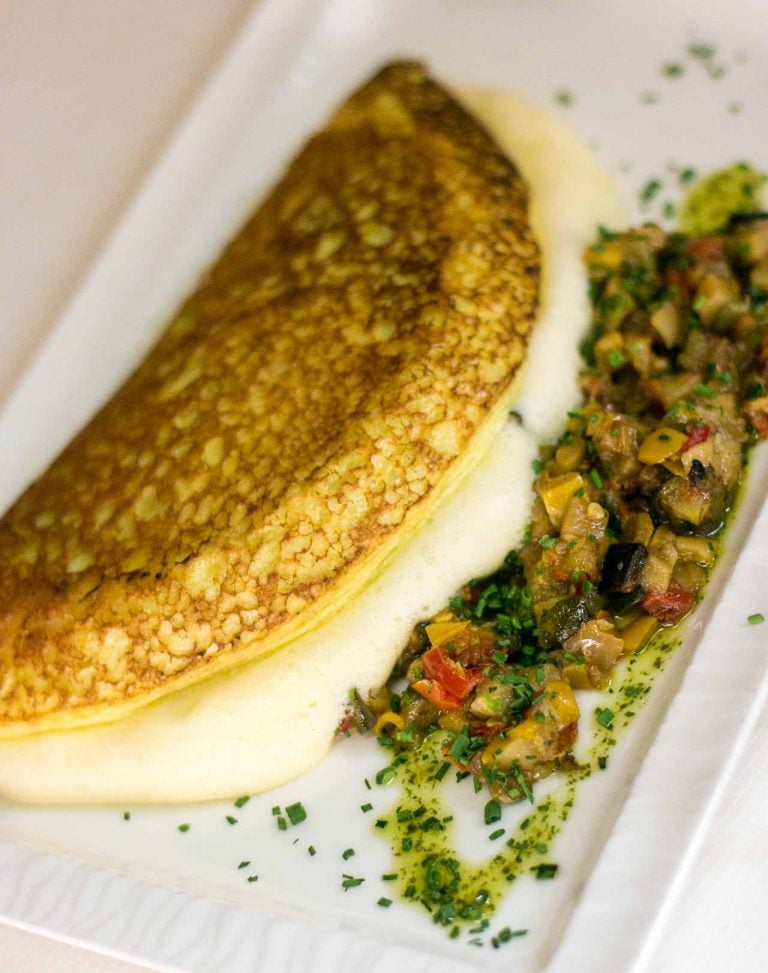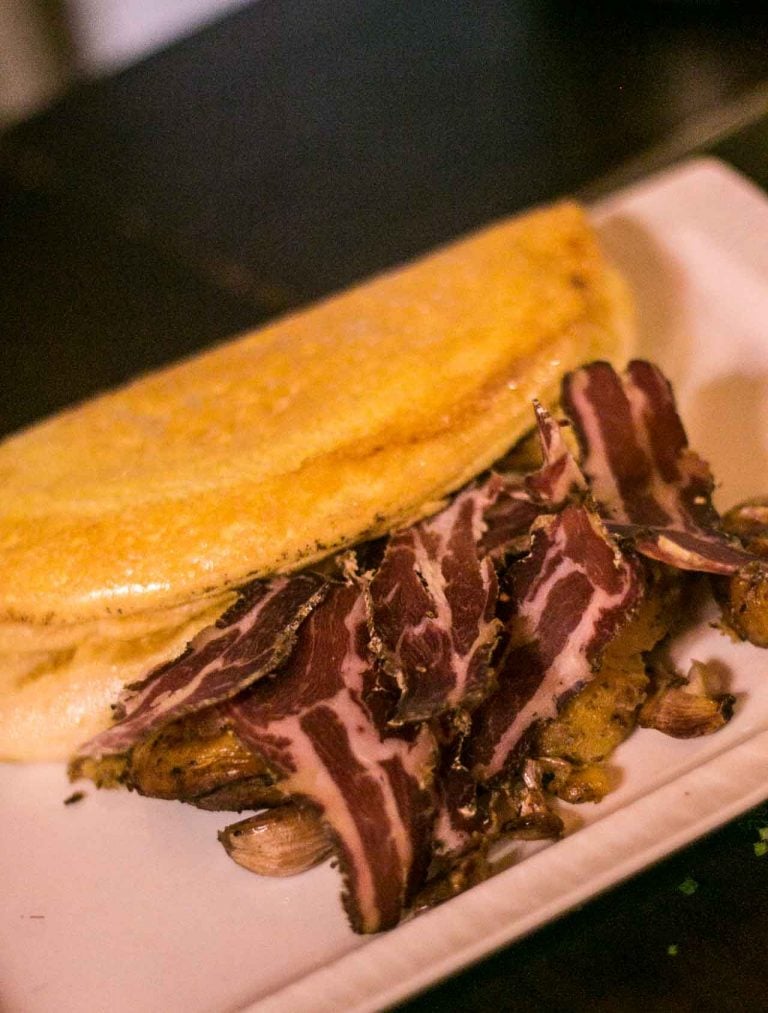 The omelets are garnis rather than farcis (stuffed), to preserve the integrity of the puffy souffléd omelet, and the ingredients don't get lost in the eggy batter. We did save room for the omelet with roasted apples and salted butter caramel for dessert which came out flambéed, although my take is that a glass of Calvados is perhaps the best way to end of meal when you're in Normandy. Because, like me, you're bound to be farci.
Before dinner, when I'd spent some time with Chef Crespier in the kitchen, while we chatted, I couldn't take my eyes (or hands) off the heavy copper bowls. We used to have one like that at Chez Panisse, which we used to whip up the hundred-plus soufflés the nights we had them on the menu. (And I have the Popeye-like powerful right forearm to prove it). I hadn't been able to find one that thick in France for my kitchen. But they had what looked to be about twenty-five of them lined up on a shelf, with only three in action at the time, because it was low-season.*
Just as I left, the chef handed me a bowl as a gift. Those who know me know that I am rarely speechless, but this was one of the handful of times in my life that I was. I think I thanked him not less than forty times before hooking it over the handle of my suitcase the next morning and wheeling it home, crossing the bridge to the island, hopping on the train with it, taking the bus across Paris, before placing it on my kitchen counter. My days of making a hundred soufflés are over, but I might use it to make one or two in the near future, and perhaps an omelet as well.
La Mère Poulard
Grand Rue
Mont Saint-Michel, France
Tél: 02 33 60 14 08
---
Notes: I was a guest of La Mère Poulard, but the opinions are my own. (For more information, read my Restaurant Write-Up policy.) The debate goes on whether the omelet is worth the price. (The current price of the omelet is €34, although there is a 3-course menu in that price range, which includes the plain omelet, and is a full meal.) It's not an inexpensive omelet for sure, but this is a world-renowned restaurant and experience and I felt it worth sharing with readers.
*As mentioned, I was there in low-season, and Mont Saint-Michel and the restaurant were fairly calm. I haven't been there during high-season, but starting in the spring, through the summer months, and the beginning of fall, the crowds are legendary. So if you plan to visit during those periods, you definitely won't be alone.