Before a recent visit to Los Angeles, I'd heard a lot about Sqirl, a quirky restaurant with a funny name. People were imploring me to go. So much so, that if I didn't, I'd be racked with guilt for the next five to seven years. (Which I think was the intended effect.) Whatever it was, it worked, and when planning to meet up with a friend, I suggested we go there.
Since he lived in Silverlake, he was familiar with Sqirl, and said we should go mid-morning to avoid the lines. I'm of the age where I don't want to wait in line anymore to eat. At least I thought I was.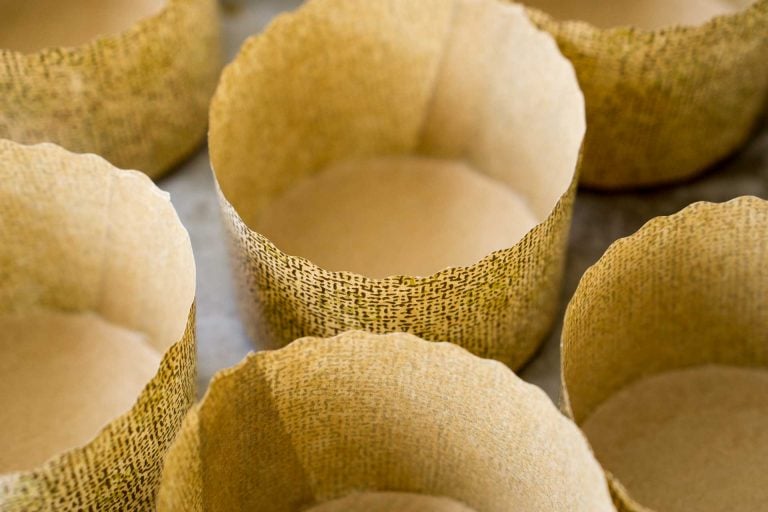 Yet there I was, standing on the sidewalk at 10:30 am, waiting in line to get in and order. It helped that the weather in L.A. is often spectacular, so standing on the sidewalk while you wait for a table is not the same hardship it is in New York or Paris, in the winter.
My friend and I lived in San Francisco for a long time, so we're food snobs of the highest order. I'd been coached to try the sorrel pesto rice (below). And, once again, to avoid any guilt, we ordered one of those, as well as a few others things to try.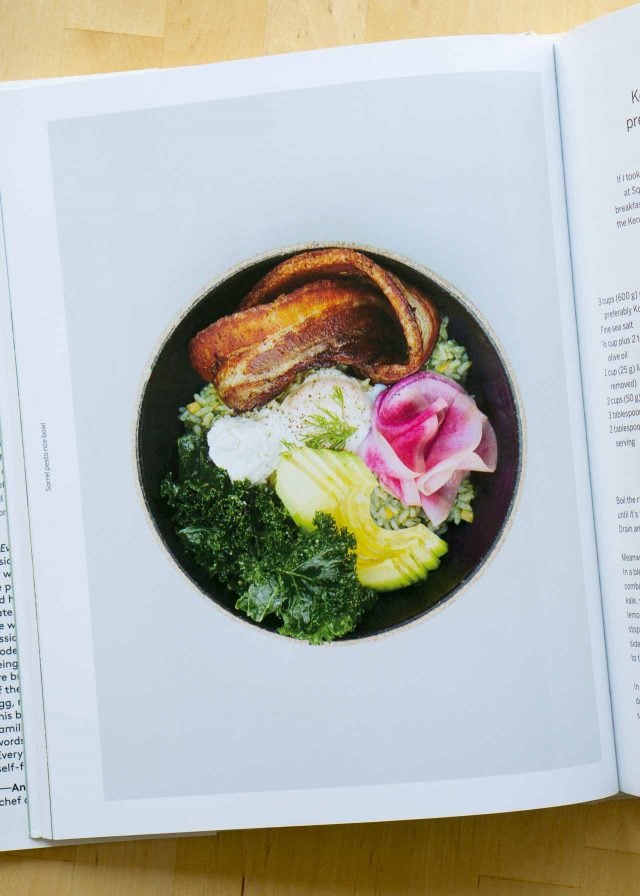 While we waited for our food, I was sipping my first Turmeric Tonic (which was excellent; I hadn't ever had turmeric tonic, as hasn't quite hit Paris yet), while feeling very good about myself, and my health. Then I took my first forkful of the rice bowl the server brought over.
We both stopped talking and looked at each other, nodding in silent agreement over how good it was, and continued to dive in; it was one of the best things I'd ever eaten, and one of the few things that lived up to the hype. Each mouthful was a Gordian knot of overlapping flavors—tangy sorrel-pesto rice, bright watermelon radishes sliced rapier-thin, salty sheeps' milk feta, bursts of fresh dill, preserved Meyer lemon, creamy avocado, a tangle of bacon, with a poached farm egg resting amongst the other ingredients in the bowl.
The ingredients were bathed in a fermented jalapeño sauce…it was like the best of southern California,  in one bowl. I think most San Franciscans might get nervous that it's time to concede their status as the best food city in America, to Los Angeles. (Although I had so many great meals on my book tour, I think there's a lot more competition out there in the other 49 states.)
I have a funny sixth-sense about food, and usually tell if a restaurant is good even before I walk in. At Sqirl, there is usually a line to get in, so it was a little easier to gauge that ;) But when we'd finished ordering and the counterperson asked if we wanted desserts, the ones in the glassed-in case didn't have the appearance of being anything special. However there was something intriguing about the almond cakes with a few sunflower seeds scattered on top, and the somewhat plain-looking pudding cakes, so I ordered one of each. As they say in Southern California – like, oh my God!…were those ever good.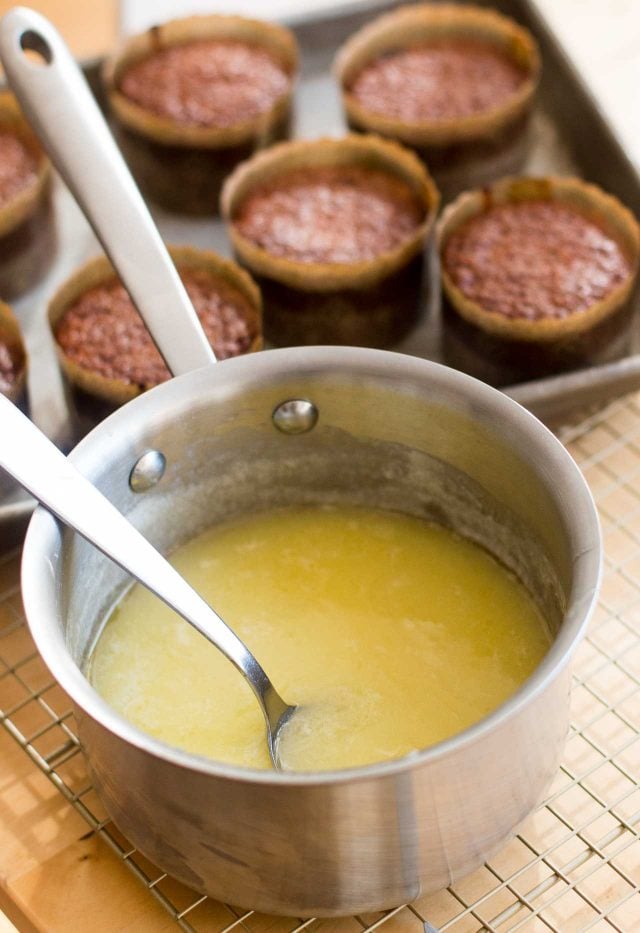 Fortunately, the owner, Jessica Koslow, was kind enough to share her recipe in her book Everything I Want to Eat: Sqirl and the New California Cooking. You can make the avocado toast, which defines the genre, topped with ribbons of pickled vegetables, garlic cream, and spices. There are socca pancakes with labne, as well as kohlrabi tzatziki and, yup, their recipe for the turmeric tonic. (I often see fresh turmeric at natural foods stores in Paris, so perhaps there's an underground turmeric tonic network I need to plug into?)
Happily the Malva Pudding Cakes are also in this engaging and user-friendly book. The book says when you serve these, everyone will ask where the recipe is from, so I'm here to tell you they're from Sqirl. And they're terrific.
You'll need to work fast when the cakes come out of the oven to get the cream mixture into the cakes. Make a small slit in the top with a sharp paring knife and pour some of the cream into each cake, until it reaches the top. Once you've reached that point, stop and move on to the next one. Then go back and pour enough of the cream back into each cake until it just reaches the top of each individual cake, but no more.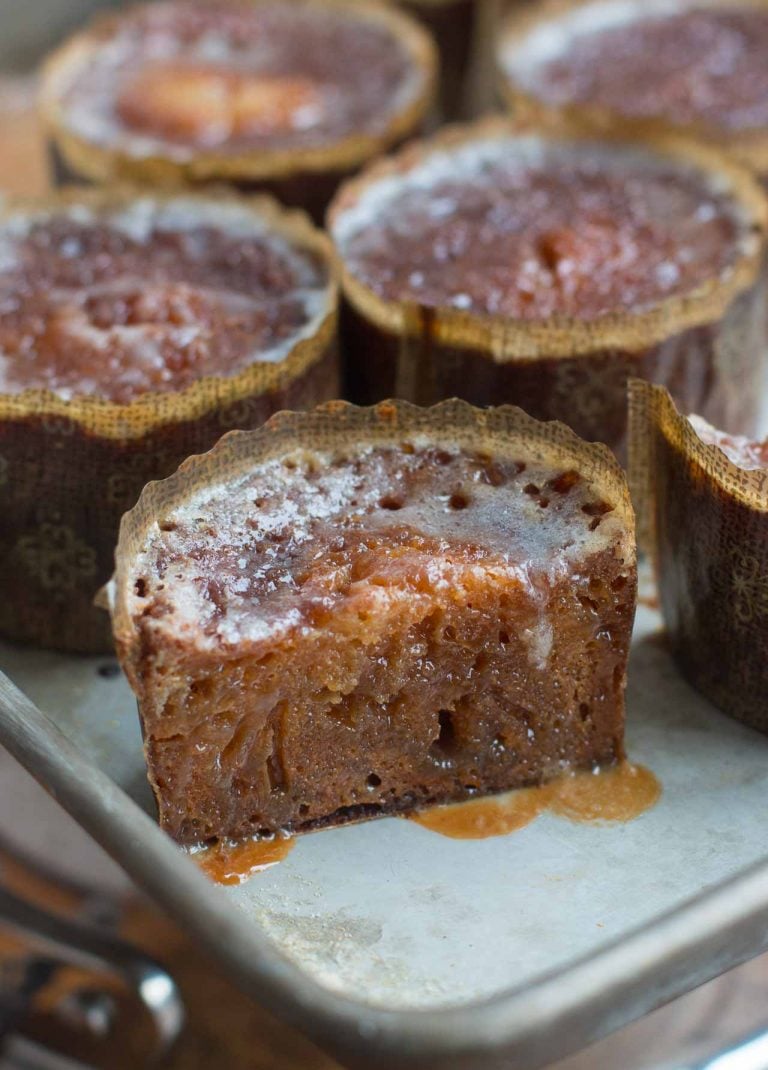 I overdid it the first time I made them, so sent Jessica a message, asking when to stop pouring. She told me to "let the liquid in, in a pace where you can see it absorb, then add more." She stops when she sees it staying on the surface, and not absorbing further. So you may have some of the cream mixture leftover.
These are are the sweet side (think sticky toffee pudding, but without the dates), but are small in size, so you don't have to feel too bad about indulging in one all by yourself.
Malva Pudding Cakes
Makes 8 cakes Adapted from
Everything I Want to Eat: Sqirl and the New California Cooking
by Jessica Koslow These pudding cakes get baked in small, ungreased paper panettone molds. Plan on serving them in the cups because I don't think you'd have much luck getting the pudding cakes out neatly. They're best enjoyed by digging a spoon right in. Small panettone molds (about 2 1/2" x 1 3/4," 6.5 x 4.5cm) can be found in cookware stores or
online
. I tried baking a few cakes with free-standing muffin
baking cups
, the kind that will stand up on their own, and don't need to be baked in a muffin tin, which
worked very well
. (The portions will be more modest as well, although you'll need more than 8 of those cups since they're smaller.) Fill each halfway up with the batter and bake for 25 to 30 minutes, or until deeply bronzed across the top, like the larger ones. Make sure the filling is quite hot when you pour it in. If you make it a bit in advance and it cools down, rewarm it before pouring. I made these a couple of times and had some leftover filling so you may not need it all. Next time I might try reducing it to 1/2 cup cream, 1/2 cup sugar, 6 tablespoons butter, and 2 1/2 tablespoons of water. But since I don't want you to get caught short, make them as written and if you find you have leftover, make a note to make the reduced amount of filling the next time. And there will be a next time...
For the cakes
1

cup (140g)

flour

1 1/2

teaspoons

baking powder

, preferably aluminum-free

3/4

teaspoon

baking soda

1

cup (200g)

sugar

2

large

eggs

,

at room temperature

3/4

teaspoon

kosher or fine sea salt

1/4

cup (75g)

strained apricot jam

1 1/2

tablespoons

melted unsalted butter

1/2

teaspoon

apple cider or white vinegar

1

cup (250ml)

whole or lowfat milk
For the filling
3/4

cup (180ml)

heavy cream

3/4

cup (150g)

sugar

1/2

cup (4 ounces, 115g)

unsalted butter

,

cubed, at room temperature

1/4

cup (60ml)

water
For the cakes
Preheat the oven to 375ºF (190ºC). Set 8 small panettone molds on a rimmed baking sheet.

In a small bowl, whisk together the flour, baking powder, and baking soda.

In a bowl of a stand mixer fitted with the paddle attachment, or by hand in a medium bowl, beat the sugar, eggs, and salt on medium speed until the batter is thick and pourable, like a melted milkshake, about 2 minutes. Reduce the speed to low and beat in the jam until incorporated. Then mix in the melted butter and vinegar.

Add one third of the milk, then half of the flour mixture. Then add another third of the milk, then the rest of the flour. Finally, add the rest of the milk and stir until smooth. If there are large lumps, whisk it briefly, just enough until the batter is smooth.

Pour the batter into the 8 molds, which will fill them a little more than halfway up. Bake the cakes until they are deeply bronzed across the top, 35 to 40 minutes. The cakes need to be well-baked, or as Jessica says, "...almost overbaked - in order to soak up the filling."
For the filling
While the cakes are baking, heat the cream, sugar, butter, and water, whisking gently, until the butter is melted and the mixture is smooth. Keep warm while the cakes are baking, or rewarm right before filling the cakes. (I found it easiest to transfer the hot filling to a measuring cup, for pouring in the next step.)

When the cakes come out of the oven, using the tip of a paring knife to poke and pull back a little flap from the middle of the top of each. Poke the knife in the cake to make a little space inside and pour enough of the filling in each until the cakes can't take any more of the filling.

Once you've filled all the cakes, go back and repeat the process, filling the cakes with additional filling just until it reaches the top. You may have not use all the filling but don't worry if some spills over.
Notes
Serving: Serve the cakes warm. They need no accompaniment. Storage: The cakes can be made up to two days in advance, although are at their best served the same day they are made, preferably warm from the oven. You can rewarm them on a baking sheet in a 325ºF/160ºC oven, until they're warmed through.