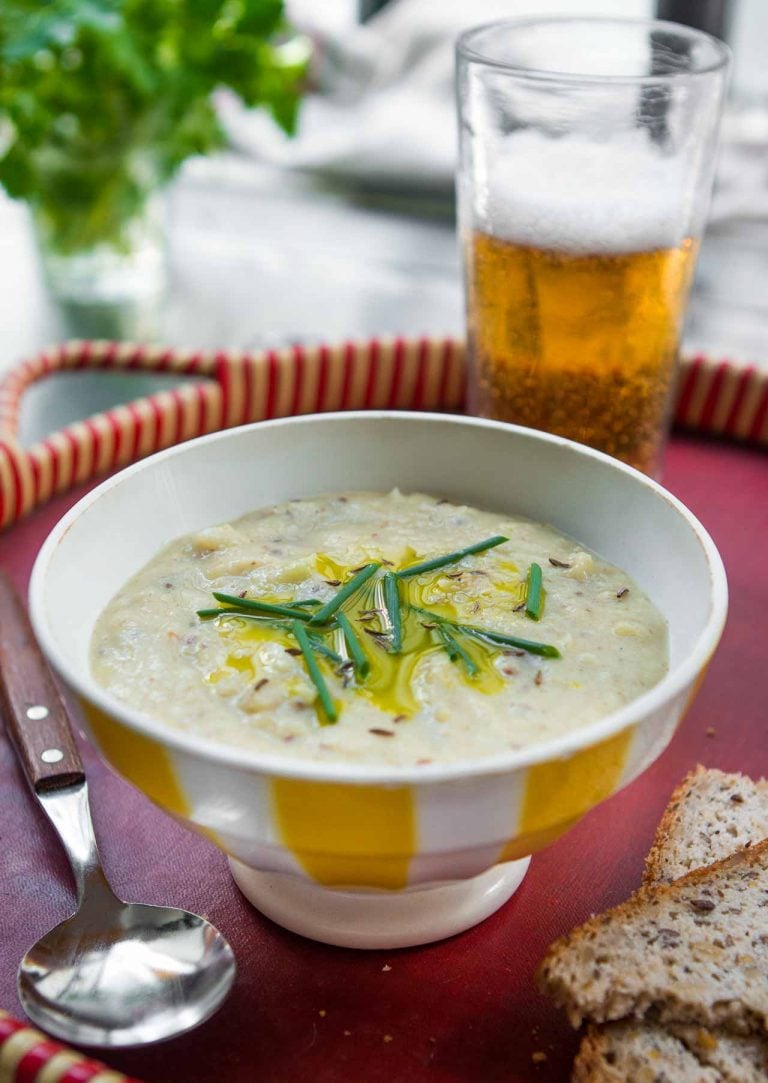 When the virus hit, I'm pretty sure the first thing people didn't think about stocking up on was cabbage. I only saw the empty shelves of pasta, rice, and toilet paper from photos posted online, taken in the U.S., but I didn't seen any pictures of the empty cabbage bins. I've loved cabbage for a long time, and even my mother shredded red cabbage to toss in green salads. Not only does cabbage comes in different colors, but there are many different varieties as well.
Whichever you choose, Most can be used raw in salads or slaws, or cooked. Cabbage also lasts a long time and isn't expensive either. In other words, cabbage is our trusted friend, there for us through thick or thin.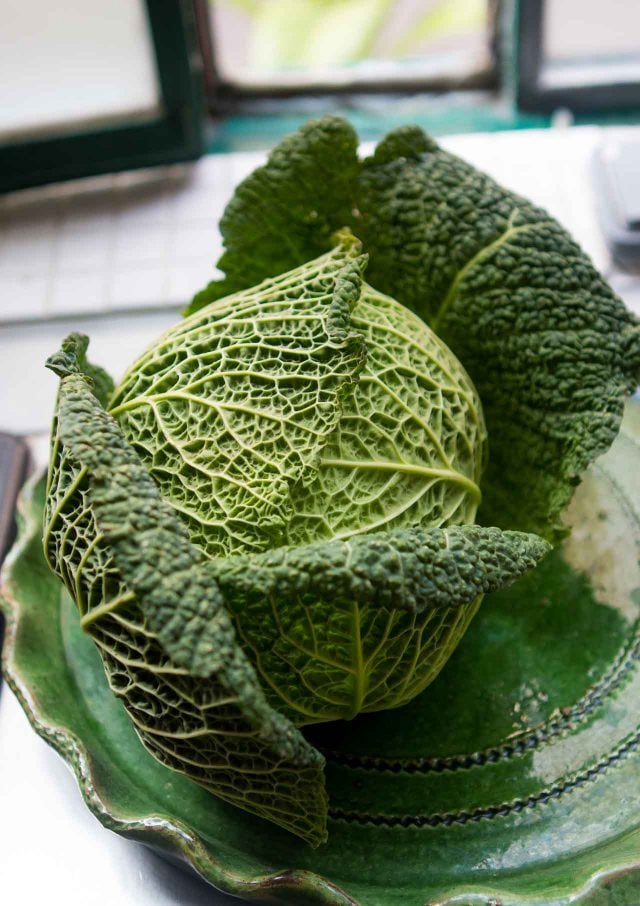 I used to have an aversion to cooked cabbage. It was associated with people making jokes about the smell of it cooking, or the after-effects of eating it, which I won't repeat here, but I've noticed a new generation of cooks have embraced the brassica by caramelizing, pickling, and of course, putting it up as kimchi. (Which isn't new, but many people seem to be just discovering the joys of it.) When I was in Lebanon, we were sometimes served leaves of raw cabbage to use instead of bread for scooping up hummus and tabbouleh for the weight-conscious, as a carb-free alternative to bread.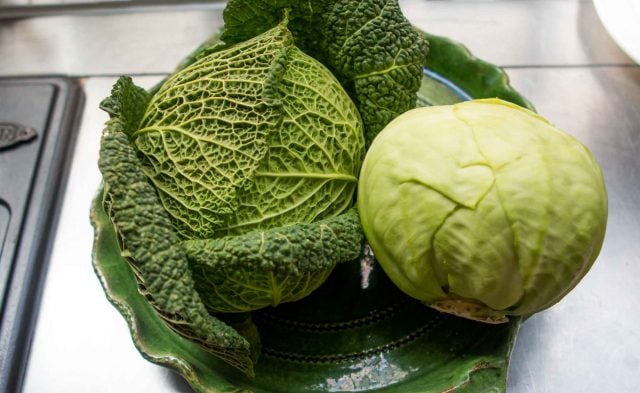 The ruffly cabbages, called Savoy cabbage elsewhere, are popular in France as they have a more delicate, yet generous vegetal flavor. However standard green cabbages (below) are abundant and widely available as well. During the last few years, choux pointu, which look like big, green unopened tulip buds, have become more available and have a softer texture and more delicate flavor. You can use any kind of green cabbage here.
The thickener of the soup is courtesy of a few potatoes. French love potatoes seemingly more than any other vegetable and some market stands exist solely to sell just potatoes in a variety of varieties. Potatoes aren't always sold solely by name, though, some are labeled vapeur or rissolées, for steaming or sautéeing, respectively. They also get two names; pommes de terres, apples of the earth, or patates, depending on what type of "potato" it is. If you want to feel French when talking about potatoes, feel free to shorten the name to PDT, pronounced pay-day-tay.
With cabbages in my kitchen, I remembered this soup from back my days as a cook in a vegetarian restaurant when I was in college. Not surprisingly, it's still delicious! It was called Norwegian Cream of Cabbage Soup since the owner of the restaurant, Julie Jordan, had Norwegian parents. (At the time upstate New York had a prominent Norwegian community.) The caraway makes it Scandinavian, which sounds about right for a soup that celebrates practicality.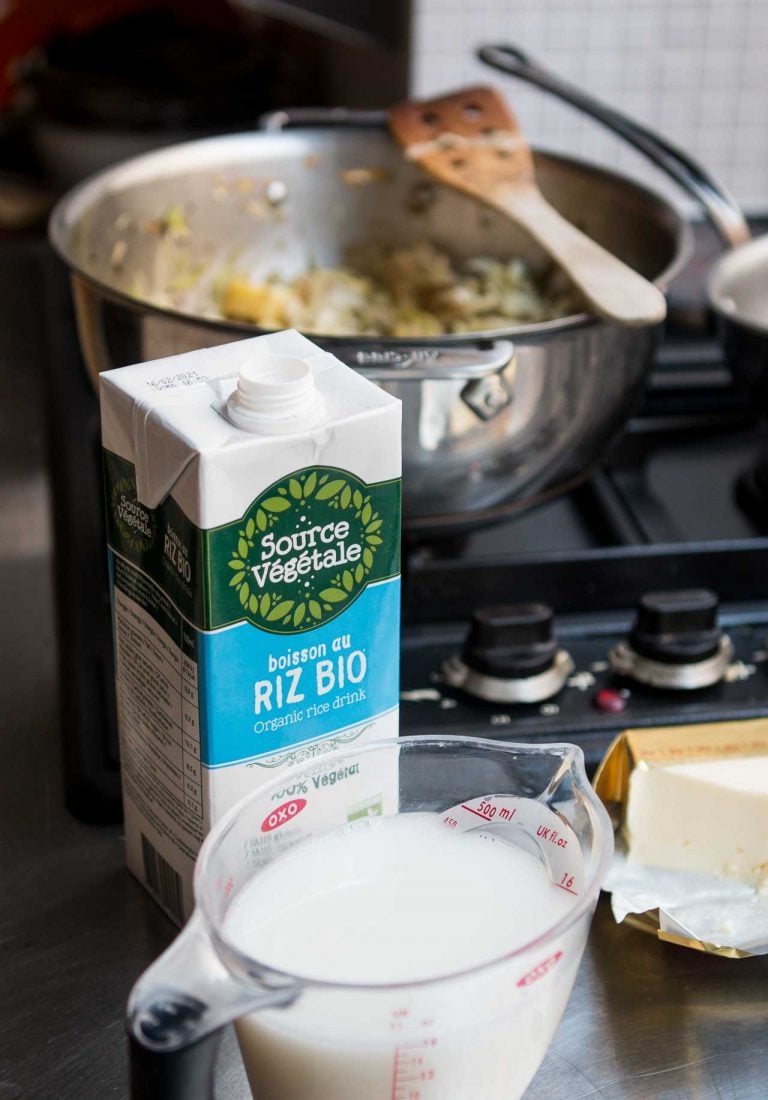 And Caraway is what also makes it special. Most folks in Paris don't know what caraway is; it's usually mistaken for cumin, although it's familiar in Alsace due to its proximity to Germany. But if you don't have caraway seeds, try swapping out anise, celery, fennel, black onion, or cumin seeds. I also thought the soup could use a little color so made a quick parsley oil to drizzle over the top with a bunch of parsley that I had on hand, which needed to be used. And we're all doing our best not to waste anything these days.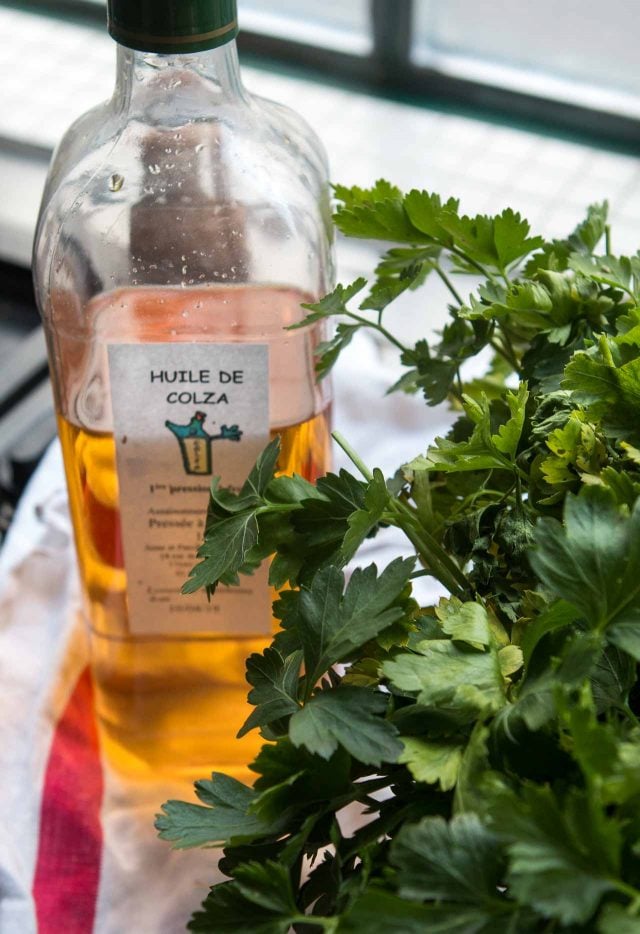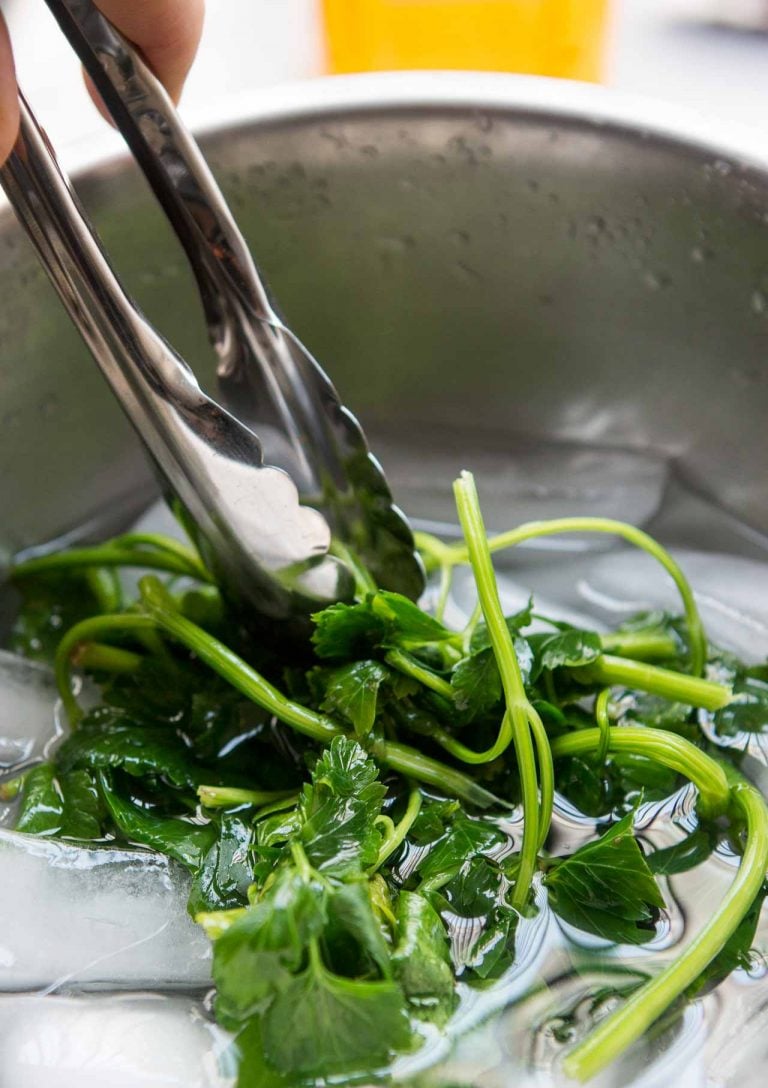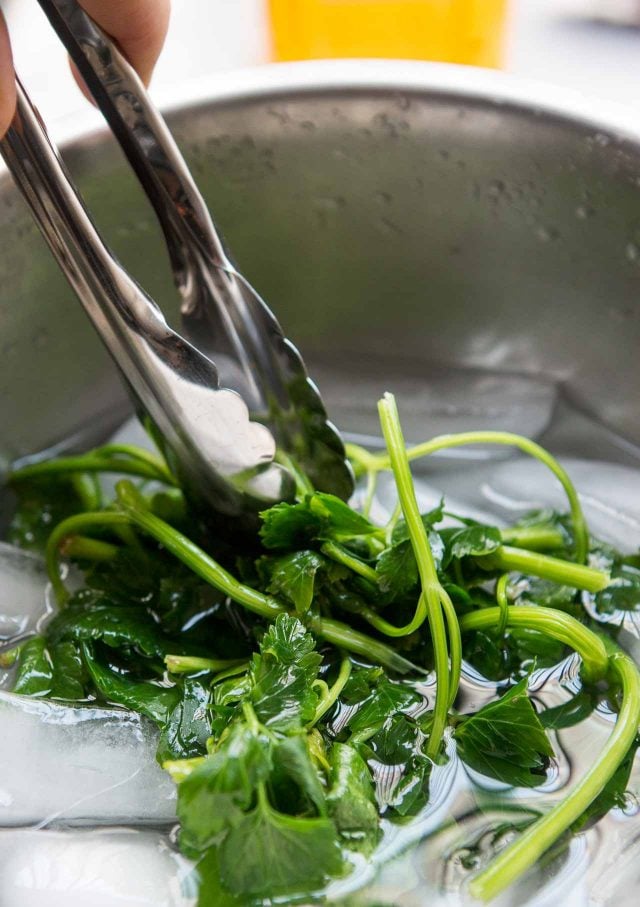 The color makes the soup more inviting and the slight anise-like flavor of the parsley makes it tie in nicely with the caraway. It's a very good soup, surprisingly good, in fact.
[In other news, I've been doing Live discussions and demonstrations on Instagram Live almost every day at 6pm CET (Paris) time, which presently is 1pm ET, 10am PT – you can figure out what time that is where you live by asking Google that question – it works! I'll be talking about French drinks, the culture and traditions of French spirits, as well as explaining the liquors and apéritifs, making a recipe and answering your questions, including about my new book, Drinking French. If you'd like to join me, head over to my Instagram account and there should be a Live icon next to, or around my profile picture, at that time. Note that it won't be there until I'm connected. I also start slowly so you have time to connect as well. The Live discussions are archived on my Instagram IGTV page in case you miss one. See you there!]
Cream of Cabbage Soup
Adapted from
The Cabbagetown Café Cookbook
by Julie Jordan I made this with rice milk, but feel free to use a plant-based "milk" (or "drink," as it's now sometimes called), or regular milk. At the moment, milk of any kind may be at a premium so you could replace it with stock. If using store-bought stock, I recommend reducing the salt when you make the soup base, then adjusting that to taste after you've added the stock. Other options are that you could get creative and mix water with beer, still or sparkling cider (non-alcoholic or hard), or with sour cream, heavy cream, or crème fraîche, to stand in for the milk. Got water leftover from cooking beans (or even canned beans) or chickpeas? That could be put to good use here as a replacement for the milk, too. If you don't have caraway seeds, cumin, fennel, anise, black onion or celery seeds can fill in for them, using less at the start (as they may be stronger than the caraway, such as celery seed) then adding more when the soup is finished. You can also use fresh herbs instead, such as thyme or dill when making the soup, and/or as a garnish. Note that the parsley oil needs to sit about an hour or two, so if planning to serve the soup right away, you might want to make that in advance. The parsley oil is optional of course but does dress it up. You can make a half batch of it if trying to conserve your oil.
For the cabbage soup
2

medium

potatoes

,

washed and scrubbed (about 12 ounces/340g), unpeeled and cut into 1-inch (3cm) pieces

2

cups (500ml)

water

1

teaspoon

kosher or sea salt

,

plus more for cooking the potatoes and sautéed cabbage

4

teaspoons

caraway seeds

4

tablespoons (55g)

unsalted butter

,

total

1

medium

onion

,

peeled and diced

8

cups (1 1/4-pound, 625g)

green cabbage

,

sliced

2

cups (500ml)

whole milk

,

(see headnote)

2

teaspoons

fresh lemon juice or cider vinegar
For the parsley oil
1

small bunch

parsley

,

stems and leaves (about 1 1/4 ounce/40g)

3/4

cup (180ml)

olive or vegetable oil
Boil the potato cubes with 2 cups of lightly salted water, until tender when you poke them with a sharp paring knife, about 10 to 15 minutes. Remove from heat and set aside.

In a soup pot or Dutch oven, toast the caraway seeds over medium-high heat, stirring frequently, until they are fragrant and lightly toasted, about 3 minutes. Remove them onto a plate. (If you want to use some to garnish the finished soup, you can toast a few extra.)

In the same soup pot, melt 2 tablespoons of the butter. Add the onion and cook, stirring frequently, until soft and translucent. Add the caraway seeds and cook for 1 minute more.

Reserving about one-third of the cabbage (to sauté later), add half the rest of the shredded cabbage, 1 teaspoon of salt, freshly ground pepper, to the pot and stir everything together. Cover and lift the lid everyone once in a while to stir, until the cabbage wilts. You may need to add 1/4 cup (60ml) of water to the pot if it gets dry and starts to scorch on the bottom. (It wouldn't hurt to add another knob of butter here, either!) Once the cabbage in the pot is mostly wilted, add the remaining cabbage. (But don't use that reserved cabbage, which you'll be sautéeing later.) Cover and cook, stirring occasionally until all the cabbage is wilted.

Turn off the heat and add the potatoes and their cooking water, and the milk to the pot. Use an immersion blender to blend the ingredients, or put them in a standard blender and puree until smooth, then pour back in the soup pot.

Slice the reserved cabbage as thinly as possible. Heat the remaining 2 tablespoons of butter in a skillet, add the cabbage and season with a little salt and pepper. Cook, stirring occasionally until the cabbage is wilted. Add the sauteed cabbage the blended soup along with lemon juice or vinegar.

To make the parsley oil, heat a small saucepan of water until boiling. Have a bowl of ice water handy. Plunge the parsley into the water and cook until wilted, 10 to 15 seconds. Remove it with tongs (or drain it), and immediately plunge the cooked parsley into the ice water, which'll guard its vibrant green color.

When cool, squeeze as much water out of the parsley with your hands as you can and place it in a food processor or blender. The best option is if you have a mini-chopper food processor; this is a good place to use it! Puree the parsley with the oil until it's as fine as possible. Let stand for 1 or 2 hours. Place a square of muslin or a few layers of cheesecloth in a small mesh strainer set over a small bowl. Scrape the parsley and oil into the cheesecloth, then gather the ends and squeeze as firmly as possible - cheesecloth isn't as solid as muslin, go you may need to go easier on the pressure if using cheesecloth - to extract as much parsley oil as possible. You also put the mixture in a fine-mesh strainer and press it through that.
Notes
Serving: Heat the soup and ladle into bowls. Top with a drizzle of the parsley oil and perhaps some fresh herbs or pumpkin seeds, and a few extra caraway seeds. Other ideas include a little sour cream or crème fraîche with some toasted caraway seeds or fresh herbs on top, cubes of crisp bacon, or crumbled blue cheese on top. Serve some good bread alongside, with cold beer or apple cider. Storage: The soup will keep for 3-4 days in the refrigerator. It can be frozen for up to 4 months. The parsley oil will keep for about a week at room temperature or in the refrigerator.