Every time I go to Provence and the Côte d'Azur, I keep remembering that I want to share Fenocchio ice cream with you. But I'm not all that good at sharing, when it comes to ice cream, so I hope you'll forgive me for keeping this all to myself for a while. But after tasting more than my share of their ice cream down in Vieux Nice, the old part of the city of Nice, I summoned up the courage to ask if I could step behind the counter and into the kitchen for a look behind the most famous ice cream maker of the region for a little bit of a look, and a few licks.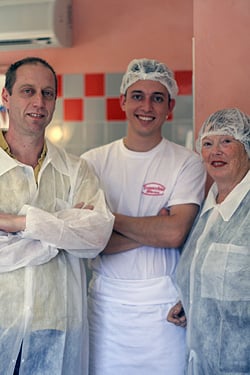 Fenocchio is a family-owner and operated business that has been making ice cream since 1966, and their production facility is up on the hill in La Gaude, overlooking the Mediterranean. So to get up there, you'll have to take a bit of a drive up a few rather steep roads.
When I asked Monsieur Fenocchio how many flavors he made, he replied, "I don't know!" Which I thought was funny, until I passed the reams of lists written on the walls of a long hallway and tried to read them all for myself. Although I didn't stop and count, their website says they have 94 flavors. But it sure looked like more to me.
For those of you who don't speak French, and even for those who do, you might not be familiar with some of these flavors—especially when you're thinking about ice cream!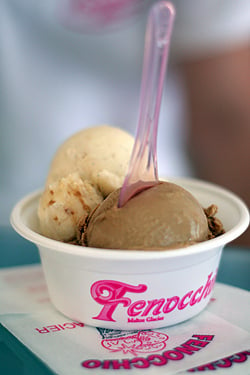 Yes, that's right. Les blettes are Swiss chard, which finds their way into a famous barely sweet tart from Nice that's got chewy raisins, stewed greens, and nuts in it. (I love it, but I'll concede it isn't for everyone.) M&M's don't need any introduction, but calissons are the pointed oval-like candies made of almond paste and candied melon syrup, which is another specialty of Provence. Then there are cactus, violet, lemon verbena, guava, capuccino, beer, lavender, riz au lait (rice pudding), maple-pecan, rosemary, and pain d'épices (spice bread) ice creams and sorbets.
When I noticed that they also had a particularly interesting selection of ice creams based on classic French candies, such as Bounty (chocolate-coconut—j'adore!), Kinder, and even bubble gum (I passed on that one…), I asked why he chose to use popular candy flavors. "Because we want to please the children, as well as the adults", which reminded me of being in Italy where some of the gelaterias make two versions of pistachio gelato; one bright green, for the kids, and one left 'natural', for grown-ups.
As much as I'd like to reclaim my inner child, I tend to be a bit repetitive when it comes to ice cream and always order a variation on the same basic themes: chocolate, coffee, coconut, and, of course, anything caramelized.
I did have a scoop of Bounty, which was like eating a dark chocolate-enrobed bar of coconut, which gave me a bit of nostalgia for a Mounds bar. And just thinking of it again, right now, makes me glad they're not going on strike tomorrow, like the rest of France.
Even though I was entirely smitten with the coconut-chocolate combo, I wasn't swayed enough to not make me order a creamy-sweet scoop of confiture de lait, the French version of dulce de leche, again. Boy, was that good!
As the chefs were stirring and stirring the thickly-rich caramelized milk, creating sweet amber ribbons, ready to ripple and swirl into ice cream, I knew that was exactly what I was going to have when I stepped out of the factory and into the blazing sun of Provence, after stripping off our paper hats and chef's jackets.
And truly, the confiture de lait ice cream was exceptional; beautifully gooey, with lots of slippery-sweet caramel melting into the ice-cold vanilla custard. The plans for the rest of the week call for a bit of rain. But since the folks at Fenocchio are heading to work tomorrow, well…I guess it's my duty to show up as well.


Fenocchio
2, place Rossetti (Old Nice)
and
6, rue de la Poissonerie (Old Nice)
There is also a shop at the factory, 1176 route de St Laurent du Var, in La Gaude

Related Links