Pumpkin Cheesecake with Pecan Praline Sauce
It's that time of year again. And that only means one thing: time to start thinking about the holiday baking. In Paris, bakery windows fill up with Bûches de Noël (Yule log cakes) and bourriches (wooden crates) of oysters are piled up at the markets. The chocolate shops are crammed with people, buying multiple boxes as gifts, and people splurge on caviar and Champagne, one of the few things that go on sale in France during the holidays.
One thing you don't see is the use of pumpkin in desserts. A tart or pie (or ice cream) made of squash might sound funny, especially to non-Americans, but helps to remember that pumpkins, and other squash, are technically fruit. One could also point out the classic Swiss Chard Tart from Provence (which is in a whole other category), and Melanzane al cioccolato, eggplant with chocolate sauce, which I like. (Which one could argue is good because it's smothered in dark chocolate.) But I don't think everything goes with chocolate: A friend tried the hot chocolate with oysters at a famed chocolate shop in Paris, and after her description, I wasn't rushing over there to try a cup.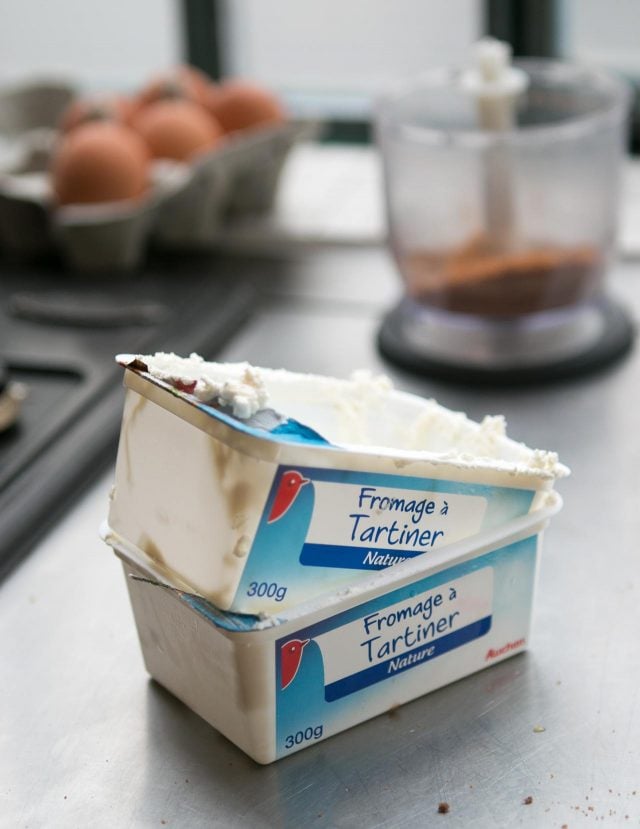 To get that last image out of your mind, I present pumpkin cheesecake with a pecan praline sauce, that has nothing not to like about it. Cream cheese and sour cream, a buttery cookie crust, and a brown sugar and bourbon-tinged sauce loaded with crunchy pecans. I'm in.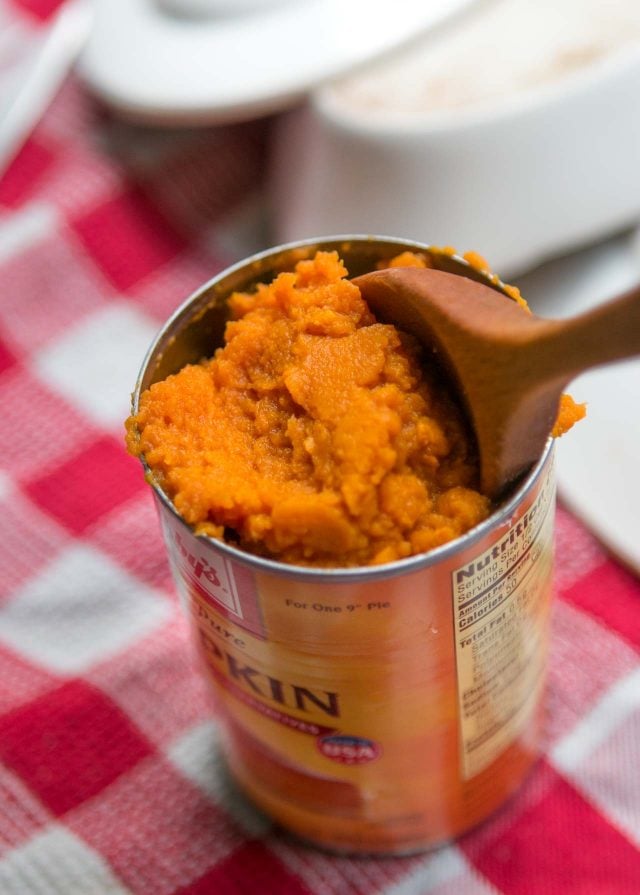 DIYers may raise an eyebrow at using canned pumpkin. I've got a few reasons for using it. (And as many of you perhaps know, it's not made from pumpkin, but a variety of squash similar to butternut squash.) One, is that when writing a recipe, it's easy to get consistent, similar results when we're all using the same ingredient. And two, it's a heckuva lot easier, which is appreciated around the holidays when all of us have enough on our plates, and in our ovens, and it's fewer dishes to wash to boot.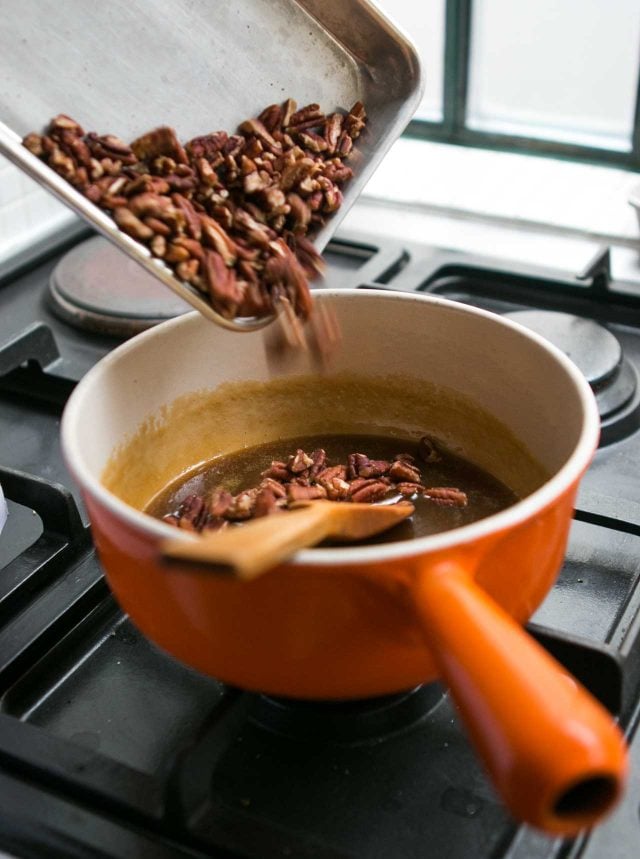 If you want to go the other route, you can also make your own cream cheese and Graham crackers, grow your own pecans, churn up your own butter, and make your own cake pan. If you do go that route, let me know when your cheesecake is done ; )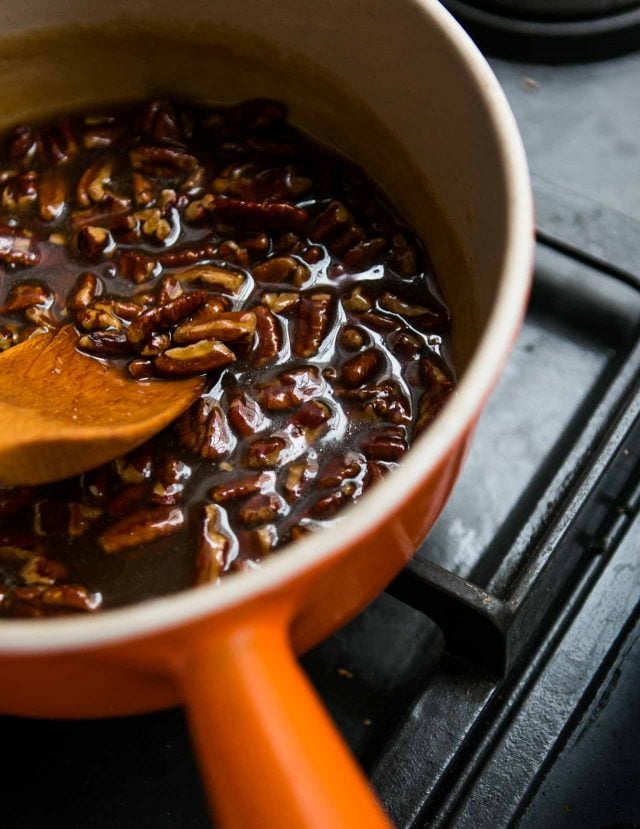 In the meantime, I'm standing over my stove, stirring warm, just-toasted pecans into my praline sauce before lacing it with a dash of bourbon.
The praline sauce is decidedly on the sweet side. But that didn't stop me (like, at all…) from dipping my spoon into it over and over and over again. Be sure to toast the pecans before using them. My pet-peeve in restaurants is when they don't toast nuts. Toasting any nut usually improves it by at least 99%, if not more, so if you're not consistently toasting your nuts before using them on salads, sauces, and in ice creams, start doing it now. It's not too late.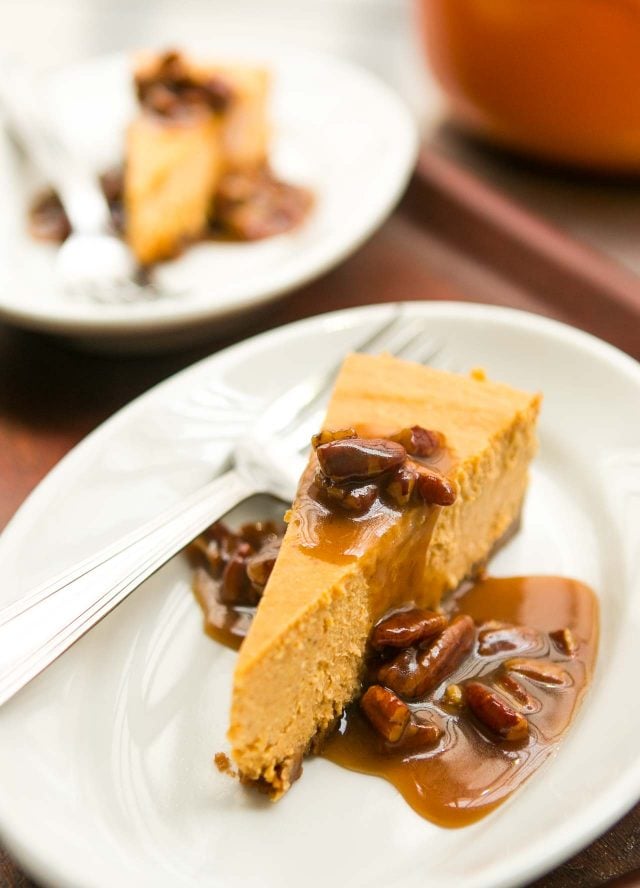 But I can't imagine this cheesecake being served without it. Although I could imagine eating the sauce without the cheesecake. And if you're anything like me, you might find yourself spooning it over ice cream, ladling it over pumpkin pie (without the marshmallow topping), or even spooning it right into your mouth, like I do.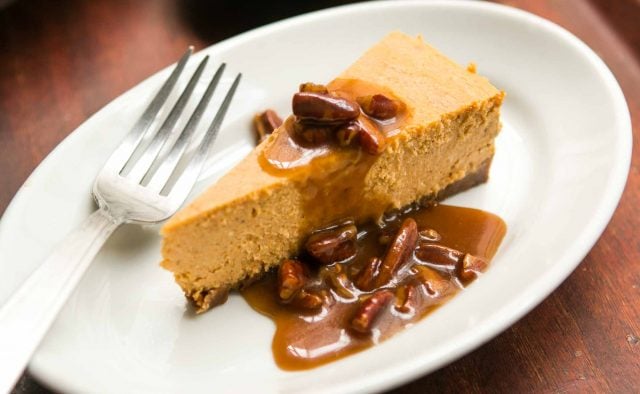 | | |
| --- | --- |
| Pumpkin Cheesecake with Pecan Praline Sauce | Print Recipe |
Make sure if using canned pumpkin, that you don't use canned pumpkin pie filling (which is sweetened and spiced); you want to use canned pumpkin, which is 100% pumpkin puree. If you want to make sugar pumpkin puree yourself, you can find instructions here, or make butternut squash puree by splitting a squash lengthwise and scraping out the seeds. Butter the cut side of each side of the squash, and bake the two squash halves, cut side down, on a parchment-lined baking sheet in a 375ºF/180ºC oven until very tender, about 35 to 45 minutes. When cool enough to handle, scoop out the flesh and puree in a blender or food processor, or pass it through a food mill. If you want to balance the sweetness of the sauce, you could add a scant teaspoon of apple cider vinegar or lemon juice to it, or to taste. Conversely, adding more liquor will take the edge off as well. Outside of the U.S., I often use speculoos cookies in place of the Graham crackers for the crust. If you go that route, you might want to reduce the butter in the crust by about 20% since speculoos cookies tend to be more buttery than Graham crackers. I use a glass-bottom springform pan for cheesecakes, which makes serving them much easier.
For the crust
1 1/2
cups (180g)
Graham cracker crumbs
4
tablespoons (60g)
melted butter
1/4
teaspoon
ground cinnamon
For the pumpkin cheesecake filling
Three
8-ounce (680g) packages
cream cheese,
at room temperature
grated zest
one lemon,
preferably unsprayed
4
large
eggs,
at room temperature
One
15-ounce (425g)
canned pumpkin puree
1/2
cup (125g)
sour cream or whole-milk plain yogurt
1
tablespoon
cornstarch,
or 2 tablespoons flour
1
teaspoon
vanilla extract
1
teaspoon
ground cinnamon
3/4
teaspoon
dried ground ginger
1/4
teaspoon
ground nutmeg
1/4
teaspoon
ground cloves
Pecan praline sauce
3/4
cup (105g)
packed light or dark brown sugar
1/2
cup (125ml)
heavy cream
6
tablespoons (85g)
unsalted butter
1/4
cup (60ml)
maple syrup
1/2
teaspoon
kosher or sea salt
1 1/2
cups (160g)
pecans,
toasted and coarsely chopped
1/2
teaspoon
vanilla extract
1. To make the crust, in a medium bowl, mix the Graham cracker crumbs together with the melted butter, sugar, and cinnamon until the crumbs are thoroughly moistened. Butter a 9-inch (23cm) springform pan then press the crumbs evenly across the bottom of the pan. Refrigerate until ready to bake.
2. Preheat the oven to 350ºF (180ºC). Bake the crust until it feels set in the center, 10 to 12 minutes. Let cool on a wire rack. Turn the oven down to 325ºF (165ºC).
3. To make the filling, in the bowl of stand mixer fitted with the paddle attachment (or by hand, in a large bowl), beat together the cream cheese, sugar, and lemon zest, until smooth. Add the eggs one at a time, stopping the mixer between each addition to scrape down the sides of the mixing bowl, then add the pumpkin puree, sour cream, cornstarch or flour, and vanilla extract, along with the spices and salt.
4. Line the outside bottom of the springform pan with foil so it reaches all the way up to the top of the outside of the pan. If you have to use several pieces, I recommend triple-wrapping it to prevent leaking or water getting in the cake pan. (Better yet, use extra-wide foil, so you only need one sheet.) Scrape the mixture into the prepared springform pan and smooth the top. Place the cheesecake in a larger pan, such as a roasting pan, then add very warm water to the larger pan until it reaches halfway up the outside of the cake pan.
5. Bake the cheesecake in the oven until the center feels just slightly set, about 1 hour, to 1 hour and 15 minutes. Remove the cake from the oven and let sit in the water bath for 30 minutes, then remove the cake from the water bath and let cool completely. Refrigerate for at least 4 hours before serving.
6. Make the pecan praline sauce by heating the brown sugar, cream, butter, maple syrup and salt in a medium saucepan over medium-high heat, until it comes to a boil, stirring frequently. Let boil for 1 minute without stirring. Remove from heat and add the bourbon, pecans, and vanilla.
Serving: Run a sharp knife around the outside of the cheesecake to release it from the springform pan, then remove the sides of the pan. Dip the knife in warm water, wipe it dry, and use it to cut clean slices from the cheesecake. Serve with a ladleful of warm sauce poured over it. If the sauce gets too thick upon standing, you can thin it with milk or water.
Storage: The baked or unbaked crust can be made up to three days ahead and stored at room temperature (if baked), or refrigerated (unbaked). It can also be frozen either baked or unbaked for 2-3 months. The baked cheesecake will keep for up to 4 days in the refrigerator.
Related Recipes and Links
Ingredients for American Baking in Paris
Homemade Graham Crackers (Smitten Kitchen)
Homemade bourbon (Bourbon of the Day)
Homemade salt (Ruhlman)