Seeded Multigrain Crackers
I love my trusty DSLR camera, but it weighs a ton, and lugging it even around my kitchen when I'm baking means I'm not as nimble as I'd like to be. (I'm a baker, not a photographer, as several people noted regarding my previous post.) So I treated myself to a new camera and am getting to work on making the pictures here more casual. Once I figure out what all those dials, knobs, and levers on it, that is.
That doesn't mean I'm going anywhere, although a photographer friend spent a few hours with me on the phone trying to figure out how to take a picture with it. So it might be a while before I get it right. In the meantime, I'm going to tinker around with it as I continue to dive into some of the wonderful cookbooks that have been waiting in the wings.
One at the top of my list, and cookbook pile, is by Martin Philip. He opens his book, Breaking Bread: A Baker's Journey Home in 75 Recipes, with a confession that he started working on it with "no structure, no writing experience." In doing so, he was free to go where it took him.
We corresponded before the book came out, when he asked me for a quote for the book jacket, and when the preview copy arrived, not only were the recipes and photos especially enticing, but when he writes (the book is divided into 'chapters' of his life), I can feel the passion in his voice prominently when he's talking about baking. It didn't hurt that he's also the head baker at King Arthur Flour. But I like people who take different paths and that don't necessarily follow what's expected of them.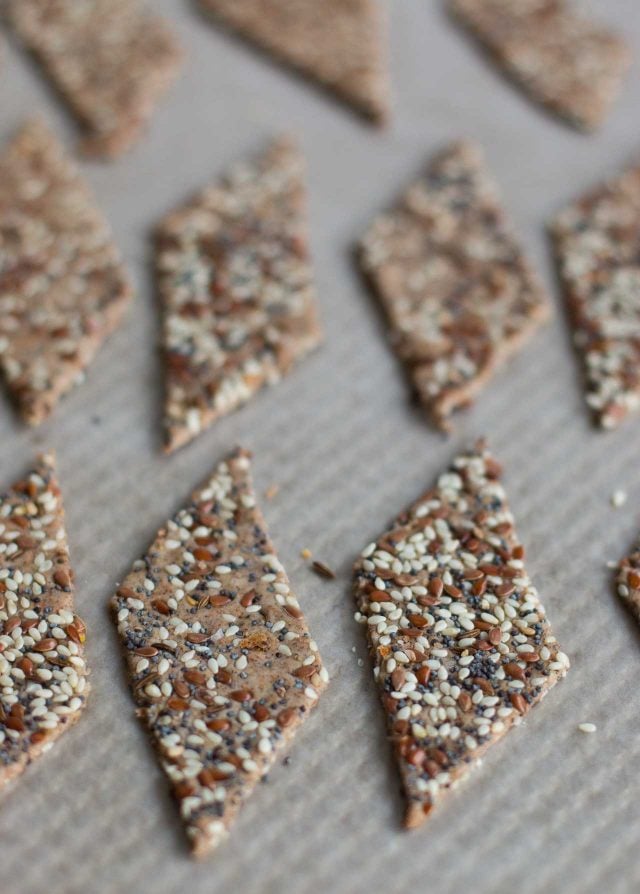 Those who want people to "stick to food" might be disappointed that his story begins in New York, where he worked in the world of finance. (If he "stuck to finance," I wouldn't have this great baking book in my hands, for example.) His path from banking to baking wasn't straight, and who he is (like who we all are), is complicated, and compelling.
Baking is a more expressive than other types of cooking, especially bread baking, which is Martin's specialty nowadays. Breaking Bread has several personal essays about his life, and how he got to where he is. I loved the slightly unorthodox mix of recipes in his book, which ranges from Molasses Pie and Butter Biscuits, culled from his childhood in the Ozark Mountains, to bagels, pain de seigle (rye bread) and chocolate-orange muffins, which reflect his time in New York City.
In addition to having worked in the world of finance, Martin was also a professional opera singer and an artist, as well as traveling to teach underprivileged, and people in under-served countries, how to bake. Thank goodness he didn't stick to just one thing.
I haven't been to the King Arthur bakery, but Martin's breads look spectacular. Deep, earthy loaves, dusted with flour and grains, and baked bien cuit (well-cooked), just the kinds of breads that I crave. I don't bake bread, but those of you who do, or want to give it a try, will be thrilled to have such a well-written book, with recipes in metric, volumetric, and ratios. (You go, Martin! That's like writing three books…)
I had a few recipes bookmarked, but was most intrigued by these seeded crackers. The dough comes together easily, and you don't need any special equipment, not even a stand mixer, to make them.
You can, of course, roll these in any shape that you want. I played with a few, from diamonds to circles, using a cookie cutter. It's best to work with well-chilled dough and to roll the cookies on a wooden countertop if you have one, which help keep the dough from sticking.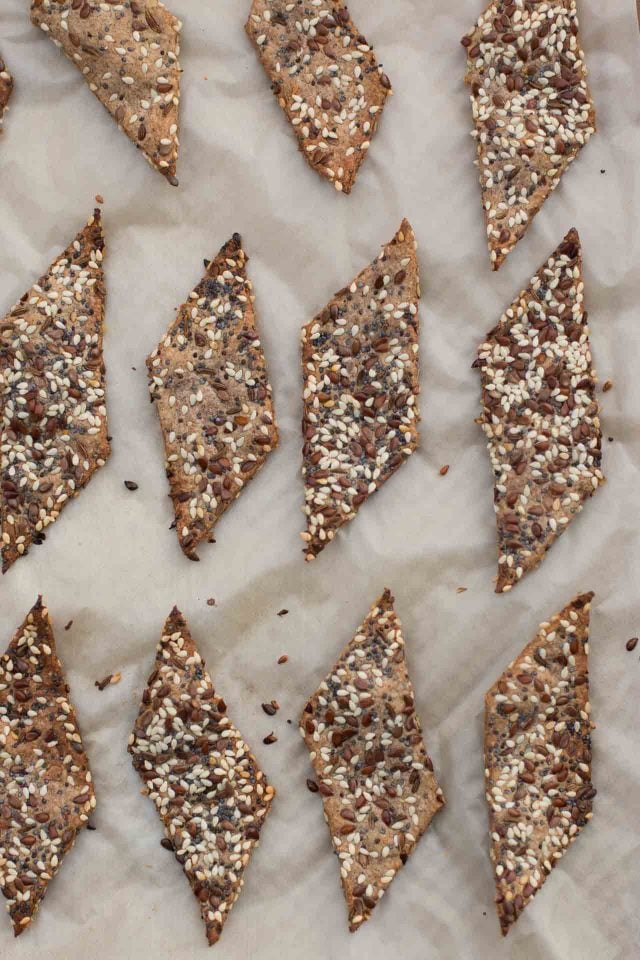 That said, I'm rather partial to a little section of my kitchen where the countertop is stainless. (Put that in your Do As I Say, not Do As I do, file.) But like using my old camera, I'm used to working with it. It's also by the window so I can look outside and wonder if I missed my calling as an opera singer, while I roll pastry.
[Anyone who has heard me sing probably already knows the answer to that one.]
Because the light changes every minute during the winter and quickly disappears by mid-afternoon, it was hard balancing the colors as things changed faster than I could figure out what dial to turn on my camera.
It didn't help that I couldn't stop from nibbling on the crackers, either dipping them into artichoke tapenade, which I ramped up with some basil, or just breaking one in half, and snacking on it. Is it just me, or do I break something like a cookie in half, thinking I'll only eat half, but find myself circling back to the other half (sometimes, breaking that one in half), finally realizing that it's hopeless and finish the whole d*mn thing, which I probably should have done in the first place?
So many questions to ponder. In the meantime, I'm working my way through Breaking Bread, eyeing the pain de mie, wondering if I can get one of his Pizza Napoletanas delivered, and admiring the Powderbrot, dense loaves of bread packed with pepitas, oats, millet, teff, and something called rye chops (cracked rye berries), and enjoying the stories, which crunching on these crackers…one seedy bite at a time.
| | |
| --- | --- |
| Seeded Multigrain Crackers | Print Recipe |
Adapted from Breaking Bread by Martin Philip Feel free to use any combination of seeds that you want. I made a mix that was mostly sesame, poppy, and flax, with a generous sprinkling of caraway, along with flaky sea salt and freshly ground black pepper. Other possibilities include cumin or fennel seeds, black onion seeds, and dried onions. Martin suggested a few different types of flour to add to the whole wheat and all-purpose flours. I used buckwheat, but he suggested, in addition to the ones I've listed in the recipe, millet or lentil flour. Although the recipe calls for instant dry yeast, I'm pretty sure you can use active dry yeast. Check here for more information on yeast. For baking the crackers, it's best to rely on visual clues rather than leaning heavily on absolute baking times. The crackers are done when they are well-bronzed across the top, so they may take more or less time than indicated. The edges or tips may get a little darker than the centers, especially if you're cutting them in diamond shapes, but they'll taste just fine.
3/4
cup (90g)
whole wheat flour
1/2
cup plus 1 tablespoon (70g)
all-purpose flour
1/2
cup (70g)
another type of flour,
such as buckwheat, rye, or cornmeal (see headnote)
1/4
teaspoon
dry instant yeast
1 1/2
tablespoons
melted butter,
salted or unsalted
3/4
cup (105g)
mixed seeds
(see headnote)
flaky sea salt and freshly ground black pepper
1. In a large mixing bowl, mix together the whole wheat, all-purpose and whatever other type of flour you wish to use, along with the sugar, salt, cayenne and yeast. Add the water and melted butter and mix until the dough comes together in a shaggy mass. Knead the dough with your hands a few times, either in the bowl or on the counter, until it comes together and is relatively smooth. Divide the dough in two, shape each half into a rectangle and place them on a plate. Cover, and refrigerate for one to two hours. (The dough can be refrigerated up to 24 hours in advance.)
2. Preheat the oven to 400ºF (200ºC). Line two baking sheets with parchment paper.
3. Remove one rectangle of cracker dough from the refrigerator. (Leave the other rectangle in; the dough is easier to roll if well-chilled.) Place a good amount (about 1/4 cup/30g) of the seed mixture on a counter. Sprinkle with sea salt and black pepper and press the dough into the seeds. Turn the dough over and press the other side of the dough into the seeds. Use a rolling pin to roll the dough into a square approximately 12 x 12-inches (30 x 30cm), rotating and turning the dough over as you roll, to prevent sticking, adding more seeds (as well as a sprinkle of salt and pepper) when it starts to stick. Both sides of the dough should be well-riddled with seeds.
4. Cut the dough into crackers either using a cookie cutter, or into rectangles or diamonds with a knife, and place them on the prepared baking sheet. Gather any scraps and reroll those to cut out for additional crackers. Bake the crackers until well-browned across the top, about 8 to 10 minutes, turning the baking sheet midway during baking. Let crackers cool. Roll, cut, and bake the remaining rectangle of dough the same way you did the first one.
Serving: Serve the crackers along with a favorite dip, such as Hummus, Artichoke Tapenade, Eggplant Caviar, Baba Ganoush, Olive-Fig Tapenade, White Bean Dip, Tarama, or alongside a cheese platter, or with soup.
Storage: The crackers will keep in an air-tight container at room temperature for several weeks. If they lose their crispness, they can be refreshed on a baking sheet for a few minutes in a moderate oven.