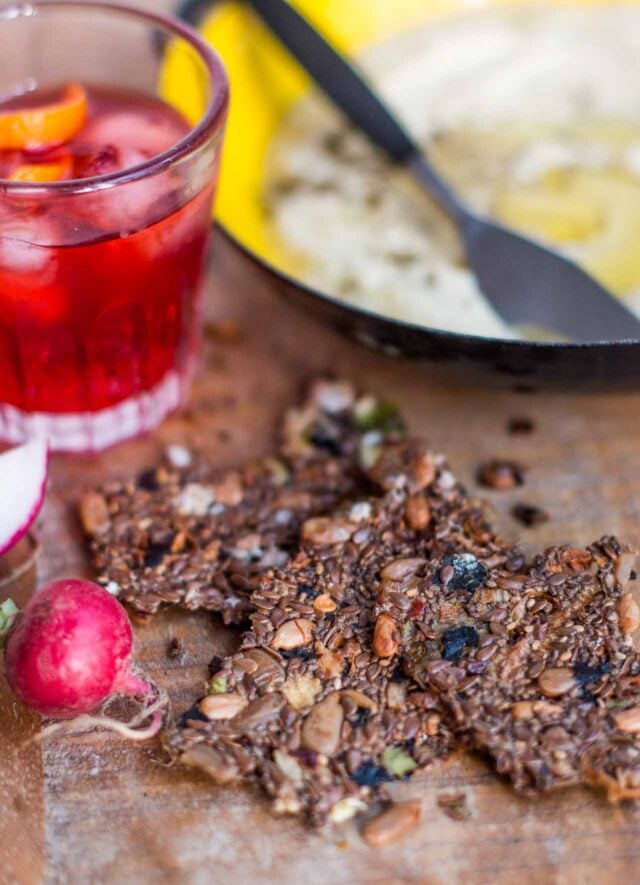 I've been out and about, here and there, but one thing that seems to follow me around is furikake. "What? A Japanese seaweed-based condiment?" you might say. While I do tend to tote French salted butter, fleur de sel, and Dijon mustard along with me on my travels, I've always loved furikake as well, and find myself craving it more and more these days. In all honestly, I get a little antsy when I don't have some around, which happened last time I tried to restock in Paris and couldn't find any.
There are different types of furikake. Some contain bonito (fish flakes) or dried shrimp, and others have bits of desiccated egg. Some are relatively mellow and others have a pleasant funk to them. In the last few years, "funky" has been a dicey word to describe certain foods, but to me, at the risk of cancellation, funky isn't a bad thing. Some of my favorite foods, like fish sauce, kimchi, and Camembert could be described as "funky" (just as songs like Funky Nassau, Uptown Funk, and Play That Funky Music use "funky" to complement, and compliment, their respective subjects) so I'm fine with having a funky-friendly blog.
While chili crisp, Duke's mayo, and miso paste have been causing most of the condiment commotion these days, I continue to shake furikake over everything I can. Another bonus? It's a good source of iodine, and since an iodine deficiency has been linked to hair loss, weight gain, depression, and fatigue, it's good to know that seaweed is one of the best sources of iodine out there. (This isn't medical advice so be sure to consult a doctor or medical professional if you have any health issues.)
Yes, there are some good Asian ingredient stores in Paris, including a few large supermarchés asiatiques. But even at them, furikake can be elusive, as well as other ingredients; at the largest Asian supermarket in Belleville, they don't carry furikake. (They were once out of fresh ginger, which is even odder.) Although they always seem to have furikake at the Korean food shop Ace Mart. To make sure I never run out, I often bring it back from the States, where it's easier to get and there are more varieties, and I give the Japanese condiment precious space in my luggage.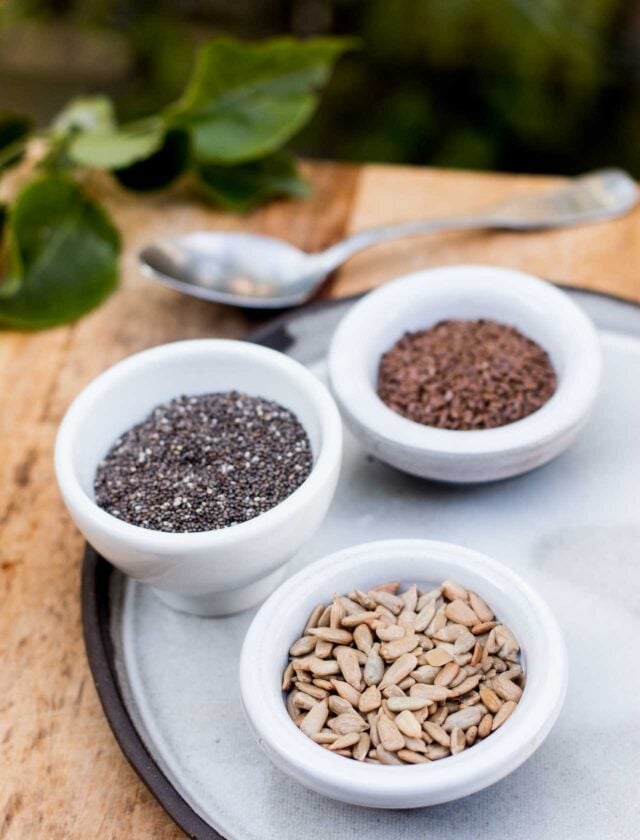 Another thing I've always enjoyed is seeds. Lots of seeds. For me, there's no reason to eat a bagel unless it's an Everything Bagel (although I will do sesame or poppyseed), and the same goes for crackers. The more seeds in them, the better. I'd bookmarked a few seedy cracker recipes, not the traditional kind, but the ones that are basically seeds glued together by some magical force. Most recipes I came across have a long list of ingredients that required additional hoofing around town. So I was happy to find one in Everyone's Table: Global Recipes for Modern Healthy by Gregory Gourdet with J J Goode that has less than ten ingredients and requires minimal work.
Gregory Gourdet's story is recounted in the introduction to the book. He was a two-time Top Chef contender in the U.S., and then a judge on the show. In his prior life as a pre-med student, though, he'd discovered drugs. Eventually, he turned his energy and drive into cooking, enrolling in culinary school and fell hard for restaurant work, which satisfied his anxiety. His life centered around working hard and partying hard. Eventually it all caught up with him and he landed in rehab. When he emerged, he made major life changes, taking a step back from the stressful restaurant world, and began working out and changing his diet, which he says is based on paleo principles, but he's not strict about it, although he avoids dairy and gluten.
Doing a little searching around the web, I found out that Gregory was lauded as one of the 4 fittest chefs in America by Men's Health magazine. I don't read the magazine because I get depressed when I realize my abs will forever be hidden under a layer of French butter and chocolate. But his story is indeed inspiring, and he tapped J J Goode to tell his story and write his book with him, who is one of my favorite people. Every time I suggest JJ write one of my books with me, he manages to change the subject. In spite of his reluctance to work with me (hrrmph!), he's a lot of fun and handed me their book when we had a meet-up on a recent trip to New York.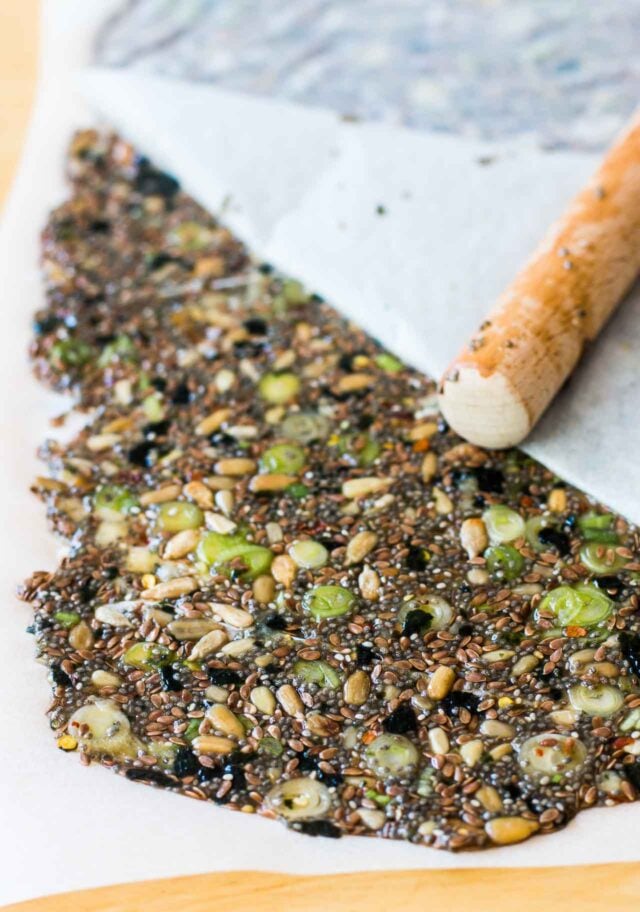 The book has a lot of creative recipes in it, including a fermented pine nut Caesar Salad, which sounds intriguing and I would be happy waking up in the morning to slow-cooked eggs with cauliflower congee and crispy shiitake mushrooms. (Especially if one of the 4 fittest chefs in America was serving it to me…) Tamarind bbq spare ribs with smoky greens, crispy fried chicken with smoky sea salt, and icy fermented pineapple all sound good to me too.
These Seedy Furikake Crackers hit the spot with the various dips and spreads I've been serving with them. They're on the thinner side, so the operative word may be "spreads" as you might lose some of the cracker if you're dipping it into something thick and rich. They're super easy to make; you just mix the ingredients together and wait a few minutes, then roll the mixture between two sheets of parchment paper and bake them for 45 minutes, then – voilà! – you'll have a batch of crackly, crunchy, freshly-made seedy crackers for your next apéro hour.
Furikake Seedy Crackers
Furikake comes in a variety of flavors. A dried seaweed-based condiment, various brands and types contain a melange of ingredients, which range from bonito flakes, dried egg, and wasabi. I always go for the one with wasabi but feel free to use another one. Furikake sometimes comes in shaker bottles or little packets, and can be found in food shops that sell items for Asian cooking, or online. In Paris, it can be found at Ace Mart. There are also recipes online to make your own. The original recipe called for 3 sheets of nori cut into little 1/2-inch (2cm) strips if you'd rather use that.
The original recipe also used raw sunflower seeds but I used ones that were roasted and unsalted and the crackers came out just fine. I found 2 teaspoons of flaky sea salt just right sprinkled on top, but if you are using another type of salt, such as kosher salt, you may want to use less as it's saltier.
If you have an unrimmed baking sheet, that'll make it easy to slide the rolled cracker paste onto it. If using a rimmed baking sheet, often referred to as a "jelly roll pan," you may need to be a bit more careful. But don't worry, if the paste falls apart a little after you transfer it from the counter to the baking sheet, use the metal spatula to smooth out the cracker paste once it's on the baking sheet and the crackers will turn out just fine.
1/4

cup (35g)

sunflower seeds

,

toasted or untoasted

1/4

cup (40g)

flax seeds

1/4

cup (42g)

chia seeds

2 1/2

tablespoons (13g)

Furikake

3

scallions

,

white and light green parts, thinly sliced (about 1/2 cup/50g), or 2 medium shallots, minced (50g)

1

small

clove of garlic

,

finely minced or grated

1/2

teaspoon

red chile flakes

3/4

cup (180ml)

cold water

1-2

teaspoons

flaky sea salt

,

such as fleur de sel or Maldon
Preheat the oven to 300ºF (160ºC.) Adjust the oven rack to the center of the oven. Prepare two sheets of parchment paper 12 x 17-inches (30 x 43cm.)

In a medium bowl, mix the seeds, furikake, scallions, garlic, chile flakes, then add the water and stir until everything is well-incorporated, Let sit 3 to 5 minutes for the mixture to jell.

Place one sheet of parchment paper on a countertop. Scrape the cracker mixture over the sheet of parchment paper. (It'll seem a little liquidy, but that's okay.) Spread the mixture relatively evenly over the parchment paper with a thin metal icing spatula (best), or the back of the soup spoon (fine to use.) Place the second sheet of parchment over the cracker mixture and use a rolling pin to smooth and even out the cracker mixture. It should reach almost to the edges of the paper but not quite.

Carefully slide the two layers of parchment paper with the cracker mixture between it onto the baking sheet. Peel off the top layer, smooth out any cracks or boo-boos, sprinkle with flaky sea salt, and bake the cracker mixture until it's no longer wet in the center, about 45 minutes. If it still feels damp in the center, you can flip the entire sheet of crackers over, carefully peel off the parchment paper, and bake for another 5 to 10 minutes. Remove from oven and let cool on the baking sheet, then break into shards.