Liza Restaurant, Lebanese Food in Paris
Where does the time go? When people used to say that, I thought they were being overly dramatic. Or worse, meant that I was getting older at a faster clip than I thought. But what I think it means, for all of us, is that life used to roll along at a more leisurely clip, but nowadays, I wake up and find another year has passed.
Last year, which admittedly, was only a few weeks ago, I had dinner at Liza. A modern space in Paris, a few blocks from the stoic bourse (the stock exchange, but which also refers to the sack holding the "family jewels" of a bull), Liza is an outpost of a restaurant in Beirut, a city I've been fortunate enough to eat in, which I did like a velociraptor.
Middle Eastern food is something I can eat morning, noon, and night (and if I ever became one of those people that sleepwalks and eats in their sleep, I'd be eating Middle Eastern food in the deepest recesses of the evening), and if you've had a Middle Eastern breakfast, you know what I mean. It's usually a copious spread of just-baked flatbreads, savory spreads, thick, glossy olive oil, cubes of salty cheese, pickled walnuts, olives, eggs, onions, tomatoes, tons of fresh herbs, hot sauce to dab on everything, etc., I'm going to stop, because I'll run out of bandwidth if I continue to list everything that's heaped on tables in front of you. And that's just for breakfast.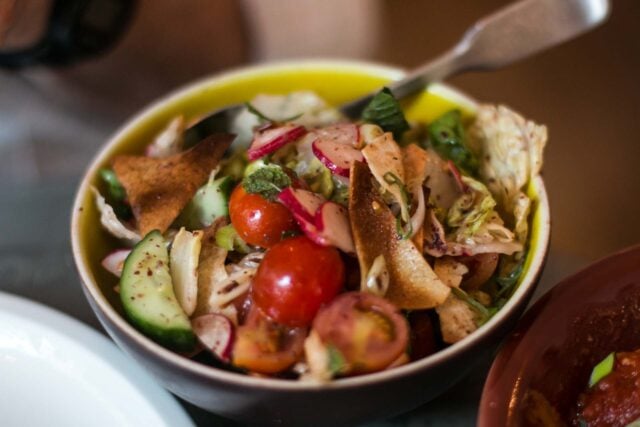 I also like the style of eating, which is often called "grazing," which sounds like a bunch of four-legged animals wandering through a field, taking bites of flowers between the weeds and grass. The way I do it makes you understand why raptors went extinct: I'm dangerous to be around, and if something gets between me and the food, beware of the consequences.
Paris has a number of Middle Eastern restaurants, as well as North African ones, but most couldn't be described as "upscale." Like "grazing," I'm not in love with that word either, but I'd rather be reaching for fattoush (above) or fafalel (below), rather than searching for words.
We were invited to dinner, a Lebanese restaurant recommended to me by a number of readers. Sure, there are plenty of sandwich stands and "snack-style" joints in Paris, but nothing* like Ottolenghi or Honey & Co. in London, Glasserie and Tanoreen in Brooklyn, or La Sheesh in Detroit, which apparently has been reopened by new owners, and was particularly memorable for me because when Alice Medrich found out I was going to Detroit when the original one was open, she insisted that I stop there. Trusting her implicitly, I did so in my rental car, on the way from the airport to a class I was teaching. The smell from the brown paper bag was so excruciating that after a few minutes, I had to pull over to the side of the road and rip into the sack, digging into the food with the small rounds of warm flatbreads they'd given me.
I had some lovely nibbles at the bar of Liza while I waited for Romain, chatting with one of the owners, and sipping a glass of Syrian wine, which we enjoyed with the rest of our meal after being led to our table. I'm happy to just order a whole mess of stuff and graze…um, I mean, taste…a number of different things. We decided on the Menu Dégustation, which came with or without grilled meats. We went with the meats.
Griddled halloumi cheese came with a sticky dab of tomato jam, which got the meal off to a great start.
Hummus came piped and swirled in a bowl…
And we stuck forks into Tabbouleh and Baba Ganoush, and wrapped extra-crisp falafels in flatbreads, surrounded by groups of people from local offices, having a good time, enjoying an after-work dinner together. One of the things that's often missing in restaurants, Middle Eastern and otherwise, is really good olive oil. You really need to use good olive oil to make food taste good. There is a world of difference and traveling in the Middle East, where it's plentiful, it's easy to understand (and taste) how important it is. Yet in other parts of the world, it's less-available and expensive. I never sure how to get around this, but I think like French bread expert Steven Kaplan brings his own baguettes to restaurants in Paris, I may start bringing my own flask of olive oil.
The mezzes (first courses) well all good, and I would make a meal of just those, but we didn't love the grillades as much as expected. The skewers of ground lamb and chicken had a bit of an aroma from the gas flame, which likely has to do with extreme restrictions the close-quartered city of Paris may have on wood-fired ovens. Maybe it was that evening and someone had the flame on too high?
Desserts were really great. Normally you need to be a lover of sweets to enjoy the syrupy treats from that part of the world, but even I have my limits; I once saw a woman at a confectionary shop scraping a big, jellied wad of what looked like thickened glucose into a container, for a customer to take home. I didn't ask what it was, but the clerk gave them a few spoons to use, along with a bag. So I presumed it was some sort of dessert that I wasn't familiar with.
The desserts at Liza were refined and had just the right balance of sweetness. The assortment of five baklawas included Haytalié, a milky custard with orange flower water and a puddle of orange coulis floating on top, Sfouf, a saffron cake with pumpkin and pistachios, and Kanafeh, threads of dough baked with sweet cheese. It was great to be able to have a little taste of several, which all went well with steaming glasses of mint tea.
When nature called, I took a walk around the restaurant and saw these great movie posters that my Lebanese friend Anissa said were Egyptian, when I sent her a query about them. Some were for films, and the others are for tourism. I don't speak the same language of these posters, but the food? I definitely get.
Liza Restaurant
14, rue de la Banque (2nd)
Tél: 01 55 35 00 66
Métro: Bourse
[Liza Paris also has a Lebanese Bakery and Sandwich shop at the same address, which is open for lunch Monday through Friday, noon to 3:30pm.]
Related Recipes and Posts
Man'oushe (Lebanese Flatbreads with Za'atar)
How to Eat a Falafel in Lebanon
Saj, Flatbreads and Lebanese Pastries
*A recent addition to the Paris restaurant scene is Tavline, whose chefs come from Israel, and I'm looking forward to trying.