Five Favorite Food Addresses in Paris
Épices & Saveurs
Although it may seem like your typical Arabic épicerie (food shop), of which there are many in Paris, I've shopped a lot of them and found Épices & Saveurs especially well-stocked. The place is as neat a pin and in addition to the usual line-up of harissas, nuts and dried fruits in bulk, olive oils, and spices, I always find curiosities on the shelves and in the refrigerator that I don't see elsewhere.
For example, recently there were cans of white truffles (€25) which I almost bought for the label alone: a mound of truffles piled up inside a colorful tagine. I didn't get them (because I just spent €97 having my heater serviced, which basically was a guy coming over and finding one of the gazillion empty jars I have stacked on the upper shelves of my kitchen, which had fallen into the evacuation pipe), but I'm always intrigued by the various types of harissas, jars of Sicilian pistachio and almond pastes, packets of halloumi cheese, fetas, Turkish pastrami, the wall of nuts and dried fruits, a serve-yourself olive bar, and a coffee stand, where the nice guys that run the boutique are happy to make you a coffee if you feel like lingering.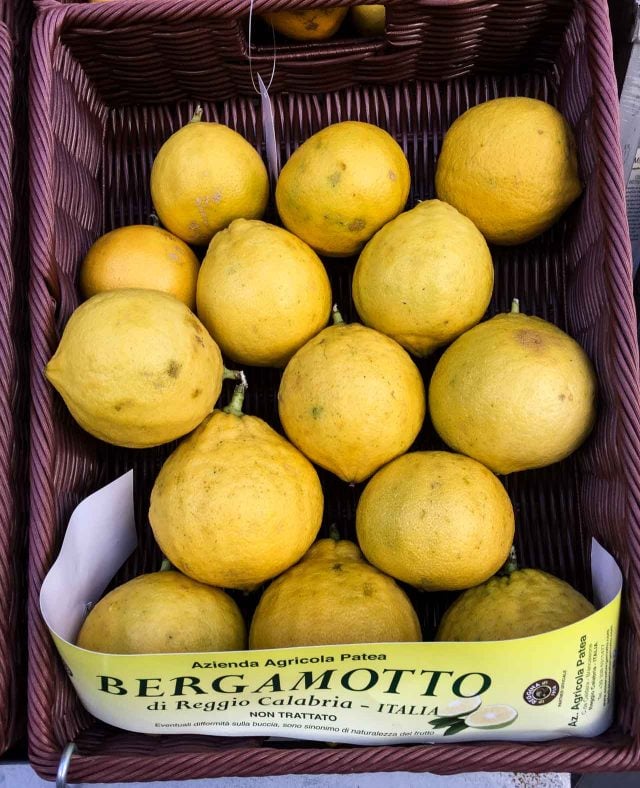 Outside they've got an edited selection of fresh fruits and vegetables. Recently I spotted some elusive bergamots (the true ones, which are different than the sweet lemons sold as bergamots in France). Also outside, you might find fresh turmeric and small knobs of organic ginger, as well as French shallots longues (the ones I prefer), and oignons rosés (pink onions) from Roscoff, in Brittany.
Bonus: Just next door is Simply Market, a generic, all-purpose supermarket, but their baking section is definitely worth poking through, as are the other groceries, mostly downstairs. I found a generic version of the Ikea Swedish cookies (that don't require a trip to Ikea!), as well as Norwegian whole-grain flatbread crisps (gluten-free), various pastas from Italy, an array of French tinned sardines, fleur de sel, and even small-batch fromage blanc, and other dairy products. Expats will like that they have Method cleaning products, which I've not seen in Paris, as well as Briochin natural cleaning products, which are made in France – and thankfully, not perfumed. A majority of things in the store are standard supermarket fare, so you just have the browse the aisles to sort through it all, which I admit to finding myself doing a little too often.
Épices & Saveurs
2, avenue Parmentier (11th)
Tél: 09 72 83 89 91
Métro: Voltaire
Hours: Open 10:30am to 7pm daily, except Sunday.
La Maison du Whisky
The French aren't associated with cocktails as much they are with wine. But not only were a number of classic cocktails invented in France, but there are lots of liqueurs, distillations, and spirits that come from the hinterlands, that also aren't so well-known, especially in their own country. But now they're having a renaissance. Still, it's hard to find things like rye whiskey in Paris (even through the French now lead the world in whiskey consumption), or Dolin vermouth, French-made single-malt whiskies, and Bonal, a cousin to Chartreuse that a visiting friend was on a concerted mission to find. So I took him here.
The best-sellers are on the main floor, but downstairs there are plenty of bottles of apéritifs, bitters, and spirits to rifle though. (I'm no whiskey expert but a friend comes from the U.S. to buy whiskey here, since they have some that aren't available in America.) The staff is very helpful if you have questions or need advice. My last purchase was a bottle of French bitters because I've been checking out alternatives to Campari, which is so powerful that it can k-o (knock-out) anything else in the glass. While I can't wait to try the Bruto Americano made in Alameda, California, I've been going through a lot of Dolin. Thankfully there's a bus almost door-to-door from my place to LMDW.
La Maison du Whisky
6, Carrefour de l'Odéon (6th)
Tél: 01 46 34 70 20
Métro: Odéon
Hours: Monday, Tuesday, Wednesday and Saturday, 10:30am to 8pm. Thursday and Friday, 10:30am to 9pm.
(The Odéon shop features a wider selection of liquors than their other address, 20, rue d'Anjou, which focuses on whiskies.)
Marks & Spencer Food
Yes, we can get spectacular French cheeses at the markets and fromageries, fromage blanc and yogurt up the wazoo, and smoked poitrine fumé (bacon) at the charcuterie, but sometimes you just need a well-aged cheddar or Stilton, a spoonful of cottage cheese, or streaky bacon. And that's where Marks & Spencer Food comes in.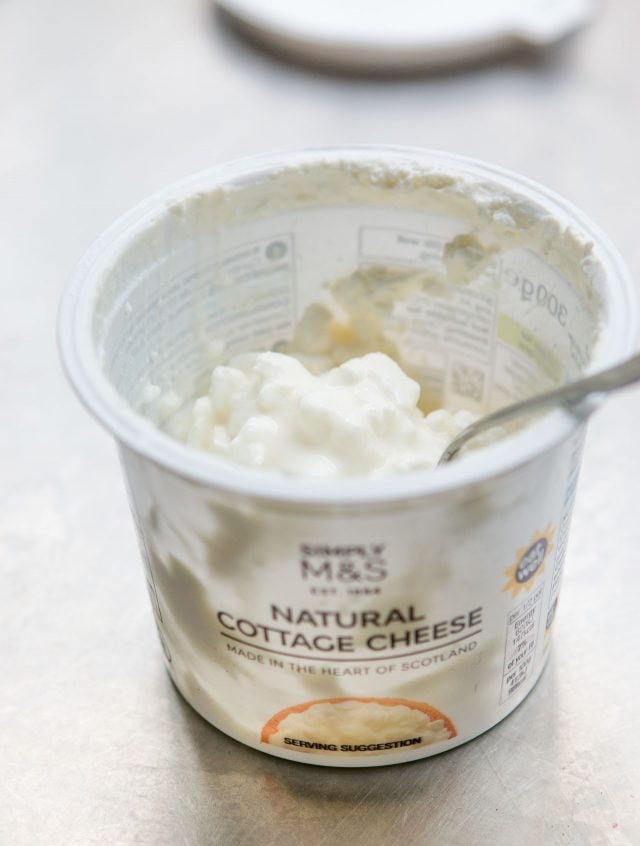 Scattered around Paris (although the main Marks & Spencer stores are retreating, again) the M & S Food stores expect to stay open, which is a good thing because I've discovered them (and all I hear from Romain is the word "crumpets," spoken with a French accent every time I make a shopping list to go there), and so have Parisians, which are flocking to the stores as well.
Bakers will like that they carry bread flour, yeast, baking powder and baking soda, as well as muscovado sugar, sticky brown stuff that resembles American brown sugar, as well as golden syrup, treacle, and even wine from India, which bakers anywhere appreciate at the end of the day. Depending on the store, I've found Italian spelt pasta, fresh jalapenos and fresh passion fruit pulp, and although I don't regularly do take-out food, the extensive selection of Indian foods, and pre-prepared dishes like Moroccan Spiced Butternut Salad, Harissa chicken with couscous, and BBQ beef brisket, look better than the surimi sandwiches and soggy grated carrot salads at other supermarkets, who I think are upping their game because of the new kid in town.
Marks & Spencer Food
Various locations throughout Paris. Check website for addresses and hours.
Au Miel/La Maison du Rocher
I discovered this shop when there was an explosion under my friend Denise Acabo's chocolate shop and she had to close for a couple of years, before rebuilding it. One evening she decided to hold court here and phoned me to come visit. Although there are a lot of honey shops in Paris, this one is the best I've been to. The owners, Sylvette and Alain, are passionate about honey, and have varieties that are hard to get, and stock a few I'd never heard of. All the honeys in the shop are cultivated in France.
The French love honey (many of which are said to have healing properties) and at La Maison du Rocher, they're happy to offer tastes from a row of jars they keep behind the counter. I tend toward bitter honey, such as chestnut and buckwheat, although there were a few I never heard of that I brought home, which Romain finished off before I could write down the names of them*. (I'm getting to the age where I'm going to start recording conversations, just to remember what was said.)
I can't guarantee any of the honey – or honey drops, pain d'épices, or any of the other honey-based confections in the shop – will cure what ails you, but I will say that you'll leave with a few more jars of honey than you thought. Like I did. Now if I could only remember which ones they were**…Maybe next time I go, I'll find a honey that improves my memory?
Au Miel/La Maison du Rocher
71, rue de Rocher (8th)
Tél: 01 45 22 23 13
Métro: Villiers
Hours: 10:30am to 1:45pm, 3:45pm to 7:30pm, Tuesday through Saturday. Closed Sunday and Monday.
La Petite Cagette
There have always been lots of specialty food shops in Paris, generally bakeries, cheese shops, butchers, charcuteries, and wine caves. But there's been a renewed interest in eating local, and buying from small producers in France, as well as in neighboring countries. A spate of little places, like La Petite Cagette, have opened up in neighborhoods around town, selling "forgotten"vegetables like spaghetti squash and crosnes, as well as citrons, kale, and unusual leafy greens, such as friseline and wasabina, which sound like French sprites.
La Petite Cagette, is indeed, petite. The crowded space is happily filled with bins of fruits and vegetables. Being winter, I recently purchased tangles of dandelion leaves, leeks, potatoes, rutabagas, and sturdier salad greens, from the produce crates. The shelves are lined with cold-pressed sunflower and colza oils, soups, and honey, and of particular interest was the open refrigerator, where I picked up some smoked sardines (which we enjoyed on dark bread smeared with salted butter) and smoked sausages, which went into a hardy pot of soup. I make an effort to buy sausages and meats from small producers, if I can, and there are a few butchers in Paris that are focusing on sustainable and humanely-raised meat. (A few are Le Bourdonnec, Terroirs d'Avenir, Polmard, and Viande & Chef.) But am happy to find smoked and cured meats here.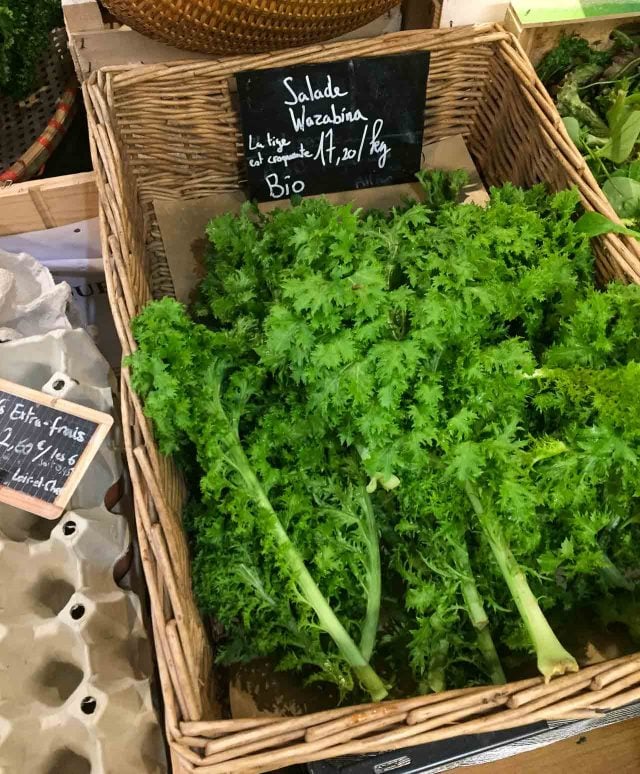 This is a pretty small-scale place and if there are more than six people in the shop, you should expect to be rubbing elbows with others. But there's little attitude here. Just good food.
Bonus: Just across the street is Le Savoyard (39, rue Popincourt), which I've walked by a number of times, and have been intrigued by the hanging sausages and liqueurs from the Savoie in the window. All I know is that I've walked by a number of times late in the evening, somewhat late for a small food shop to be open, and saw the lights on.
La Petite Cagette
38-40 rue Popincourt (11th)
Tél: 09 52 88 62 77
Métro: Saint-Ambroise or Voltaire
Hours: Open daily, 10am to 2pm, 4pm to 8pm. Saturday 10am to 8pm.
Note: All store hours in this post are subject the change. It's suggested you call first, where phone numbers or websites are provided, to get the most current information.
---
Related Posts and Links
Strawberry Tree Honey (Honey Traveler)
How to find foods and other items mentioned on the site
10 Insanely delicious things you shouldn't miss in Paris
*That was before the jars got washed, and the labels removed, before I added them to my infamous (and costly) "jar shelf."
**I guess I'm not as old as I thought because I jogged my memory and remembered that the honey I liked so much was miel d'arbousier, which apparently is quite rare. I linked to more about it just above, and saw that it's available on Amazon and